The Tao of Enoch Doyle Jeter
By Melanie Moffett
Mar 2nd, 2016
0 Comments
543 Views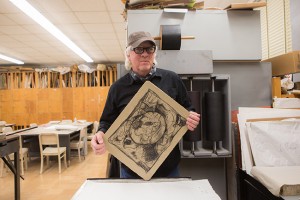 article by Michael DeVault | photos by Brad Arender
Bayou Artist Enoch Doyle Jeter is, perhaps, at the pinnacle of his artistic career. But in spite of his works garnering international attention and acclaim, Jeter still considers himself on the road to becoming an artist, and it's okay with him if he never reaches the end of that road.
It's August 16, 1969, and a family is driving across rural New York. Rain has fallen through the night, and in spite of more rain on the way, two cousins on the back seat of the car can hardly contain their excitement. With just a few more miles of country back roads to go, they're getting their wish–a promised single day at Woodstock.
"My aunt and uncle said to pick one day and they'd get us there, because they knew the back roads," Enoch Doyle Jeter tells BayouLife. Without knowledge of those Catskill Mountains byways, getting anywhere near the festival site was almost impossible. Traffic backed up for miles in every direction. Adding to the misery of reaching the festival was the weather, uncooperatively windy, gray and wet. Jeter's family lived just 17 miles from the site, and for months, they had been hearing about the festival, even before it moved from its namesake site in Woodstock, NY to Max Yasgur's 600-acre dairy farm. "As it turns out, my uncle was a casual friend with Max Yasgur," says Jeter, known to his friends and family by his middle name, Doyle.
With a family connection and an intimate knowledge of the mountain roads, Jeter and his family were set for musical history. "We were there the day it rained," says Jeter. Many of the bands playing were making their first American appearances, and there were more than a few debuts that week, too, so Jeter's Woodstock experience helped shape his musical evolution, albeit ironically. "The only band we got to see was Canned Heat."
Within days, Jeter and his family relocated south, to near where his father's Scots-Irish clan had settled. Just one week after a rainy day jamming to "I'm Her Man," Jeter stepped into West Monroe High School. He was a junior with two years left before graduation.
"It was a bit of a culture shock," he says with a laugh that indicates both the wild transition and his affection for the region. In speaking of those early days in Louisiana, it's clear how profound an effect the state had on his formation as a lover of music and as an artist. Culture shock aside, Jeter quickly found himself at home. "In saying that, I had teachers–especially my art teachers–and friends who are still lifelong friends."
Now 53, Jeter's life and its multiple trajectories–there's family, music, the pub that bears his name, education and art–are perfectly braided into a Celtic knot that, at first glimpse appears a chaotic jumble of twists and bends but, upon closer examination, reveals itself to be an ordered creation in which family development informs artistic development, musical interests open doors to professional growth, and the lines between the influences converge to make the whole much greater than its parts.
Jeter spent much of his childhood on New York's Upper East Side. He was 11 when the Beatles made their first appearance on the Ed Sullivan Show, sixteen at Woodstock, and he entered adulthood as an aspiring art teacher at Northeast Louisiana University. "All of this has been an influence in my artistic life," Jeter confirms.
If there's a bit of "I'm along for the ride" in this story, that's not by accident. Early on in his artistic pursuits, he was "forced to read" two books. The first book was Jackson Pollock's Energy Made Visible, a seminal work on the nature of art, and Pollock's book cemented in Jeter a lifelong love of the painter's work. The second book, The Way of Chinese Painting: A Study of Taoism, set Jeter on a lifelong study of Taoism, the ancient Chinese philosophy of "the way," a philosophical-bordering-on-religious system anchored by the belief that the way, or path, is set out and all individuals are doing is following that path. At any given point of the journey, an individual is simply "there," and as such should enjoy their surroundings.
The effect of the philosophy is a sense of journey without destination, and this idea of the way informs much of Jeter's speaking about art. "If I said I was a success at becoming an artist, that would probably be a lie to myself," Jeter says. He goes on to explain that, while he has had some commercial success along the way–usually a commission or some other accomplishment that allows the family to take a trip or enjoy some special event–his development as a printmaker, as an artist, continues. There isn't a destination at the end of the journey, a lesson he learned early on, when the art-teacher-in-waiting path he had defined for himself veered wildly off course.
Shortly after entering NLU, Jeter fell in love with lithography–the ancient, yet immensely relevant, art of printmaking. With roots more than 1600 years ago in China, printmaking is one of the few artistic forms that has traversed the course of history and left its mark on artists in almost every medium. Piccasso, Warhol and Rembrandt were renowned printmakers. When it comes to Rembrandt, that's Jeter's benchmark. "When I'm doing more realistic lithographs, or etchings in particular, I'm always striving to do something even remotely as successful as Rembrandt," Jeter says. The quality and clarity of the master's work is haunting, and the works push Jeter all the more. "That's always in the back of my mind. Try to be just as successful as Rembrandt at print making. You'll never be able to beat what he did."
Modern lithography traces both its roots to the late 18th century, when artisans would etch designs, patterns and works onto a stone slab using a complex series of steps. Artists began using lipid-heavy waxes and fats to draw scenes onto lithographic stones, and later metal plates. A mildly acidic solution is applied to the stone next, which causes the stone to absorb water. Only areas protected by the waxy designs repel the water, and when oil-based inks are applied, the design can be transferred.
While studying lithography at NLU, art department head Ed Shutz began encouraging his young student to continue to develop his skills. Shutz was a printmaker who had studied at New Mexico Highlands University, under the tutelage of Elmer Schooley, one of the world's preeminent printmakers. By the time Jeter was ready to graduate, Shutz had convinced him to relocate to New Mexico to continue honing his craft. It was an opportunity Jeter had no intention of squandering.
Jeter's way found him in a car, bouncing across Texas on the way to a new future in New Mexico, where he would study with Schooley and other renowned printmakers. "The minute I started drawing on a lithographic stone, that was it. I fell in love with it," Jeter said. It's a love that continues to develop and grow today. For fifteen years, Jeter has taught stone lithography in the art department at ULM. For the past three years, he's been the program's artist in residence and, during his tenure there, he's completed one of his best received and most widely disseminated series.
Like so many other aspects of his life, this series sprouted from the fertile grounds of his love of music, and especially of his love of the Beatles. A few years ago, he met Jude Southernland Kessler, a writer who was in the midst of an epic series of novelized biographies of John Lennon. Kessler loved Jeter's work, and she approached him about illustrating the chapters of her book. Jeter leapt at the chance. For almost three years, Jeter, Kessler and the book's publishers collaborated on each illustration. The results are a series of prints highlighting the titles of songs from With the Beatles, the quartet's second UK album.
Jeter's illustrations have been exhibited across America in solo shows at Penn State University, BeatleFest 2014, at the Morgan Gallery in Corrales, NM, and at the Meadows Museum of Art in Shreveport. Later this year, the American Grammy Museum will host the works in a one-man show as part of their international Beatles exposition. Such is life in the way of Jeter that a television broadcast and a road trip through the Catskills has influenced his course.
These days, Jeter's focus has shifted. Though he's still making prints, another form of print making currently holds his interest.  He has begun again to work in monotype, in which pigments are applied directly to a nonporous, featureless plate. Until pressing, the image hovers on the plate. Unlike stone lithography, monotype typically produces a single print, with subsequent "ghost prints" becoming increasingly inferior. He's also taken up painting again. It's all part of the journey, the path, and he's never quite sure where that path is going to take him.
Last year, he entered semi-retirement from his namesake pub, Enoch's Irish Pub and Café, one of the region's signature venues for live music and a hub of the local arts scene. If art provided him a path, music the inspiration, then Enoch's Pub provided him the means to accomplish it all. The pub has also proven a suitable centerpiece for building a life and family in the region, and today he's proud that his son, John, has assumed the reins. It's not at all surprising that he's attacked pub life, music, family, travel, the arts, and pretty much everything he's encountered along the way with a zeal and vigor. He ascribes that enthusiasm for all things living to his Latin grandmother. "The blood that runs in me is very passionate, very lively and very aware of my surroundings," he says.
So maybe it's not surprising that his most renowned artistic endeavors to date combine a deep love and understanding of the Beatles with an ancient tradition of pressing paper against stone. Hiding under an artist's natural restlessness is a calm befitting his view of his travels. If there is any one aspect of his work and life that he's willing to express amazement with, it's his connection to the Beatles lore. "I've become a family member of this Beatles family worldwide, who now are familiar with my work because of this great gift I was given by Jude Kessler, to illustrate her book," he says.
That's just part of the picture, though. Dig deeper into this sea of layers, and you'll quickly find nuances of family hidden within. There's the gentle creep of life in Louisiana into the works, and his experiences permeate each plate he makes. "Sometimes you can see it, and sometimes you can't," he says. Then again, it's all part of the Tao of Doyle.
"Art is a reflection of the life around you. Again, though, you can define that a little bit closer to the point," he says, pausing to reflect for a moment. "But why? What's the need. Whatever happens around you influences you."