A Family Affair
By Melanie Moffett
Jan 5th, 2016
0 Comments
978 Views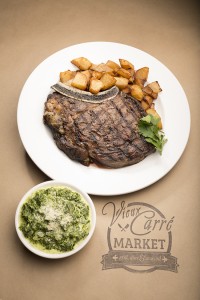 There comes a time in every cook's kitchen routine when it is necessary to venture off the mainstream, stray from the beaten path, a time when every grill master and burger maven searches for that touch of the extraordinary to break the monotony of the normal. For those culinary adventurists in the know, the first and only stop they need to make is just a quick drive up 18th Street, to the foodie paradise that is Vieux Carré Market.
article by Michael DeVault and Hanson Hovell Holladay
photography by Martin G Meyers
When the Fontenot family announced in 2014 their intentions to close the gourmet market they had opened on 18th Street in Monroe, the news hit especially hard for Therese Nagem, her sister, Leigh Liles, and their cousin, Jaclyn Hall. Frequent visitors to Vieux Carré Gourmet, the trio had grown accustomed to the destination. The prospect of losing a valuable community gathering spot inspired them to step up to the plate.
"We were sad for Monroe," says Therese, who is no stranger to the restaurant business. Her husband, Sammy, is the founder and owner of Sammy's Grill, the iconic chain of Baton Rouge eateries. With their husbands' blessings, the girls set out on a mission. "We wanted to keep it open for Monroe, be together and have the kids grow up together in that environment."
A few months later, Vieux Carré Market opened its doors. A prime example of what one might find off the beaten path, inside Vieux Carré Market, the atmosphere is the embodiment of organization, comfort, knowledgeable staff, honest pricing, impeccable appearance and fine selections. The magic of Vieux Carré begins with the wide variety of meats, which includes locally sourced Wagyu beef, bacon and sausage made within their kitchen and top-shelf 1881 Filet Mignon. And for those unsure of how to prepare the delicious delicacies they just procured, the local, New Orleans-esque chefs are on hand to share their culinary tips.
On the cusp of entering their second year, the three women's dream is thriving. Owning in part to their shared vision and part to Sammy's guidance, the restaurant and market are continuing to attract new customers as it develops a loyal following among northeast Louisiana's most discerning foodies. Therese's enthusiasm for the place abounds. "We love it more every day. We're totally enjoying it," she says. "We have a great staff, we're just crazy about them, and we're having a great time."
Like its namesake found throughout New Orleans, Monroe's Vieux Carré Market experience is divided into two, distinct segments. There's the market, featuring a rich assortment of gourmet and everyday food items, and there's the dine-in restaurant in the back. Though at first blush, the model may not seem too much different from the original Vieux Carré Gourmet, this incarnation features one key difference. "Our food is a bit more casual, more along the lines of the way Sammy has done it," as Therese puts it. Whether you're meeting up with friends or family or enjoying a date night,  Therese says you'll be at home at Vieux Carré.
In addition to a more casual dining experience, the selection of wines at Vieux Carré Market is decidedly more approachable, as well. The partners (early on recognized) that the Monroe audience was looking for a great value in their vino varieties. That's not to say Vieux Carré Market sacrifices quality. "We try to find wine that someone who is not used to drinking wine, who doesn't have an experienced palate, can go in, buy a $15 bottle of wine and be blown away by the experience," says Sammy Nagem of the selection of fine spirits. Vieux Carré Market is ideal for individuals who want to develop their palates without breaking the bank, and he says the staff at Vieux Carré knows just what you're looking for. Seek out Shane, the manager, for a bit of guidance. "You tell him what you're eating, what kind of flavor you're looking for and he'll find you a very affordable wine to fill that palate."
Wines aren't the only place foodies can develop a taste for finer craft beverages. Through the main door, immediately to the left, an exposed, shelved cooler houses an assortment of unorthodox craft beers — beers that tailor to those in search of unique tastes that exist outside of the everyday selections of convenience stores and super markets. As with the wine and hard liquor, each one is carefully selected based not only on its rarity in northeast Louisiana, but its positive reviews from other markets across the nation.
Wine, beer and spirits aside, Vieux Carré Market is first and foremost about the food. And that food experience begins in one place: the cooler, which features Wagyu, the rare American-style Kobe Beef, the sought after product of Wagyu cattle bred with the traditional Angus cattle. For those fond of beef, whether a ribeye steak or traditional hamburger, the taste is beyond exceptional.
"People who've tried it say it's the best steak they've ever had," Sammy says. It's high praise coming from one of Louisiana's most popular restaurateurs, but this beef lives up to the praise quite well. Like its Japanese cousin, Wagyu steaks sport a superior marbling, meaning each bite is high in that elusive sixth flavor, umami, which drives you to savor every bite as if it were the last. Not content with offering the best steak imaginable, though, the folks at Vieux Carré Market had another trick up their sleeves. When it came time to find a source, they didn't have to look very far.
"The particular Wagyu that we carry is actually grown right in the Monroe area by Dr. Raines, called Raines beef," Sammy says. In other words, the Wagyu steaks at Vieux Carré Market are as close to farm-to-table as you can get, unless of course, you're raising your own cows. High quality doesn't have to mean shipped in, a lesson Sammy is glad to bring to Monroe. "You can't get that beef anywhere else in northeast Louisiana. It's not available."
Vieux Carré offers New York Strips, bone-in ribeyes and top sirloin in the Wagyu steaks. They also carry ground Wagyu, the Black Label Blend, which combines equal parts cross ribs, short ribs, brisket and chuck for the perfect burgers – all the ground meat is ground daily. For those craving a filet, the cooler is stocked with 1881 Beef Filet cuts, the highest certification available, higher even than the famed Black Angus beef.
For something on the lighter side, the savory salads menu is beyond compare. Whether you're looking for a classic option (try the Caesar), or something with a little more zing (the Salad Trio), these signature salads are top notch. The Caesar Salad is served atop a bed of crisp greens and topped with your choice of grilled chicken, grilled or fried fish, or grilled shrimp, blackened fish or even fried oysters. The Trio Salad features a helping of Vieux Carré's signature Old School Chicken Salad, Sunburst Trout Salad and Pimento Cheese, all served atop hydroponic greens and crostini.
With years of experience, the new owners of Vieux Carré Market pride themselves on being local and supporting other small, independent companies from across the nation. In their own words, it's not just the importance of a wonderful, unique product, but the experience that goes along with it, from browsing to eating and drinking. All of these factors, which seem to be on the threshold of non-existence, are truly what set Vieux Carré Market apart from the mainstream markets that dot the streets and corners of every city.
Therese credits her husband with much of the vision and leadership. "Sammy tells us what to do and we do it. We look to Sammy for guidance," she says frequently. But it is no secret that Vieux Carré Market is the brainchild of the three women, sisters and cousin, who enjoy the support of their husbands, Bart Liles and Bradley Hall.  For his part, Sammy brings 28 years of restaurant experience to the operation, and if you've ever eaten in one of the four Sammy's Grill locations in south Louisiana, its hard to miss his influence.
"It's not a Sammy's, but we have the same type of motivation as we have at Sammy's Grill. Whatever we do, we try to make it the best you can get," he says.
To better know Vieux Carré Market and the products they offer, access them through your computer or smart phone. Well designed and user friendly, the website provides numerous ways in which to reach the staff, whether it be placing an order to go or arranging a catering service. However, you'll want to visit first-hand and see the remarkable selections and staff. They're located next door to Tuesday Morning and Fred's Store and Pharmacy on North 18th Street in Monroe. It is a safe bet to assume that numerous items will not only attract your attention, but peak your curiosity. Which is kind of the point.
The enthusiasm of the staff of Vieux Carré Market's kitchen is evident in the first bite, further adding to the wonderful, albeit overdone, "Meltingly Tender" and "Cooked to Perfection" statements made by nearly all food critics. And, should you wish to have a private get together or meeting, simply call-in and reserve the Back Room, which seats up to ten people comfortably around a long table surrounded by wine racks and artwork, tucked away in the back corner to ensure near-absolute privacy. "The main thing we strive for, that we wanted to do when we started, is we wanted people to feel they could come by in any kind of dress, with their kids, without their kids, on their way to the lake, stop by, grab what they need, and then keep on going," Therese says. Lunch is served daily, and for a special treat, the restaurant offers dinner service Thursdays through Saturdays from 5PM to 8:30PM. It's no exaggeration that very few restaurants outside Orleans Parish can deliver the authentic tastes of the "Big Easy" with such accuracy.