A Great Storyteller
By Melanie Moffett
Dec 29th, 2014
0 Comments
582 Views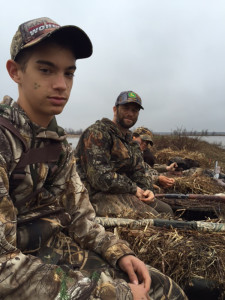 Duck Hunting with the Great "Uncle Si"
article by Dan Chason
With the dawn of a new year, some folks take this time to start looking at their lives and make some changes.  Diets are common, fitness centers start running numerous ads attracting new clients and nicotine patches sell like hot cakes.  The problem is that most of us won't keep a New Year's resolution for the whole month of January.  But never fear.  Duck hunters can still look forward to some of the best hunting of the year.  No resolutions here, as we have one thing on our mind:  Bring on an arctic cold front.
Cold fronts affect ducks more than any other factor.  For years now, due to the Federal Government's intervention into the commodities markets, thousands of acres of set-aside lands are left in the fields north of us.  Beans, corn, milo and every other kind of grain a duck loves are there.  These ducks that used to hit our blinds in mid-December, now show up later and later.  This makes the month of January a boom town for duck hunters in Louisiana and South Arkansas.  Most of the fields have been eaten down and are now frozen.  Again, good arctic fronts are the key.  If we get the arctic fronts, we will have mega ducks.  No one knows this better than one of the most famous duck hunters in the country, Uncle Si Robertson.
I spent some time with Uncle Si this past fall at our duck lease.  Joining us was Si's son Scott, actor/producer Kirk Cameron and his sons James and Luke along with Jon Gimber of Duck Commander, my good friend Leon Miletello and cousin Frankie and my son, Andy.  We hunted two of my favorite blinds in North Louisiana, and the flight was on.  We had a short window of cool weather and the fog was thick.  It was going to make for one interesting day.  Just how interesting came in the renowned tales of one bearded Duck Man and the heavy flights of every species of ducks that showed up that morning.
In the course of my work, I deal with Si quite a bit, but it never ceases to amaze me when he starts talking about hunting.  The man absolutely loves to hunt.  And with those hunts over the years, he has come up with some stories for all times.  One of these he told was about a trip through the woods with his brother Phil Robertson.  It seems they drove up on a group of hogs that were in the back waters of the Ouachita River.  As they spied these critters through binoculars, Si says that "they stood in a semi-circle" as if they were about to fight.  All of them had their snouts in the water, and Phil and Si were trying to figure out what they were doing.  Suddenly, one of them rammed his head in the water and came up with a medium sized alligator gar and "flung it on the bank."  The hogs all ran to the bank, and according to Si, went to feasting on their prey.  Si says that Phil looked over at him and said, "Si, them hogs are fishing!"   Needless to say, our entire hunting party was laughing.  Si wasn't finished.  This is the rest of the story:  "That ain't nothing, Jack.  One time, me and Phil were down in the river bottoms scouting for ducks.  We were looking out over this big pocket when I seen a river otter.  Then another.  Then another.  Ended up there were like ten of these rascals all in swimming towards the bank.  They were in a semi-circle, but the hole in the middle was like 30 yards wide.  They never made a sound and just eased that circle tighter and tighter.  It was like watching cowboys round up cows.  It took them about 10 minutes, but they finally got that circle less than 15 feet when you could see fish moving between them….all grouped up.  All of a sudden, one of them made a big splash and came up with a buffalo.  They flung this fish up on the bank and you ain't never seen such a ruckous."   Now remember, Si will tell you that his stories are 95% factual.  But the way that he tells them matters very little to the listener.  It is just a treat as the animation and conviction he uses captivates and entertains whether they are fully accurate or not.  To sit there and watch Kirk and his sons listen to these tails reminded me of snipe hunts in years past.  I think that if Si was selling snake oil, they would be takers regardless of the price.
Anyone who has watched Duck Dynasty or the Duck Commander shows or videos can attest to Si Robertson's ability to spin a tale.  What I can assure you of is that Si is who he is, on camera and off.  The other thing about him that is not well known is his true love of children.  It is such a treat to watch him when he is around the kids.  I have never seen him pass up an opportunity to spend some one-on-one time with a child.  Regardless of how busy his schedule is or what he is doing, he will always stop to make a child's day.  We think a big reason for this is that Uncle Si is just a big kid at heart.  He understands them and has a way of connecting with them unlike anyone I have ever seen.
That is my New Year's resolution this year.  Take more time with my kids and grandkids, spend time with positive people and try to duplicate their positive traits.  Such is the case with Silas Merritt Robertson, a good man, a great hunter and a story teller like no other.  It was a day that all of us will remember, especially the image of river otters playing cowboy.