A Life Sharing Sound
By Katie Sloan
Jul 10th, 2017
0 Comments
214 Views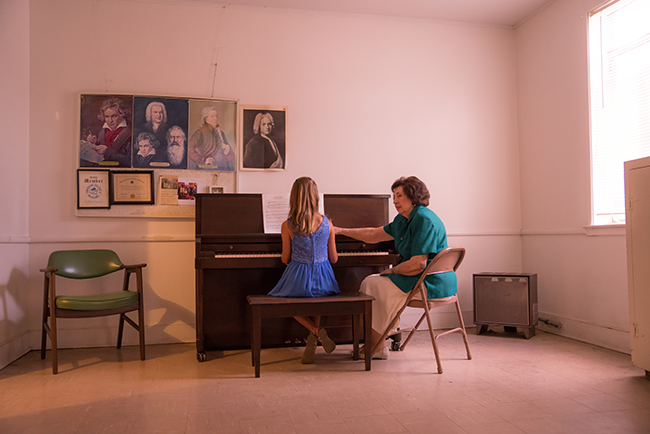 article by Nils Borquist & Photography by Brad Arender
"Music has charms to soothe a savage breast, to soften rocks, or bend a knotted oak. I've read that things inanimate have moved, and, as with living souls, have been informed by magic numbers and persuasive sound."
– William Congreve, The Mourning Bride
Music moves through people's lives in various ways. For some, it is little more than a nuisance in the background, while for others it marks life's important occasions, providing a soundtrack for the years and meaningful events, both celebratory and jarring. Music lives as the songs sung with the car windows down, wind whipping across moving mouths. It courses through weddings, parties, funerals and middle school dances. It beams almost unnoticed through elevator speakers. Music is a constant in life, and for a few, whether they be artists, songwriters or teachers, it becomes more than a minor sidekick travelling in one's pocket. Songs and sounds ingrain themselves within those special individuals until they can no longer be enclosed, and when that happens, the joy and satisfaction of such songs and sounds emerge, contagious and life-changing.
One such special person, Mary Lou Bairnsfather, has taught and continues to teach voice and piano to youngsters and oldsters alike. Since 1963, Mrs. Bairnsfather has guided over 400 students down the pathway of musical enlightenment, teaching skills that cultivate the lives of the participants as well as those with whom they come into contact. The impact is evident: on Saturday, June 24th, at 3:00 p.m. at the Rayville Presbyterian Church, the children of Mrs. Bairnsfather are holding a celebration of her life as a music teacher, and listing the turnout of grateful and indebted students will require a great deal of ink.
After being born, raised, and spending the majority of her 88 years in Rayville, Mary Lou (Jowers) Bairnsfather continues to live and work in the home she helped build over 50 years ago. As the Boeuf River sidles by, green with sprinkled moss drifting, Mrs. Bairnsfather can be found in her living room 30 yards uphill, sitting at her beloved burnished Knabe piano, or graciously offering guests hot coffee, fresh pie and a warm smile. In either case, she has devoted herself, primarily through music, to spending time with others, interacting with friends she has known for 60 years or 60 seconds.
Having begun playing piano at five years old, Mary Lou developed an early interest in the technical production of sound. As her childhood continued, she played increasingly more, but the seriousness of musical study would not occur until a profoundly tragic event. At 11 years old, Mrs. Bairnsfather lost her mother. Naturally, the event devastated the family. Filling the role of mother and father is exceedingly difficult for a single parent to satisfy, but the Jowers family had a tremendous network of family and friends, who assembled to assist the grieving widower and his children. In particular, and fortunately for Mary Lou and the hundreds of students she taught, Mrs. Bairnsfather had an aunt and cousin who were classically-trained musicians, who took an interest in her skills and potential. In addition, Estelle Sanders and Florence Allbritton, two prominent local musicians and music instructors, were also involved in Mary Lou's artistic development, and with the several teachers' tutelages, the pupil thrived.
After her four children were born, Mrs. Bairnsfather attended Northeast Louisiana State College, currently University of Louisiana at Monroe. While there, Mary Lou had the pleasure of working with a tremendous faculty, notably Dr. John C. Burgin, a professor who invited the young musician to join the National Association of Teachers of Singing. It was an opportunity she grasped, so she became a charter member of the organization's inaugural Northeast Louisiana Chapter. Additionally, two other institutions found Mary Lou among their ranks: the American College of Musicians and the Music Guild of Monroe. During these same years, she began her lengthy tenure as a church pianist/organist for various churches in the region, a role she still undertakes today. Judging competitions at regional colleges also appropriated a great deal of Mary Lou's time, but, as in any of the tasks or jobs in which she involved herself, she performed to the utmost of her talents. Finally, and perhaps most importantly to her professional career, she began teaching her first group of students, the role of instructor eventually emerging as her most prominent title.
As if her workload during the early part of the 1960s was not enough, Mary Lou also found time to raise four children. Maintaining a busy work schedule is difficult on its own, but when factoring in caring for a bustling household, the time requirements can be overwhelming. However, Mrs. Bairnsfather found occupational and familial success, while displaying a grace and fortitude that carries forth today. In fact, in the face of recent health setbacks, Mrs. Bairnsfather continues to teach a full class of voice and piano students. Her son, Paul, even stated that she is the most iron-willed person he has ever met. Throughout the decades to follow, Mary Lou sustained the dual responsibilities of nurturing her immediate family while also nurturing an extended family of students. During those years, she found the time to join other organizations, namely the National Guild of Piano Teachers and the National Federation of Music Clubs, groups that she believes play an important role in preserving the values and skills students and teachers alike gain through immersing themselves in the arts.
ver the years, Mrs. Bairnsfather's students have moved on to attend college, find careers and form families of their own. Many of the pupils also continued to be involved in creative and artistic endeavors, including singing in church choirs, acting and singing in theatrical productions and some even becoming ministers of music, performing for a living. One student, Samantha Williams, even won a competition to sing with the Monroe Symphony Orchestra and also sang at the inauguration of then Louisiana Governor Charles Roemer. For most of the students, the arts became an integral piece of their day-to-day lives, an aspect of her teaching, that Mrs. Bairnsfather finds fulfilling. She understands the value of voice and instrumental training along with the skills one must hone to perform in front of audiences. According to Mrs. Bairnsfather, increased concentration, poise and memory are all constructive by-products of such lessons. In addition, she believes that the training can positively assist in overcoming obstacles, such as personal learning disabilities and physical disabilities, such as arthritis. Even when considering daily conversations with co-workers, family members and friends, the speech training imbues one with greater confidence and presence. Mary Lou's son, Paul, credited his mother's teaching with helping him in his career as a lawyer. The pride and dignity with which one must carry him or herself can be heightened through the training, and certain professions, such as attorneys, teachers, and public relations, require one to be composed and confident, traits that be honed with proper training.
Above all else, Mrs. Bairnsfather has enjoyed her career in music because of all of the friends she has made over the years. She has been able to create and form relationships with people, who, she may have otherwise never met. Some of those relationships blossomed into lifelong friendships, some lasting several decades. She has found her life rewarding in all facets, but her life as a music teacher has given her joy by enriching hundreds of students' lives. Mrs. Bairnsfather was and remains a perfect example of what Plato recognized over twenty centuries ago, namely that one who teaches music is to be valued because "musical training is a more potent instrument than any other, because rhythm and harmony find their way into the inward places of the soul, on which they mightily fasten, imparting grace, and making the soul of him who is rightly educated graceful." The grace conveyed to students flows from a rich source, a woman whose devotion to her pupils made them love, respect and value her not only as a teacher but as a lovely and caring person.