A Lifetime Filled with Love
By Katie Sloan
Jan 31st, 2018
0 Comments
1107 Views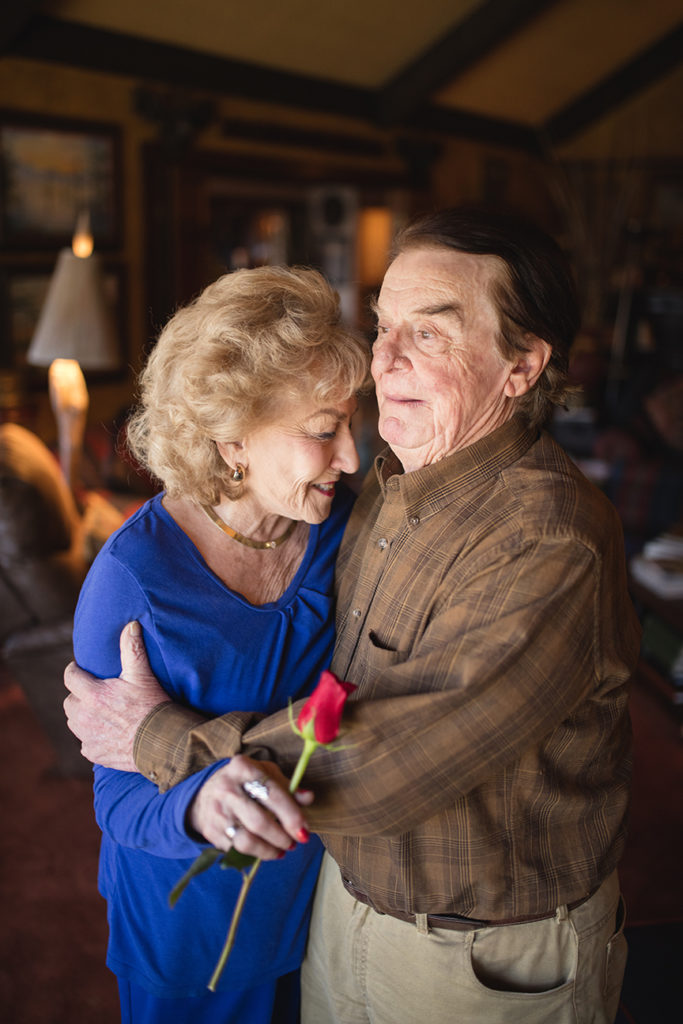 Articles by Meredith McKinnie and Michael Devault, Photography by Martin G Meyers
Love is a decision they make each day. The lifelong commitments detailed in these stories are choices. And whether they endured death, career changes, illness or any other valley of life, their relationships became their places of refuge. Oftentimes their commitments only grew stronger when challenged. When love is a constant action, it intensifies. After decades together, they still laugh, share intimate glances and the love is visible. From humble beginnings, they all excelled in their personal lives, building legacies they're proud of. These couples show that while marriage is never easy, it's more than worth it. Respect is the common fabric among them. At times one may have to carry the other, but they don't keep score. It's all part of the loving, and it's just what these lovers do.
JoAnn and Glenn Brunson
He calls her the "love of his life." She claims it was "love at first sight." And 64 years later, JoAnn and Glenn Brunson serve as a testament to lifelong love, climbing over the mountains and through the valleys of life together. From the moment they met, no one else existed. And though some said it wouldn't last, the young couple proved otherwise. After cross-country moves, loss and the unavoidable shifts of life, they stayed dedicated to one another. They formed their own example of what love should look like, one that began with sharing, serving as helpmates for each other. Glenn claims he "courted her." JoAnn insists he never had a choice. They grew up in Bienville Parish about six miles apart and had never seen each other until she saw him across the partition that day and knew exactly what she wanted.
Glenn Brunson's beginnings were humble, born in 1931, the fourth of seven children with a disabled father and a mother struggling to make ends meet. Raised with little, often on welfare, Glenn wanted better and enlisted in the Air Force to help his mother. JoAnn, too, had meager beginnings, though not as extreme as Glenn's. She remembers picking cotton every summer. Her family had a small plot, and after handling the family crop, she would go pick for the neighbors who would pay her $2 for 100 pounds. JoAnn admits she would go early when the dew was still on the cotton so it would weigh more. She used the money to buy material for clothes. She was one of the few children happy when the schools started serving lunch; no one would notice her biscuit, a sign of having little, next to everyone else's sandwiches.
In early February of 1954, 18-year-old JoAnn spotted Glenn, five years her senior, walking into the trade school to take his civil service test. She peeked over the wood divider between the two rooms, and thought to herself, "What a fine looking man." JoAnn was smitten immediately. Later when Glenn was "cruising" JoAnn's high school, which she insists he wasn't supposed to do, he stopped and talked to JoAnn and her friend. She invited him to her basketball game at Ringgold High School that night. It was February 14, Valentine's Day, the day Glenn officially asked her out. She doesn't remember where they went, but rather how she felt. She met the "sweetest man she has ever known," and her early inclinations were confirmed. Glenn continued to come to all of JoAnn's games that spring, and by May, the couple was engaged.
Glenn was fresh out of the Air Force, and work was scarce in Louisiana. He decided to go live with a brother in California, and JoAnn didn't want him going without her. They married the same night as JoAnn's high school graduation, with many of her classmates tagging along to watch what should have been a small ceremony. Immediately afterward, they climbed with their belongings into a car with another couple and began the cross-country trek to Livermore, California. By August, JoAnn's mother had become ill, and she returned home with the promise of Glenn following along in October. He surprised her in September, and by December, they were pregnant with their daughter, Dorinda. Glenn got hired at the Chrysler plant in Indianapolis, Indiana, and JoAnne took a job off and on with the Indianapolis School Board. Times were tough, and money was tight, but they made it work. After a layoff, Glenn took what would become his permanent job with Bell Telephone, and the couple bought a little house in Plainfield, Indiana. It only had two bedrooms, just 1,200 square feet, but it was right on the creek, and they both loved having a place to call their own.
Indiana was much like Louisiana, with farmland and flat land. The area featured covered bridges, and tourists frequented the area to see the leaves in the fall. JoAnn has fond memories of their time there. JoAnn worked with the Indiana Baptist Convention and helped open several Southern Baptist churches throughout the state. Though she missed home, she cried the first 100 miles when they left Indiana in 1962. They traded in the North for the Deep South, Glenn transferring to Morgan City, Louisiana. The state was booming with the oil industry, and the Brunsons developed an appreciation for Cajun culture, mostly revolving around food. Seafood was the staple, and JoAnn had never even tasted shrimp. Only fish was available back in Ringgold. The couple remembers the telephone company hosting parties with huge tables overflowing with shrimp and crawfish. It was like living in a foreign country, and though their time in Morgan City was short, the experience is memorable. Only a year later, the couple landed in Monroe, Louisiana, and they would live here for the next 50 plus years.
JoAnn recalls Interstate 20 was being built in 1963, and the Brunsons rented a house on Harn Street in Monroe. JoAnn had her eye on the house on the corner of Howard St and insisted they purchase it, when it came up for sale. JoAnn began classes at Northeast Louisiana State College, but became ill her second semester. She had two miscarriages after Dorinda, and the doctor said she probably wouldn't get pregnant again. Nevertheless, John Glenn was born 6 weeks early in February. He entered the world at only five pounds, but grew up to be a "mighty fine man," just like his father. He was named after his dad and the astronaut. JoAnn remembers the astronaut saying once, "To look at this kind of creation out here and not believe in God is impossible." In 1972, JoAnn began working at Northeast Louisiana University as a secretary and retired in 2002. Glenn retired from Bell Telephone in 1990, and began what he calls his favorite job as a buggy boy at Albertson's.
The couple has been members at Parkview Baptist Church since 1976 where Glenn is a deacon. Glenn volunteers with Christian Community Ministries, and JoAnn serves on the Stewardship Committee. They are the proud grandparents of Libby, Luke, Abby, John Glenn Jr. and Ella. And JoAnn still insists Glenn is the "sweetest man she knows." Glenn genuinely cares for people and is patient with JoAnn, one who admittedly needs it. But most importantly to JoAnn, her husband is Christ-like; "he walks it." The two complement each other, waiting patiently for the other to speak, evidence of a lifetime of adjustment and compromise. They both feel lucky to have found the other, and over six decades in, it doesn't get much "sweeter" than that.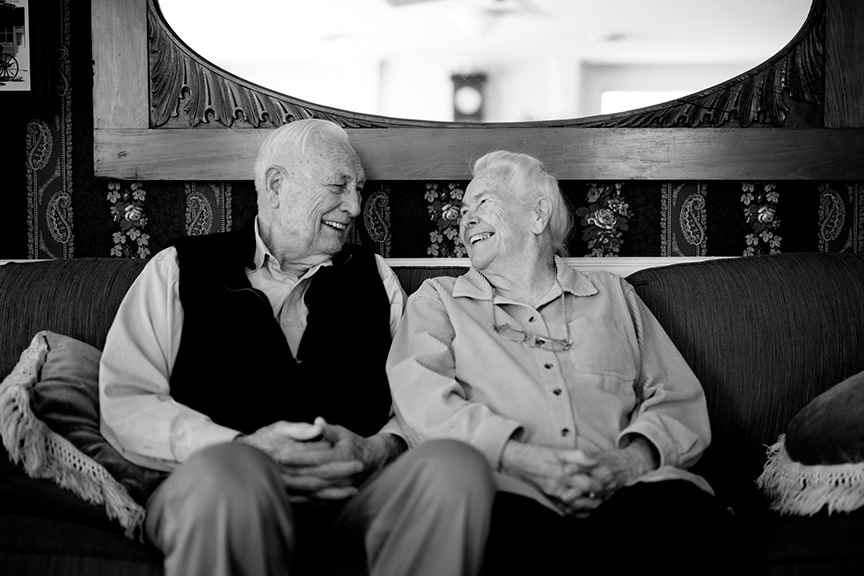 Dub and Schump Jones
Young people in love are heartwarming; you can't help but smile. And while WA (Dub) and Schumpert Jones are both 93 years of age, they're still two young people at heart. They laugh together, smile at each other's idiosyncrasies and still light up in the other's presence. It's refreshing to see, especially after 71 years of marriage. The remnants of all those decades together adorn the walls of their home like a museum. A coffee table in their bedroom has a glass top with seven pairs of faded white baby shoes, the pair worn when the children first walked. Graduation tassels frame the toe of each shoe, highlighting each person's accomplishments. The billiard room is covered with frames of family pictures, magazine covers, wedding photos and football memorabilia. A giant map in the sunroom is covered in little pegs, not travel destinations, but the locations of their 24 grandchildren and 40 great grandchildren. The legacy these two have built after two teenagers fell in love is overwhelmingly apparent; the stuff stories are made of.
The Jones kept the front steps from the old Ruston High School, where they met at just 13 years old. Schump recalls noticing Dub's "beautiful blue eyes," and though Schumpert couldn't date until she was 16, the two often found themselves at the same parties and gatherings. Schumpert was a member of the first graduating class of Ruston High School and Dub, who stayed behind to play football, a part of the second. Schump calls her upbringing "blessed." The last of four girls, she remembers neighborhood playmates, Saturday picture shows and her dad's dentist office at the end of West Michigan Avenue, where he practiced for 50 years. Her mom was the "Red Cross Lady" during World War II, the liaison between servicemen and their families. Dub was the youngest of four boys, and his father died when he was only three years old. A widow during the Depression, his mother made ends meet with boarders until they could no longer afford to pay. He remembers milking cows, having chickens, and though obviously not well off, never really wanting for anything.
Schump attended Louisiana Tech, while Dub went to LSU on a football scholarship before joining the U.S. Navy as a part of the V-12 training program at Tulane. While apart, both "tested the waters," so to speak, though seeing each other from time to time when they would return home on breaks. Dub got out of the service in 1946, and the couple married that June in Schump's backyard. They timed the ceremony around the train that would run by her parent's house four times a day. The Chicago Cardinals selected Dub as the second pick in the NFL draft that year. After brief stints with the Miami Seahawks and the Brooklyn Dodgers, Dub landed with the Cleveland Browns where he would play running back and wide receiver from 1948-1955; and he played in eight consecutive world championships. With Dub up north from June to January of each year, Schumpert would make the trip, bringing the kids on the years she wasn't pregnant.
The couple had seven children in 12 years: William Augustus Jr. (Bill), the attorney/real-life cowboy; Hasson Holt, the family stalwart; Schumpert Cassity, the Thunderbird pilot; Bertram Hays, the NFL player; Benjamin Milton, the bull rider/preacher; Nancy Ruth, the accountant at Triad; and Thomas Barnes (Tom), president of Triad. While still playing football, Dub bought the old Ruston Lumber & Supply with his brother Richard. And after football, he devoted his time to the lumberyard and then later Triad Builders. But Cleveland came calling again, and Dub returned as an assistant coach in 1962. Dub called Schump his assistant; she even signed two NFL players. The Browns went to the World Championship game twice while Dub coached in 1964 and 1965. Dub was one of the few coaches who would bring his family to training camp; Bert, who went on to play for the Baltimore Colts, would warm up the quarterbacks as a kid. Dub and Bert have the only father/son record in the NFL: Bert for 17 consecutive passes, and Dub for six touchdowns in a game. Dub finally retired from football in 1967 and returned to Ruston.
The couple stayed busy after that. Schump was involved in planning and zoning in Ruston and was also a decade-long member of the Chrysanthemum Club. Dub says their yard was covered with the most beautiful and unique flowers. Tom took over as president of Triad Builders in 1980, though Dub continued to work for the company. Schump insists, "When baby boy is boss, that's job security." They also stayed busy following the children in their sports. All of them are athletic, which Dub insists they got from their mother, a former basketball and softball player. Schump is tough, perhaps because she had to be. Dub recounts his wife driving alone with seven children to Cleveland and then to Green Bay for a game. He didn't worry about her; Schump's not the type you have to worry about. Dub insists, "I married up." And Schump smiles.
They still live in the Ruston home they built together in 1952, the home to all their memories on the walls. Schump drew up the plans at the time, and the couple disagreed over a divider wall separating the kitchen and living area. Schump won, as she often does thanks to a few tears. She insists, "If you cry, you win." The house boasts lots of windows and light-colored walls and hardwood floors. Rooms are on different levels, most likely additions over the years to suit the needs of the family. But there's an open, welcoming aspect to the couple's home, much like the couple themselves. When they speak to one another, it's with a familiar and intimate tone, a testament to the seven plus decades being good years. And though Dub claims he married up, Schump calls Dub a "kind, compassionate, honest man," who still, "loves her in spite of her faults." The key to the longevity of their relationship is simple; leaving is not an option. They continue to love each other through it all. He calls her Mama, and insists she come along as he points out all the remnants of their life together, a life they're both quite proud of. It's clear from every inch of wall covered, Schump and Dub want reminders of every moment. Life has been just that good.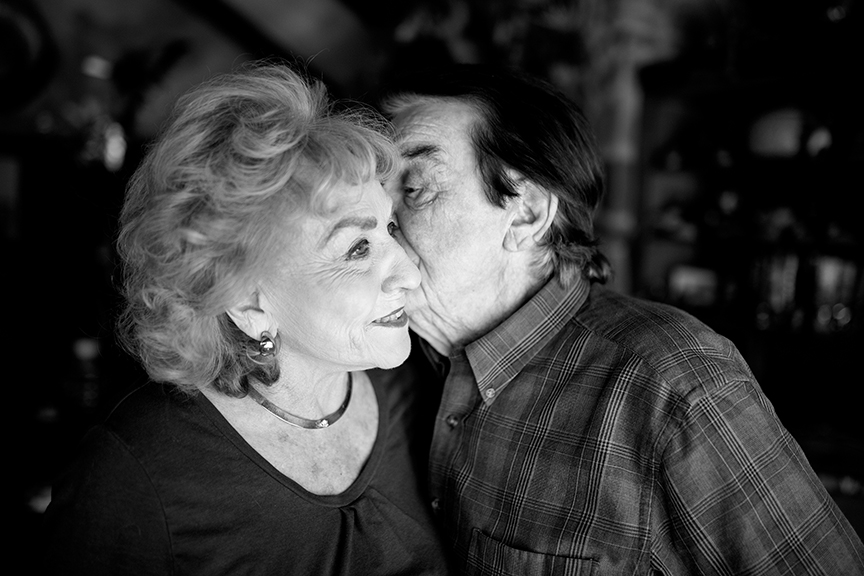 Alpha and John Spence
John Spence's life starts with a college dormitory window. Or at least the part that matters starts there.
By the time John Spence graduated high school, he knew he wanted to see more of the world than little Dyerburg, Tennessee could offer. College at Murray State in Kentucky led to medical school at the University of Tennessee. That's when he knew he had to leave home.
"In Tennessee, internships paid $25 a month, and you'd work your heart out," he says. When he thought about it, his wanderlust wasn't satiated yet, and Louisiana was offering $100 a month for the same internship. "That's when I went to Confederate Medical Center in Shreveport."
For Alpha Gremillion, going to Shreveport for her nursing rotations was the natural next step in a world where women didn't tend to stray too far from home. It was 1955, after all, and girls from Bunkie had few opportunities to travel "far away" without being married.
"We were both naïve, young, and it was just one of those things that happened," John says. "We met each other in an operating room. And she fell in love with me."
Alpha laughs at that account, though she admits it's not too far removed from truth. John was a young, bold doctor, and she was a young, enthusiastic nurse, and theirs was a good match.
"He called me at the nurse's dorm and asked me to go out with him," she says. "And, I think, I said 'yes.'"
Courtship followed. Nurses lived in a dorm across the courtyard from the interns' housing on the 9th floor of the hospital. John couldn't see enough of Alpha on their dates and at work, it seems. Alpha reveals he had a workaround.
"While he was on the 9th floor of the interns' quarters, he could tell me where to stand, and then he could see me in the nurses' dorm," she says. This became their pattern for a year. They saw one another fleetingly at work, and then they had frequent dates. In between, their interludes through the window, waving.
By early 1956, after a year of dating, Alpha had had enough. They'd been dating for almost a year. She was headed into the end of her rotations, his internship was coming to a close, and Alpha knew something had to change.
"I kept thinking to myself that I'd really like to marry this guy, but that he wasn't going to ask me," she says. "So I kept putting it off. Finally, I couldn't anymore. I said, 'If you're not going to ask me to marry you, then I'm going to ask you to marry me.' And guess what? He said 'yes.'"
Two months later, John and Alpha Spence left for what would prove to be the biggest adventure of their lives John had accepted a commission in the U.S. Navy, and a hospital in Sasebo, Japan, needed his services.
"We had married just two months earlier, and we spent our honeymoon in Japan for two years," she says. "We learned to live in Japan."
Living on a Navy base in Japan gave the young family precisely the training ground they'd need to build a foundation for a long life together. They learned to live well, but live within their means, because they didn't have much of a choice, as Alpha explains.
"Japan was a wonderful place for us to become acquainted with living together and making plans," Alpha says. "That's where we started our lives. We learned how to live hard, because everything was bare necessities in Japan. They were still recovering from the war."
Not long after their arrival in Sasebo, Alpha discovered she was pregnant. A few months later, their first son – John W. Junior – was born. The following year, they returned to the United States where John accepted a residency in anesthesia at St. Christopher's Children's Hospital – back in Tennessee. Still in the Navy, they had the opportunity to travel around – Virginia was one stop, just outside of D.C. – before John separated from the service as a Commander.
Opportunities abounded for the Spences and their young family. But on a visit to Monroe, Louisiana, they knew they'd found home. He was offered what Alpha calls "a good position" in the area, and she was familiar enough with Louisiana to make a good go at a life here.
Sixty-one years after they married, and more than forty years in Louisiana, they're pretty sure they made the right decision, both in marriage and in the place they call home. When they first arrived, Alpha and John lived in a house in the professional neighborhood around the university campus. Eventually, though, their children and their lives outgrew that house. That's when Alpha built a house on Bayou DeSiard in the newly established River Oaks community. And make no mistake, Alpha built the house.
"She was our only contractor," John says. Alpha worked with subcontractors to design a floorplan that worked for their family, that invited the nature they'd both come to love into the house. There are windows in every room that open onto the couple's natural cove on the bayou. The backyard is a sanctuary for family, visitors and more than a little wildlife.
Over the decades, John and Alpha have both given a lot of thought to what makes theirs a happy, productive marriage. The first secret is that John stayed out of Alpha's way when it came to running the home – likening his bride to the CEO of their home.
"The main thing I always tell young people, about the secret to marriage, is this: I'll make the living if you'll make life worth living when I come home," John says. On some levels, John's approach seems almost archaically out of step with the times. Yet, on another level, it's clear what making life worth living at home means to him. "You've got to marry almost a perfect woman, for one, and she was almost perfect."
Alpha adds consideration, adaptation and respect for one another are vital ingredients, and that's something that takes a little time to figure out. An avid duck hunter, John spends many weekends at the family's duck camp with his sons – an arrangement that Alpha says she is "perfectly happy with," because it gives her many weekends free to do what she pleases in the house and out of it. Space, both shared and personal, is an important component. And the distance on those hunting weekends provides a bit of excitement when, at last, he returns home.
"We're both down-to-earth type people, and that's helped us be a successful marriage," John says, adding quickly. "And a little music and champagne doesn't hurt, either."
Without missing a step, Alpha chimes in.
"And we've had a lot of both!"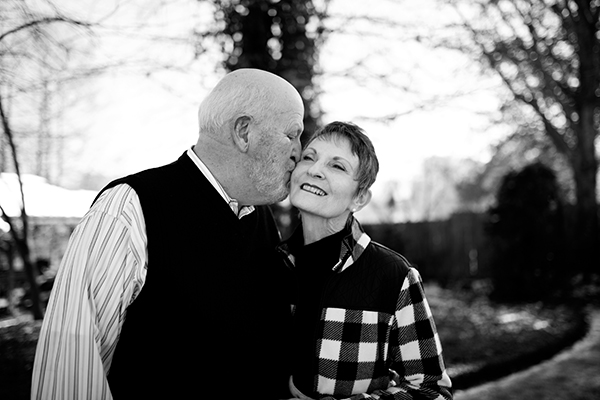 Kathi and Terry Barnhill
The Barnhills believe in romance. They practice loving each other every day. Terry has never stopped courting her, and claims marrying Kathi was his finest decision. Time has only made the two more grateful for each other and the family they've built. Losing a child and battling cancer cemented their bond, making them stronger as a family. Kathi insists life is "high highs and then really low times," but the hard moments fuse you together, remind you what you have, force you to cling to one another and rely on faith. The Barnhills are believers. They believe in God, they believe in each other, and they believe life is a blessing, meant to be lived. They don't shy away from change. They recognize the seasons in life and adapt accordingly. Terry's spontaneity is one of the aspects Kathi loves about her husband, insisting he "always lands on his feet." Terry says Kathi is "too good for me. I've always felt that way." The appreciation of each other is evident, from the private jokes, sly smiles exchanged and irrepressible laughter. The Barnhills are still smitten, and they aren't afraid to show it.
Kathi grew up north of Denver in Erie, Colorado. The eighth child of nine children, she often felt "lost in the shuffle." She was raised on a farm in a one-bedroom house with an outhouse, made harder with the snowy winters. Although her family didn't have much, there was always an abundance of love in their home. She graduated high school in 1967, and became a stewardess, a coveted position in 1967. The requirements were strict; the girls had to be groomed, girdles in place, nails polished, eyebrows plucked, regular weigh-ins, but Kathi didn't mind. The lure of freedom and travel was exciting, and it got her off the farm.
Terry was born in Meridian, Mississippi, the middle child of three boys. When his parents divorced, Terry moved with his mom to Jackson, Mississippi, changing high schools his senior year. In 1968, he enlisted in the U.S. National Guard, where he served for six years. He was sent to Denver to train as an airman, and three months into a six-month stay, he saw Kathi.
Kathi's sister had met her husband at the bar across the street from the military base and insisted Kathi go. Terry and his friend, Leone, missed the bus to go downtown that night and instead walked across the street to the same bar called the 7/11. When they asked Kathi and her friend if they could sit with them, Leone took the spot next to Kathi. The foursome rode around that night in Kathi's mint green Volkswagen Bug, and toward the end of the evening, Terry "made his move," slipping his arm around Kathi's shoulders. She helped Terry move back to Mississippi after he completed his training, though Terry was determined to get back to Kathi and transferred to Denver a year later. The couple married July 4, 1970, and Kathi says Terry "lost his independence." It was a day "hotter than blue-blazing," Kathi insists. A heat wave had come through Colorado, and Terry actually fainted at the rehearsal. Two years later, Terry graduated from college and took a job with Xerox.
Terry randomly came home one day and told Kathi he felt the Lord wanted them to move back down south. They loaded up a U-Haul truck with a Toyota Celica in the back surrounded by all their belongings and decided they would drive "until it felt like home." They attacked the country wide open, with no job prospect or house or destination. They drove through Mississippi, Alabama, Georgia, down the West Coast of Florida, through the Everglades to Key West and then back up the East Coast of Florida. They stopped in Monroe to say hi to a couple they'd met on a trip to Aspen, fell in love with the city and the people and decided Monroe would be their home. Terry eventually got a job with Merrill Lynch where he worked for 29 years, and just retired five years ago. Kathi gave birth to three children, April and Julia, and then their son, Jeremy. Terry insists the "children turned out well because of Kathi." Saturdays were spent with Dad, where each kid got an Icee and a candy bar. The Barnhills always had a hot tub and would corral the children in there for family talks. They spent many days on the "Barney Five," their party barge which they would cruise up and down the Ouachita River. Family time was important, and the kids saw that. Daughter Julia says, "It is not lost on me how blessed I am to have two parents who have loved each other unconditionally my whole life."
In 2002, their son Jeremy was killed in a car accident at the age of 17. Kathi claims each member of the family had to "grieve in our own way," but it brought the family closer together. Rather than get angry about the years Jeremy missed, the Barnhills feel blessed for the 17 years he had, a reminder of "how faithful God is." April and her husband, Adams, started The Jeremy Barnhill Foundation the year after Jeremy's death. The proceeds send young people on mission trips and fund youth camps, experiences Jeremy loved. Terry and Kathi are KK and Papa (grandparents) to Addie and Ella who currently live right across the water with April and Adams. Julia lives with her husband, Luke, in Start, Louisiana and just gave birth to their grandson in September, Jeremiah John, Jeremy's namesake.
When Kathi was diagnosed with breast cancer three years ago, she claims Terry, "enveloped me, took hold of me and walked me through it." After ten months of chemotherapy, radiation and surgery, the disease made her frail, and Terry admits it made him "think about mortality." He became more sensitive. Pondering what he might lose reminded him what he had. The couple has 40 acres in Calhoun, and on nights alone there, he would miss Kathi. He would sit surrounded by the couple's dachshunds and write poems for his bride. Kathi says the words are "heartfelt, reflective, loving and sweet," just like her husband. Life is "more interesting with Terry." She loves how "rock solid" he is, yet with an adventurous spirit. The couple sees marriage as a long-term contract, and when times are hard, Terry says you "love each other anyway."
Kathi has always followed her husband, whether it is across the country or down the aisle. Now the couple is entering their next "season of life," building a smaller house on the land in Calhoun. Kathi can't believe she is returning to the country. The hardships have made them realize how blessed they truly are, so in a way, they were blessings. One of the poems Terry wrote for his wife is called "The Good Ole Days." Perhaps that's what they're after with this move, a simpler home where they will continue to love and support one another, but more wide open space to explore together.