A Mother/Daughter Affair
By Melanie Moffett
Apr 28th, 2016
0 Comments
359 Views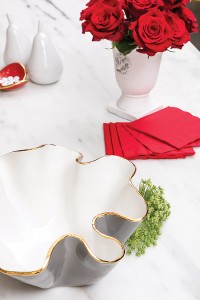 How an interior designer is combining her eye for details with her daughter's marketing savvy to take the custom design experience into the digital millennium.
article by Michael DeVault
product photography by Henry McCoy | portrait by Martin G Meyers
When Mary Katherine Russell graduated from LSU, she found herself tempted away from returning home to Ruston by an internship she couldn't turn down. Southern Living wanted her, and for a young woman from northeastern Louisiana, the opportunity to work for the storied company was too much to pass up, even if it was just for an internship.
The distance also meant being away from her mother, Ruston interior designer Connie Howard, for longer than Russell had anticipated. But, again, it was Southern Living, and the opportunity was too tempting. So she took the position and packed for Birmingham.
"It turned into a full-time job," said Mary Katherine, who impressed her Southern Living bosses so much that they offered her a full-time job in the company's products division. "I was there until a few years ago, until I went out on my own and started doing PR."
About the time she began to make the transition to her own firm, Russell found another longing. She wanted to do something with her mother, something that might help put Howard's 26 years of design experience in front of a wider audience. She began exploring ways in which she might help Howard grow a following on the Internet. "Everything is moving online," Russell said. "People are always asking if they can order unusual accessories through a website."
Within short order, the LivLuxe concept was born. At once a design site for those looking for interior design ideas and a marketplace for that hard-to-find and quite often one-of-a-kind home accessory, LivLuxe.com provides customers the interior designer experience from the convenience of an iPad or a quick browse during the lunch hour. With more than a hundred items in stock at any time, LivLuxe.com provides customers with options that they won't find in department stores.
The story of the products on LivLuxe begins at market. A licensed interior designer with a thriving and popular practice in Ruston, Howard has access to dealers-only areas of the major markets in Dallas, New Orleans, and Atlanta. These are the backrooms where accessory designers and architects tout the next wave, the newest products, and that single hot item that makes a room. These are the places where the LivLuxe experience begins, and for the discerning buyer, they'll recognize that what they're getting is signature Connie Howard, those kinds of items that capture her imagination.
"I'm always looking for things that have a little edge to them, things that aren't expected or typical," said Howard. "When I see that, whether it's in the colors and color combinations or in the design elements or materials, I'm drawn to that."
But don't be too quick to think that Howard only buys items she likes. For a seasoned professional, liking is a relative concept. The pieces she selects speak more to her experience with the clients she's worked with than to any personal aesthetic that might shine through. "I don't think my design is driven by what I like, so much as it is driven by the people I'm working with, what they like and those desires and needs others have expressed to me," she said.
That being the case, she still has a tough eye to please. She laughs, recounting the dozens of times she'll bring a new piece back from market and lament her dislike of it to her husband. In response, he's instituted a de facto 24-hour rule. "He says give it 24 hours, then I'll like it," she said, adding he's almost always right. "Sometimes it takes 48 hours, and sometimes it takes other people coming in and saying how much they really like it."
This attention to detail, to design and to uniqueness is one of the main calling cards of the endeavor. The LivLuxe aesthetic isn't about mass market. Instead, it's about creating that custom feel for a client. "We don't want our items to feel cookie-cutter," said Russell, who notes the prevalence of expensive, if repetitive, offerings in Restoration Hardware and Pottery Barn. That's not the audience or aesthetic LivLuxe is seeking. Russell thinks it's also not what most homeowners are looking for, either. "When we're at home, we want to feel unique."
She singles out a line of pillows they recently added. The pillows are popular, and they're not something one can find at Target, either. "You can get throw pillows anywhere," said Russell. "But these are gorgeous, they're terrific and you can't get them anywhere else."
That's because of those dealers-only rooms at market. Inside, working hand-in-hand with the designers and architects responsible for each product, Howard pairs custom fabrics with custom designs. What may seem like a straight-forward process is anything but, according to Russell. "They show us a hundred fabrics, and then we pick three or four. Then, they make the order especially for us," she said.
That same story is repeated time and again, throughout the site's offerings. Fine art and mirrors for walls complement the selection of small chests and bookcases. Each piece is of the highest quality, underscored by LivLuxe's return policy for all products save custom orders. That's partially in recognition of the individual nature of home décor. "People aren't seeing it, and they aren't touching it," said Russell. "They've got to be able to return it, unless it's custom-made."
On the custom front, LivLuxe is one of the few online portals where clients can order custom draperies. Selecting fabrics, pleats and backing, the site generates the quote and allows the client to either opt for a fabric swatch and a quote, or to place their order online.
"We all know that everyone is shopping online," Russell said. But what LivLuxe offers that other retailers don't is Howard's talent. Howard graduated with an MFA in interior design from Louisiana Tech. She worked outside of the Louisiana market for ten years before deciding to return. That was almost 30 years ago, and she's built a thriving practice in Ruston at Woodvale Interiors. During the years, she's learned what people want and how to create just that right pop for a customer.
For users on the web site, the duo will even coordinate putting items together, sketching out how they play well and how they might be arranged in a space. They will also take elements on their site and customize those elements for clients. Russell explains. "If someone wanted something specific, saw a pillow on the web site and said they really wanted that pillow in red, we would work with the vendor, find a fabric and get the pillow," she said. "We do that with textile products and our small furniture pieces."
Howard's designs seem to play well with Russell's marketing savvy. Which was kind of the point. Russell had wanted a project she could work with her mother on, something they could share and build together. LivLuxe has worked well for them, and Howard is quick to give praise to Russell.
"She understands the demographic, the technical and marketing aspects. I just know pretty things when I see them," Howard said with a laugh. Spend any time with this mother-daughter matchup, and two things become immediately apparent. They're talented, and they're having a ball.
One of the benefits of frequent trips to market is the ability to stock a limited number of items of high quality and unique design, as well as the company's ability to respond quickly to market demands. For example, in lighting right now, they're seeing a huge demand for outdoor lanterns. "We have them in gold, in rope and glass," Russell said. "They're really unique, and they start around $28."
Another popular item was a gold-leaf dinnerware collection for the holidays. Made by an artist in Birmingham, where they run the site from, the dinnerware proved so successful it'll return soon to LivLux. "It's gorgeous, and it's actually made by an artist right here in Birmingham," Russell said.
Three years in the making, the site has been online for a little more than a year. During that time, it has evolved from a high-end décor site to an affordable outpost for the discerning homemaker. When they first launched LivLuxe.com in November of 2014, Howard and Russell were decidedly targeting the more expensive side of custom décor. "We started out at the high end of eCommerce home décor," Russell said. Over they year and a half they've been operating, though, they've moderated those costs. "We've really brought it down to the middle."
While it's true that many of their furniture pieces and textile products can be expensive, the average order is far more modest. Table linens range from under $9 a piece to just over $20. Serving pieces for the dining room are there, too, with pieces such as an abstract acrylic and gold bowl for $60 and sea-life themed serving bowls for up to $180. Russell points out that the average order includes two to three items and runs about $250. In other words, it's about the same as a trip to Target or a similarly priced mainline retailer. Yet, what the customer gets in return is anything but mainline.
Decorative butterfly cachepots serve as a great decorative container or as a planter. They pair quite nicely with some of the other decorative containers on the site. Another popular grouping are the Waylande Gregory collection, and LivLuxe is one of the best sources for one-of-a-kind Waylande pieces. A gold elephant balances an orange matte bowl on his back. Finished in a high-quality matte finish and 22-kt gold, this is the kind of statement piece that will have company going to the candy dish time and again.
And that's the point of LivLuxe, to bring that special level of something to a home, whether it's in a decorative container, a funky collection of cocktail napkins or a brilliant chandelier. For the people who've been trafficking their site since it opened, the secret is out. Affordable luxury is just one visit to LivLuxe away.
"We're not mass market," Russell said. "We don't want to be."