A Place to Celebrate
By Melanie Moffett
Jun 5th, 2017
0 Comments
509 Views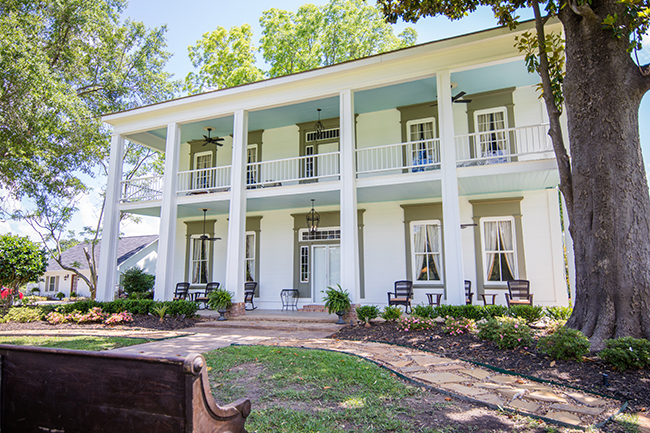 Restored to its original splendor, Park Manor is one of Northeast Louisiana's most sought-after wedding venues and event spaces.
Article by Kay Stothart Rector & Photography by Martin G Meyers
A stately white house sits just off Highway 2 in Morehouse Parish, with a wide front porch and upstairs balcony overlooking the front lawn. One hundred fifty acres of pasture land and woods stretches beyond the beautifully landscaped grounds surrounding the home and adjacent pavilion and guest cottage. Dubbed "Park Manor," the property was once a family home with an operating dairy and poultry farm. It now serves as one of North Louisiana's premier wedding venues.
Acquired through land grants dating back to 1859, the property was originally owned by Samuel W. Reily, who began building the home in 1860. It was completed sometime soon after, before the start of the Civil War. The antebellum structure served as the Reily family's home place for several decades. Reily's son, William Boatner Reily, who lived for a time at Park Manor, developed the Luzianne brand of teas and coffees, still produced and distributed today by Reily Foods Company of New Orleans.
Ownership of Park Manor later passed out of the Reily family, and over time, fell into a state of disrepair. In 1920, the home and over 200 acres of surrounding property was purchased by Frank and E.E. Marlatt, who moved to Morehouse Parish from Kansas. The Marlatts restored the home and updated it, adding a kitchen to the main house, along with other amenities.
Today the property is owned by Marlatt descendant Stephanie Smith, who has carefully restored the home to its original grandeur. "Park Manor belongs to all of us," Smith says, referring to her Marlatt family. "It is all of ours." She notes that the home had been renovated years earlier by her aunt and uncle, Robert and Dorothy Marlatt, who lived at Park Manor for over fifty years and raised their three daughters there. Most of their renovations were completed in the 1980's. The additional renovations and updates were undertaken by Smth in 2013.
Growing up in Morehouse Parish, Smith lived in a house on the family's property, near her grandparents and adjacent to Park Manor, where Robert and Dorothy Marlatt operated a dairy and poultry farm. She remembers fondly her childhood days spent roaming the acreage around Park Manor and Marlatt Farms.
Although she was settled in her own home and business near Ruston at the time she purchased Park Manor, Smith wanted to ensure that the property was restored and maintained. It was important to her that it remain in their family. "I just wanted to be sure that it would always be here, and would always be a part of our family," Smith says.
Smith enlisted the help of West Monroe contractor, Tommy Block, who spearheaded the restoration project. The home's original doors and fixtures and architectural elements were retained whenever possible. "There is so much of our family's history right here," Smith says of the structure. The home's foundation is made of cedar cut from the property. Bricks in the kitchen were laid by Smith's uncle and one of his farmhands. The home is filled with family heirlooms and interesting antique pieces. An upstairs bedroom features two half-tester beds, purchased by Smith from an antique dealer, which belonged to the late John Stonewall Chennault and were used by sons Claire Lee and William Chennault during their boyhood days. A mailbox, found in the adjacent dairy barn, bears notations in the handwriting of Smith's great-grandfather, Fred Marlatt, II, and the date "October 18, 1920." With its restoration complete, Smith and her family use the home often, especially for holiday gatherings, which was her intent. "With my grandchildren here, we now have six generations enjoying this place," says Smith happily.
Near the end of the renovation process, Smith's friend and business partner, Tammy Warner, began to encourage her to consider using Park Manor as a wedding and event venue. Warner, a Certified Event Planner, could see the property's potential for rental. Warner says that Smith agreed that the setting was an idyllic place for weddings, but was still toying with the idea of renting the property for that purpose when a bride approached them. "We were sitting out here one day when there was a knock on the door," Warner says. According to Warner, the young woman stopped by on a whim, curious about the plans for the house. "She said that she had dreamed about getting married here her whole life," Warner recalls. That was the push that Smith needed to turn Park Manor into site for weddings, parties and gatherings.
Smith and Warner recall that within a short time of that fortuitous visit, Park Manor was again a whirlwind of construction and activity. A covered, air conditioned and heated pavilion was built to accommodate a large outdoor reception, complete with rustic décor, a professional sound system, kitchen and workspace for caterers. Adjacent to the pavilion, an 1100 square foot Bridal Cottage was constructed, a charming space with accommodations for a bride and her attendants to use as they prepare for the big event.
Smith remembers the rush to prepare for that first wedding at Park Manor. "We hung the chandelier on Thursday and she got married on Saturday. It was that close," recalls Smith. "But it was the biggest, most gorgeous wedding that we have ever had out here. It was perfect." With that first event, their business took off. "If I had known this place was going to be so successful, I would have done a lot of things differently," says Smith. "But I never dreamed this would happen. I couldn't imagine that people would come to Bastrop just to get married." Yet they do come. Since the inaugural event in 2014, Park Manor has hosted numerous weddings, rehearsal dinners and engagement parties and stayed booked well into the future.
Warner is not at all surprised by Park Manor's popularity with brides. "As a wedding planner, I used to do weddings in Natchez and Vicksburg just to get this look," she says. "Park Manor is right here in North Louisiana, thirty minutes from Monroe." Warner says that once she shows the property and brides see what Park Manor has to offer, bookings follow.
Alana Babb, owner of Something Borrowed and Riverport Creative Group, has staged and decorated for a number of weddings at Park Manor, working closely with Warren and her staff, and counts it among her favorite venues. "Serene" is the word Babb uses to describe this breathtaking property. "The setting is perfect without any decoration at all. The grounds and the home itself are beautiful, any time of year," says Babb. She finds it very versatile from a decorating standpoint, noting that brides can create almost any look they want, from really simple and rustic to more formal and elegant. Jessica Hughes, who partners often with Babb on weddings and other events, agrees, noting what a pleasure it is to work there, as the property is well-equipped to handle the needs of decorators, caterers and others employed by the host couple.
In addition to weddings and receptions, Park Manor is available for hosting luncheons, wedding showers, birthday parties and other smaller group events. Warner also conducts private tours of the home and its grounds for those who are simply interested in viewing the property and learning about its history.
Allowing others to experience the beauty of her ancestral home, and sharing with others the place where her own family made memories for generations, has been satisfying for Smith in ways that she never expected. As one of Northeast Louisiana's most sought-after wedding venues, Park Manor has become the perfect place for young couples to begin making their own memories and for families to celebrate together.
    Park Manor is located at 5868 Mer Rouge Road, Bastrop, Louisiana. To schedule a tour of Park Manor or to obtain booking information, contact Tammy Warner at (318)239-2146, or visit their website at www.parkmanorvenue.com.