A Quiet Grace
By Melanie Moffett
May 21st, 2014
0 Comments
1150 Views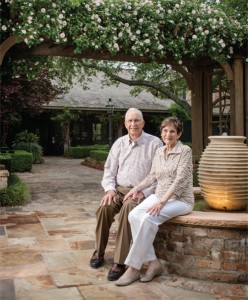 Bayou Icons: Carole and Tex Kilpatrick
article by Michael DeVault | photography by Joli Livaudais
At first, it's a biography fitting of many couples borne of post-World War II America. Carole and Tex Kilpatrick met, married, started a business and a family, and along the way became philanthropists, pillars of their church community, education activists and patrons of the arts. All the while, they operated Kilpatrick Funeral Homes with a quiet grace that has over the years come to define both Tex and Carole. Spend any time whatsoever with Tex and Carole, and you'll leave feeling like you've known them for years—or at least like they've known you for that long.
Tex arrived in West Monroe after college to establish a funeral business there. It was 1953 and West Monroe was booming, with a new high school set to open its doors later that year, retail and business development, even a hospital.
There was just one problem, according to Tex's wife, Carole.
"When he came to West Monroe to open the funeral home, he had to be emancipated," Carole recalled. "He had finished college and wasn't even 21 yet."
But, Tex addressed the problem like he would all the other challenges that would face him over the next fifty years—one step at a time. The result? He opened the first Kilpatrick's Funeral Home in West Monroe in 1953. Since that time, the business has grown to numerous locations, cemeteries and even for a while a life insurance business. For his wife Carole, she took her own path into the world. And that path started with a trip across the Ouachita River. The West Monroe-raised Carole was actually born in Monroe, and for good reason. "They didn't have a hospital in West Monroe," she told BayouLife.
Carole was a member of the second graduating class of West Monroe High School in 1955 before enrolling in classes at Northeast Louisiana State College, now ULM, where she earned a Bachelor of Arts in History and English. "I was planning on being a teacher," she said. She even completed her student-teaching rotations, but a classroom career wasn't quite in the cards. After she married Tex, her path changed.
"I did my student teaching, and then I stayed home to rear children," Carole said. The couple has three daughters—Kerry and Robin are both attorneys, and Laura, the youngest, is now president of the family business, a thriving enterprise that provides crucial services at a critical time in people's lives.
Tex was a natural candidate for successful funeral director. He had grown up in his father's funeral home in Farmerville. After embalming school and college, Tex and his brother bought the company from their father, and that's when Tex decided to expand into West Monroe. "There wasn't enough business in Ruston and Farmerville for me and my brother," he recalled.
Along the way, the Kilpatrick clan branched out. Early on, Tex hit upon a big idea, one that would lead to rising fortunes for the Kilpatrick family. At the time, funerals frequently represented a significant and unexpected expense. Families could go into significant debt to pay for their loved ones' services. Tex saw a way to avoid that distress and to provide a valuable service to his clients. So, in 1957, he opened Kilpatrick Life Insurance Company.
"That really kicked off the funeral business, because people could buy a life insurance policy to pay for their funeral when they died," Kilpatrick said. The business exploded, with new locations and services popping up quickly. By 2005, when Kilpatrick Enterprises sold the insurance component, the company started to ease paying for a funeral had become something more than Tex ever anticipated. "At the time, it was the largest life insurance company in northeast Louisiana," Tex said. "We sold it to the largest in the country, a firm out of Wisconsin." Today, the Kilpatricks still provide life insurance services through that company.
That Tex found success in an innovative manner is no surprise to one of Tex and Carole Kilpatrick's closest friends, West Monroe's former First Baptist Church Pastor David Uth, who first met Tex and Carole when he came to First West. During his time in the Twin Cities, Uth served on the board of directors of Kilpatrick Enterprises, giving him a front row seat to witness what he called Tex's visionary leadership.
"He's a gifted visionary," Uth said. "He is always on the cutting edge of both the funeral and the insurance business."
Uth attributes this foresight to Tex's time with people, to the individuals Tex meets at church, in the community or in his business. Tex can assess a person's needs and abilities quickly and often before anyone has noticed those needs or abilities. "He sees things in people that others simply cannot see," Uth said. Uth credits Tex as a significant influence in his life and recalled frequent trips to Tex's office to seek advice. On one such trip, Uth had been struggling for days with a personal decision. He had sought the council of family, of other friends, and of God, but felt no closer to an answer. So, he went to see Tex.
"Tex, in his advice and council, but also in his encouragement, really gave me a sense of God's direction. I walked away feeling like I really had my answer," Uth said.
This gift extends to Carole, too, according to Uth.
"They have an incredible gift of knowing how to encourage and to bless people and to let them know how valuable and important they are, just expressing appreciation," Uth said. "They do this with a real sense of kindness."
Tex and Carole bring this sense of kindness and encouragement into all their endeavors, from the church—where they are tithing members and then some—to the arts, where they are patrons and supporters of numerous area arts groups. But it's in education where the Kilpatricks have left their biggest mark, so far, after deciding early on to become supporters of ULM.
"We just realized what an asset we have in ULM here in our community," said Carole. "We all need to support it as much as we can, especially in light of the cuts they've been receiving."
In addition to major financial contributions over the years, Tex and Carole are fixtures at ULM events, and the couple endeavors to raise money for the university whenever they can. Tex also served terms on the ULM Board of Supervisors and on the ULM Foundation Board of Directors. Now, he's a key figure in the ULM SOAR initiative, an effort to secure $54 million in contributions to benefit the university. The money will be used across the university's offerings. "It's not just one area," Tex said. "There are so many areas where they need money to help them be up to speed."
If he's remembered for anything, Tex said, he hopes it is for his contributions and efforts in education, especially at the university level.
"I've had a dream life," Tex said.
For the most part, Carole has focused efforts on supporting Tex, caring for the family and overseeing the home they share on Bayou Desiard in Monroe. The home is as much an extension of Tex and Carole as it is a house. Quiet, comfortable, well apportioned but by no means ostentatious, it arose in 1977 from their shared tastes—and the vision of renowned Louisiana architect A. Hays Town. Carole and Tex learned a lot about their mutual tastes during the construction of the home, which Carole says is very much an extension of themselves.
"When we went with Mr. Town, he took us through Baton Rouge and drove around," Carole recalled. During that trip, the couple remarked on features they found interesting. They discussed architectural elements they liked or disliked in each house. After the drive, Town turned to them. "He said, 'I know what kind of house you need. It's going to be for Tex and Carole.'"
A month later, the plans arrived. Immediately, they knew they were done with houses for the rest of their lives. "We didn't change anything," Carole said. In keeping with Town's signature style, they used recovered materials as much as possible. Columns came from the Missouri Pacific Depot in downtown Monroe, a site that also yielded the lumber that would eventually become the Kilpatrick home's floor. Tongue-and-groove accent woods in the bedroom wing were salvaged from the antebellum home of Jefferson Davis's brother-in-law in Mississippi. Meanwhile, the home's architecture was crafted to fit the family's unique style. A garçionniere wing provided space for the children, connected to the main house by a wide, welcoming loggia. Town even picked the home's furnishings.
The result was a timeless classic, as up-to-date in 2014 as it was the day they turned the key in 1977. In fact, according to Carole they have only replaced some of the furniture a couple of years ago. "It was almost like, until he passed away, I felt like I'd need to run this by him before I changed anything," she said.
Tex attributed the home's timelessness to Town's attention to detail. He pointed to the mantle around the fireplace in the living room. When Dalton Taylor, the family's contractor, first installed that mantle, it was pristine, its wood unblemished and smooth. Tex recounted what happened next. He happened by one afternoon during the final days of construction to check progress, only to find Town in the living room with hand tools and a hammer. Town was "aging" the mantle by hand, a process Tex is sure would have sent Dalton Taylor into a fit. When the process of aging the mantle was complete, Town produced a small penknife.
Tex searched the mantle for a moment and then ran a finger across a particularly rough spot. The faint outline of a "T" and a "C" still shows, years later. A "T" and "C" that Town said was "for Tex and Carole."
"He stood there and etched that with a little penknife," Tex said, still touched all these years later.
Hanging above the mantle, a Boone and Crocket certified eleven-point buck presides over the room, the lone trophy from Tex's hobby—hunting and fishing—that Carole allows her husband to display in the home. An avid outdoorsman, Tex kept a fishing camp on the Gulf of Mexico for forty years. He's since brought fishing closer to home with a camp in Newellton. In addition to deer hunting and fishing, Tex enjoys duck hunting as well.
Even in his hobby, though, he finds ways to leave a mark. He served as state chairman of Ducks Unlimited. While at DU, he was invited to the national convention, to reveal how Louisiana Ducks Unlimited had, under his guidance, recruited more members and more donations than any other state's DU chapter. Tex shrugged.
"I looked back to my insurance days, where the more people you see and talk to, the more possibility you have for sales," he said. Ducks Unlimited saw his insight a little differently and rewarded him with a seat on the national board of directors, just one of the dozens of honors he and Carole received over their lifetime.
For more than thirty years, West Monroe Mayor Dave Norris has watched Tex and Carole Kilpatrick's interests in the community blossom, grow and bear fruit. Situated in his City Hall office just a few blocks away from Tex's own office, Norris has gotten to know both of them, calling Carole "one of the most gracious ladies you could ever meet." And of Tex, his praise is equally high. "Tex has been a very successful businessman," Norris told BayouLife. "But they've also returned an awful lot to this community, helping to fund the arts and education. Tex has devoted so much of his time to educational interests."
On a Saturday morning in late May, Tex and Carole dressed early, gathered family and friends around, and made the trip across town to ULM's Fant-Ewing Coliseum for the Spring Commencement. Norris was on hand, too, to provide the graduation address to the 2014 Senior Class. Hardly their first commencement invitation at ULM, this one was special, as on this particular day Tex was to be a platform guest of ULM President Nick Bruno, also not a first for Tex.
This graduation service was different, though. ULM was set to present Tex with an Honorary Doctorate of Humane Letters, in recognition for his decades of service to higher education in northeastern Louisiana. The honorary doctorate is one of the highest, "if not the highest," honor a university can present to an individual, according to Bruno, and it is awarded sparingly and with much deliberation.
"Tex Kilpatrick, with his service to higher education statewide, to LSU, to the system board, the foundation–there's no question he and his wife have committed a great deal of their life to higher education," Bruno said. "I was proud to confer that degree upon him."
In front of more than 700 graduating seniors and their families, joined by his wife, his children, his grandchildren and friends, Tex became Dr. Kilpatrick. At the mention of the honor, Tex demurred.
"The truth is, when they told me I had been selected, I said very plainly, and I mean it, that there are so many other people who are worthy of receiving this great honors." He flashed a wink, and then added playfully, "But I'll tell you what, I'll certainly take it."