A Real Saint
By Melanie Moffett
May 21st, 2014
0 Comments
798 Views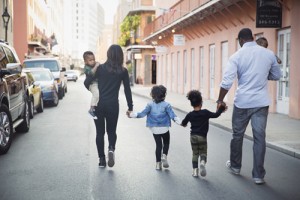 New Orleans' Saints tight end, Ben Watson, talks to BayouLife about football, his passion for family and his foundation One More.
The country song "Chain of Love" was released in 2000 and sung by Clay Walker. It was a song about how one random act of kindness can be passed along and somehow it ends up coming back around when it is needed most.
The song starts with a man helping a woman in a Mercedes with a flat tire. The woman then goes on her way and stops at a restaurant in the same town. Her kind waitress is a pregnant woman and because of the previous act of kindness, she decides to leave her a $100 tip.The pregnant woman ends up being married to the man who helped the woman with the flat tire and little did the woman know how much the couple was struggling to make ends meet. The concept of the song is to not let the chain of love end with you – keep it going forward.
The same year that song came out, current New Orleans Saints tight end Ben Watson was a college student athlete at the University of Georgia. He had transferred from Duke University and was sitting out the one year due to the NCAA transfer rule.  During that year, the finance major met a co-ed named Kirsten. This may have not been a chain of love because it was just two involved, but the first date turned into a chain of dates and in no time at all became a never-ending love and an unbreakable bond.
"Our first date, we were going to eat at the lunch room at school – the dining hall together," Watson said sheepishly, almost ashamed of the cheap date. "The second date we went to church for an off-campus ministry that we had become involved with and all these kids in Athens.
"They had no aspirations to even be associated with the University of Georgia. We were somewhat mentors, but just encouraging them that you can go to school in your own backyard, if you apply yourself, make the grades and have the spiritual aspect. We were trying to be a positive impact with them."
Ben and Kirsten married in 2005, one year after the New England Patriots selected the tight end in the first round of the 2004 NFL draft. Although it doesn't seem like that long ago, the NFL draft has changed in a lot of ways.
For starters, Ben did not travel to New York like most first-round potential draft picks currently do. He sat at home with his family back in South Carolina, but the tight end said even if given the option today he would still choose the same setting for when he got the call that made his NFL dreams come true. Not all of the dream, though, is ideal. Ben had never traveled as far north as Boston. He visited Washington D.C. when he was younger and when he got the call that he was the newest member of the Patriots, he didn't even own a winter coat.
"It was a total culture change, not to mention the weather change," Watson said. "You have no idea what guys go through, to live in one place my whole life then go to another part of the country."
That wasn't the only struggle. In fact, if that was the only hurdle, Watson would have been fine. However, there were other impacts that set him back even further. He tore his ACL in his first year with the New England Patriots, and it did not help the competitor inside of him, who is used to being on the field for every play to sit on the sidelines and watch his team win the Super Bowl without him.
"That was a very tough thing," Watson recalled. "It was a learning process, but there were other things I enjoyed about being on a winning team. There were a lot of great veteran players, and I learned where to lead and be an example for younger players."
He did not know at the time, but Watson's setback helped him to mentor future rookies, including some of Monroe's own years later. After spending six years in New England and three with the Cleveland Browns, Watson was traded to the New Orleans Saints in 2013. He reported and had free agents and former ULM receiver Brent Leonard and tight end Keavon Milton on the same field with him, if only for a brief time. "Keavon and I were in meeting rooms together for the whole training camp, and I had an opportunity to talk to him a lot and just kind of tell him about the path he might have to take," Watson said. "I told him he's a really talented and big guy, but he can move really well. The big thing is I tell young players, especially when they come in as free agents, 'Just because you don't make it with one team, doesn't mean you won't make it with another.'"
The Saints cut Milton late into preseason camp last August, but within 24 hours he was picked up by Watson's old team, the Browns. "The one thing I said to him was, 'Sorry about that. You're going to be cold,'" Watson said with a laugh.
Like free agents, Watson bounced around to a few places and wearing different color uniforms in the process, from blue and red to orange and black and now to the black and gold.
However, his path in life has never seemed to waiver. He's always worn his love for Jesus Christ on his sleeve, no matter what the color of that sleeve may be. As much as he loves football, he loves his spiritual life with his wife and kids even more.
Within four years of marriage, Ben and Kirsten was able to develop the foundation "One More."
Ben is the oldest of six children with a minister as a father. Ken played college football at the University of Maryland, but he did not allow his sons to play football until high school.
"I always had a love for football with my father playing, so I just gravitated toward the game," Ben said. "I liked the contact and the competition and playing on the team. I didn't really play organized football except one year of little league. "My dad wanted me to wait. It was kind of tough when you're young and not developed and the coach may not know what he's doing and you develop bad habits."
That did not keep Ben and his brothers, along with the neighborhood, from playing a pickup game in the streets. Ben still has a few scars from running into parked cars or getting tackled on the asphalt, but his spiritual impact has been imbedded for some time.
The concept of One More is to pass along the message and the love of Jesus Christ to others and hopefully those individuals will carry it on to the next person…kind of like a chain of love.
"Our (Ben and Kirsten's) whole relationship is based on always wanting to serve other people," Watson said. "So we came up with this idea of One More in 2009, spreading the love of Jesus Christ to spread it to one more soul by meeting people's needs whether that be clothing, education or partnering with different charities.
"I feel like everybody to some extent can lend a hand to other people. They just don't know how. If you can spread God's love to one person in one simple way every day and another person does that to someone else, think of how amazing the world can be." Watson and his family, along with the others who help with the foundation, have already seen the gratifications in the first five years of One More.
"Whatever we have done – an event here or there – a lot of people who have been served with food or presents or whatever, a lot of times they want to come back and help the next crop of people," Watson said. "People want to help people who are in need.
"We wanted a legacy that could one day grow into something bigger than we imagined it to be. Something our kids can be involved with and have a household of legacies of giving, because we were both given by our God."
Soon after the jumpstart to their foundation, Ben and Kirsten welcomed their first child Grace. The family has since multiplied with Grace now 5, Naomi recently turned four and their sons Isaiah and Judah are 2 and 1, respectively.
Ben joked this past Spring was the first time Kirsten was not pregnant or nursing, making their busy lives somewhat easier. However, they continue to stay in the fast lane. Between the football world and always keeping God first, the couple still finds ways to stay humble.
Ben even admits he's not the best athlete in His family. The oldest sister, Jessica, ran track at Coastal Carolina, but he gives his youngest sister Karis, a volleyball player at Clemson, the best athlete award for the Watson family. He doesn't even give himself the best male athlete award. Ben said that would go to his oldest brother, who chose to not play sports and is now with an NBC affiliate in Charlotte, North Carolina.
The two youngest of the Watson's are also boys, with Asa just finishing his football career at North Carolina State. Like his brother, Asa plays tight end and actually just signed a free agent contract with Ben's first team, the New England Patriots.
With all the athletes in one family, it's hard to get everyone home at once. However, with their upbringing, it doesn't matter where they live for his message to continue to get carried out.
"My parents instilled in us early the fact that we were always to serve people in different ways, whether that be giving of our time or money," Watson said. "Whatever it is, God has given us many things, talents and blessings, and we must be compassionate to people about tell people about Him."
With a grandfather like Ken and a dad like Ben, it's safe to say Grace, Naomi, Isaiah and Judah will be carrying the chain of love throughout their lives, too.
PHOTO BY IMAGES OF GRACE PHOTOGRAPHY