A Rose in the Sun
By Melanie Moffett
Apr 25th, 2014
0 Comments
712 Views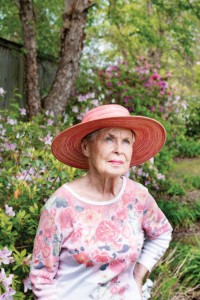 Adele Ransom
article by Michael DeVault | photography by Joli Livaudais
"Have you ever been to Sedona?" she asks. She's seated in a high-backed chair that makes her look much smaller than her impossibly small frame. A shock of white hair whisps across her forehead, perpetually windswept from the hours she's spent tending her flower garden, which is visible through the window beyond the patio.
At 86 years old, Adele Ransom has done more than most women in her generation. She's taught for decades, raised a family and become a Rosarian—a high honor that's rare in northeast Louisiana, where only two or three others have ever achieved this level of expertise on roses. If that weren't enough, she's known for her volunteerism at a Who's Who list of charities and arts groups, and she served two terms on the Ouachita Parish Police Jury from 1988 to 1995. But none of that matters right now.
Instead, Ransom is idly fingering the coral and fuchsia petals of a single rose in a small bud vase. This rose, the Sedona Rose, is what triggered the question in the first place. It's signature Adele Ransom—using roses or whatever else is handy to deflect attention away from herself and onto her conversational partner. It's a pattern she'll repeat numerous times over the following three meetings, more evidence of why she was successful in politics than it is of a good upbringing. And Adele benefits from both, traits that helped her to ingratiate herself to Monroe society when she moved here after college.
Adele arrived in Monroe in 1948, in those early post-war years when agriculture boomed in the region. She had met her husband, Paul Ransom, while she was attending LSU and studying for her pre-med degree. She had been a Tri-Delta at LSU and had chosen to focus her studies on science.
"I never got to be a cheerleader," she says. "I wasn't good enough."
Instead, she applied her energies to her studies and graduated with her bachelor of science degree, which she has used ever since. "It's helped me growing roses," says Adele, who often is heard extoling the virtues of education. "You lean on it your whole life."
Paul and Adele settled in northeastern Ouachita Parish, where Paul had leased 100 acres of farmland. Because they were just starting out, financial resources were scarce. In addition to preparing the farm for planting, Paul took a job with Monroe Furniture. For her part, Adele began substitute teaching. After a year, she had earned enough for a down payment on a new tractor.
"We got a tractor and had a hundred acres of land," Adele says. Paul went to work in earnest. While farming cotton and soybeans, he continued to sell furniture. By year three, he took out a small loan and leased some 1,000 acres near Selman Field. It was hard work, but it was rewarding.
"He ended up, when he died, farming about 3,000 acres of cotton and soybeans," Adele says. She wasn't done with working, either. She continued to substitute teach for years until, one day, she decided she would teach full-time. She returned to college at Northeast Louisiana University and earned a teaching certificate in science, which opened the door to a career teaching junior high science at Swartz and River Oaks. "I was happy when I was teaching science," Adele says. Her students appreciated her efforts, too. "Many of them are doctors today."
She retired from teaching, had raised a family and was settling down into a new home Paul had built her near North Monroe Hospital. Everything was beginning to wind down for the Ransoms, or so it seemed. On a walk one day in the late 1980s, Adele noticed something. "The weeds were so high in the ditches," she said. In addition to being unsightly, the weeds were choking off drainage and causing water to back up.
After a bit of research, Adele determined the responsible agency was the Police Jury, the parish governing body. Neighbors said they had tried to get the Police Jury to act, but to no avail. She told her husband she planned to do something about that. She would run for Police Jury, and she planned to win. "I walked 4,000 houses in the middle of July," Adele says of her first campaign. "It was the biggest district you could see."
Adele knocked on door after door, meeting her neighbors, then their neighbors. She didn't let foul weather or a merciless Louisiana summer deter her goal. Ultimately, the voters rewarded the white haired woman they'd met on their porches. She took office that Fall and set to work.
"It's a lot you can do," Adele says of the Police Jury. In many ways, the Police Jury controls the parish. They are the responsible entity for drainage and road maintenance, for funding the jail and soliciting federal funds from state and federal agencies for major infrastructure projects. The floods of 1984 were still fresh on Adele's mind when she picked up the banner for a flood control project.
The parish engineer at the time, Don Harrison, showed Adele the problem: when the Chauvin Basin filled up with water, the rest of northeastern Ouachita had nowhere to drain. If there were pumps in Chauvin to drain it into the Ouachita, flooding would be less likely to occur, Harrison said. The cost of the pumps ran into the millions, making it unlikely the Police Jury could foot the bill itself.
So, Adele turned her attention to state and federal legislatures. She worked contacts in the state House of Representatives and lobbied the Louisiana congressional delegation for funding. Two years later, the Police Jury broke ground on the flood control pumps. Ransom was front and center, smiling.
She left the Police Jury behind in 1995 and, now retired completely, devoted her attention to roses. Her back yard is evidence enough that she's found success here, too. On this bright Spring afternoon in April, Ransom's roses are just starting to leaf out. Unseasonably cold weather and heavy rains have delayed their start.
"They'll be blooming in a couple of weeks," she tells me. "I hope you'll come back and see them."
I stumble along the way, taking in the names of each plant, a testament to the whimsy of rose growers everywhere. There's the Double Delight, which blooms red and white. The American Beauty lent its name to a major motion picture a few years back. Marilyn Monroe films are a particular feature of rose names, and in Ransom's yard, there's a Some Like It Hot. Ransom says roses are a labor of love that she loves to share with friends, family random acquaintances. "There's nothing that makes someone happier than to give them a few roses."
I leave the Ransom home feeling that I've gotten to know just a small part of Adele. But I want to visit more. So the following evening, I pick her up for a trip to ULM's performance of Into the Woods. The Director's Gala is Saturday night, and Adele is dressed for the event.
She's waiting in the driveway when I pull up, wearing a faux fur vest and a royal blue tuft blouse. She's wearing the same, Sedona-red lipstick from the day before and clutching a small black handbag. When she arrive at the ULM Sculpture Garden a few minutes later, faces throughout the crowd light up. It's almost as if the entire gathering gravitates toward "Miss Adele."
She shakes hands with Arts Council president Tommy Usrey and Derle Long, head of ULM's school of Visual and Performing Arts. By the time Georgia Street finds her, she's given way to hugs. At 86, Adele is as popular as ever and showing no signs of slowing down.
Following the show, she gushes about the performance. "Those young people! They were just so talented," she says of the cast. On the ride home, we discuss aspects of the performance, how this girl's acting was "superb" or that boy's voice was "amazing." Adele's been no stranger to the arts over her years, and she's ever-surprised at the steady stream of offerings available to residents of the Twin Cities.
Adele visits gallery crawls—especially when her son, Burg, has a new show hanging in a gallery. A wildlife photographer of some renown—he won the Convention and Visitor's Bureau photo contest last year and his work has appeared on the cover of BayouLife, Burg's best works hang in Adele's kitchen. She also has paintings by Edmund Williamson and a number of other local artists.
"You have to go," Adele says, noting the variety of activities locally and regionally. Life is short, she cautions. "So enjoy good books and good music."
As I walk Adele up the sidewalk to her door, Flapper rushes out to greet us. Now seven, the Wire-haired Fox Terrier is Adele's near constant companion. When she stops, Flapper's tail wags furiously. When she walks, Flapper's nose is to the ground.
"She's my roommate," Adele says with a laugh. Throughout the house, there are paintings, prints and photographs of Wire-Haried Fox Terriers. In the den, by the fireplace, Adele's reading chair is decked with a pillow featuring a wire-haired fox terrier. "I saw that pillow and thought, 'Doesn't that look just like Flapper!' So I bought it, and there it sits."
Adele's life is still full, though she says she doesn't do as much as she used to, especially at night. "I don't drive at night."
Even still, she's quite active. She's a member of two garden clubs and is a past president of the Monroe Garden Club. She takes part in a regular book club, too. And, whenever she's asked, she tries to continue volunteering for the various organizations she's so attached to. All of this effort was rewarded in 2011, when Nicholls State University called with an invitation.
They asked Adele to travel to New Orleans for a banquet, because they had a presentation to give her. That presentation: induction into the Louisiana Center for Women and Government's Hall of Fame. The citation: for Outstanding Public Service.
If Ransom has made it look easy, it's an illusion. Like the roses she tends, her life has been a carefully managed effort to make the most of opportunities, to gain as much as she can from the world around her and to provide the world at large as much beauty and joy as possible. It's fitting that roses have become her chief pursuit late in life and that she "gives them away all the time." Growing roses is not an easy task.
"It's a wonderful challenge every day," Adele says.