A Taste of the Bayou
By Katie Sloan
Jul 31st, 2017
0 Comments
260 Views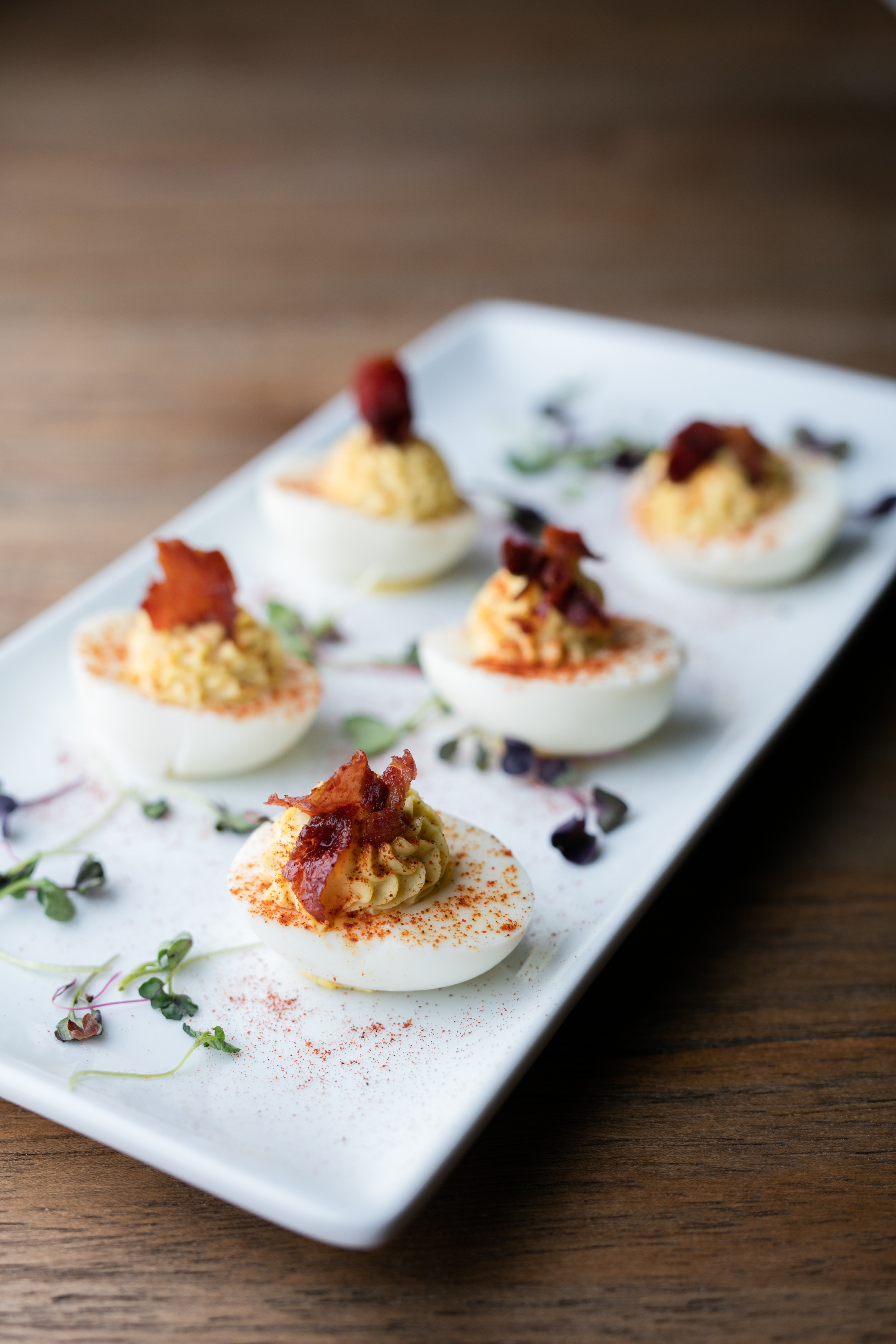 Bayou Roux has people talking. From the Southern-accented menu down to the distinctive décor, this place reflects the laid-back elegance of the small town North Louisiana. Eclectic but approachable, this new-to-the-scene restaurant embraces the modern South on all fronts and serves up unforgettable dishes in an eccentric atmosphere.
When owners Duke and Leisha McHugh began to cultivate the concept of Bayou Roux, they knew they wanted to create a restaurant that brought a new perspective to the Sterlington area. Inspired by their love of travel and all things Southern, the McHughs sought out local culinary and design talent to create a space where guests could enjoy an amazing meal in an equally impressive environment.
"We have been fortunate to travel to many different parts of the country, and we wanted to combine our elements from our favorite areas in one place," explain the McHughs. "We loved the idea of creating a restaurant with incredible food and drinks in an upscale environment that still possessed the laid-back comfort of the South."
The McHughs worked with local designers Lanell and Nicky Kellick to create an interior that reflected the eccentric soul of the south with a sense of polished opulence.
"When we first met with the McHughs, we were inspired by the idea of denim and pearls," recalls Nicky Kellick. "So, the fun began, and we worked on our search for all the elements we wanted to incorporate to make the vision come to life. From old bathroom sinks, unique lighting, furniture and textiles, the individual spaces began to come together to form what is now Bayou Roux."
From the moment guests enter, it is clear that the restaurant has a vivacious spirit. Custom wood and iron tables await in a spacious dining area with interesting design details at every turn. Creativity abounds, and local artists, such as Melanie Douthit and Leah Reitzell, are featured throughout. In addition to the attractive main dining room are three small side rooms are used for private events. The cozy spaces provide a more intimate setting with eye-catching décor and lighting. The "boardroom" is for larger parties and delivers audiovisual capabilities for corporate meetings. The restaurant also offers space for private events on the patio, designed as an airy space with rustic charm. Arched stone doorways are surrounded by wrought iron details, and thick beams of henna-colored wood support a ceiling made from corrugated panels of tin. The patio area also includes a stage for bands and currently features local artist Josh Madden on Saturday nights.
At Bayou Roux, each beautifully plated dish is as colorful and vibrant as the atmosphere that surrounds the tables. Often diners find themselves drawn to a particular restaurant for either its atmosphere or food, but both are rarely found in the same place. Bayou Roux truly succeeds in blending its elegantly whimsical, playful design with an amazing menu that is inventive and adventurous, yet not pretentious or outlandish. Southern contemporary food meets spirited style in this dining destination.
Chef Blake Phillips's culinary skills shine at Bayou Roux. A native of Monroe, Phillips has traveled extensively throughout the country with his career. Lucky for us, he has returned to his hometown to do what he does best: Southern contemporary cuisine that is creative, consistent, and heaven for the taste buds. The menu has been influenced by Phillips' childhood in northeast Louisiana, as well as his travels beyond the Delta.
"The food is heavily influenced from my time in New Orleans, but also from other places I have been. Whereever I go, I try to pick something up," says Phillips. The extensive menu features the best of what the chef has learned throughout his career and contains signature dishes along with stepped-up versions of south Louisiana staples.
Lunch and dinner menus present many of the same tasty eats, and the chef offers specials depending on the seasonal availability. In addition to the soup of the day and beautiful fresh salads, guests may choose from a wide array of starters. Everyone knows that a true Southerner must have an opinion on pimento cheese, and most of us hold a favorite family recipe that has been passed down. Bayou Roux is known for its inventive pimento cheese beignets, which feature crispy pancetta and house-made pimento cheese tucked inside the delicate pastry dough. A drizzle of Phillips' spicy Crystal hot sauce aioli is the perfect accompaniment.
The chef's take on a southern classic, fried green tomatoes, is a stand-out appetizer. The firm, thinly sliced tomatoes are pan fried to perfection, but it is the tangy daikon and blue crab slaw topping that sets the dish apart. Ribbons of daikon, sliced purple onion, and finely chopped fresh parsley combine with the delicate sweetness of the crab to provide a scrumptious appetizer. The creamy slaw, which is somewhat reminiscent of a white remoulade, adds a beautifully fresh, crunchy element to the tomatoes. The sharpness of the young tomatoes contrasts with the crab and daikon slaw to present an amazing flavor combination. Other enticing starters include boudin burger sliders with cheddar, and creamy remoulade, southern fried quick pickles with creole mustard aioli, and deviled eggs carbonara.
Guests will find an appealing selection of sandwiches and poboys. The Raines Farm Wagyu beef burger is made from locally raised beef and comes fully dressed. Phillips draws from his days in New Orleans with several classic poboys served on famous Leidenheimer French Bread. Try the shrimp or oyster, dressed with remoulade, or the traditional roast beef debris poboy. A Deep South influence appears in the pulled pork poboy, which features smoky barbeque pork topped with crunchy coleslaw. Those who steer toward the tried and true, there is the barbeque chicken sandwich that includes caramelized onions and a slice of melted swiss.
Grilled steaks are hand-cut in house and expertly cooked to temperature. Choose from a ribeye or a filet, or indulge in the delectable dry-aged ribeye. Phillips ages the beef in house for 22 days to optimize flavor. Each of these rib eyes are cut to order. The menu also features a chef's choice grilled pork compart duroc cut. All grilled entrees are served with a demi glace and the choice of two sides, such as corn maque choux, fried okra or whipped potatoes.
One of the most frequently ordered entrees on the menu is a Crescent City classic.
"New Orleans style shrimp and grits is very popular. It's a New Orleans style barbeque sauce, so it's darker and more flavorful," explains Philips.
Many foodies are familiar with the dish and don't expect to find shrimp combined with your everyday barbeque sauce. The New Orleans version is quite different. Smooth and buttery with a rich, garlicky, Worcestershire-spiked flavor, this sauce is distinctive. It generously tops tender, sautéed tail-on shrimp that rest on a bed of creamy, stone ground grits. The large-cut grits are slowly cooked over an hour to impart a tender, creamy texture that melts in the mouth. There is no question why this dish is one of the most popular. The warm, filling combination is completely satisfying.
Chef Phillips shines with his grouper sous vide, which was inspired by the very dish that won him the crown for "Louisiana King of Seafood 2016." The entrée is memorable for multiple reasons. The intense flavor and buttery texture of the fish is mouthwatering as a result of the specialized cooking method the chef employs. The grouper is cooked sous vide (pronounced sue-veed), which means "under vacuum" in French. Each portion of fish is seasoned with spices and butter and slow poached in a steam bath within a sealed envelope to infuse the fish with concentrated flavor. The fish evenly cooks in its own juices and retains its moisture, resulting in a succulent, savory dish. This traditional French technique requires a longer length of time to prepare, but the outcome is worth the wait. This is a must-try for seafood lovers.
Other entrées include the gulf pasta pappardelle, with Louisiana shrimp, crawfish, and lump crabmeat tossed in Cajun alfredo, and the baked crawfish mac and cheese. For this dish, Chef Phillips combines the tails with al dente macaroni and Crawfish Monica sauce to form a robust and decadent meal. The double-fried chicken is not to be missed. Boneless dark meat is breaded and partially fried, then dipped in buttermilk and breaded once more in seasoned flour before it is finished cooking.
"This makes is extra crispy and flavorful because of the two layers of crunch," adds Phillips.
Save room for dessert, because these treats are impossible to pass up. While the bananas foster cheesecake is most often requested, the chef delights guests with many other scrumptious options. The classic bread pudding with caramel rum sauce and crushed pecans is truly decadent. For a more traditional route, go with the grilled peach cobbler á la mode or the dark chocolate pecan pie.
The Bayou Roux Sunday Brunch is served from 10:30 a.m. to 3:30 p.m. and has acquired quite a following. Bottomless mimosas are always a great way to begin, and the menu offers many brunch and lunch favorites. In addition to the familiar lunch dishes, Chef has incorporated a delicious Monte Cristo sandwich, made with French toast, ham, turkey and red currant jelly. Beyond more traditional lunch items are a delectable variety of breakfast dishes. Many guests go for southern classics like biscuits and sausage gravy, pain perdu or sweet potato pancakes. However, Phillips shines with his version of a Louisiana omelette with crab, shrimp and crawfish with onions, peppers and jack cheese topped with remoulade. The Bayou Benedict features slow roasted pork layered on a biscuit topped with a perfectly poached egg dripping with hollandaise and a smattering of pickled onions and grits on the side. For a seriously southern meal, try the double-fried chicken and waffles served with Crystal honey butter. With creative dishes like these, Phillips puts a contemporary spin on brunch that is not replicated elsewhere.
The restaurant keeps things interesting throughout the week. In addition to Happy Hour, which runs Tuesday through Saturday from 3:00 p.m. to 6:00 p.m., Bayou Roux hosts casual wine dinners on the second Thursday of each month. Philips designs an inventive new menu every month with wine to complement each course.
"It is a five course pairing and people are served with their party when they arrive, rather than starting at a specific time with a large group. This has allowed me to be really creative and go beyond the menu," Phillips adds. These dinners not only treat guests to select wines, but also the opportunity to try exciting, unique dishes that are off the menu.
"I actually just finished writing the menu for the next wine dinner, and it's going to be focused on seafood," explains the chef. "Each of the wines will be paired with a seafood dish that will bring out the best flavors in both." Considering his expert knowledge of seafood, Phillips is certain not to disappoint. Furthermore, several of the wines available come from the McHughs' own personal collection, which has been expertly curated.
The charming bar area has far more to offer beyond the stellar wine selection. Tempting cocktails like the blueberry vodka fizz, lavender lemonade and pear drop are served to patrons perched on barstools or relaxing on vibrantly hued sofas in the lounge area. Crisp, white subway tiles surround the bar area in contrast to the colorful and inventive lighting fixtures overhead. In addition to tantalizing cocktails, wines and frozen margaritas, the bar offers an ample selection of craft beers on tap. Available by the pint or as flights, choices include favorites from local and regional breweries, such as Monroe's own Flying Tiger, Great Raft of Shreveport, Parish Brewing of Broussard, and Nola Brewing Company of New Orleans. During happy hour, Bayou Roux donates part of its profits to O.R.V.A. (Ouachita Regional Veterans Association) and other local organizations working to support veterans and their families.
Bayou Roux is a dining destination that delivers where it counts. The distinctive décor, relaxed atmosphere, and delightful service are only outshined by Chef Phillips's unforgettable dishes. The young restaurant has a bright future in an area of town that seems to be perpetually expanding and evolving. Its owners have created a place, where guests can enjoy all the unique flavors that the South is known for.
"We both love sharing dinner, music and a few good drinks with our friends and family. Bayou Roux is the perfect atmosphere for that," remarks Leisha McHugh. "We are both excited to see Sterlington continuously grow, and we are excited to be a part of that."
Bayou Roux is located on Highway 165, just past CenturyLink and can be reached at 318-582-5612.