Adventure in the South
By Melanie Moffett
Mar 27th, 2015
0 Comments
421 Views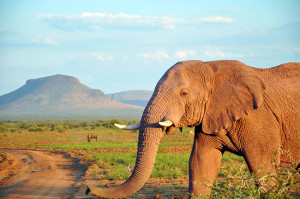 Top 7 Reasons Why South Africa is the Most Romantic Destination on Earth
article by Karen Snowdy
From candle- and lantern-lit dinners beneath a sky blanketed with stars to inspirational safari adventures, and a charming wine country to beautiful beaches, South Africa is arguably the most romantic destination on the planet.
Discover inspiration from pure wilderness: It's nearly impossible to experience the pure sounds of nature in daily life. But, in South Africa's remote wildernesses, your ears will experience a new kind of sensation – the sound of pure nature. From soothing birdcalls to the low grumble of a lion's roar, and the rustle of leaves to the chirps of wild dog pups, the African wilderness is one of the world's most astonishing orchestras.
Interact with vibrant cultures:  There are so many incredible opportunities to interact with the local people. From exploring the restaurants and shops of Cape Town to embarking on a visit to a local township and venturing into the bush with a local guide to volunteering in a local community project, visitors to South Africa can enrich their lives with interactive experiences that are completely unique to the area.
Experience adventure: Climb to the top of Table Mountain, mountain bike through Table Mountain National Park, go shark cage diving with great whites or skydive above the Cape – there are so many adrenaline-spiking activities to experience in South Africa! And what better way to connect as a couple than on an adventure of a lifetime!
Explore the wines of South Africa: The Cape Winelands of South Africa are truly some of the most stunning landscapes in the world. Home to charming countryside towns, sprawling vineyards and stunning Cape Dutch architecture, the Cape Winelands had to have been founded by romantics. During a visit, you'll have the opportunity to explore the various award-winning restaurants, eclectic art galleries and, of course, internationally acclaimed vineyards that are family owned. And if you're really in the mood for some romance, try a chocolate and wine pairing tour or private cellar tour with a famed wine maker.
Taste the incredible flavors of Cape Malay cuisine: It's impossible not to fall in love with the rich flavors of Cape Malay cuisine! Some of the dishes you might try include roti—a flaky, pastry-like dish filled with curry and minced lamb or chicken; samosa—a delicious triangular pastry filled with curry, cheese and chicken or lamb, that is deep fried to perfection; bobotie—one of my favorite dishes, which is comprised of ground beef cooked in an egg custard; sosaties—sweet-curry-marinated kebabs comprised of lamb, chicken or mutton; and Bredie—a slow-cooked stew comprised of meat, vegetables and an edible lily called a waterblommetjie.
It's also important to note that some of the world's top chefs can be found in Cape Town and Cape Winelands, serving up some unique and out-of-this-world culinary creations. Oh! And don't forget to visit the farmers markets in Stellenbosch – they are incredibly charming and feature food, local artisans and incredible crafts.
Experience a new type of "hotel": In South Africa's wilderness, you'll find some of the most unique accommodations that incorporate nature into their décor, allowing you to immerse yourself into the tranquility and peacefulness of the area. Many of the high-end accommodations found throughout South Africa combine canvas with wood and stone to create a feeling of openness and rustic elegance.
Relax on beautiful beaches: Cape Town is celebrated for its beautiful, white-sand beaches that span across the greater Cape region. Whether you're into surfing, relaxation or the beach culture, a visit to the Cape beaches are an absolute must! You can also enjoy horseback riding along the beaches or leisurely walks.
 For more information on how you can start planning your once in a lifetime trip to Africa, contact Karen at Bliss Travel Group, 318-805-8959 or info@blisstravelgroup.net.