An Attitude of Gratitude
By Katie Sloan
Oct 30th, 2017
0 Comments
41 Views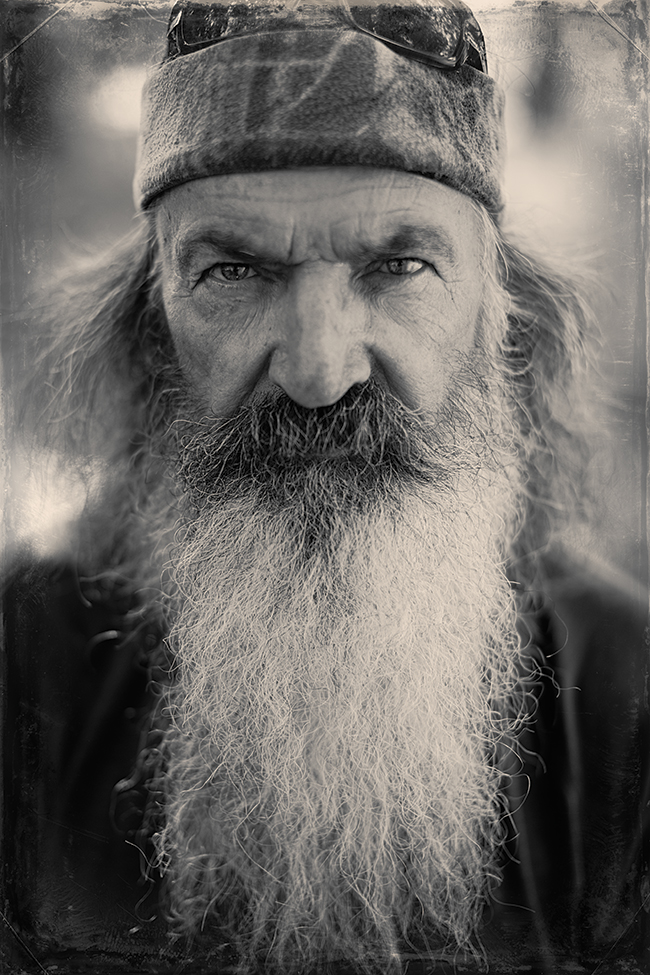 Article by LaRne Richardson, Photographs by Kelly Moore Clark
Phil Robertson is a man who has legitimate bragging rights. But, even his self-made success, he is a modest man who gives his greatest thanks to God.
No matter how you dice it, slice it, shoot it or dress it, Phil Robertson is a man who has legitimate bragging rights, whether of the monetary, educational, literary or entrepreneurial variety. One of the Bayou State's favorite sons, the Robertson family patriarch is a self-made multi-millionaire. Attending Louisiana Tech University in the 1960s, Robertson played first-string quarterback ahead of pro football legend Terry Bradshaw, no less. He went on to earn his bachelor and master's degrees, working as a teacher before his Duck Commander duck call business took off. The TV reality series A&E's Duck Dynasty, became a surprise ratings mega-hit, making world-wide celebrities of Phil and his entire family. Robertson's first book, entitled Happy, Happy, Happy: My Life and Legacy as the Duck Commander, has sold over 1.7 million copies.
Any single one of these accomplishments would be impressive on its own, but I've yet to meet a more modest or down-to-earth person. Phil and Miss Kay, his lovely bride of 51 years, still live in the little house in the woods on the banks of the Ouachita River, where they raised Alan, Jase, Willie and Jep. In fact, the only concession to their phenomenal success is the detached kitchen Phil has built for Miss Kay.
Beautifully appointed and clad in Western cedar, the space she calls her "country kitchen" is Miss Kay's pride and joy. "Her motto is, 'If you feed them, they will come,'" quips Phil, revealing his ready, dry wit. She fires right back, quick to point out that he's the one who uses the new kitchen to make the duck and dressing at Thanksgiving (she bakes the cakes and pies and homemade rolls).
"He also makes his jellies and preserves out here," Miss Kay confides. Sure enough, hidden away in a small adjacent pantry, jars of homemade jelly stand at attention, jewel-toned glass sentinels, silent testaments to Phil's labor of love. Phil pops the lid off a jar of sloe plum jelly and gives us a taste. It's absolutely delicious, with a little bit of tartness to it. "This is a plum that gets ripe in August, fresh out of the woods," he says. "It's what keeps Miss Kay so sweet!"
As we head back outside, he continues, "Last week, there was a five- or six-foot rattlesnake hid out under here. I got him, though. At first, the only thing I saw was the snakeskin he'd shed, but I found him; I got 'im." (About that time, a rabbit runs over my grave. Any self-respecting southerner knows what that means; and any self-respecting serpent-fearer knows why.)
Phil points across the road to the river. "There's a boat dock over there where thousands have been baptized through the years," he says, a subtle verbal tell of what Phil is mindful of and thankful for in his life, what's worthy of mention, in his opinion.
We move back to the main house. We're sitting in the Robertsons' den, he in a massive camouflage recliner that I recognize from Duck Dynasty. Miss Kay stays out on the glassed-in front porch, "Where it's cooler," she says, talking to her sister, Ann, who's visiting from Texas, and Kelly, the photographer.
A quart-sized Mason jar of iced tea sits on a bookshelf beside Phil. (I catch myself thinking, "I bet that's sweet tea, but it's supposed to be in a plastic Tupperware glass, and Uncle Si should be drinking it.") BoBo, Miss Kay's beloved terrier mix, is snoozing on the floor at Phil's feet.  Leaned against the fireplace is a placard that reads, "Love always protects, trusts, hopes. Love never fails. ~ 1 Corinthians 13:7-8. There's a stack of books on the floor, too, and from the stack, he grabs his Bible, so worn that it's held together with duct tape. Throughout our interview he will reference it, reading Scripture that emphasizes or enhances a point he's making.
I reiterate that we're doing a special section on gratitude for our Thanksgiving issue. "Looking back on your life," I begin, "is there a singular, memorable event or a certain person who taught you to be thankful?"
He doesn't hesitate. "Well, for the first 28 years of my life, I had no gratitude," he admits. "We went to church when I was a kid, and I heard what they said, but I must not have really been listening. And then I went away to college, and not one time during all those years did someone talk Jesus with me. Remember, it was the 60s; that was a wild time."
Later, when Phil was 28 years old, his life falling apart, his marriage in shambles, a preacher came to visit. His name was Reverend Bill Smith. "He asked me if I knew what the gospel was, what it meant," recalls Phil. "I told him I guess it means gospel music; that's the only kind of gospel I could think of. But he said, 'Hey, God became flesh in Jesus, who died for you. He paid the penalty for your sins, He rose from the grave, He's sitting at the right hand of God, and He's coming back for His own one day.' Wow…it doesn't get any better than that! You see, all the money in the world won't take away your sins. All the fame you could ever amass can't raise you from the dead."
That is the good news that Phil has been sharing ever since. Even before the meteoric rise of Duck Dynasty, Phil was already in demand as a guest speaker, his calendar filled with engagements many months, sometimes years, in advance. The popularity of the family's TV series just magnified the Robertsons' ability to reach people with their messages of faith.
Phil goes on to share another experience he says filled him with an overwhelming sense of gratitude. "I walked the shores of Omaha Beach," says Phil, referring to one of the five beaches in Normandy, France, that was a landing area for American soldiers in World War II. "Those were the young men of our greatest generation fighting for our country, and the Germans were just mowing them down. If you ever walked that beach, or walked through the cemetery over there, you can't help but feel this tremendous sense of gratitude. There's just grave after grave; almost 10,000 of our bravest and finest are buried over there."
Never one to back away from controversy, he adds, "People who disrespect our flag and what it represents have never learned the meaning of gratitude." According to Phil, ingratitude, spiritual blindness and lawlessness go hand in hand. "America has basically committed idolatry by placing government over God. We've tried to replace God with a government that we expect to feed us, house us, provide our healthcare. We've allowed our spirit of patriotism and thankfulness to be eroded by an attitude of entitlement, especially in our youth. And look what's happened. It's been the greatest hoax of the last century."
"We can change, though," he says. "Anybody can change if they put their faith where it belongs – in Jesus. Heck, I did! And we can change as a nation. We can strive to become, once again, a nation of godly, thankful, patriotic people with an allegiance to our country and an allegiance to our God."
What's happening with the Robertsons post-series?
In March of this year, after 130 episodes, filming ended on the iconic Duck Dynasty television series featuring the Robertson clan. That doesn't mean, however, that we've seen the last of this beloved, giving family…
Phil is filming now for a new show that will begin airing in early November. The show is called In the Woods With Phil and will air on CRTV.com under a subscription plan. It will feature Phil's take on what's happening in the world with his classic no-holds-barred approach to life, liberty and the pursuit of happiness. The show is produced by his oldest son, Al, and nephew, Zach Dasher.
Miss Kay continues to work on expanding the reach of her local eatery, Miss Kay's Sweets and Eats, by adding a lunch menu locally and an online presence on misskayssweets.com. She also plans to film a cooking show in the near future, sharing her unique combination of food, family and faith with the next generation.
Al and Lisa Robertson work closely with Phil and Kay and their ventures and also speak around the country helping raise funds for various organizations. They are also hosting an annual Marriage Retreat Cruise on Carnival Cruise Lines. Next year's 5-day cruise is scheduled for September 20 – 24, 2018, departing from New Orleans. For more info, visit robertsonmarriageretreat.com.
Jep and Jessica Robertson moved to Austin, Texas, to open their food truck service called Jep's Southern Roots. You can check out their food on jepssouthernroots.com.
Willie and Korie are involved in humanitarian work and speaking for causes around the world.
Jase shaved his beard for his daughter Mia's charity, and Missy stays busy with her Laminin business/ministry. You can follow her projects on missyrobertson.com