Ask Erin: Organizing Your Jewelry
By Melanie Moffett
Aug 28th, 2015
0 Comments
309 Views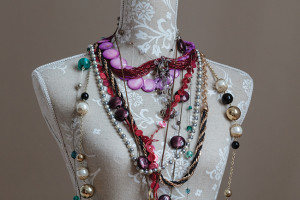 by Erin Sharplin Love
ewelry is a fashion essential because it has the power to transform an outfit from day to night, from classic to modern, or from casual and  colorful to sophisticated in an instant!  So why does it seem that while clothing trends change, our jewelry collection stays the same or is stored and forgotten until the next time we try to match an older piece with a current outfit?  Have you ever tried to untangle two or more necklace chains when you are on the way out the door and need an instant accessory to finish your outfit?  This unpleasant ritual should teach us that jewelry shouldn't be tossed in a box to become jumbled, broken and outdated!  Rather, it should be displayed, loved and worn!  To help make sure your jewelry can become the staple it should be, I've listed a few of my favorite organizing tips:
As with any organizing process, there will be items currently in your jewelry wardrobe that should be discarded. But beware– the area around you will look worse before it gets better!  Always remember that tip!  During every organizing process, the space you are working with will always look messy at first.  So, to get started, sort through each piece of jewelry with discerning eyes.  Do you still love the piece?  How long has it been since you've worn it?
Now, follow the tips below:
1.  Sort away – Begin sorting the jewelry you are keeping into separate piles (rings, bracelets, earrings, necklaces, etc.)
2.  Donate – Donate the pieces you are tossing.  Contact some local women and teen -oriented non-profit organizations to see if they would have use for them.
3.  Sell – If there are some pieces of jewelry you no longer want but can't bear to give away, try selling them.  You can host a jewelry swap or try to sell them on Ebay!
4.  Create the perfect space – Now that all you have left are workable pieces of jewelry that you love, you can begin finding creative ways to display and organize them like the ones below.
BUSTS – Create a mini boutique in your closet or bedroom by displaying some of your favorite pieces on jewelry busts. It's a great organizing and decorative solution.
HOOKS – Turn an unused wall into a  display area by installing hooks.  You can hang necklaces and bracelets from them!
FRAMES – Replace the glass of an old picture frame with a piece of cork board or some other fabric or material that you can easily push earrings into.  You can also attach hooks to the material from which to hang necklaces and/or bracelets.
TACKLE BOXES – I love using tackle boxes to arrange jewelry.  You can customize the sizes and shapes of the compartments, and they are instantly ready for travelling!  Just throw one in your suitcase and go!
BELT AND TIE RACKS – These are great for hanging necklaces and will keep them tangle free!
VASES AND BOWLS – Don't forget to use items that are already in your home!  Choose a few of your favorite decorative pieces and hang earrings from the rim, slide bangles over the neck or puddle large necklaces in the bottom of the piece. Tie the chains separately with colorful ribbon so they won't tangle.
There are so many innovative ways to display your jewelry, and with websites like Pinterest, there is no excuse not to use your creativity to display each piece beautifully.
Of course, you can always use the typical jewelry armoire, but try to incorporate a few of these new ideas to make your jewelry more appealing and fun!
Erin Sharplin Love, owner of Panache by Erin, is a Certified Fashion and Image Consultant, Professional Organizer and Certified Wedding Coordinator, whose specialties include outfit coordination and closet organization.  Love has a knack for creating the perfect organized spaces that work with each client's personality, for  helping her fashion clients develop their own personal style and for  helping her wedding clients create the wedding of their dreams within their budget and without the stress.  Panache by Erin offers the following services – outfit coordination, personal shopping, personal color analysis, home/office organization and wedding/event coordination. To learn more, please go to www.panachebyerin.com.