Ask Erin: Wedding Tips from an Expert
By Melanie Moffett
May 26th, 2015
0 Comments
381 Views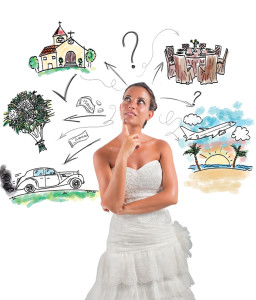 by Erin Sharplin Love
Whether it's your first marriage or third or if you are on a fixed income or can splurge on all of the extras, the advice from an expert wedding planner is priceless.  After all, a wedding can take months to a year to plan correctly, and that's no small feat.  As a wedding planner who is involved in dozens of events a year, I recognize that your wedding is a once-in-a-lifetime occurrence and that the entire process can become overwhelming.  Below are a few of my expert tips for getting your wedding right!
PLAN A BUDGET – Your budget is the most important part of the planning process because the amount of money you can spend will dictate every facet of the wedding.   Therefore, it goes without saying that a little extra time and effort should be devoted to devising the perfect budget.  Otherwise, you could be destined for a rude awakening.    First, sit down with your fiancé and discuss the wedding of your dreams – How many people will be there?  Will it be a buffet or seated reception?  Do you want a band or a DJ?  Will alcohol be served?  Will you marry in a church?  Realize that the larger the wedding, the more money it will cost.  Second, sit down with your fiancé and both sets of parents to discuss who will be paying for the wedding and how much each party can and will contribute.  Finally, begin getting quotes from vendors that you know you definitely want to have as part of the wedding.  From there,, you can finalize your budget.
GET ORGANIZED – To have a successful wedding, you must be 'super-organized."   That means creating seemingly endless checklists.  The first list that must be created is the guest list as the number of people attending will affect expenses and dictate the size of the venue you will need for the ceremony and reception.  Keep in mind that you will have a list, your fiancé will have a list, and both sets of parents will have a list that must be combined to create the final list.  Second, you should create a wedding binder. I prefer a two-inch, three-ring binder with pockets.  Your binder should contain the following divided sections – Attendants, Guest List, Ceremony, Reception, Caterer, Florist, Parties, Showers, Rehearsal Dinner, Photographer, Videographer, Transportation, Stationery, Invitations and Miscellaneous.  At first, you will have various papers from potential vendors.  Once you've interviewed and contracted your wedding- day vendors, I suggest removing the other potential vendor papers and placing them in a manila file pocket, or another binder, just in case you need to refer back to them at some point.
CHOOSE THE THEME – Your "theme" includes everything from the time of the wedding, to the colors you use, to the stationery you send.  The theme is one of the most important decisions you will make as it sets the tone for every decision to follow.  You want each piece of your wedding puzzle to reflect your vision correctly, so making these decisions early is imperative.  For instance, do you want a formal wedding or one that is more laid back?  A more formal wedding should happen at 6:00 in the evening or later, while a less formal wedding should happen before 6:00.  The formality of the wedding should also help dictate the formality of your wedding attire.  A floor-length beaded gown with a cathedral-length train is the most formal of dresses, while a knee-length shift dress can be the least formal.  When choosing the colors that will be included in your wedding, be sure to consider the time of year.  For instance, a winter wedding would be perfect for shades of red, silver, or blue, and a spring wedding would be perfect for any pastel combination.
ENJOY THE WEEKEND – Finally, I recommend that you enjoy the entire weekend of the wedding.  Get pampered, relax and really take in the events of the wedding as they happen.  More often than not, brides will forget most of what happens during the wedding, unless a conscious effort to remember each moment is made.  Consider hiring a coordinator to handle the weekends' events or, at the very least, ask a family friend to step in.  Either way, the wedding weekend should be stress-free for the bride, the groom and their families.
Each of the tips above was designed to relieve a bit of the stress that goes into the wedding planning process and to help avert some of the catastrophes that I've run across during my career as a wedding coordinator.  In the end, though, a wedding should be about what is coming afterwards…marriage.  Don't let the minute details turn it into anything else.  Enjoy your engagement and the wedding planning process.
Erin Sharplin Love, owner of Panache by Erin, is a Certified Fashion and Image Consultant, Professional Organizer, and Certified Wedding Coordinator whose specialties include outfit coordination and closet organization.  Love has a knack for creating the perfect organized spaces that work with each client's personality, for  helping her fashion clients develop their own personal style, and for  helping her wedding clients create the wedding of their dreams within their budget and without the stress.  Panache by Erin offers the following services – outfit coordination, personal shopping, personal color analysis, home/office organization and wedding/event coordination.   To learn more please go to www.panachebyerin.com.