At Home with Niven Morgan
By Melanie Moffett
Apr 5th, 2016
0 Comments
770 Views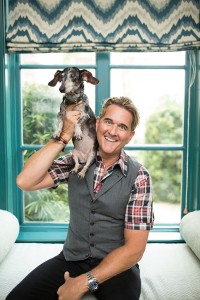 article by Maré Brennan | photos by Martin G Meyers
North Louisiana native Niven Morgan may be a Dallas boy now, but he has left his mark, or should we say, his signature scents and velvety lotions on the wrists of those in the know all over the world. When BayouLife caught up with the jetsetting entrepreneur at his University Park home, a tanned and radiant Morgan, just back from a retreat to sunny St. Barts in the Caribbean, greeted us with open arms sporting a wristful of colorful prayer beads and bare feet. His precious, 17-year-old dappled dachsund, Greta, never left his side, teetering around like an elderly society matron in too high a heel and basking in her owner's attention and praise. One only has to attend a Niven Morgan trunk show event at a local retailer like The Fashion of Ruston, The Muffin Tin, Louisiana Purchases (or Signatures by Linda Reeves before her store closed) to understand the magic that a one-on-one session with Morgan allows. With a daring fashion sense and good looks befitting a Calvin Klein model and a personality that could stop an eight day clock, Morgan and his boundless source of raw energy create the ultimate pitchman for his products. Not that they need a pitch. Niven Morgan's eponymous line of luxurious soaps, bath salts, perfumes and lotions to aromatic candles and home scents as well as shaving products for men and spa products, need no introduction. One spritz has the driest of hands feeling silky smooth, loved and scented to perfection. Sold. Throw in a chance to meet THE Niven Morgan, and we're over the moon.
Born and raised in Shreveport, Niven Morgan attended Loyola College Prep. The Morgan family spent all their free time at their family farm in Minden, where Niven loved to ride horses with his sisters, who now live in Ruston, Monroe and Baton Rouge. After a brief stint as a member of DKE fraternity at LSU, Morgan transferred to Louisiana Tech, from which he graduated in 1989. Although he wasn't sure what he really wanted to do when he arrived in Dallas in 1990, one thing Morgan knew for certain – "I wanted to do my own thing." As luck would have it, Morgan's cousin, Dee Wyly and her husband Charles (as in Louisiana Tech's Wyly Tower of Learning) were owners of Michael's craft stores at that time. Remembers Morgan, "I had been painting a bunch of vases with an interesting patina. One day I was stuck in Dallas traffic and realized I needed something to put in those vases to be able to sell them to a retailer like the one my cousin owned. I thought, 'What if I could sell bath salts in these vases?' For the past 11 years I've been having fun and love being able to control my own path in life. And this line of products has led me down lots of new paths."
The Niven Morgan line of bath and body products, as well as men's shaving and spa products are featured in luxury and boutique hotels around the world. In addition, Morgan has developed private label and co-branded products for companies including Rolls Royce, Maserati, Waldorf Astoria and Ritz Carlton hotels and spas. Even the island of Mustique has its own signature Niven Morgan scent and line of products.
A master at reinventing the look of his products' packaging, Morgan explains, "I love starting over. To let the past go and move forward is good for any brand. I can't tell you how many times I've redesigned packaging and marketing materials for Niven Morgan Gold," his original scent.
How does Morgan develop each of his intoxicating fragrances and restorative products? Simple. It begins with a story. "I might read about an ingredient I'd like to use. Then I describe the consistency or feel of the product, especially how it will compare with similar products from other brands," explains Morgan. For the scent, Morgan will set the tone with a detailed imagining of the origins of the scent. He will send photos as well for inspiration and to set the tone. For example, for the line of products he designed for the island of Mustique, Morgan says this: The allure of a Caribbean breeze trailing notes of sweet bergamot, sparkling citrus and pure orange flower lifted by verdant citron leaves and aromatic herbs embraced by lasting musks, amber, moss and blonde woods. Niven Morgan's Mustique 1958 is the namesake of its inspiration, a small, remote, private island in the south Caribbean. Mustique is an unspoiled paradise characterized by a perfect climate, seas of melted sapphire and turquoise, secluded crescents of white sand beaches, breezes whispering in palms and tortoises roaming free. A true fantasy island! This is truly wording to set the tone for a fragrance worthy of one of the most beautiful island paradises on earth.
Morgan adds that passion behind the product is key to success as is timing. Morgan's advice to new entrepreneurs: "Stick to it and do it! We are only going to learn how to do something by actually getting out there and trying. And remember, You don't have to start big, you just have to start."  Morgan adds, "All it takes is one idea and a little bit of risk. But you never get the reward without the risk."
Morgan's newest scent, Green Tea and Peonies is one of his favorites. "It reminds me of Spring and is so fresh," he adds.
New to Niven Morgan's line of spa products is the new Black Volcanic Sand, Charcoal Powder and Mineral Rich Mud Mask, which gives you the power to detoxify your skin, while giving you a healthy glow.  Massage oils, essential oils, body butters, body washes and men's shaving products, as well as bath salts, round out the Niven Morgan spa products. "I would love to create a spa," says Morgan of his growing wish list of things to do.
Morgan can cross opening his first Niven Morgan showroom off that to do list as it opens in Atlanta this year. He adds, "I love that so many people have been so good to me. My company has come a long way since my friend and fellow Louisiana Tech graduate Gavin Smith allowed me to show my bath salts in his Dallas showroom 18 years ago. And in eighteen years, we have been able to keep our prices from going up with maybe a $5 increase since we began."
One of Morgan's favorite pasttimes is to travel to exotic locales. Mustique is obviously one of his favorites, but adds Cape Town, South Africa, Istanbul and St. Tropez. Another pasttime is to amass a loyal following of celebrities who love his amazing products. Throughout his career he has been lucky enough to count Brittney Spears and Mick Jagger as fans of his candles and soaps.
Thankful for his own good fortune, Morgan is known for his generous giving to and dedicated fundraising for children's charities like the Texas Scottish Rite Hospital and the Clayton Dabney Foundation for Terminally Ill Children.
WHERE TO BUY NIVEN MORGAN'S PRODUCTS LOCALLY:
The Fashion of Ruston
The Muffin Tin – Monroe
The Trenton House – West Monroe
Louisiana Purchases – Monroe
Lewis' Gifts – Shreveport
Past Perfect Antiques – Bastrop
Delhi Drugs – Delhi
K & K's Giving Tree
Lagniappe – Oak Ridge
Southern Creations – Rayville