Bayou Artist: The Conductor
By Admin
Nov 3rd, 2016
0 Comments
410 Views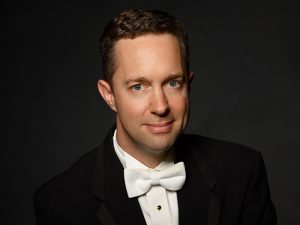 Maestro Clay Couturiaux is in his twelfth season as Director and Conductor of the Monroe Symphony Orchestra. Music is his language – a universal language  powerful enough to capture the full range of human experience. He has spent a career channeling the genius of great composers  through his body and baton into the orchestra and to the ears of the audience.
article by April Clark Honaker
photos by Carmel Studios Photography
Conductors of music have a unique role. They essentially serve as lightning rods for the genius of great composers. They channel the magic of a musical score through their bodies and batons into the orchestra and ultimately the ears of the audience. Maestro Clay Couturiaux describes the art of conducting as "one of the most complex and demanding activities in the realm of music" because three things must come together: the conductor's personal study, the preparation of rehearsal and the culmination of the performance itself.
Entering his twelfth season as Director and Conductor of the Monroe Symphony Orchestra, Couturiaux has been perfecting the art of conducting for years and said he can't remember a time in his life when music wasn't present. According to Couturiaux, "Music is an expression of the creativity and artistry that every human has. It incorporates every emotion, including the trials that bind us together." Music is essentially a universal language to which we all can relate, and it has the power to capture the full range of human experience.
Couturiaux could already sense this power of music when he started singing in the church choir at age 5. By age 8, he was playing the piano, and soon playing the piano fueled his interest in other instruments. By age 10, Couturiaux had found his instrument, the violoncello. He said that, because it was an orchestral instrument, the violoncello introduced him to the symphony orchestra, and through the orchestra, he gained an appreciation for all instruments. However, he admits to remaining biased toward the cello.
The orchestra also led Couturiaux to his true calling as a conductor. After attending his first orchestra rehearsal as a cellist at age 12, he knew he wanted to be a conductor. Couturiaux said, "Understanding what a conductor actually did opened up a new world to me." Although he views great composers as the "true geniuses" and is content to leave the work of composing to them, he believes the role of the orchestra is to perform and to "recreate their music." That process of re-creation is driven by the conductor.
According to Couturiaux, "The conductor prepares himself both technically and artistically. He must be a musician, historian, orchestrator and listener. He must study the score, so that he 'hears' it in his mind." In a sense, the conductor must analyze and interpret the music beforehand. He must also understand its history and stylistic requirements, because, as Couturiaux pointed out, "a Mozart allegro differs from a Tchaikovsky allegro, just as a Haydn forte is entirely different from a Wagner forte." During the analysis, Couturiaux said he "begins to balance the many strands of musical line." This initial preparation is important, because it allows a conductor to shape a unique vision for the performance. As Couturiaux said, it allows him "to pace its progress, space its climaxes, derive an aural concept and evaluate its merit as it will be heard by the public." Sometimes Couturiaux even changes the music to better illustrate its spirit. He said, "It is necessary to alter dynamics and in some cases instrumentation to hear the music as the composer intended."
From Couturiaux's perspective, an effective conductor has "to have a viewpoint" and has to "learn how to communicate a musical idea to the orchestra, and through it, to the listener." The process is collaborative, and all participants in the performance must work together like parts of a complex machine. For this reason, Couturiaux must concern himself with more than the music.
"I try to understand the psychology of the players and unify all the varying personalities of the players into one harmonious group," he said. This process is challenging because not only do the players have unique personalities, they also play many instruments. "At the same time," Couturiaux said, "it is important to allow individual personalities of the players to shine when playing solos in orchestral works." By studying the music and understanding the players, the conductor lays the groundwork for the rehearsals and performances. The culmination of this process is seen in the synchronous movement and harmonious sound of all the parts functioning as intended.
According to Couturiaux, this synchrony cannot be achieved without the technical and artistic preparation of rehearsal. During rehearsals, Couturiaux said, "He acts like a guide to the orchestra, building up in their minds a concept of the work that is his own." He works with the players on rhythms, tempos, phrasing, accentuation, presenting melodies, combining counter-melodies and climaxes. He also helps them "feel the style of the music with the fullness of its emotional expression." Rehearsal gives the conductor an opportunity to refine the performance and the concept. As Couturiaux said, while hearing the work, he "checks his own concept of the music, comparing it with the actual music." When the two don't match, he must make adjustments, so that the concept and the reality come as close as possible to mirroring one another.
Similarly, Couturiaux described the orchestra as a mirror for the conductor. "When you're able to convey your idea and the orchestra is receptive," he said, "it reaches the audience as if amplified by the musicians' artistry and their ability to relate." This amplification can have a powerful, almost magical effect. It can create "an invaluable experience for the listener," something Couturiaux hopes will happen during every concert.
To achieve this level of musical perfection, "each member of the orchestra must sense that I leave him free," Couturiaux said. "Obviously, that's an illusion, but it's necessary for the musician to believe it." Couturiaux emphasized that each member of the orchestra must not feel pressured and instead "must feel in harmony with what is suggested." In a sense, conducting is a silent language capable of coordinating auditory magic, but according to Couturiaux, this language and its magic are not well understood by the general public. "Often," he said, "the superficial and exterior parts of conducting are exaggerated, and the inner realities of the art are completely unperceived."
Although, according to Couturiaux, "a good conductor is an integral part of the orchestra," the illusion of effortlessness—of magic—causes some members of the audience to view him as an illusionist, but conductors, including Couturiaux, aren't born magicians. Their talent has to be cultivated. Along his path to becoming a conductor, Couturiaux earned his Bachelor of Music in violoncello from the University of North Texas in Denton, graduating with honors in 1994. He then continued his studies at the University of North Texas, earning a master's and a doctorate in orchestral conducting by 2000.
While pursuing his degrees, Couturiaux had the privilege to learn from Maestro Anshel Brusilow, a man for whom the word passion, according to Couturiaux, "cannot explain the kind of commitment and emotional involvement he has with music." Couturiaux added that he feels indebted to Brusilow for all he has learned from him. "I admire his ability to inspire musicians, draw out of the players everything they have to give and more, but especially his courage as innovator and interpreter," Couturiaux said, adding that Brusilow is "a model of what the performer could and should dare in musical performance."
Couturiaux not only learned from his professors in Texas. He traveled to other cities and Puerto Rico, learning from a variety of great conductors who had worked with Pierre Monteux, George Szell and Eugene Ormandy. While in school, Couturiaux also worked as Assistant Conductor of the East Texas Symphony Orchestra, played the cello in multiple symphony orchestras and taught private cello lessons in the Plano and Lewisville, Texas, school districts.
Then, shortly after earning his doctorate, Couturiaux was offered a position as Assistant Director of Orchestral Studies in the College of Music at the University of North Texas. Couturiaux still holds this position today, and his family remains rooted in the Dallas-Fort Worth area where he grew up. He and his wife Desirée live in Corinth just south of Denton, Texas, and have two girls, Addie (12) and Ava (9). In addition to teaching, Couturiaux maintains two Director and Conductor positions, one with the Monroe Symphony Orchestra and the second with the Richardson Symphony Orchestra in Richardson, Texas.
In addition to maintaining these positions, Couturiaux's expertise in music and conducting has allowed him to travel all over the world from Vietnam to Italy, educating others and guest conducting. One of the things he appreciates most as an educator is the privilege to share his own experience as a performer with his students. In traveling to conduct and educate, Couturiaux said, "I've truly enjoyed working with orchestras in different countries and have learned that the personalities of individual musicians in orchestras, no matter from what country, always come out in the musical performance."
Couturiaux believes, "Live performance cannot be replaced! It's about passion and music-making at the highest level. It's also about daring to embrace a spirit of joyous adventure." According to Couturiaux, a performance requires the conductor to function at the pinnacle of his abilities under the most challenging of circumstances. In that moment, said Couturiaux, "the conductor can immerse himself in the music" while remaining prepared to adjust as needed, so that the work itself comes to life.
Live performance has an unpredictable quality that conductors learn to navigate through experience. Couturiaux has grown to appreciate this quality, explaining, "The great and sometimes deadly thing about live performance is that anything can happen. It's how you react to what happens (both good and bad) in that moment that truly defines a performance." No matter how many times a performance is rehearsed, it will pulse with that tinge of unpredictability, which makes it exciting whether you are a player, conductor or listener.
Just as each performance is evolving, the symphony orchestra itself is evolving. According to Couturiaux, it must evolve to keep pace with our changing culture. While some traditional conductors would frown on technology's impact on the symphony, Couturiaux chooses to embrace it. He believes it can enhance and entertain, and he is not opposed to the idea of lighting enhancements or using video montages to accompany performances. He also believes social media has its place and that it can be used for promotional or educational purposes, if done in ways that don't interfere with the audience's enjoyment of the performance.
Couturiaux also believes it's important to consider what the community wants to hear when selecting music for the concert season and to strive for variety. Other factors, such as his own preferences, the musicians' preferences and their need for artistic development, play a role in selection as well. In the end, Couturiaux believes that "orchestras add meaning to American life by fostering the creativity of musicians and engaging the public on and off the concert stage." He said, "They are an important part of the community fabric, because music speaks beyond class, beyond race, and to some extent even beyond education. It doesn't discriminate. Classical music is a simple statement that holds big meaning."