Bayou Eats: Waterfront Grill
By Melanie Moffett
Mar 2nd, 2017
0 Comments
411 Views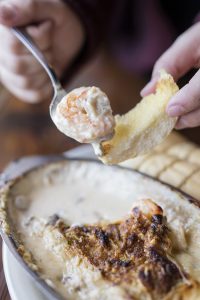 Overlooking Bayou DeSiard, Waterfront Grill is a restaurant staple for North Louisiana residents and visitors to the area.
ARTICLE BY MEREDITH MCKINNIE & PHOTOGRAPHY BY MARTIN G MEYERS
With its casual atmosphere, upscale menu, consistently pleasing staff and philanthropic attitude, Waterfront Grill combines quality food and consistent service to its customers. It began as a family affair, and it remains that way today. Brothers Don and Sam Weems, along with Don's son, Clay, initiated the concept and were soon joined by the brothers' nephew, Brad Boutwell. And for the last twenty years, not much has changed, except the continually growing respect for an establishment that aims to please customers, to support its community and to continue its tradition of serving the highest quality food to its quality clientele.
Like most staples in Monroe, the Waterfront Grill building is etched into the fabric of Monroe's history. In the 1930s, the structure was originally called The Three Mile Inn, "referring to its distance from Five-Points where Louisville Avenue and DeSiard Street meet – and also where the first owner had to go to secure a liquor license." Soldiers from the nearby Selman Army Air Corps would frequent the spot in the 1940s, which featured a "glass-bottom dance floor just above water level." The troops were entertained by stars of the day, such as Tommy Dorsey, Glen Miller, and Ozzie & Harriett. It became The Siesta Nite Club in the 1950s and evolved into a hot spot for college students through the 1990s. Don, Sam and Clay purchased the building in 1996 and opened Waterfront Grill on Valentine's Day of 1997.
Sam Weems remembers his father, Luther,  much as a stay-at-home dad in Delhi, after his early retirement from International Paper when Sam was about ten years old. His mom, Doris, was a postal worker, and Dad did the cooking. They had a garden and raised cattle, so they ate like kings on a meager budget. Sam remembers his dad killing a cow every six months, and only being allowed out of working in the garden if he had sports practice. All of Sam's siblings have college degrees, but Sam never made it to college, instead seeking a different path. He moved to Natchez after a brief stint in the oil field to manage a t-shirt shop in the mall there to manage his brother, Don's t-shirt shop in the mall there. Two years later, the sporting goods stores were exploding, and Sam suggested to Don that they make a clean break. Always working odd jobs on the side waiting tables, Sam traveled to Austin, but then back to Natchez. He was amazed at the amount of money he could make working nights, and he tracked what he made in a calendar and showed his dad who was impressed. Sam started at the Natchez Landing at 23 years old, and then helped open the Magnolia Grill, where he stayed for another five years. Sam always loved interacting with people, calling himself a "born waiter." There's a picture of Sam on the wall at Magnolia Grill, and the Sam Burger is still on the menu. It was at Magnolia Grill that Sam's entrepreneurial spirit began to evolve, and his experience in each job of the restaurant prepared him for his next move. Don's son, Clay, came down to Natchez and suggested they all do something similar in Monroe. Sam's only request was that the establishment be on the water. When the location on Bayou DeSiard became available, the Weems knew it was time.
When it comes to the food, Sam has one rule, no frying pan. He realized at Magnolia Grill, it wasn't necessary. They couldn't afford one in Natchez, and the restaurant never suffered. Plus, there was no grease mess. With healthy eating becoming a growing trend in the late 90s, it just made more sense. Also, a lot of restaurants near the Bayou DeSiard location already had fried food on their menu; the Weems wanted to offer people an alternative. They're proud of their hand-cut ribeyes made from the highest quality meat. Their pan seared sashimi grade ahi tuna is shipped straight from the water in Honolulu on Monday to the restaurant by Wednesday and is often served with a unique basil cream sauce. People regularly call asking when the tuna will arrive, and it's frequently gone by Thursday evening of the same week. The Shrimp Rahkee is the brainchild of Clay, featuring peeled Gulf shrimp in a special white cream sauce with mushrooms, bread crumbs, parmesan and green onions served over rice or pasta. The boiled shrimp is an adapted recipe from one of the longtime kitchen workers, and the gumbo is a favorite from Sam's time in Natchez. Sam says the gumbo literally sells by "the five -gallon bucket," made up of chicken, sausage, okra and celery. The roux is made from scratch every other day with oil, flour and their own chicken stock. It needs to sit in the cooler for one day after being prepared for all the flavors to adequately combine.
With the recipes being a collaborative effort, Sam boasts they "eat everything they cook." They're all their favorite dishes, and sharing them with the public is just natural. Don is responsible for the Old Fashioned Red Beans and Rice recipe. The Catfish DeSiard, which was highlighted in Southern Living magazine, was a carryover from Magnolia Grill. It was also part of an exchange between Sam and an oyster shucker in Baton Rouge. Don made up the dish, provided the shucker with the recipe, and in return got the BBQ Shrimp recipe now on the Waterfront entrée menu. It is made up of a "secret spice" blend and ideal for anyone who enjoys down-home "New Orleans" style shrimp. The Oysters Weemo was featured on the cover of Louisiana Cookin' magazine. It's the same Rahkee sauce, but on the oysters. The menu also has pork chops, salmon, redfish, poboys, salads and desserts, a favorite being the white chocolate bread pudding. All the meals are simple, consistent, and some customers come after a ten-year absence and frequently say, "It still tastes the same."
Don Weems was the Alumni Director at ULM and was responsible for starting 31 Ambassadors on campus. Sam would often attend the meetings with his brother, and it was there, along with his experience waiting tables, that helped developed his philosophy with his staff. He prefers experience in the kitchen and on the floor. New hires begin as expos, making dips and salads. Some take a year to get on the floor. Most of his employees have been at Waterfront Grill for years, and they help provide that consistency for customers. Both Brad and Sam often act as relief cooks, saying "People respect you if you can do everything they do." Sam is not above bussing tables. Sam will grab the grill on a Saturday, give someone else a break. He doesn't allow rudeness with his wait staff. When a customer asks a question, you don't respond with "I don't know," but rather, "Let me find that out right quick for you." Customers appreciate the recognition from their favorite servers, people knowing their order when they walk in the door. Sam offers financial advise to his workers: spend 20% of the night's tips, but save the rest for bills. He treats them right. Some of his workers have degrees, while some are pursuing them. Over 130 graduates from ULM have worked at Waterfront while in school; he accommodates their schedules, a big promoter of education. He mentioned five lawyers, six pharmacists, a Navy Seal, numerous construction supervisors and builders, all ULM graduates, all members of the Waterfront Grill family. Don is now retired from ULM, but often works nights.
Brad Boutwell, Sam's nephew, has been the General Manager for the last nineteen years. He was in high school when the restaurant opened and started on the second Valentine's Day after being in the National Guard. He knows computers and stepped right in, claiming he's a better cook than Sam. He handles cost analysis, making money, often behind the computer, while Sam "gets to be everyone's best friend." Brad ventured into a culinary program in the Army and remembers Luther, his grandfather, putting him on the counter while he cooked. The influence for a future in the business was always there. Luther Weems, now deceased, worked at Waterfront for five years, well into his seventies. Wednesdays always were and still are Papaw's Beef Tip Wednesdays for lunch. The idea was his, suggesting to Sam to use the steak trimmings for the recipe.
That ULM tie extends to Waterfront Grill's philanthropic efforts. Always a big supporter of ULM, Sam often sees teachers, professors, coaches and staff from the school in the restaurant. Out of town football teams know of Waterfront and visit while in town for games. Sam once boated some Tulane and Grambling fans across the bayou to the stadium after a meal. Brad says they always get the sports schedules and promote the restaurant on those team's social media pages, a big business builder. With the staff being primarily current or past students, Don's connection to the university, and the proximity of the restaurant being just across the bayou, providing support for the school is essential.
What was a storage porch before, has now been transformed. Last year's flood put water under the concrete, and improvements had to be made. Brad suggested increasing the size of the porch, adding a fire pit and patio area with access to the deck. It's just another way Waterfront Grill continues to improve, evolving with the tastes of its customers. Sam says the atmosphere is, "Come into my living room and watch a ball game." It makes sense. And what they've built began as a family venture, expanded their family via staff, and thus, customers become family as well. And it is that recognition, that attention to consistency quality food and customer service that keeps family coming back.