Beau Vines
By Melanie Moffett
Jun 26th, 2014
0 Comments
1157 Views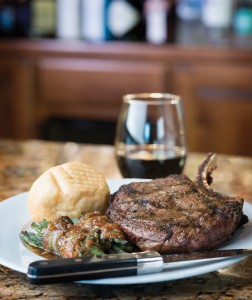 Steakhouse Dining in Ruston
article by Michael DeVault | photos by Joli Livaudais
When Rob Owens, Chris Harsch and Alex Eddy graduated from Louisiana State University, the three college friends went their separate ways. Yet the trio had formed close bonds during their college years as they worked in bars around the LSU campus. But as the realities of adulthood set in, each of the friends came to the same realization: they weren't doing what they wanted to do. Both Owens and Harsch had entered professional life and Eddy had plans to attend law school. Those plans, though, weren't where their hearts were.
They decided pretty quickly they wanted to open a bar. So they scoured familiar haunts in Baton Rouge and New Orleans. "The right location just never came up. We had one opportunity that fell through," Harsch told BayouLife. That changed in the summer of 2013, when Owens called his two college buds with a new opportunity.
The history-filled Rabb's Steakhouse of Ruston was about to become available. Owens knew what the location and the history meant to Ruston and he saw potential for a partnership. "Being from Ruston and just knowing what Rabb's was, how successful they'd been with the concerts and everything else, I thought it would be a good opportunity to launch our business model," Owens said. Harsch and Eddy joined him for a tour of the storied steakhouse and concert venue, and within just a few hours, the framework of Beau Vines was born.
An extensive renovation and new menu followed the decision to buy the restaurant. Gone is the country-inspired décor and green tables. In their place are chic, muted colors, barn-board floors and stacked stone accent walls. "We wanted something with a Southern feel," Owens said. Because steakhouse dining is not a hurried affair– there's very little "rush in and rush out" at a steakhouse–Beau Vines needed to be a place where people enjoyed relaxing. "We want it to be comfortable and appealing," Owens said.
One Rabb's legacy that carried over into Beau Vines is the charcoal grill. "It's a true charcoal grill," Owens said. "It's not butane or propane. It's real charcoal. We start fire every morning with lump charcoal, just like you were cooking at your house."
Atop the grill, Beau Vines' grill chefs prepare selections of choice beef, aged to order for Beau Vines for a minimum of 22 days. Chef Thad Waters designed a menu with a strong Southern and Creole vibe, underscoring the restaurant's Louisiana roots, beginning with the appetizers selections and the Filet Medallions, bitesized morsels of Filet Mignon deep fried and served with Waters's signature steak sauce. Salad offerings include traditional fare, such as the House Salad and Caesar Salads, which feature fresh spring mix and romaine lettuce, respectively. A popular and somewhat offbeat salad styling is the Berry Mix Salad. Sliced strawberries and blueberries are tossed with roasted almonds atop a bed of fresh spinach and served with the house specialty raspberry vinaigrette dressing. You can get your bacon fix on, too, with the Bacon Wrapped Green Beans, a bundle of fresh green beans coated in tangy butter sauce and wrapped in bacon before they're baked to perfection.
Entrees include burgers, grilled chicken breasts, Mahi Mahi in beurre blanc and Ahi Tuna. A 10 oz. pork chop, center cut and French boned, is served over roasted apple mash. There are frequent specials, too, designed by Chef Waters. Then, there's the steak.
While grill masters prep Filet Mignon–six or 10 oz. and grilled to perfection–and a 20 oz. porterhouse, which the menu describes as "…what T-bones want to be when they grow up," there's one steak that shines head and hoof above the rest. The Beau Vine.
A 24 oz. ribeye is served Kansas City style, bone-in and grilled over the charcoals to perfection. Because the steak is left on the bone and cooked over the heat of a charcoal grill, the steak's own marrow infuses the meat with flavor. Succulent, tender and seasoned to perfection using Beau Vines's secret blend of seasonings, the Beau Vine is the mother of all steaks. When paired with the Bacon Wraps, this steak offers a cultured palate all the flavor and sensations of much more expensive steaks available in the high-end steakhouses of Kansas City and Chicago.
But save room for dessert, because you won't want to miss the Lemon Cake. At once flaky and moist, this Lemon-crème filled cake offers delicate texture befitting its delicate flavor. The lemon is sweetened perfectly to balance the tart but not erase it. And the cake itself is light, airy and filled with citrusy tartness. Topping a healthy serving of the cake is a raspberry sauce that compliments well the delicacy of the cake and the lemon. If cake isn't you're preference, consider Chef Waters's crème brule, prepared fresh daily. There's a secret to his crème brule, and he's not sharing. "I can't give those out, man. The crème brule, it's made from scratch right here, and yes, there is a secret to it," Waters said with a laugh.
It's clear watching Waters chop spinach in his kitchen that he is a competent chef and at home behind an apron. Well studied in the art of food, he has worked with some of the best chefs in the region. He credited time in the kitchen of Cory Bahr at 102 A Bistro with much of his training. For the menu at Beau Vines, he focused on building on the Trinity.
"The Trinity is yellow onions, bell pepper and celery, usually diced, but you can use it however you like," Waters said. "That's the basic if you're going to cook jambalaya, gumbo or any of your Creole dishes." The trinity goes into just about every single dish at Beau Vines–even the marinara, which Waters admitted is a bit unconventional.
"You're not supposed to put that in marinara," he joked. Yet it works. The food comes together in a flavorful, spicy, rich way that is at once wholly Louisiana and uniquely Beau Vines. Waters recommends guests try one of the steak offerings. In fact, he said, if he could cook just one more meal, the meal he'd prepare for himself would be the 20 oz. porterhouse, grilled medium rare and served with potatoes au gratin.
As with any good steakhouse, spirits play an important role, and at Beau Vines, a well-stocked wine cellar awaits diners of all tastes. The wine list features selections both by the glass and by the bottle, and with a variety of choices, there is a wine for every meal and every budget. On the whites side, the choices range from Martini Asti Spumante, a sparkling white, served by the glass or bottle. The higher end white is a Sonoma Cutrer Chardonnay, which is offered by the bottle only. For a red pairing, patrons choose from a healthy selection of good wines, with a hearty Malbec Reserve from Norton joining Estancia Pinot Noir and Caymus Napa Cabernet on a list of more than a dozen wines. To keep it interesting, Owens and crew also keep a selection of off-menu wine choices. During this particular visit, a bottle of Cakebread Cabernet Sauvignon taunted from the corner of the bar.
Reservations are welcome, but certainly not required, according to Owens, who said he recommends them on Fridays and Saturdays, when business peaks, but even then getting a table shouldn't take too much time.
And yes, there's still live music out back, though Beau Vines is just starting to flesh out that aspect of the business. But with seating for 3,000 people at two stages, Owens said it's going to continue to be a major part of life at the location. They've even given the bar and concert venue its own name: The Revelry.
Watching Owens, Harsch and Eddy between interviews, it's easy to spot the relationships that make Beau Vines work. After all, rare is the restaurant with three working, managing partners–partners who are in the restaurant on a daily basis, tending the day-to-day operations. "It works well between us," Owens said. He pointed out they've known one another for a long time. He also credited the Beau Vines staff. "We have a staff of outstanding managers."
The charcoal grill, the three friends and the storied history of a location combine into a steakhouse that is every bit Louisiana cooking at its best. "There's nobody that quite does it like us," Owens said.
Beau Vines is open for lunch daily from 11 a.m.-2 p.m. Dinner is served from 5 p.m. until close. For more information, visit their Web site or for reservations, call (318) 255-1008.