Beer and Pizza
By Katie Sloan
Nov 30th, 2017
0 Comments
3708 Views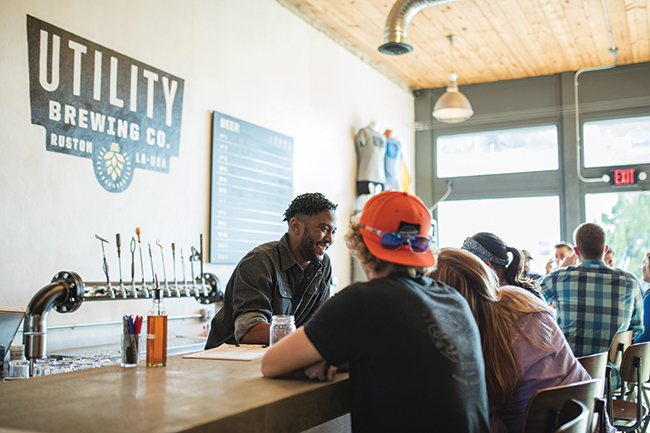 Dean Norton, Karl Puljak and Cassidy Keim teamed up to open Ruston's newest eatery, The Utility Brewing Company.
Article by Vanelis Rivera and Photography by Martin G Meyers
Huddled next to the Dixie Center for the Arts in downtown Ruston is an ingenious little locale brewing up hoppiness on tap. The Utility Brewing Company offers three items to cure whatever ales you: beer, pizza, and… enough awful beer puns to go around.
The story of this new and trendy pub begins like a 'walks into a bar' joke,– Two architects and one businessman walk into a bar and hop into a business deal. Owners Karl Puljak and Cassidy Keim are the men behind the brew, while owner Dean Norton focuses on business planning for the brewery.
Hailing from St. Louis, Missouri, Karl long ago adopted Ruston as his second home. He married a local girl, taught at Louisiana Tech University for 23 years, and is currently the Director of The School of Design.
Cassidy grew up in Shreveport and is a former student of Karl's. He graduated from Louisiana Tech in 2008 with a Master's of Architecture. He owns a firm in Ruston and acts as an Adjunct Graduate Professor, also at The School of Design. Though he has worked for national architecture firms in Los Angeles, California, and Phoenix, he says that Ruston has always felt like the place he needed to be. "There is a lot of opportunity here," Cassidy said in an interview.
Dean has brought his local business experience to project Utility. It is from him that the team gains advice, focus, and organization to what is already a well-oiled undertaking. He has owned a couple of restaurants in town including Trenton Street Cafe, so Dean understands what constitutes the fundamental challenge of any business. In his words: "How am I going to sell that and make it look easy?" Thus far, these craftsmen have succeeded.
The idea for the brewery fermented between Karl and Cassidy during their participation at Ruston's Artoberfest, an annual fundraising event that benefits the North Central Louisiana Art Council. After witnessing an impressive brew-loving population, they were inspired to take their passion to the next level, explained Cassidy. They strove to conserve the atmosphere of sharing and talking about beer while "serving directly to people," a vibe they certainly achieved at Utility.
The final initiative to advance their beersness idea occured while attending a brewery and business immersion course hosted by Colorado Boy in Ridgway, Colorado. There, the owner of the course confirmed the potential of their undertaking by letting Karl and Cassidy know, "If you guys don't do it… I think I might do it."
The interior of Utility is its own tribute to the downtown district. Even though it has been gutted and remodeled, the historical character of the space has been maintained, particularly the ceiling and the brick walls. It was a complicated feat – overhauling an existing building and transforming it into a restaurant – but Cassidy explained that "One of the things we love is that this is a quaint, small pub atmosphere." He was also drawn to the possibility of developing an outdoor space, remarking that downtown dining could use more spaces with outdoor options.
Karl appropriately compares the long narrow indoor space (which can seat about 40 people) to a ship in a bottle. The moment you come in, there's an open space flanked by a bar and kitchen on opposite sides of the room. Six towering "gigantic tanks" holding about 220 gallons are hooked to the tap, while six more can be seen toward the back of the building. To get to the beer-garden styled courtyard, all you need to do is walk around the brewing area. "You can see our whole process and that product from start to finish," said Cassidy, beaming.
The industrially designed space evokes a warehouse feel, which correlates to the simplicity of their aesthetic ambitions. "Everything is raw and handmade," Cassidy explained. He built the legs to the tables and, alongside his partners, fashioned the countertops of the bar. A handpainted mural of their logo serves as a centerpiece between two black boards. Creative signatures to the bar area include a custom-made utility tap featuring vintage tools as levers, two locally crocheted beer and pizza key chains, and a Crowler machine–beer canner– that is ready to can and seal any freshly poured beer you desire to take home. Also in the bar area, a self-explanatory "BUY A FRIEND A BEER" board, promotes fellowship. Free beers are currently listed for firefighters, policemen, anyone in a dinosaur costume, and Pope Francis (should he happen to turn up in Ruston). Leave your mark and make someone's day by hopping it forward. Just as it seems that the architects have thought of it all, look in the bathrooms wall nooks have been thoughtfully constructed for customer's drinks.
The beer menu is thoughtful and balanced. Popular with customers is the Irish-inspired red ale. It's "malty, sweet and full of caramelized sugar and dried fruit flavors" with "a small addition of roasted barley." For folks just entering the world of craft beer the "bready malt notes, caramel sweetness and mild hops" of the pub ale makes an ideal starter. Karl recommends their honey saison, which uses 30 pounds of local honey from Jennings Apiaries. This Belgian-esque ale has a hint of black pepper, an addition that serves to complement the simple grain recipe. A customer raved that after trying the season they never looked back.
Cassidy's brew choice is their American kosch, an "easy drinking beer" that has a honey-like malt sweetness preceding "a crisp finish with a touch of citrus flavor from the addition of orange peel and coriander." Included in the beer menu is a hearty stout, moderately hopped IPA, and their small-batch cask beers. "Naturally carbonated in traditional stainless steel kirkings," their cask beers are served American style from their English-style bar-top "beer engine."
Showcasing a simple food menu of pizza and salad, the team gets as much as they can from the local farmer's market. They proudly make their own pizza dough, mozzarella, and salad dressings. Made from scratch "using 100 percent Italian Caputo flour, water, yeast, and sea salt" the dough is aged for two days in order to allow the natural sugars to develop in the fermenting process. A homemade gluten-free crust is also available. The pizzas are cooked in their 700 degree wood fired brick oven. There is no questioning that you can taste the extra care put into the making of their pizzas.
The beer-pizza pairings seem innumerable, especially when considering the pizza choices listed in the menu. Classics with a twist include, the Margherita, Tri Cheese, Classic Pepperoni and Pineapple Pie. The more inventive pies include, the Lincoln, with mushroom, cajun sausage, and goat cheese; the Downtown, conservatively smeared with garlic olive oil and topped with mozzarella, bacon, cajun sausage, gorgonzola cheese, and tomatoes; and the Ruston Home Pie, with mozzarella cheese, prosciutto, roasted red bell peppers, a farm egg, asiago cheese, and arugula. You'll want to try more than three pies at a time, but make room for their dessert pizza: a creamy Nutella center sprinkled with powdered sugar and creme fraiche, which one guest proclaimed made their experience "unforgettable!"
In only five days of opening, the brewery has received a whopping 32 five-star reviews. Not only are customers enthusiastically reviewing the brews, but they are pairing their favorite pizzas with recommended brews. For instance, the Silver Fox pizza (tomato sauce, mozzarella, salami, red pepper flakes, kalamata olives, and arugula) has been partnered with the IPA. Meanwhile the Spicy Artichoke pizza (a great vegetarian option of italian tomato sauce, mozzarella, artichoke, gorgonzola, roasted garlic, hot garlic oil, and basil) is encouraged alongside the American kolsch.
Wine enthusiasts need not feel out of place, as they can make their own pizza-wine pairing with a distinguished and versatile wine menu of red and white favorites ranging from cabernet sauvignons to chardonnays.
The immersion of the rough-edged downtown vibe with the big city flowing energy has customers commenting on the acumen and courage they recognize in this, quote, "first-rate place that will cater to and attract young and old professionals alike."
Karl told BayouLife Magazine, "There's a lot of bigger cities [in which] you don't have the opportunity to make as much of an impact in the community or participate as much." To Cassidy, Ruston is a blank canvas that he sees as steadily coming to life with fresh color. Karl expects the area to become an artistic nerve center, charged with "the kind of activities and the kind of people that we would like to work with and have become patrons."
The brewery is trend setting. Cassidy hopes to create a unique place in Ruston. A place where, in his words, "they don't have televisions sets and they don't intend to." Utility is a space where you can, in Cassidy's words, "have a beer and a conversation. Talk to people. Get to know people. Bring your kids." The owners credit the Ruston community and particularly the mayor with how smoothly the business has eased into the area. The support has made the process an enjoyable one.
The passion from the beginning was to create a gathering place for the community. They want a family-oriented space that maintains its pub atmosphere. What's made in-house is for the sake of the in-house experience. There are no plans right now to package or sell their beer at grocery stores or restaurants. The liberty of not having to make the same thing twice is a creative freedom they plan to keep exploring.
The Utility Brewery Company has a 'no problem, no sweat' approach. Heck, it's written in all caps at the front of the establishment: BEER AND PIZZA. This place is exactly what it says on the tin.
Tap into the brewtivities and find out what's been hoppening at the shnazzy joint that's becoming a Ruston must-eat-and-drink.
The Utility Brewery Company is located at 206 North Vienna Street, Ruston Louisiana. It is open Tuesday-Friday 4-10 PM; Saturday 11AM-10PM; Sunday 11AM-9PM. Follow them on Facebook and Instagram to keep up with current brews.