Big Eats at Big Momma's
By Melanie Moffett
Feb 1st, 2016
0 Comments
480 Views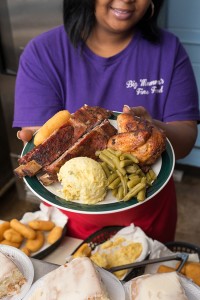 article by Michael DeVault | photos by Martin G Meyers
Dorothy Gilbert's day starts early, when she arrives at the restaurant every morning, slips on an apron, and gets started cooking. Usually, she's there before 9 a.m. Sometimes, it's earlier. But from the moment she steps into the kitchen until well after 3 p.m., Gilbert will remain mostly in the kitchen, only sometimes slipping out from behind the hot stove to say hello to an old friend or to mind the register.
In those rare moments when she's in the front of the house, it's clear Gilbert loves her work. But what's even more apparent is that her customers love her. After all, who wouldn't love the bright, beaming smile and the hearty laugh? It's this casual familiarity that's help cement Gilbert's identity as Big Momma, the proprietor of Big Momma's Fine Foods, the restaurant she opened in 1999. Now going on fifteen years, Big Momma's Fine Foods is a study in the art of southern cuisine, and with the touch of Michelangelo or Rembrandt, Gilbert plies her trade.
"I've always been a cook," Gilbert revealed. She began working in kitchens early on and was almost immediately hooked on the fast paced life, the smells and flavors and the processes that go into cooking. She cooked in the corporate kitchen at Bancroft Bag for 21 years, where she mastered cooking on an industrial scale, catering to the tastes of Bancroft's diverse workforce. By 1999, she was ready for a new challenge. "I wanted to experiment with what I knew."
That experiment worked out well, especially for the hundreds of customers who file through the line at Big Momma's Fine Foods every Monday through Saturday in search for the kinds of stick-to-your-ribs cuisine that's hard to come by in the world of boutique eateries, sandwich shops and fine dining restaurants. If you're looking for heart healthy, light fare, you're barking up the wrong tree. But if what you need is a touch of southern comfort, Big Momma's has just what the doctor ordered.
A traditional meat-and-three plate features a choice of a meat, three vegetables and a bread. Beverage choices include sweet tea and unsweet for those that ask, fountain drinks and water. While the menu varies slightly from day to day, the lineup at Big Momma's regularly features southern fried chicken, fried pork chops, and beef tips with gravy. Other meat choices include hamburger steak and liver and onions. On Fridays, while Big Momma is frying up fish, son Daryl prepares ribs. And not just any ribs. Real, slow-cooked, savory barbecue ribs. They're a popular feature. "When we do our ribs, we cook anywhere from six to eight cases for that one day," she said. For point of reference, a case contains ten slabs, and a slab makes three orders. For the math challenged among us (and I had to break out a calculator), that's somewhere between 180 and 240 orders of ribs. And very rarely are there any leftovers at the end of the shift. "Customers really like our ribs."
You'd be hard pressed to find something customers don't like at Big Momma's Fine Foods, an establishment that more than lives up to its name. Take for instance Gilbert's fried chicken. Seasoned and breaded, the chicken is perfectly peppered for just the right amount of heat and the ideal balance of salt. Part of the secret is in the frying. For her fried chicken, Gilbert uses only 100 percent peanut oil, which lends a light, perfectly brittle flakiness to the skin. "People love the way it cooks our chicken, so we won't change that. It comes out pretty and brown, and crispy," she said. For knife and fork eaters, that means plenty of crispy little bits to pluck off the plate and nosh on after they've finished. For those who are pick 'em up and biters, the satisfying crunch is followed by a cascade of juicy flavor, so have your napkin handy!
For the pork lovers, Big Momma's Fine Foods serves up some of the most succulent fried pork chops around. In true soul food fashion, the pork chops are smothered with a rich, savory gravy that pairs well with mashed potatoes or rice. Add a helping of string beans and a heaping scoop of mustard greens, and you'll leave Big Momma's needing a nap. For a bit of authentic southern delicacy, swap the beans for stewed okra and tomatoes, a true Louisiana treat. Round out your selection with a homemade roll or cornbread, available in traditional and hot water varieties.
Gilbert's hot water cornbread is bar none. Where many restaurants attempt the traditional southern side and fail is producing a heavy, thick, and pasty product that's not only difficult to chew but also too dry to enjoy. In contrast, Big Momma's hot water cornbread is lighter and just as flaky as her pans of the more traditional, baked variety.
While you're sopping up that last bit of gravy with your cornbread, take a minute to look around at the other diners. Seating is a combination of smaller four-tops and long, cafeteria style tables. So don't be surprised if, when you're dining alone, a stranger slides in next to you and starts up a conversation. You're just as likely to see a mayor or member of the City Council as you are a construction worker or school teacher. At Big Momma's, everyone's treated the same. "The whole city of people, and people come from all over–Shreveport, Alexandria, everywhere–we serve them all," Gilbert said. "It doesn't matter the label, they come to Big Momma's to eat."
Black-eyed peas, pinto beans and fried catfish will only take a place so far. In addition to the good eats, there's also another thing that makes Big Momma's Fine Foods a must-stop destination for lunch. Gilbert sums it up best. "They like the food and they like the service," she said.
Gilbert tries to divide her time between the busy kitchen and the busy service line in the cafeteria-style establishments. Walking that tightrope is a demanding, delicate operation, though, and to help manage the whens and wheres of being Big Momma in Big Momma's Fine Foods, Gilbert relies heavily on family. While Daryl helps man the kitchen, her daughter, Deidre, oversees the dining room and the staff of up to seven, depending on the day. If you ask to see Big Momma, Deidre can usually let you know if she's a bit too busy in the kitchen–but she'll be out in a bit to say hello. Gilbert says she's blessed to have two of her six children working full time in the restaurant, but it's clear watching her work and watching how her employees defer to her that even newly hired waitresses are part of Big Momma's family.
Teamwork is part of the secret at Big Momma's Fine Foods. From the moment the crew starts working, they're in synch, moving about the small establishment on South 2nd Street with the well-timed movements of a ballet. "I don't even have recipes," Gilbert confided. "We work together, and that's the secret. We ask each other what goes in what, if we don't know."
Just as it appears the line is set to run out of candied yams, in comes Daryl with a steaming pan fresh out of the oven, one more step in the endless swirl of activity that takes place behind the crowded lunch counter. They have a lot of practice replenishing the line, in no small part to the healthy portion sizes. In fact, for many customers, eating Big Momma's lunches is a challenge. For others, it's an excuse to enjoy a second meal later. Rarely, if ever, is food left on a plate. Regular patrons know the drill. "They'll ask for a to-go plate, because they want it. They take it home with them, because they ain't going to throw it away," Gilbert said. Looking at a heaping plate of fried chicken, mashed potatoes and kidney beans, it's clear this is the kind of place that knows how southerners like their food–good and lots of it.
But don't think big portions let you off the hook for a little something sweet. Lining the top shelf of the service line and crowding the areas around the register, delectable sweets abound. There's always chocolate, vanilla and lemon cake on hand. Occasionally, Gilbert gets a hankering to make German chocolate or red velvet cakes. Pineapple and carrot cakes are frequent customer favorites, and she's almost always got a cobbler of some sort on the line. As you're looking at the portions of your lunch, though, whatever you do, don't skip dessert. Big Momma's cakes are as famous and popular as the fried chicken.
Visit on a Friday, enjoy the catfish or ribs, and then chase it down with a heaping helping of Gilbert's famous rum cake. "It's got alcohol in it," she said, though she declines to speculate if that's why it's so popular. If rum cake is your thing, though, come early, because supplies are limited. "Customers come in and ask for it," Gilbert said.
Open from 11 a.m. to 3 p.m. Monday through Friday and from 11 a.m. until 2 p.m. on Saturday, Big Momma's Fine Foods is just that: fine food without the frills and, more importantly, without the price tag. Lunch varies depending on the choices you make for meats, sides, drink and dessert, but in almost any combination, $10 will cover it. So come hungry, dive in and enjoy the atmosphere.