Bing Bishop
By Melanie Moffett
Apr 27th, 2016
0 Comments
731 Views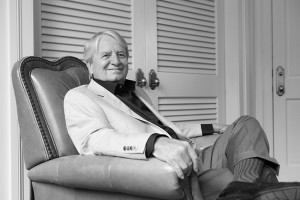 Bayou Icon Bing Bishop reflects on the relationships that shaped him, the road to success, and recognizing the value of community.
article by Michael DeVault   | photographs by Brad Arender
Drive across north Monroe and it's almost impossible to not notice the fingerprint developer Bing Bishop has left on his city. Whether it's an office park near Lamy Lane or an enclave of stucco and marble off Loop Road., Bishop's work occupies corners and fills lots with the kinds of buildings that weave themselves into the fabric of our perceptions of home. As he moves into his seventh decade, Bishop has begun to reflect on his life's work and the legacy he hopes to leave in the town he's called home for almost all of his life.
It's a legacy that begins far away from projects such as Pargoud Place, away from the buildings he's erected and even the family he's raised. Bishop's story doesn't begin with construction or, like so many baby boomers of his generation, with an epiphany in college. It starts in a butcher's shop.
"I was fortunate enough to have some really good mentors at a very young age," Bishop told BayouLife. A 1963 graduate of Ouachita Parish High School, Bishop attended just a single year of college at ULM, then Northeast Louisiana State College, before deciding college wasn't for him and embarking on a trade career instead. What to some might sound like an ill-informed decision, to abandon education in favor of work, was instead for Bishop recognition that his education had begun years before, with those mentors, the employers who taught him that hard work, business sense and drive were the road to success.
The first of Bishop's many mentors was a Monroe grocer and butcher named Forrest Davis, a well-known and respected owner of grocery stores and meat markets. Bishop recalls numerous childhood trips to the grocery store, the cases of quality meats and the way Davis operated his business. "My parents bought groceries from him, and that's how I got to know him," Bishop said. From a young age, Bishop noticed how Davis interacted with his customers and their families, and by the time Bishop entered high school and began looking for a part-time job, he knew Davis quite well. The grocer put him to work in one of the grocery stores, first bagging groceries. Bishop exhibited a curiosity about the work he was doing and a desire to do a good job, traits that impressed Davis enough that Bishop soon began doing other jobs in the grocery store, from stocking shelves to cutting meat in the market.
"He was like a father figure at work," Bishop said of his relationship with that early mentor. "He treated me like one of his own children."
For Davis's part, he helped to shape Bishop into an efficient worker who understood customer service and that relationships with people are where a successful business begins. Eventually, Davis turned Bishop loose on one of the most important jobs in a grocery store—helping customers find what they are looking for as one of the store's floor personnel. In the grocery business, there is perhaps no more important a role, and in many grocery stores, the role was reserved to the owner or members of the owner's immediate family. But Davis had succeeded in something, and Bishop knows precisely what that something was. "He made a people person out of me," Bishop said.
By 1966, just three years out of school, it was time for Bishop to move on from the grocery business. Over the years he had worked there, he developed a keen sense of customer service, he knew how to help people, and, perhaps most importantly, after years of wandering the aisles of grocery stores, he understood the retail experience. He met a man named Midkiff, a Minnesotan who owned a company that manufactured fixtures and designed interiors for stores. Midkiff hired Bishop to help design the interiors, and before long, Bishop found himself sitting in front of one of Midkiff's newest clients.
"Back then, I think Sam Walton had maybe 30 or 40 stores," Bishop recalled. He and Midkiff would hop aboard Midkiff's company plane and fly to Bentonville. There, Midkiff would discuss the details of new store development with Walton and, during the course of the meeting, Bishop would sketch out the designs. Before each meeting was over, Midkiff would close the deal. "We would sell Sam Walton three stores at a time," Bishop said.
From Davis he learned to be a people person. From Midkiff, he began to develop the ideas of good business relationships and prompt service, and he at once recognized the importance of delivering quality to the customer. Within just a few years of taking a job with Midkiff, Bishop knew it was time to take the next step. He embarked on the next stage of his career, working for the first time in general contracting.
During these years, Bishop oversaw construction of discount stores for Walmart, Gibson's and other mainline retailers. Developers would hire the company to design and build the stores for tenants. It was hard, demanding work, with narrow margins and tight timelines. "That's where I learned the building business," Bishop said.
This was America in the 1970s, and the Baby Boomer generation was focused on the duality of the American Dream. A successful career is only part of the equation. Bishop balanced the other half of the equation when he met his wife, Dixie. They married and had three sons.
One son became an officer with Wildlife and Fisheries. Another son settled into a job as an investment banker with UBS in Houston. The youngest son, Justin, followed his father into the construction business. Even Dixie decided to focus on her career. "When Justin went off to college, she decided she wanted to work," Bishop said. She took up the task of managing his office. "She's been there ever since."
The early 1980s were high cotton for construction. With a growing, successful family life and a thriving business under his belt, Bishop settled into life. At the time, he was in Baton Rouge, where he owned 50 percent of a contracting company that specialized in commercial building. He and his partner built chemical plants, shopping centers, schools and even churches. "we did just about every kind of construction," he said. But the recession hit, and business slumped. At the same time, his mother fell ill. Even though Baton Rouge was just a short car ride from Monroe, he knew it was time to be closer to home.
Bishop relocated back to Monroe with his wife and kids in 1984. He took a position with a company that sold and erected pre-engineered steel buildings. Overseeing operations in all of Louisiana and half of Mississippi, Bishop traveled the region extensively. He got to know people and, perhaps more importantly, people got to know him.
By 1996, the economy had recovered. Custom buildings were again entering a boom phase, and Bishop decided it was time to assemble all of the pieces. He opened Bing Bishop Construction, Inc. that year, with an eye to building the kinds of quality commercial and public buildings he had perfected over a lifetime of building. And, like so many others in his generation, after years of hard work, he made a little time for playing. Particularly, he played golf.
It was on the golf course at Bayou DeSiard Country Club that he bumped into a man who would become one of his earliest and most devoted business partners and a lifelong friend. Mike Husted knew from the start he and Bishop had a future. Bishop was a builder with a reputation for quality, and Husted was a real estate developer with big plans. More than 25 years later, Husted is thankful for the relationship they forged on the putting green. "A lot of business deals are made on the golf course," Husted said. "With him a builder and me a real estate developer, it was a good opportunity for us to work together."
Over the years working together, Husted came to appreciate Bishop's eye for quality and his attention to value. Not only does Bishop build a great building, he does so with an attention to quality—from materials to design to installation—that Husted said is unmatched in the market. Bishop's keen eye for aesthetics provides insight into his drive to deliver the best possible product to his customers. But Husted said these factors say more about Bishop the man than they do about the contractor. "As a contractor, as a builder, and as a developer, he's got great vision," Husted said. "All of these things speak to his integrity."
Husted became Bishop's partner in developing several properties across the area, and one of those properties became the single most recognizable Bing Bishop project in the region. They called their venture Pargoud Place, and from the outset, they started with a common goal of improving the area and building quality housing, but they differed somewhat on how they intended to arrive at that goal.
The tract of land, just under five acres, was home to a row of rental houses that, over the years, had become neglected. Bishop recalls driving by the stately northside homes along Park and Loop and then encountering the subdivision that would become Pargoud Place, and he knew it could be more. So did Husted. Both men envisioned a nice subdivision, where people who lived could experience the pride of a community and the closeness and shared identity of a neighborhood. Though Husted wanted to build houses targeted at a more modest price point, Bishop was aiming for the stars. Bishop figures they would have made money a lot quicker, if they had done it Husted's way, but after many discussions, Bishop's vision won out. "It took a lot of years to do what I wanted to do, but we're finally getting it done."
Husted points to Pargoud Place as a signature Bing Bishop vision. Rows of well-built custom homes are situated around an inviting drive that leads to a cul de sac and the development's centerpiece, a massive stone fountain. This was the vision Bishop began with, and it's ultimately the product of his drive to make that vision a reality. Situated on just under five acres on the corner of Loop Road and Lexington, Pargoud Place has become one of the premier developments on the northside, and Husted is struck by the beauty and design of the planned community every time he drives by it.
Bishop notes he accomplished another goal, too, and it was a goal that would forever change his ideas about his role in the community. Bishop lives in the community, and he knows all of his neighbors. They gather around the fountain, on each other's porches, and they become like a big family. "We knock on one another's door and borrow things, just like we used to do 40 years ago," Bishop said. Pargoud Place and the familiarity with the people next door and across the street and up the block is one of the biggest successes of the development, according to Bishop, and it's what sets the property apart from other developments. "Most people today don't know who lives next door to them."
The success of Pargoud Place encouraged Bishop, and he has begun to develop similar communities in a variety of price ranges, hoping to capture that sense of community again. If people have the kinds of spaces where they can come together, Bishop believes they'll forge the same neighborly bonds as he has with his neighbors. But Pargoud Place called into question something that Bishop assesses almost as a failure. Though he had been building quality buildings for years, Bishop hadn't given much thought to the bigger picture. While quality buildings were going up, the community itself was suffering a decline. He points to Pargoud Place as an example. Before he and Husted built a new development, the area was filled with rent houses and was, as he puts it, "rat infested, in the middle of the best part of town."
As Pargoud Place took shape, he came to a realization: building community means building community. "I realized I hadn't done a lot of that in the past," he said. "I realized that, if we were going to make our community better, we were going to have to roll up our sleeves and get involved."
He became active in his church and in the community. Eventually, he got involved in local politics. He turned his contractor's attention to detail and his eye for aesthetics to philosophical pursuits, and he started lobbying his friends, colleagues and the community to develop a new generation of leadership. After all, for Bishop's vision to succeed, he would need a good foundation upon which to build. "We can't attract industry to this area unless we have good leadership," he said.
Bishop singles out leaders in the community that he believes get the "big picture," and he has developed his view of an effective leader: a person who is willing to spend the time and take the necessary steps to turn bad situations into good ones. Monroe realtor and 2015 Bayou Icon Deanie Baker sums up Bishop's vision of Monroe quite succinctly. "I think his vision is for the improvement of Monroe," she said. His singular drive has been to create developments that have long-term and far-reaching impacts on the quality of life in the area, and Baker said that he's succeeding in that effort. "He certainly does so in construction, whether it's with his office buildings or his homes."
Like Husted, Baker has known Bishop for decades. She met him first through her husband, Tom, and she was immediately struck. Bishop became the kind of person she and Tom could rely on to be there. "He's been a wonderful friend for over 20 years."
Husted agrees, though he assesses it another way. Whether the focus of the conversation is about Bishop's political activities, his efforts at his church, building a new office complex or designing a tract of houses, or helping families displaced by the recent floods, Bishop's work comes down to a single, defining trait. "He's a man of tremendous integrity," Husted said. "If he says he's going to do something, he gets it done."
Almost predictably, Bishop demurs at such praise, deflecting instead to the notion of work ethic, customer service and honesty he learned from men like Midkiff and Davis. He dismisses much talk of legacy and of leaving things behind, and it's clear that these days, the reward for hard work and great vision is baked in the cake. It's true that he's building a better community, brick by brick, and he's making money doing it. But, in his estimation, it's all part of a job well done. "The harder I work to make things better for everybody, the better those things become for me," he said.
He pauses, reflecting for a moment on his life's work, his family and the place he calls home. "I think I'm old enough now that I'm understanding now, finally, and getting the big picture of what we should be doing." He added, with a chuckle, that such circumspection takes time and maturity. "Unfortunately, I had to get to be an old man before I realized that."