Bradley Bridges
By Melanie Moffett
Mar 2nd, 2016
0 Comments
584 Views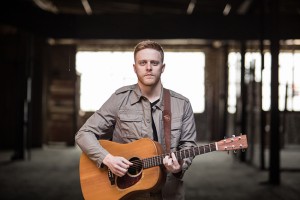 Regional Artist Bradley Bridges Releases New Album
article by LaRone Richardson | photos by Brad Arender
Not yet 30 years old, native son Bradley Bridges is an Air Force Reserves veteran, an assistant vice president at Cross Keys Bank in West Monroe, and an accomplished singer/songwriter with a newly published album. He's also recently celebrated his first wedding anniversary with lovely wife Mary Elizabeth, a psychology professor at ULM.
Although he can look back now and see "the where and the why" for all the twists and turns, the road leading to his present life of maturity, meaning and true purpose wasn't always an easy one. What follows is an inspirational journey that began almost three decades ago in a small farming community in northeast Louisiana.
The middle of three children, Bridges was dutifully fed biblical truths by loving parents and a Bible believing church while growing up in Rayville. As a teen and into his early 20s, in true prodigal son fashion, Bridges willfully spit out those truths, deciding instead that he was undecided, as far as organized religion was concerned.
What resulted was a deep, spiritual hunger that vaulted Bridges on a quest which ultimately resulted in a faith hard-won and true. Not only does he now sit at the Master's table, Bridges' newly released album is an opportunity for listeners to likewise feast on a powerful message of overcoming, of redemption, of forgiveness and grace.
SET ME FREE
Released on February 14, 2016, Bridges' new album, Set Me Free, is a five-star, five-track melodic gumbo that offers up generous portions of energetic, upbeat pop, Christian rock (check out the powerful guitar solo in the title song), and soulful ballad. Bridges is a master at juxtaposing the edgy and the soft, the loud and the prayerful, the praise and the plea. And he does it in the seemingly effortless way in which a talented craftsman transforms any mere craft into art. Available now on Pandora and all social media platforms, more than one of Set Me Free's tracks could eventually end up as favorites on Christian radio.
The first track, "I Sing," begins and ends as an energetic love song sandwiching a crescendo into worshipful praise. "I Believe" has a catchy beat, highlighting Bradley's easily transitioning falsetto and imparting timeless truths concerning salvation, grace, acceptance and the newness of life that only Christians can claim. The title track, "Set Me Free," is admittedly my favorite. Written in a haunting, minor key and infused with a subtle country vibe, this track is an earnest, melodic plea for freedom from selfish human desires. "Bleed" is a soft rock declaration of willingness to do the tough stuff in order to claim the prize worth winning. The last track, "Till I Die," is a beautiful ballad pledging lifelong surrender to a worthy Savior.
The album's lyrics are meaningful, heartfelt and relevant. The title song, for example, was written one night after Bridges had read James 1:13-14. "That was such a convicting scripture to me," shares Bridges. "We blame our sin on others, but it's our own selfish desires that bring us down that path. At the end of the day, the buck stops with me. I choose that path; I choose to sin. My plea was that He set me free from me."
THE JOURNEY
As alluded to previously, although raised a Christian, until his mid-20s, Bridges resisted committing his life to God. "Don't get me wrong," he continues. "In my growing-up years, I was considered a 'good guy,' and people probably thought I was a Christian because I went to church all the time."
As he grew older, though, Bridges became resentful of all the rules in his life. "I felt I had enough rules between the ones at home, the rules at school, rules in general," he relates. "I sure didn't want all of the additional 'do's and don'ts' that the church demanded." So from his senior year of high school through two years of pre-pharmacy at ULM, his philosophy was to enjoy doing what felt right. It wasn't a fulfilling existence, but it was exhausting, and Bridges says he began to slip academically, "due to a healthy night life and lots of Halo 2."
Bereft of any definite direction in his life, Bridges joined the Air Force Reserves, realizing it would reinforce the structure that had previously guided his life. During basic training, he turned to a life of prayer and attended church faithfully. The difference now, however, was that he chose to. No one was forcing him.
"My motives weren't completely pure, though," Bridges acknowledges, with a smile. "Church was the rare place you could go where no TIs (technical instructors) were screaming at you. It was like calling a time-out in the middle of all the chaos." Even though his reasons for attending church were admitted suspect, for the first time in his life, he was there because he wanted to be.
THE MUSIC
After basic training, Bridges drifted back into spiritual limbo. He returned to ULM, changed his major to business, but still felt no firm direction in his life. "A few years earlier, before I had joined the Reserves, I'd picked up the guitar and took some lessons." Feeling restless and searching for some kind of creative outlet, Bridges picked up his guitar and began writing songs in his down time. He had no plans or desires to share them with anyone, though.
About this time, Bridges was introduced to singer/songwriter/producer Monty Russell from Ruston. Realizing a common interest, Bridges became an eager student of the craft and structure of songwriting. "Monty served as my mentor and producer," he explains. They recorded Bridge's country album Kill the Bottle, in Nashville, the summer of 2010. "It did well in my hometown, of course," he grins, "but never made any widespread impact." But he'd been bitten by the bug, and after graduation, decided to head to Nashville.
THE DISILLUSION
"In Nashville," recalls Bridges, "I was completely, totally alone. I didn't know a single soul." And every single person there, it seemed, was chasing the same dream. "The competition in Nashville is almost inconceivable; everyone there is talented beyond belief. Everyone can write, and most are really good at it."
For about six or seven months, Bridges slogged it out, thrusting upon himself a self-imposed pressure that became suffocating, stifling the very creative process he had moved to Nashville to nurture. He returned home, dreams unfulfilled, feeling defeated and disillusioned.
THE QUEST
Depression set in. "I was completely broken at this point in my life," recalls Bridges. "I put down my guitar, even considered burning it. I threw all my Kill the Bottle CDs in the dumpster. I quit taking phone calls and pretty much withdrew from my friends." Searching for solid ground, something to hold on to, Bridges asked himself, "Well is this it?" In his artist's bio on bradleybridgesmusic.com, Bridges confides his thoughts at this dark time in his life: "…Is this all there is to life? Sun comes up and the sun goes down and it all starts over tomorrow?"
Bridges' quest for truth began with his Dad walking him through an in-depth Bible study beginning with Old Testament prophecies and their fulfillment in the New Testament by Jesus. "I mean I asked every question I could think of," relates Bridges, "'Is Jesus the only way?' And if He is, 'why is He the only way?'"
After intensive Bible study and an exhaustive list of questions definitively answered, Bridges found himself facing another roadblock – a feeling of total unworthiness. "My Dad, in his wisdom, pointed to the event of Paul on the road to Damascus," he relates. "How Jesus met him on that road, admonished him, but ultimately forgave him for even killing Christians, how He used him for His purposes afterwards. I realized that if God could forgive him, He could forgive me for all the self-serving things I'd done, and the way I'd lived." That night, Bridges knelt down beside his bed, and asked God to forgive him and take control of his life. His life hasn't been the same since.
A LIFE OF MEANING
One evening about four months later, the phone rang. It was Neill Roshto, telling Bridges about First West adopting a small church in Fairbanks, and asking if he would be on their praise team. Bridges' love for music blossomed once more. "I had put that part of my life behind me," he says, "because in Nashville, music had almost become like a god to me."
With music in his life once more, but this time with a newfound perspective, Bridges eventually began putting pen to paper again, praying for God to take it and use it where He would, but never really thinking of cutting another album.
One day, Bridges shared the song "Set Me Free" with a trusted friend and encourager. "I played it for him from my iPhone," he says. "After listening, he told me he wanted to invest in getting it recorded." The offer was a total surprise. Bridges continues, "I took that as God saying, 'This is where I want you to go. Trust me; let's walk this thing out together.'"
REACHING OTHERS
One of the ways Bridges is reaching people with his music is through House Concerts, where someone invites 15 or 20 people into their home to share good food, good friends and a good time. Detailed more fully in a video on his Facebook page, Bridges brings his acoustic guitar and shares original Christian music.
A member of Christ Church in West Monroe, Bridges plans to work with other established artists in his church, such as Jeremy Lowe, in developing more original Christian artists. "There's so much musical giftedness in this corner of the world," says Bridges. "You don't have to go to Nashville to spread the message of eternal love and hope and the true meaning of life. You can be that beacon of hope right here in northeast Louisiana."
Finally grounded and secure in what he believes, and in Whom he believes, Bridges says he hasn't been the same since the night he surrendered his life. God's hand in his life is no longer hidden. Always present before, but unacknowledged for too long, Bridges is now fully aware of His presence and leading. "There's another way to live your life," he smiles, "and it's a lot better than the other way I did it."
 For a listing of upcoming concerts, videos events and for booking, please visit www.bradleybridgesmusic.com.