Bringing History Home
By Melanie Moffett
Feb 27th, 2017
0 Comments
3264 Views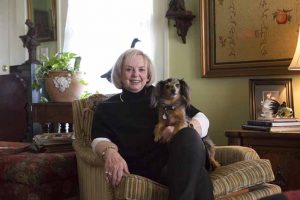 Bayou Icon Kay LaFrance-Knight Talks To BayouLife About Her Life and Work
ARTICLE BY KAY STOTHART RECTOR | PHOTOGRAPHY BY BRAD ARENDER
"To love what you do—and feel that it matters—what could be more fun?" Kay LaFrance-Knight, Winnsboro Main Street Manager and Curator of the Old Post Office Museum, cites this remark by journalist and publisher Katharine Graham as one of her favorite quotes.  It sums up her philosophy and what LaFrance-Knight believes to be her good fortune in finding passion and meaning in her life's work.  
LaFrance-Knight's role in advancing downtown Winnsboro and preserving Louisiana history is the latest in a series of jobs that one might more accurately describe as callings. "I am able to do what I absolutely adore, and what I think the good Lord put me on Earth to do, which is work in arts and historic preservation,"  she says.  While it took some time for her to find this particular niche, LaFrance-Knight has enjoyed an interesting, varied and productive career. Once known to television audiences throughout Northeast Louisiana as "Kay Williams," LaFrance-Knight was a TV news anchorwoman, reporter, innkeeper and stay-at-home mom before becoming a museum director.  Now that she is back home in Franklin Parish, she feels she has finally come full circle, in a most literal sense.
LaFrance-Knight was born in Winnsboro, in a building directly across the street from her office at the Old Post Office Museum.  Her father served in the Air Force and his military assignments required their family to move frequently.  As a child, LaFrance-Knight attended 14 different schools in 12 years.  Before graduating from high school in the Cape Cod community of Bourne, Massachusetts, she lived all over the United States.  "Home to me," she says, "was always my grandparents' farm in Gilbert." She recalls that even during the three years her family was stationed on the beautiful Hawaiian island of Oahu, she longed for the farm in tiny Gilbert, Louisiana.
After high school, she returned to Louisiana and attended Louisiana State University for one year before transferring to what was then known as Northeast Louisiana State College in Monroe.  Dr. George Bryan was heading up Northeast's theater department at the time, and he became a mentor to her.  "He put me in a play as soon as I started there, and I was hooked," she says.  She acted in several productions at Northeast and also at Monroe's Strauss Theater.  "My favorite role at Strauss was as Billie Dawn in Born Yesterday," says LaFrance-Knight.  At Northeast, her favorite role was as Sally Bowles in Cabaret.  She says that the theater department would occasionally bring in stars from out of town who would stay in Monroe for several days and work with student actors.   "I was fortunate enough to land the role of Sally Bowles when actress Mercedes Cambridge came to Northeast," she recalls. "What a fabulous experience that was!" LaFrance-Knight also performed numerous times at The Princess Theater in Winnsboro, playing, among other characters, Mother Superior in Nunsense.
While a college student, LaFrance-Knight was chosen as a vocalist with the Northeast Jazz Ensemble and traveled to Europe for a USO tour. "We sang for the troops during the Vietnam War, which was one of the biggest honors. I still pinch myself. I can't believe that really happened," she says of her experience.  Although LaFrance-Knight insists that she is not a musician, her mother was a professional pianist. As a result, she grew up always listening to music.  She jokingly refers to herself as an "appreciator" who loves music but cannot play or read a note.  "I have a loud belting voice, though," she laughs.
After returning from the USO tour, she became the Entertainment Editor for the Monroe News-Star.  Her real ambition, however, was to be in broadcast journalism.  "I wanted to do TV news," she says, another interest she attributes to her mother, who was the first woman to do radio news broadcasts at KMLB in Monroe.  Although there was nothing available in television at the time, LaFrance-Knight took a job as a secretary at KNOE radio, hoping to "get her foot in the door" at the television station.  She had been at KNOE for about ten days when the telephone rang.  She answered, and station owner and former Governor James A. Noe was on the line.  He was looking for a temporary substitute for June Taylor, the host of Good Morning ArkLaMiss, while she covered the Legislative Session in Baton Rouge for KNOE.  "He said, 'Young lady, I understand you want to be in television news,'" LaFrance-Knight remembers. "I told him that I did, and he told me to be there at 4 o'clock the next morning, and I would be on the air by 6 o'clock."  June Taylor was only gone a couple of weeks, but after her return to the morning show, LaFrance-Knight was allowed to stay in the newsroom.  She eventually became a reporter, and from there went on to be a news anchorwoman, doing the KNOE News broadcasts each day at noon, 5:00 and 6:00 for about ten years.
After a decade at KNOE, LaFrance-Knight left broadcast journalism to pursue other interests, most importantly the care and rearing of her daughter, Adrienne.  "After Adrienne was born," she says, "my heart was in a different place."  Not one to be idle, LaFrance-Knight operated a bed and breakfast in a historic home in the small community of Bosco, between Monroe and Columbia, while her daughter was young.  From that experience, she discovered that she enjoyed being part of the tourism industry and combining that interest with her love of history.
Through a contact with a former colleague in broadcasting, LaFrance-Knight would eventually parlay her fondness for history and tourism into a full-time occupation.  She was not yet looking to return to the workforce when she received a call from Tom Gay, a friend in the radio business in Columbia, Louisiana. He explained that the Town of Columbia was looking for a Main Street Manager and wanted her to apply. She remembers making the trip to Columbia to meet with Gay and finding the condition of downtown Columbia deteriorated. "A lot of the old buildings downtown were all boarded up. It was very sad," she recalls. "We went up to the top of the levee and looked back down on all these buildings, and I told Tom that there was nowhere to go but up."
LaFrance-Knight accepted the challenge and worked with the Caldwell Parish Industrial Development Board, which identified tourism and Main Street development as its primary goals.  "We set about the business of bringing the heartbeat back to downtown Columbia," says LaFrance-Knight.  One of the first buildings that was restored was the Schepis Museum.
Located on Main Street in Columbia, the Schepis building was built in 1916 by Italian architect John Albert Schepis.  Schepis built the two-story structure himself, using bricks composed of sand from the Ouachita River.  On the top of the building are life-sized statues of George Washington and Christopher Columbus holding Italian and American flags with an eagle perched above them.  "He was from Italy, but very proud to be an American," LaFrance-Knight notes of Schepis.  The structure was originally used as a general store.
Under LaFrance-Knight's direction, the restored structure opened as a museum.  Its initial exhibit was entitled "Louisiana and the Marine Corps," developed with the assistance of the Louisiana Secretary of State's Office.  "Through different friends in the Arts," LaFrance-Knight says, "I managed to keep finding new exhibits.  One thing led to another, and exhibits just started happening." While the rotating exhibits were imported from places throughout the state, keeping the local community engaged was always an important focus.  She worked to insure that exhibits were not only interesting to travelers but also community oriented.
Success with Schepis Museum in Columbia ultimately led LaFrance-Knight to her work with the Main Street Program in Winnsboro.  After eleven years in Caldwell Parish, she was offered a chance to bring that same brand of revitalization to Franklin Parish, the place she has always considered her native soil.  "To be able to work in historic preservation in the town where I was born was an opportunity too good to say no to," she says.  LaFrance-Knight became Winnsboro's Main Street Manager and went to work improving Winnsboro's main thoroughfare and transforming an important piece of the town's history.
As the name indicates, the Old Post Office Museum is located in the downtown building that served for decades as Winnsboro's Post Office.  Built in 1936, the building was vacated by the U.S. Postal Service when it moved into a more modern location on Front Street in 1999.  The historic building was purchased by the City of Winnsboro, but sat vacant for years and was in a dilapidated condition until a group of citizens organized to restore it.  "The community knew the value of the building and convinced the city administration to save it," LaFrance-Knight says. "It was truly a community effort."  Now fully renovated, the building still retains the original wood flooring and the bronze post office boxes which individuals can "rent" in memory or honor of loved ones as a way of contributing to preservation of this historic landmark. The building currently houses not only a museum, but also the Winnsboro Main Street Program led by LaFrance-Knight, as well as the offices of the Winnsboro-Franklin Chamber of Commerce, the Franklin Parish Tourism Commission, and the Franklin Economic Development Foundation.
The Old Post Office Museum hosts four to five exhibits each year, displaying fine original artwork and historical artifacts from around the state.  "We have managed to do some amazing things here, simply because we asked," LaFrance-Knight says. She cites as an example the exhibit of original George Rodrigue paintings loaned from the Rodrigue Foundation in New Orleans and the New Orleans Museum of Art.  In addition to his paintings, the OPOM was allowed to display a huge Rodrigue Blue Dog sculpture as part of the exhibit.  Other exhibits brought to Winnsboro by LaFrance-Knight have included the original works of late Natchitoches folk artist Clementine Hunter, and paintings by renowned artist Don Cincone, who hails from Alto, Louisiana.  Winnsboro's local artist Margaret Ellerman has not only displayed her work, but also regularly teaches art classes at OPOM.
At a museum fundraising event, John Bramblitt, a blind artist from Denton, Texas, offered visitors the opportunity to view his work and his artistic process during a live painting demonstration. The fundraiser was his second trip to Franklin Parish, following an earlier exhibit of his work curated by LaFrance-Knight. She initially contacted Bramblitt and convinced him to come to Winnsboro after seeing him interviewed by Katie Couric on a segment of CBS Evening News.
Last year, OPOM was one of six museums in Louisiana to host a traveling Smithsonian exhibit entitled, "Celebrating Local Sports."
The Museum's newest exhibit, scheduled to open in late March, tells the story of the Flood of 1927 and its impact on Northeast Louisiana.  In addition to traveling exhibits, the OPOM has dedicated space in the building's original vault as a repository for local artifacts, photographs and documents.  "People can bring items to include in that collection, and can come and do research and discover information about our local history," LaFrance-Knight says.  "We have a collection of scrapbooks by Mrs. Nelda McLemore put together over the years, reflecting everything that has happened in Franklin Parish for the past several decades."
LaFrance-Knight stresses that restoration of the Old Post Office and realizing the dream of a local museum was made possible by many people who call this area home and understand the importance of preserving its history for future generations.  It is this type of collaboration anad shared vision and enthusiasm that inspires LaFrance-Knight.  A plaque hangs above her desk in the historic building bearing a quote from cultural anthropologist Margaret Mead that reads:  "Never forget that a small, thoughtful group of committed citizens can change the world.  Indeed, it is the only thing that ever has."
Another favorite quote, which LaFrance-Knight says she lifted out of an arts magazine, is this: "Any museum can invite you to look, but a great one changes the way you see." This is somewhat of a mantra for her, and really speaks to what she hopes to accomplish with the Old Post Office Museum. "A museum can have beautiful art, and that's a wonderful thing," LaFrance-Knight recognizes.  "But to have meaning behind that art and to make it relate to a community and engage your community, that is what truly makes a difference."
On a recent morning, LaFrance-Knight entertained a class of University of Arkansas senior architecture students visiting the Old Post Office Museum. The students were in Louisiana as part of a project to restore a historic building in the small town of Huntsville, just south of Fayetteville, for use as a museum.  LaFrance-Knight shared with the students her lecture entitled "Making Small Town Museums Work…Not Your Grandmother's Rocking Chair," a presentation she originally gave at a convention in New Orleans. She enjoyed working with the students and is encouraged to see this younger generation developing an interest in historic preservation.
Nothing, however, has made LaFrance-Knight more excited and proud than having her daughter, Adrienne LaFrance, return to Northeast Louisiana to follow in her mother's footsteps.  Adrienne recently moved back home from Denver and accepted a position as Director of the Chennault Aviation and Military Museum in Monroe, succeeding Nell Calloway, granddaughter of General Claire Chennault. "It's so funny the way that life works," muses LaFrance-Knight, who is thrilled to have her daughter nearby.
LaFrance-Knight's parents and grandparents have passed away.  "But they are all around me," she says.  With her four dogs and a grey cat she rescued out of a tree after Hurricane Katrina, she lives in her grandparents' old country farmhouse built around 1907, only minutes away from her Main Street office in Winnsboro and the building where she was born. In Franklin Parish, she has settled into a life full of satisfaction and contentment.  She has come home, and her home is better for it.