Building for Life
By Katie Sloan
Sep 25th, 2017
0 Comments
154 Views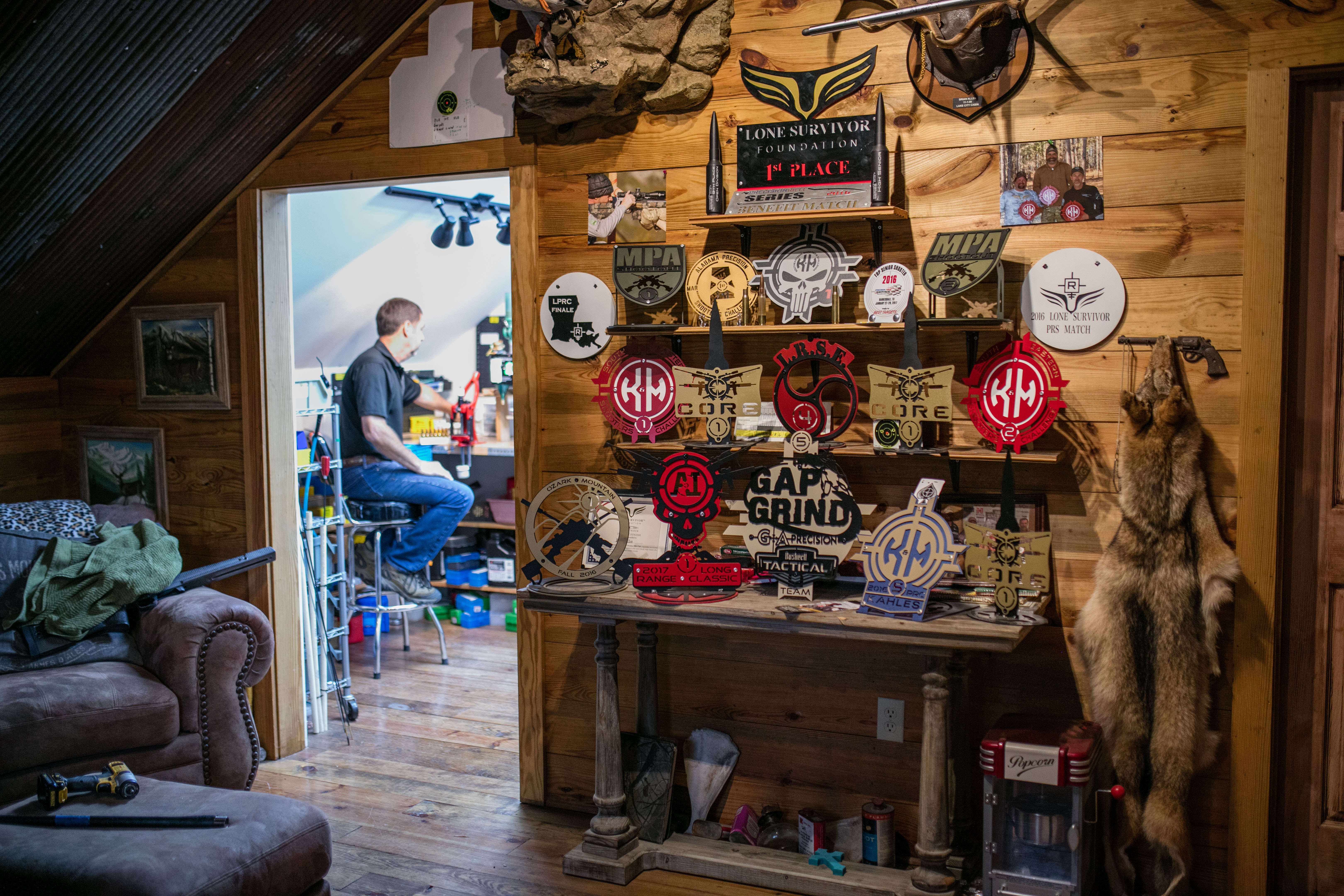 Article by Michael Devault, Photography by Martin G Meyers
Brian Allen has devoted almost a decade to the St. Jude's Dream Home program.
For Brian Allen, 2016 was probably the busiest year of his life. The owner of Braco Construction Co., out of Rayville, he was in the midst of a half-dozen house constructions, his family was traveling extensively between competitive shooting events, and he decided it was a good time to join the Richland Parish Chamber of Commerce, the Louisiana Precision Rifle Club and raise a little extra money for St. Jude's.
There was only one problem: in 2016, there was neither a Richland Parish Chamber of Commerce nor a Louisiana Precision Rifle Club. If he wanted one, he'd have to be a part of starting one – which is precisely what Brian did.
"Coincidentally, the year of the 2016 Dream Home, I pushed a strong effort to do something that not very many Dream Homes do – and that's build for zero cost," he says. While he was starting multiple organizations and touring nationally for competitive shooting, he knew setting a goal of zero-cost for a $250,000 house was a stretch, even for his team.
Building the St. Jude's Dream Home is a privilege builders in communities of all sizes covet. The homes are spacious, stylish and well-apportioned, and they have to be to demand the price of the raffle tickets that drive the program. Money from the raffle is donated to the hospital, and the ultimate goal is to raise as much of the cost of the home from outside of ticket sales as possible, in order to push even more money toward cancer research.
Communities get behind the push for the Dream Home raffle in a big way. Businesses donate money for sponsorships, and home goods stores donate fixtures, furniture, paint. But building a home for a true "zero cost" – with none of the raffle dollars going to pay for construction – is a rare feat. In fact, in 2015, the year before Brian and Braco decided to push for a zero-cost house, only three homes in the country had made the zero-dollar mark. The home Brian and his team built in 2015 cost roughly $80,000. So they had a ways to go.
Brian was unfazed.  A master builder with decades of experience, he knows how to trim costs and control spending. And, as a respected veteran of the St. Jude's Dream Home program, he carries the gravitas to request donations, be those donations financial in the form of sponsorships or in kind for goods, services and materials.
Complicating matters even further for Brian in 2016 – he was a charter member of the Richland Chamber, started a statewide rifle club, and still had to manage his own building company for his clients – he had another demand on his time.
"That was the year I was president of the Northeast Louisiana Homebuilders Association," he says, laughing. "We kind of had a lot going on."
Nevertheless, Brian pushed forward. He knew he could trust the people who help make Braco a success. All he had to do was continue to work hard, push himself, and trust his team to turn his visions he had a reality.
It's the same tactic he's used for decades, and the same practices his father and brother used in their building and construction businesses before him. In a very real way, building is in Brian's blood.
He started building for his father, when he was young, though he recalls building structures out of found wood when he was a kid. Camps in the woods, clubhouses and tree houses, even a few animal enclosures went up under his design. His father helped him learn the ropes on various jobs, and by the time he left high school, he was an accomplished artisan in his own right. He even constructed a small dais in the speech and theatre classroom at Riverfield Academy, where he went to high school.
His brother, who is several years his senior, invited Brian to take a position  with his construction company, which Brian gleefully accepted. For 20 years, he worked for his brother's construction company, where he continued to learn the family trade.
"My father was a builder, and my older brother followed in his footsteps," he says. Building is something that feeds Brian's soul. "I feel like I'm almost a third-generation builder because of that. It's just something I love. I think I like building because I like backing up and getting to see what I've done. So many people don't have that, the ability to look and see what they've created at the end of a work day."
So with building in his genes, a drive to improve the community and give something special to St. Jude's, and an $80,000 year-over-year gap to close, Brian set to work. They got out the word that they wanted to cross the zero-cost threshold, and the community got behind the effort. Subcontractors were coming out of the woodwork to help with the home, Brian says, and local businesses jumped on board in a bigger way than ever before.
"This is our St. Jude's Dream Home team's accomplishment," Brian says. "Without donors all over northeast Louisiana, our subcontractors and even the local media – we're all a team – and without that team, we wouldn't have been able to meet that zero cost goal."
The 2016 St. Jude's Dream Home effort in Northeast Louisiana raised a staggering $750,000 – and built a 3,000 square foot house for not a penny of out-of-pocket costs. That year, St. Jude's Children's Research Hospital rewarded Braco's efforts with their National Builder of the Year Award. They also received the Most Cost-Reductive Home award, as well.
It was a long road to zero, too. When Braco began building the St. Jude's Dream Home eight years ago, the community spent upwards of $300,000 on the home. His second year, Brian had trimmed that to $140,000.
It's clear that Braco – and everything else Brian does – is a family affair. The father of two, he and his wife travel extensively with their children – a 30-year-old son, Bradley, and 15 year-old daughter, Taylor – for competitive rifle meets. Bradley also works for Braco along side his father and two other long-time employees, Kirk and Ray. When Brian speaks of the pair, who've worked with him for decades, it's clear they're family, too.
That's possibly because building houses is as much about building relationships as it is about assembling bits of wood and piping. Brian counts among his "best friends" the dozens of families for whom he's built houses over the years. He rattles off a few facts about this client or that family, and within just a few minutes, he's sharing stories about people he genuinely cares for.
"That's the kind of lasting relationships we end up creating," he says. "We do vacations with them, visit on the holidays – and so do our employees. We'll run into customers we haven't seen in a while, and they'll want to know how Ray, Kirk, and Bradley are doing."
They form the same relationships on the road at their many shooting competitions. This is a relatively recent addition to the family's activities. Though they all grew up shooting guns, hunting and taking target practice, they got into shooting because of fellow Rayville resident Dustin Morris, who won the National PRS championship in 2014 – and promptly donated his winnings to the project.
When Dustin's boss, U.S. Rep. Ralph Abraham, heard about the gesture, he chipped in a chunk of his congressional salary, fulfilling a campaign pledge to donate a significant portion of his pay to charities back home. Why? Because that's what folks in Richland Parish do, Brian says.
That – and apparently become master shooters.
"I don't know what it is about the Richland Parish area that produces such strong shooters, but my whole and Dustin's whole family all perform really well in these competitions," he says. It's not a brag, but more of just a statement of fact. A fact that is, by the way, beyond dispute.
Brian is ranked in the Top 5 in the nation in the open division. His son, Bradley, is tied for 2nd Place. Christine, his wife, is in the Top 50 nationally overall and the No. 1 ranked female competing. Even Taylor is in on the family pastime, and as of this writing, she was the top-ranked woman in Louisiana.
At the end of the day, though, it's all about building for the Allen family, and they're respected in the local building community as a fair and honest company with a proven track record of quality. Part of that reputation comes from the way he approaches each house.
Instead of a percentage markup, Braco sets a flat fee for the building – cost plus, Brian calls it. He lets the client know before the first shovel hits dirt the money he's making off their house. They tell him what they're looking for, the amenities they want, and that drives the remainder of the price.
That's not to suggest there are different types of building Braco does. In fact, it's just the contrary. He's quick to point out that, whether a house is $100 a square foot or $200 a square foot, the work stays the same.
"We always build to the same quality," he says. "I use the same subcontractors and the same materials on the $100-a-foot home as we do on a $200-a-foot home. We also give the same service to those two homeowners."
The result is a home-building experience in which homeowners don't feel like the builder has incentive to drive up costs. Further confirming this for his clients, he presents them with each and every invoice. They see the cost of every nail, every door frame. It can be a cumbersome process, but he feels it helps the homeowner proceed with confidence and knowledge.
"Sometimes, they'll have an invoice that's not even a dollar," he says, laughing. But the result is a home for which they know exactly what they've spent – and why, if they end up over budget, they ended up there.
"We don't charge for change orders or estimates," he says. "We make that fixed fee, and we stay with that."
They're building houses all the time – he has about 10 going right now, in various states of progress. And they're going to continue building the St. Jude's Dream Home for at least the foreseeable future. His goal is to make it at least to year 10 for the organization. After all, their mission is one he firmly believes in.
"Not long after we became involved with St. Jude's, our daughter was diagnosed with Chron's Disease," he says. "That's not nearly what these families are dealing with, but having a child with a chronic condition certainly gives me appreciation for what these families are going through."
That St. Jude's focuses its efforts not just on curing juvenile cancer but also on quality of life and support for parents and families makes the work that much more important for them.
"St. Jude's is instrumental in helping ease life for the families of their patients," he says. "I can see the home being built, and then we turn around and know the money we're raising is going somewhere to help find a cure for childhood cancer."
Brian Allen and Braco Construction are entering their 8th year as the builder of the St. Jude's Dream Home in northeastern Louisiana. You can find out more information about the project or get involved at their Facebook page.