Chef Hans Korrodi
By Admin
Aug 1st, 2016
0 Comments
841 Views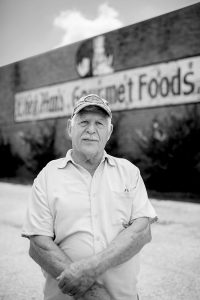 This is the story about how a farm boy from Switzerland became one of the most celebrated Cajun chefs in America. And he did it in north Louisiana.
article by Maré Brennan  |  photography by Martin G Meyers
The Chef Hans Korrodi of my youth seemed much taller than he does now. Maybe it was his mile high chef's hat. His perfect English coated with a mesmerizing German accent, intense blue eyes and unwavering pursuit of quality, however, remain the same. Today he's dressed as a businessman, showing us around his enormous packaging and processing facility. Wearing a hat that is more scientist and engineer than chef, Hans Korrodi has transferred his vast knowledge of the restaurant industry and the Cajun food that helped him make his name. into packaged meals that consumers can simply add water to cook and create tasteful versions of Louisiana staples, like jambalaya and red beans and rice. Or for those more adventuresome in the kitchen, he has created special blends of spices best used for creating Creole specialties like spicy, blackened fish.
You don't get to become a legend in the restaurant world the easy way, and Chef Hans' rise to fame began years ago as a young boy growing up in Switzerland.
Little Hans Korrodi was born in Switzerland in 1943 and raised on a working farm, filled to the brim with over 200 chickens, rabbits and hogs. "My mom taught me to cook. And we raised all of our foods ourselves. We were not allowed to buy goods at a store," says Korrodi. "I still try to emulate her cooking." He pauses to describe how they would milk their cows every morning, allowing the rich, heavy cream to rise to the top of the pails that his mother would skim off to use for cooking. "Nothing can compare to fresh ingredients and you don't get much fresher than that."
Wanderlust struck Korrodi at an early age. Wanting to see the world, he enlisted as a merchant marine for three years, traveling along the Rhine River, which is a main supply route through central Europe. Korrodi was able to see Holland, France, Belgium and Germany. "Being a sailor is tough," reminisces Korrodi. "Every day you must clean the ship and the rust, so I would escape to the ship's galley kitchen. I liked cooking much better than cleaning rust!" Not the most lucrative career, a three-year apprenticeship paid only $20 per month, but room and board were free.
The tipping point for Korrodi which pushed him to end his time as a sailor occurred when he decided he would go for a swim in the Rhine on a day when the weather was particularly warm. He put on his swim trunks and climbed down the ladder which scaled the side of the massive tanker. His goal upon jumping in was to clear plenty of room between himself and the massive propellers which happened to be idling at the time. As he jumped into the current, Korrodi could feel the propeller sucking him under, pulling him into its blades rotating at 100 rpms. "I could hear the whooshing noise of the propeller and just paddled like crazy and prayed to God that I would not be killed." At that point in the river, the current near Strasbourg is very strong and the river is about half a mile wide. When Korrodi had cleared the suction of the propeller he swam toward the nearest shore, which happened to be the French side of the river. After pulling himself up onto French territory, the made his way to French customs who told the dripping wet, shoeless Swiss merchant marine with no papers that he needed to get back to the German side in order to get back onto his boat. Korrodi made it back to his boat, but took the incident as a sign to pursue the culinary arts and left the mariner life for an apprenticeship in a large brigade style kitchen.
Korrodi recalls this time of his life as very stressful anwd demanding. Becoming a chef in Europe demands the highest order of training and certifications for each station in a brigade kitchen. Apprentices spend time at each station, learning and mastering very specific tasks, like how to bone out a leg of veal or create a Napoleon pastry before they receive their certificate. Korrodi worked for a large hotel, Hotel St. Gotthard, in Zurich during the ski season, indulging his passion for snow skiing and working for his certificates in a luxury hotel restaurant that imported lobsters from Maine and smoked its own salmon.
In 1967, the Swiss Centre opened in London near Piccadilly Circus. "I took a contract for a year there and it was a big experience for me," says Korrodi. It was there the chef became a production chef, and it was there that he applied for his visa to the United States. A stint in Oslo, Norway near the Royal Palace was Korrodi's last European stop before coming to work in 1969 for fellow Swiss restauranteur Andrea Meyer, who ran the famous Waterville Valley Resort on White Mountain in New Hampshire. Laughs Chef Hans of his time spent in the Northeast, "To this day I still love a good New England chowder."
After working in New Hampshire and Vermont for eight years, Korrodi had saved up money and wanted to made a culinary road trip to Mexico. As luck would have it, he made a stop in New Orleans and ate in the Vieux Carré. So impressed by the meal and the ambience of white tablecloths, baguettes, the unmistakable European influences and the flavors, Korrodi stayed an extra three days in the Crescent City and made another stop on his way back from Mexico. "I couldn't believe the cuisine," he says. "It was totally different. These were the days before Cajun and Creole cooking were well known."
The influence of this trip to New Orleans was far reaching. Inspired by the cuisine he had discovered, Chef Hans and his family made a bold move to Houston in 1976 where he took a job with Ella Brennan, owner of Commander's Palace, when she opened Brennan's. Brennan's was huge operation, says Chef Hans. "We had 30 cooks on the line, 40 waitstaff, and we were so busy the valets made more money than the cooks! It was the first place to have quality cuisine in Houston. Our Eggs Benedict was a huge seller. Every day, we would make three or four gallons of Hollandaise sauce, and I had a guy who did nothing but poach eggs all day. Cruz was a one-man egg poaching factory." Chef Hans' eyes dance as he demonstrates how the line chef could crack eggs with both hands and fill a large pot with perfectly poached eggs, knowing exactly and instinctively when to take each egg out. "We had quality but with volume," says Korrodi of his time as executive chef at Brennan's, which earned a coveted #9 restaurant in the country at the time. "Brennan's had a great menu. I had two ladies who made crepes all day. We had three different soufflés on the menu. Fresh fish from the Gulf," says Chef Hans wistfully. "And the turtle soup!"
At that time Ella Brennan hired Chef Paul Prud'homme as her corporate chef at Commander's Palace in New Orleans. Prud'homme was one of the first "Cajun" chefs to achieve stardom. Korrodi and Prudhomme became friends and often would challenge each other in creating unique dishes. "Ella once raved about my turtle soup and made Paul fly out to taste it, saying that my version was better than theirs in New Orleans," states Chef Hans. "It's incredible still today to remember what we did in Houston."
Working the split shift at Brennan's in Houston meant that Chef Hans spent hard time behind the wheel of a car stuck in Houston's wall to wall traffic. The pace and pressures associated with a top ten in the country restaurant added to a growing list for Chef Hans to make the move to Louisiana. For example, a typical Jazz Brunch at Brennan's would see 600 or more people come through the restaurant. So when the West Monroe Convention Center was searching for a chef for their grand opening of their 13,000 square foot space in 1979, Chef Hans boarded a plane for a place he would soon come to love. Said Chef Hans, "As I looked out my plane window when we were landing, all I could see were trees and bayous. I was like, 'Where is the town?' I took a pay cut, but the trade off was tremendous."
One of the defining moments of his career at the West Monroe Convention Center stemmed from a hobby he had been practicing and perfecting that involved a block of ice, a Stihl chainsaw and an artist's eye for design. "We were doing a wedding, and I created an ice sculpture of swans. When the mother-of-the-bride saw it at the reception she burst into tears. I said, 'You don't like it?' and she said, 'Of course, I love it, but I didn't ask for an ice sculpture." In typical Chef Hans style, the ice sculpture was his gift for the couple's wedding. "It was a huge hit," he exclaims. Blocks of ice back then were only $20, making for an economical way to add major design points to parties. If north Louisiana didn't know who he was before then, Chef Hans got their attention real quick.
For his high profile weddings and community events, Chef Hans mastered the art of the show, whether it was creating flavorful crepes in front of our eyes, a savory bananas foster or a beautiful baked Alaska. Who else could make a sexy dessert out of three gallons of ice cream atop slices of pound cake smothered in meringue and set it on fire?
Chef Hans' next act after serving two years at the West Monroe Convention Center was to open an eponymous restaurant on North 3rd Street in Monroe, in a space that had been a restaurant named Charlie's. Chef Hans' restaurant reputation quickly grew. He was importing over 70 pounds of fresh whole fish every week. "I would have them brought in whole, because I wanted to look the fish in their eye," he said. The Chef Hans menu included memorable dishes like alligator bisque, beautifully prepared veal, crepes and seafood and won a loyal following that kept the restaurant filled to capacity.
In 1986, Chef Hans received the coveted Louisiana Restauranteur of the Year Award from the Louisiana Restaurant Association, in a state known for fabulous restaurants, mainly south of Alexandria. The chef's celebrity cache was at an all-time high when a businessman with a chain of Baskin Robbins ice cream stores in Japan offered to create a chain of Chef Hans' cajun restaurants. While in Tokyo, Korrodi served the delegation his signature dishes, including his famous turtle soup, gumbo, crepes Fitzgerald and Crawfish in Heaven, the pairing of crawfish in a cream sauce with cheese and green onion atop a bed of vermicelli, or angel hair pasta. In Chef Hans' showman fashion, he also prepared for them a Café Brûlot, or flaming coffee, using an orange peel, cloves, cinnamon sticks and brandy that is drizzled down the orange peal and set alight. "When I did the coffee, they went nuts," explained Chef. "And when I had asked for brandy, they brought me a very expensive, very old Napoleon brandy." In addition, Chef Hans traveled to Europe to spread the gospel of cajun cooking and to train chefs there on techniques to create the perfect gumbo. Chef Hans has also cooked for several Presidents of the United States, including Presidents Jimmy Carter, Ronald Reagan ("I cooked for him when he was running for President and he was campaigning in New England at the time, I served him veal Marsala with fettucini."), and Bill Clinton ("I did a 600 lb. razorback sculpture out of red tinted ice for a centerpiece as well as food for over 8,000 people at one of the inauguration balls.") One of Chef Hans favorite customers was actor and comedian Bob Hope, who dined with the chef at Brennan's in Houston. Says Chef Hans, "Bob Hope liked the 16 oz. sirloin with blackened seasoning. He told his driver to bring him back the next day, because it was the best steak he had ever had. That was one of the most joyous days of my career."
Around the mid 1980s at the zenith of the Cajun food craze, Chef Hans' friend Paul Prud'homme had launched a successful line of spices inspired by his cajun roots and Chef Hans, too, had been experimenting as a hobby with combinations of spices that he used on his blackened fish. Dr. Paul Dunn, with Northeast Louisiana University's College of Business, now ULM, had opened an incubation center for new businesses and offered Chef Hans space and marketing advice for starting his own line of seasonings. The incubation center had an FDA-approved kitchen on site and soon the chef and his employees were hand-bagging spices for his proprietary blend of blackened seasonings. At an annual Boat Show, Chef Hans realized he had a great product when he couldn't keep up with demand, selling out of all the spices he had on hand.
Quick to credit the success of any restaurant as a 50/50 partnership between the chef and the front of the house, Chef Hans closed his restaurant when his restaurant manager succumbed to cancer, and he began concentrating on his spice business, which boasts two employees who have been with Chef Hans for over 36 years. Both started with him at the Convention Center in West Monroe and made each move with the maestro.
Long since outgrowing the Incubation Center offices in Swartz, Chef Hans Gourmet Foods is located in the Riverside Cultural District of Downtown Monroe and is housed in a paprika hued building which bears the chef's likeness and logo painted on the north side. "This is a famous old building that was a Buick dealership during the 1930s and 40s on one side and a giant skating rink on the other," says Chef Hans. Today instead of Buicks, the machines inside the cavernous space are state of the art and can process 2000 pounds of rice in mere minutes and blend over 2000 pounds of spices in a giant blender.
Today, Chef Hans' jambalaya and the company's other easy to cook packaged meals are available in most grocery stores for consumers and are served to our service men and women in Afghanistan and Iraq, as well as to hungry workers on rigs throughout the Gulf of Mexico.
Chef Hans is equal parts spice mixologist, engineer, scientist and marketing manager. "We will always stick to using real spices, nothing synthetic will go in our products. Over the years I have learned that Peru supplies the best paprika and New Mexico has great chiles. Our blackened seasoning is one of the best on the market today because we develop the flavor with more spices and less salt," says Chef Hans. Successful local restaurants, including Taco Bandido and Cormier's, use specially blended spices custom blended by Chef Hans Gourmet Foods.
Just as the chef likes to wow us with his impeccable flavor profiles and spices that make us seem like we know what were are doing in the kitchen, Chef Hans too likes to be wowed. His ultimate meal would be Osso Buco, a crosscut veal shank braised to fall off-the-bone perfection and topped with a gremolata and paired with a rich polenta. Adds Chef Hans the secret to a gremolata is to add caraway seeds to the chopped herb condiment of lemon zest, parsley and garlic. "Osso Buco has such big flavor and the gremolata enhances that.
Possibly because I miss the showman who masterfully helmed the Squire Creek kitchen when James Davison asked him to create a world class dining experience for the country club, I dare to ask the chef if he would ever make a foray back into the kitchen. Says Chef Hans, "If I did a competition again, what's missing is to make a good veal again. Veal is just not handled correctly anymore. And if I were to cater again, it would have to be in Washington D.C."
Today, Chef Hans lives with his wife and business partner, Chris, on a secluded 5 acres of Cheniere Lake in West Monroe. Just like his childhood home in Switzerland, he raises chickens and tends a huge organic vegetable garden. His children are a source of pride for him as well. One of his sons is a wine distributor in Austin, Texas and attended sommelier school in San Antonio and all of them share a love cooking for friends and family.
"I came to the United States to be a part of this free country and Louisiana has provided me with so much opportunity," says Chef Hans reflecting on his legendary life and career.