Christien Collection
By Katie Sloan
Aug 28th, 2017
0 Comments
86 Views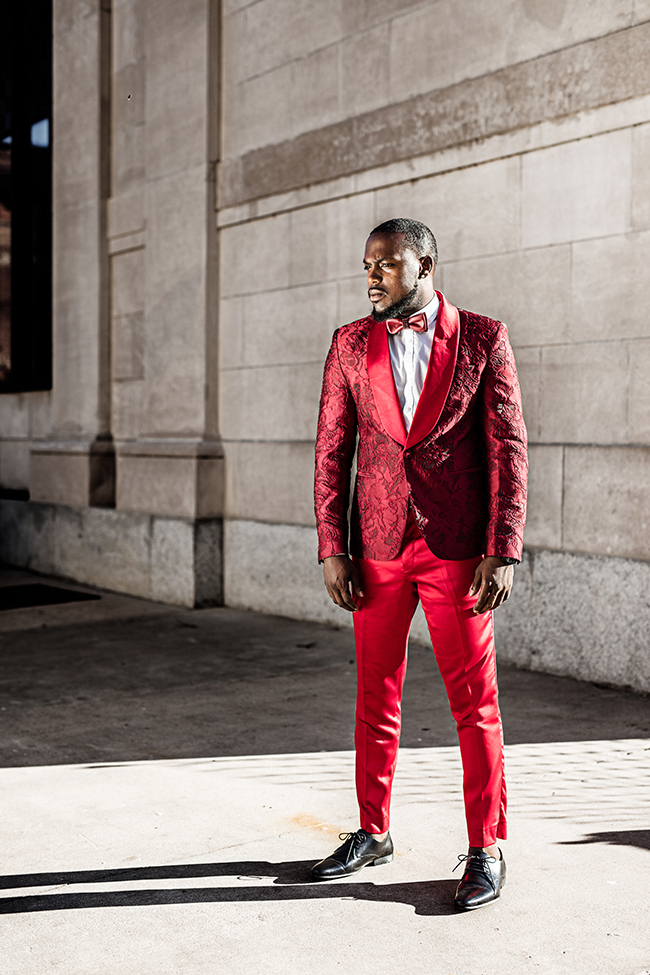 Fifteen years ago, Christien McCray was on the football field, geared up for the big game and the opportunity to play college ball. For a young black kid from Ferriday, football was a great opportunity to get out of the Delta parishes, if only for a while. After a year at Louisiana College, he transferred to ULM with designs of becoming the young, hip professional he knew he wanted to be. There was only one problem: suits off the rack didn't allow him to express the individuality he had been able to capture with urban apparel and accessories when he was younger. That's where his story changes.
"I always thought I'd be in the NFL, going that route," he says. "But becoming a fashion designer? That never crossed my mind. But that's what happened."
Christien wanted to be well-dressed – he had loved suits from a young age – but he found it difficult to express himself in blacks, grays and browns from the local men's stores. He was good with his hands, though, and he knew there was something to be said for simply creating that which he couldn't find.
So in 2011, he strolled into Jose the Tailor, a local tailor's shop off of 18th Street in Monroe with an offer. He would work for free if Jose would teach him how to sew. For the next few years, he mastered the skills necessary to build high-quality, fashionable suits and jackets.
Apprenticing with Jose gave him an appreciation for quality and attention to detail. He also learned about the various cuts of suits, the shapes of lapels, and the types of fabrics that go into making suits. Just four years later, he debut the Christien Kollection's first Spring line, during Fashion Week in New York City.
The first spring line was revolutionary.
Each of the collection's suits is a study in contrasts and colors. The cuts of the jackets are at once traditional – there are dinner lapels, European lapels and traditionals, watch pockets and tucked vents – and anything but traditional. For one blazer, Christien employed a vibrant, fuscia silk embroidered with a loose floral design. It's a stunning look that he paired with a Cerulean vest-and-pant ensemble and complimenting robin's egg tie.
A SECOND SELECTION from the debut collection featured a vibrant, almost metallic gold damask, which in spite of dinner lapels works well with dark slacks or a pair of designer jeans. A third offering was even more stunning – purple paisley double-breasted suit with a matched purple and gold bowtie. For each of the creations, Christien drew inspiration from the season.
"When you think about Spring, we've been layered up for the winter and we start coming out of it," he says. "And we start thinking about flowers in bloom and life coming out of its shell. That was my inspiration — do with suits what we do with flowers and bring out the color. It really was capturing the essence of spring in a collection of suits."
This bold choice turned heads in New York, where Christien Kollection's debut Spring line struck a chord. The collection was well received and in short order, Christien's creations were on the red carpet at the BET Awards and the Golden Globes.
A fall line followed just a few months later, and Christien Kollection kept this debut close to home, rolling out the new designs during New Orleans fashion week. For the Fall Collection, he chose more traditional fabrics, pairing them in unique ways. He also began experimenting with the cuts of suits, the shapes of lapels. If the Spring Collection was about announcing a new birth, the Fall Collection was that creation's adolescence.
A traditional, double-breasted wool suit, complete with gold buttons, wears nicely. Christien added his own flair, though, by choosing a vibrant red wool, which he accented with an equally bold bowtie and red suede shoes. He had another goal in mind, too, with the fall collection.
"My inspiration was the red carpet and bringing a fresh perspective to the various looks of lapels," he says.
Perhaps that's why one of the more memorable creations in the Fall Line was a traditional tuxedo with tapered black sleeves, a smart, English lapel that's neither too narrow nor too broad, and double-breasted buttons just below the sternum for a tighter wear. That the jacket's base fabric is an imperial red Asian floral brocade is just a bit of icing on this bespoke cake.
As with his Spring collection, his fall lines blew audiences away. Christien McCray was a name people were starting to recognize in fashion circles, though he's quick to point out that he's not Tom Ford. (The "yet" almost sounds implied.)
Christien's designs underscore both an innate talent for design and a passion to create something new. Flipping through the Christien Kollection lookbook, it's apparent his skills at building suits are solid, as is his eye for the unique accents and the attention to detail – the pants break just so right above mid-shin, and a vintage, double-buckle shoe in brown is somewhat counterintuitive for a plaid suit. Yet Christien pulls it off. Part of that is because he knows how to play to an audience.
"People love the bold colors and going against traditional fabrics and patterns you typically find in suits," he says. "It takes someone who's bold and confident to wear one of those pieces."
With the Fall 2015 collection, he also introduced his first creations for women. This year, he'll roll out a complete women's line for Spring 2018. As with his bespoke suits for men, each piece he's creating for women includes that signature, Christien McCray drama.
He's also branching out into bolder choices for construction, as well. In both his men's and women's lines, Christien has begun to experiment with pairing fabrics and leather. A women's pea-coat dress in a mottled red-and-black wool sports a vivid, red crushed velvet lining inside patent leather sleeves. The leather returns on the shoulders and in a single accent on the right collar, picking up on the militaristic trend in contemporary fashion.
That's part of the secret of Christien's appeal. The pieces he creates are at once haute couture and pret á porte. These aren't think pieces meant to inspire. They're creations he's intending buyers to wear regularly, an innovation that's reflected in the pricepoint.
The cost of a Christien Kollection bespoke suit ranges from around $850 to just over $1,000 for a complete suit. That's more than a typical BOGO at Men's Wearhouse, but far less than others.
"We're higher than off the rack, but much less than your normal bespoke suit," he says. "If you have a little extra money, you can definitely afford one of my suits."
He's keeping his Spring 2018 collection close to the vest, but he's excited to bring it to market, especially his women's line.
"The buzz is already in the air," he says. "Women have asked me for the longest time when I was going to do a women's line…"
Christien Kollection will debut their Spring 2018 line later this  year. You can find out more about Christien McCray or order clothing from his 2015 lines at www.christienkollection.com