Christmas at the Duchess of York's
By Melanie Moffett
Dec 1st, 2015
0 Comments
2114 Views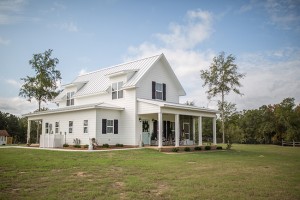 The Home of Brittany and Andy York
article by Maré Brennan | photography by Martin G Meyers
It's the York family's first Christmas spent in their newly-built home sited on acres of the rolling hills where the husband, Andy, grew up in Calhoun. To celebrate, Brittany, or the Duchess of York as she is known from her adorable and stylish blog, www.theduchessofyork.com, is making sure her castle is ready for the season. "I am so excited to get Christmas decorations out! This is our first Christmas in our new home, since we just moved in in April," explains Brittany. The young couple have two little boys, Madden and Knox, ages 5 and 2 respectively, who spend their days growing in the organic environment created by their mom where learning and play happily co-exist.
Dressed in a warm plaid flannel, skinny distressed jeans and comfy Converse tennies, the petite and pretty "boy mom" looks effortlessly chic with her long hair casually braided to one side. Neiley, the homeowner's little fuzzball of Pomeranian, is never far from her side as she transistions from mom to designer to teacher to blogger. Brittany is never short on creativity. You may have seen her painting handiwork in her grandmother, Dr. Marilyn Bivens' Pediatric Associates offices. Or perhaps you are in the know and follow her well-edited blog or Instagram feed, where calligraphy, drawing, crafts and sewing are all part of her trademark style.
Says Brittany of the home-building process, "We looked at a lot of house plans, and I knew that windows and lots of light were important. We sold our first house in three days and had gone so far as to draw up plans for a 2500 square foot home. By happy accident, I got on Southern Living's website and typed in my requirements, and this house plan popped up. I showed it to Andy, and a month later we were building it." The home is roughly 1680 heated square feet with approximately 1980 square feet when you add in the unheated covered spaces and porches. With its architectural metal roof, the home took a little over 6 months to build, mainly because of the scarcity of roofers who could install the standing seam metal roof.
For the build, the Yorks tapped Chuck Burkett as the contractor who could make their home a reality. "I've always loved the farmhouse style, and it was my dream to have a house like this one day," says Brittany, a former equestrienne and competitive trailrider.
From the minute you step onto the front porch of the York's home, the holiday welcome begins. Easy rockers with overstuffed pillows and little Christmas trees nestled into galvanized tubs herald that Santa will soon be on his way. Once inside the open and airy space which combines the York's entry, living room, kitchen and dining room spaces, you are captivated and enveloped in the home's warmth and character.
The antique dresser in the home's foyer is also painted with Annie Sloan white chalk paint as is her husband's aunt's chest of drawers near the back door. Brittany updated the chest of drawers even further finding mercury glass knobs at Hobby Lobby to replace missing or mismatched pulls on the piece.
To spruce up her home for the holidays, resourceful Brittany found a Target plaid tablecloth on sale and was able to make five 18" x 18" pillows as well as coordinating napkins for her Christmas tablesetting. The plaid pillows nestle softly on the shabby chic IKEA sofa with a built-in chaise. "I tell everyone with little kids to get a white sofa. Of course, you need one with washable covers," says Brittany. "The clean up is so easy. All it takes is a little bleach!"
The York's Christmas traditions involve traveling between their families. "And me not cooking," laughs Brittany. "We'll bake cookies for Santa, read the Christmas story and climb into bed, but Madden is usually the first to wake up around 5:00 a.m. to come down and see what's under the tree!"
The large Christmas tree in the living room is anchored into a large galvanized tub. "I had to cut off the bottom of the tree to make it fit," says Brittany, "but there is no tree skirt to deal with, which is especially nice when you have animals – or toddlers." Brittany cut out cardboard stars and wrapped colorful yarn around them to create homespun ornaments. She added burlap ribbon and other yarn ornaments for a down-home feel. Pretty presents wrapped using plain brown kraft paper from U-Line tied with gingham ribbons, natural twine and jingling bells await Christmas morning. The boy's cream-colored, cabled knit stockings are hung with care from the fireplace mantle by little wooden frames of needlework done in unique Christmas motifs. The mirror above the mantle is dressed up with a wreath hung from burlap ribbon and garland.
Contrasts take many forms throughout the house. "I like the mix of fancy with the old," says Brittany. A glittering Venetian chandelier above the sofa and cocktail table adds prismatic sparkle while the fixture above the dining table is an old industrial vent duct which has been converted into a pendant light. The crystal chandelier was a housewarming gift from Brittany's mom and stepdad and had been a trade for a horse with an antique dealer. Jute rugs provide softness throughout the space which features gleaming, leather-like stained concrete floors. Says Brittany, "I'm obsessed with jute rugs!"
The dining table and bench were hand built by Andy and his dad. Brittany chalk painted the chairs and bench in Annie Sloan white and duck egg blue. "Chalk paint is easy to work with. I swear by it," says Brittany. At each table setting, Brittany has placed one of her handmade plaid napkins topped with a tiny wreath.
The well-worn and much loved butcher table island with a standing pot rack built-in has quite the provenance. A find from The Lady on 80, one of Brittany's go-to antique shops, the table had once belonged to the estate of a Mississippi governor. Explains Brittany, "I've always loved old things and the story that goes along with them." The York's collection of antique crocks finds a home beneath the huge island. "The first crock I ever bought is on my front porch," says Brittany.
Custom Shaker-style cabinetry by the Becton's AWT Cabinets in the kitchen gives a clean-lined look to the farmhouse kitchen. White subway tile is a standout when it's grouted in black for contrast. Vicostone quartz countertops are very durable and mimics the look of Carrera marble without the maintenance. Efficient use of space with the utilization of deep, pull-out drawer spaces makes for ample storage. Open shelving allows Brittany to display some of her favorite vintage serving pieces and a message of Christmas JOY on either side of the large paned window and the large farmhouse, apron-front sink.
"Andy's boss bought a rent house in the Monroe Garden District and gutted the kitchen – including this 1940's Magic Chef stove," says Brittany, pointing to the immaculate piece of culinary machinery that was salvaged by her husband and now takes center stage in the kitchen. The couple was able to find a vintage-looking refrigerator from Home Depot that kept the farmhouse vibe without compromising modern conveniences.
Little details throughout the home keep the farmhouse vibe quaint yet current. Brittany chose three-panel, Shaker doors from Russell Moore for interiors. All walls thoughout were painted Alabaster by Sherwin Williams for continuity with the exception of the master bedroom and en suite bathroom, which are Sherwin Williams' Eiderwhite.
Brittany's parents' bedroom furnishings create the foundation for the Yorks' master suite. Layered with sumptuous ruffles and pillows from Anthropologie, the four post bed is a comforting retreat. Brittany's great grandmother's wash tub on wheels holds the couple's collection of handmade quilts, including several made by Andy's grandmother. Vintage botanicals adorn on the walls and windows are treated with grey linen panels which hang from gold toned rods.
The master bath features ample storage including a built-in bench seat which opens for extra towels or linens. His and hers sinks are separated by a custom linen press.
Just around the corner from the master suite lies a little jewel box of a half bath. Located just beyond the kitchen for guests' ease, it gets special treatment with a dreamy wallpaper from Anthropologie. "I love the colors in this paper, and I had been eyeing it forever," explains Brittany. "I used it here in the laundry room. Doesn't it go perfectly with the little antique wash stand? This was the first piece I bought for the house. I wanted it to feel more like a farmhouse that had been here forever, yet modern." The wash stand was a find from A Little Bit of Everything in Marion, LA, and Brittany's plumber added the vessel sink and the charming fixture which looks like an old-fashioned hand pump.
The mudroom/laundry room is conveniently located at the rear entrance to the home. A side by side washer and dryer make boy laundry a breeze. The Anthropologie floral wallpaper adds a dash of vintage beauty to the walls behind the washer and dryer, while built-in cubbies make mudroom storage a no-brainer.
For the holiday, Brittany draped garland in swags along the stair railings. At the top of the stairs, the landing is outfitted with two built-in desk areas which have become Brittany's work space. One side is dedicated to her computer station and the other to her sewing machine.
The York boys share a well-outfitted bedroom, perfect for two rough and tumble boys. Blue twin beds are topped with muted American flag comforters from Urban Outfitters, Aztec print blankets and Christmas plaid stuffed moose toys. The beds were a $10 garage sale find that Brittany painted with chalk paint in duck egg blue. "I've tried to stick to the same colors throughout the home to make it flow," says Brittany. A durable and soft berber carpet in neutral shades is perfect for the boys. Andy built built-in desks for the boys as well. Of the triangle vinyl decals that are artfully arranged along the boys' back wall, Brittany laughs, "I change my mind a lot. I knew I didn't want to commit to wallpaper or a paint color, and Urban Walls had these decals which are easy to use, reuse and change up."
In the boy's bathroom upstairs, Brittany chose black and white hexagon mosaic tiles, like you would see in old farmhouses. A lover of faux white taxidermy, Brittany installed a faux deer head in the bathroom to enliven the space. "I first bought deer then the moose with glitter antlers from Etsy. The boys even have a whimsical stuffed faux lion's head in their playhouse."
The boy's playroom is a space where creativity and learning is encouraged. A whole wall is painted with black chalkboard paint, giving ample room for homeschool lessons or impromptu art. A Fisher-Price Nativity set means that little hands get to explore the manger without fear of breaking Baby Jesus and is a cherished gift from the boy's grandmother.
The crossbuck style entryway doors of the home are painted Sherwin Williams' "Watery," a covetable shade of the palest blue. Guests who enter the back door are greeted with a welcoming "Hey y'all!" custom stencil created by the homeowner. Brittany creates a darling Christmas vignette with an unadorned Christmas tree in her mother's favorite galvanized wash basin on wheels. A little, white chalk-painted metal daybed, which Brittany found at an estate sale is positioned beside a vintage ladder hung with Christmas stockings. To make the sign, Brittany took a scrap piece of wood, chalkboard paint and a vintage frame to craft and calligraphy the "Joy to the World" unique sign above the daybed.
Outdoors the simple, farm life is all around. A couple of roosters signal the start of every day and keep watch over the hens which lay farm fresh eggs for the family. The family's cows meander the bucolic hills surrounding the farmhouse or in warmer weather take dips in the pond that lies just at the foot of the property. The family's pet donkey, Applejack, is always at the ready for treat. The boys have a trampoline, swing set and a playhouse that Brittany painted to match the big house (white with a little blue door). Andy added a rock box on the side of the playhouse – perfect for pint-sized dump trucks and front end loaders!
Another way the Yorks enjoy the outdoors is just beyond their living room. A screened in porch makes the transition from indoors to out a breeze. Andy and the boys love grilling and watching big games with the fields and pond just beyond. Brittany has outfitted the room with masculine, slatted teak furniture and a cowhide rug.
With a home full of the joys of the season, the Yorks with friends and family are sure to enjoy the holidays in their new, country farmhouse chic home. Merry Christmas, y'all!