Christmas in NELA
By Melanie Moffett
Dec 1st, 2014
0 Comments
834 Views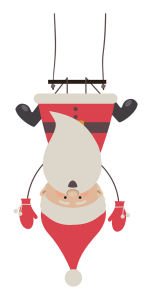 article by April S. Kelley
It is that magical time of year once again when the Christmas lights go up and generosity, kindness and laughter fill the air. Yule tidings, if you will.
Whenever you aren't busy rummaging store shelves or placing your Amazon orders this Christmas season, our region has put together numerous family-friendly activities to bring holiday cheer to everyone, even the Ebenezer Scrooge of your family.
One of the longest-running events going on is "Santa's Christmas Village" at the Northeast Louisiana Children's Museum. A virtual holiday wonderland with cookie decorating, Santa and Mrs. Claus and faux-snow, "Santa's Christmas Village" is every child's winter wonderland.
"Going to 'Santa's Christmas Village' has become a tradition for a lot of people in our area. They do everything. Kids can decorate cookies. They can make ornaments. There's a skating rink and hand-crank train, which is really cool, because you don't see things like that anymore. There's a new snow machine that blows even more snow. Santa is always there, and Mrs. Claus reads stories to the kids. It's a huge event," Sheila Snow, the Vice President of Communications at the Monroe-West Monroe Convention and Visitors Bureau, said.
The Northeast Louisiana Children's Museum will host "Santa's Christmas Village" on Thursdays and Fridays from 5-8 p.m., Saturdays 10 a.m.-8 p.m. and Sundays 1-6 p.m. until December 21. There is an admission fee of $5, or $10 to ice skate.
Another event going on for the entire month of December is the Dancing Lights, which can found in Downtown Monroe and West Monroe. The lights dance along with your favorite Christmas songs while you walk or drive around the most festive areas in the region. For the first time, there will also be an area, created especially for children at the corner of Commerce and Wood Streets in Downtown West Monroe.
"We're adding a new area of lights for children. Th­ere will be a tunnel of lights that the kids can walk through," Snow said.
In addition to the children's area, wagon rides will also be available for the entire family on select nights. The wagon rides will tour the downtown areas on Friday and Saturday nights. Check monroe-westmonroe.org for more information.
On December 4 from 5-9 p.m., the Downtown Art Alliance will be hosting the Downtown Gallery Crawl, featuring art, holiday treats and wine and spirits for adults. The Downtown Gallery Crawls are always family-friendly.
"It's fun to watch the kids check the art out and kind of see what they gravitate toward. I like to stand back and watch my kids and see what catches their eye," Snow said.
The Downtown River Jam will be going on during the Downtown Gallery Crawl as well, and everyone enjoys live music! Plus, both of these events are free and open to the public.
Also starting on December 4- December 6, with an encore December 11- December 14, the Family Church of West Monroe will be putting on Scrooge! This will be another free event; however, tickets should be reserved in advance due to limited seating. The show will begin at 7 p.m.
"It's the story of Ebenezer Scrooge, and it's really beautiful. It is really a Broadway-quality performance. The scenery is great. They have different sets of dancers, The Celtic and Couples dancers. It is truly amazing," Snow said.
December 6 is the biggest day for Christmas events in the Monroe-West Monroe area. With two parades, the Kids Christmas Market Day, an outdoor concert and fireworks, the holiday fun should last all day.
Starting at 10 a.m., the 8th Annual Bawcomville Redneck Parade will be running down Smith Street in West Monroe.
"It's so funny. You never know what you're going to find or what someone is going to throw. They throw Ramen noodles, turnips, Moon Pies or toilet paper, just fun stuff," Snow said.
The River Market will host its Kids Christmas Market Day from 10 a.m.-4 p.m. also on December 6. There will be bounce houses, lunch with Santa and a Christmas pet parade, as well as vendors to help shorten those Christmas lists.
"It'll be a fun thing to do, to hang out with the kids and do some fun things and wait on the big Christmas parade to come," Snow said.
At 3 p.m., the Kiwanis Club of West Monroe Christmas Parade will begin weaving through the streets of Downtown Monroe and West Monroe. Immediately following the parade, Antique Alley will be hosting an outdoor concert at the corner of Natchitoches and Commerce Streets in West Monroe. Then at 7 p.m., BancorpSouth will host the Monroe Renaissance Fireworks Extravaganza. Dozens of large and beautiful fireworks will be displayed along the banks of the Ouachita River for all of the Twin Cities to see.
"The Outdoor Concert is a great idea. There will be something to do, while you're waiting for the fireworks to start," Snow said.
The last three noteworthy Christmas event for children in the area all take place in Antique Alley in West Monroe.
On December 13 from 2-5 p.m., Antique Alley will host their annual Kids Alley event. On this day, Antique Alley will have a host of children's activities from crafts to bounce houses and even a visit with Santa.
"Kids Alley is an event that we have done the past few years, and the kids love it. There will be horse and buggy rides and different games, some jumpers," Snow said.
Immediately following Kids Alley on December 13, Antique Alley will put on a Holiday Outdoor Movie at the corner of Natchitoches and Trenton Streets in West Monroe. It begins at 5:30 p.m., and it is free to attend.
"They'll do Kids Alley right up until the movie starts that night, and there will be popcorn and hot chocolate. It's really just a night to come out and have a good time," Snow said.
The last event that Antique Alley will host before Christmas is their Christmas in Costume event on December 20 from 10 a.m.-5 p.m. Parents can get some last minute shopping done, while kids enjoy the shop owners dressed up as their favorite Christmas characters. Children are also encouraged to dress up as well.
"We used to do Old-Fashioned Christmas, where the shop owners dressed up in old-fashioned costumes, but this year we decided they should just dress up as their favorite Christmas characters. They are encouraging people to come shop dressed up as their own favorite characters, too. So, the kids can dress up as the Grinch or an elf or whoever," Snow said.
Monroe and West Monroe have so many Christmas events this holiday season, and this in no way depicts them all. For further details on any of these events or for a complete list of every event, please visit monroe-westmonroe.org.
For those who live in Ruston, do not despair. There are plenty of Christmas activities for those who live in Lincoln Parish as well.
Every Monday night in December, the Lincoln Parish Library will be putting on holiday movies for children and families.
"Every Monday night, they are going to have a movie night, with Christmas-themed movies, for the entire family. They'll usually do a classic like Rudolph and then a newer movie like Elf or something. It's always a really good time," Amanda Quimby, the Marketing Director for the Ruston Lincoln Parish Convention and Visitors Bureau, said.
Starting December 4 and running through December 7, The Dixie Center for the Performing Arts will be putting on The Best Christmas Pageant Ever. This is the comedic story of the struggle of putting on a Christmas pageant with a group of misbehaved kids, based on the young-adult book of the same name by Barbara Robinson. The show begins at 7p.m. on December 4-6 and 2 p.m. on December 7. General admission is $12 for adults and $6 for students.
"It is supposed to be really, really funny," Quimby said.
On December 6, the Ruston-Lincoln Parish Convention and Visitors Bureau and the Ruston Chamber of Commerce will be hosting Reading with Santa from 9-10:30 a.m. at their office. This event will be for toddlers to children around five years old. For this event, parents need to pre-register at www.rustonlincoln.org or call 318-255-2031.
"We'll have Santa here. We'll do milk, cookies and hot cocoa and sit around the fireplace," Quimby said.
Louisiana Tech will be doing their SciTEC Winter Wonderland and Maker Workshop on December 6 as well. From noon to 3p.m., students of all ages can come and check out the grand opening of the "Funnery" and the new Warped Eye Fish Eye planetarium projector.
"Recently, we received a new fish-eye projection system in our planetarium. So we moved from just a standard projection to a full-projection, almost like an IMAX. And the 'Funnery' is a maker-space where anybody from the community, anybody from the college, and students from around the region can come in, interact with 3D printers. We have an eggbot and a watercolor bot, which are simple robots that do different designs. They are just really cool tools," Lindsey Vincent, the Interim Director of SciTEC, said.
The "Funnery" Makerspace is SciTEC's newest addition. At the Winter Wonderland and Maker Workshop, students can make Christmas decorations or ornaments or even a gift for someone special.
"We want the 'Funnery' to be a place where somebody can come in off the street and create their own item right there on the spot," Vincent said.
Also, on December 6, 13 and 20, Santa Claus will be in Railroad Park in Downtown Ruston from 10a.m.-2p.m. Children will have the opportunity to visit and take pictures with Santa.
Another pivotal Christmas event in the Ruston community is the Ruston Christmas Parade on December 11. Starting at 6 p.m., the parade will leave the Louisiana Tech football stadium, go down Alabama Avenue and head downtown.
"This year, the theme for the parade is 'Blue Christmas.' It should be really beautiful and festive," Quimby said.
One of the last events in the Ruston area takes place at the Lincoln Parish Library on December 19. It will be a Christmas Sing-A-Long and Holiday Follies.
"The staff gets all dressed up and get on a little stage and puts it on. They get the kids interacting with Christmas songs and dancing. It's really fun," Quimby said.
For more information on any of these events or for other events, please visit rustonlincoln.com.
There is no shortage of fun activites to do in our region this holiday season. So put on your coats and your Christmas spirit and head out with the family to make some memories that will last a lifetime.