Clothes Made the Man: Ron Alexander
By Admin
Aug 29th, 2016
0 Comments
799 Views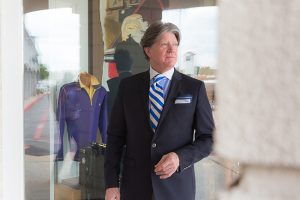 Bayou Icon Ron Alexander talks to BayouLife about his career in men's fashion.
article by Kay Stothart Rector |  photography by Brad Arender
Ron Alexander was in seventh grade when he received a gift certificate to Glasgow's, an iconic men's clothing store in his hometown of Ruston, Louisiana. He was fascinated by what he found there—the beautiful shirts and ties, the texture and design of the suits, the colors and creative displays. Even at such a young age, he knew he wanted to work in a place like that someday. Alexander's family was in the construction business. At his father's urging, he enrolled at Louisiana Tech University after high school and majored in architecture. His father was a residential builder and hoped that his son would join him in business one day, designing and building homes. "I just couldn't ever work that out in my mind," Alexander says. He took drafting classes, but although he enjoyed the creative aspect, he did not like sitting behind a drafting table all day, drawing plans.
While in college, Alexander worked at Glasgow's, the downtown establishment that had offered him that first glimpse into the world of men's fashion. Owner Joseph Glasgow was the third generation to work in his family's business. "Joe took me under his wing," Alexander says. "I became like a part of their family." He recalls how much he enjoyed his job at the clothing store, learning all that he could from Joe and his father, Buddy Glasgow. Working at Glasgow's confirmed his decision to give up building design and pursue a career in the men's apparel industry.
Alexander continued working for the Glasgow family beyond his college years. When the store was sold to a new owner, Alexander remained. He moved into a management position and was able to participate in some of the buying and other decisions, but he knew that, given the chance, he could do more. He was constantly looking for ways to grow and become better at what he was doing.
One day, Alexander was approached by a sales representative for Hart Schaffner & Marx about an opportunity in South Louisiana. Gaidry's Mens Wear was, at that time, the largest independently owned Hart Schaffner & Marx retailer in the South. They owned two stores—one in Lafayette and one in Lake Charles–and were looking to expand to a third location. "These were huge stores with inventory that, on any given day, could include over 8,000 suits and 15,000 to 20,000 pairs of pants," Alexander recalls. Realizing that working in a larger business would allow him to learn more about buying, inventory and retail sales, he took the job in Lafayette and headed south to Cajun country.
"Every day was a big day in that store," he remembers. With a large inventory to work with, Alexander took advantage of the opportunity to do lots of creative merchandising. He also made lasting connections within the apparel business. As a buyer for Gaidry's, he traveled to Chicago to the Hart Schaffner & Marx showroom, where he was able to watch as HSM representatives made presentations to retailers. He was impressed with the unique, coordinated manner in which they showed their lines.
Alexander honed his skills during his time at Gaidry's, constantly creating and learning about merchandising, store design and layout. Calling on his artistic nature and background, he figured out how to create what are known in the business as "silent salesmen," eye-catching displays of merchandise that lead to sales. "With the right display and merchandising, you can create a shopping experience for your customer and sell what looks good to them," Alexander explains.
Eventually, Alexander made his way back home to North Louisiana. He served as a manager and buyer for Graham's in Ruston for several years, and then worked briefly with The Toggery in Monroe. Using his experience and eye for detail, he developed a clientele who counted on him to help them look their best.
Throughout his early career, Alexander always dreamed of owning his own store. In 1994, his dream finally materialized. That spring, he secured a location in the Murray Place Shopping Center on North 18th Street and went to work putting together his vision for an upscale store carrying men's clothing and accessories. When talking about Ron Alexander Clothiers, Alexander expresses tremendous gratitude for the Biedenharn family, owners of the building that houses his business. He credits them as instrumental to his success. "They are wonderful people," he says, noting that they helped make his goal a reality, working with him to create the space he envisioned.
Ron Alexander Clothiers opened its doors in October of 1994 and quickly became one of Monroe's premier men's retail establishments. One customer at a time, Alexander built his store into a successful, thriving business. "Knowing How to Dress is Knowing Where to Buy" is the motto of Ron Alexander Clothiers. Personal service is a key element of Alexander's business. "It is all about what we can do for you," he says.
Alexander realizes that there are a lot of men out there who are not really into clothes, and especially hate to shop. He also knows that there are always those times when it is important to look your best—a first date or special event. "Everyone wants to look nice. It is not just about the clothes. It's about the image a man is projecting, but more importantly, it's about making sure that he feels good about how he looks, so that he can feel confident," he explains. "What I like most about this business is helping people feel good about the way they look in their clothing. When they feel good about the way they look, that's the best compliment I can have," Alexander says.
Alexander has watched the men's garment business change drastically over the years, as styles have evolved from formal to a much more casual norm. "Men don't buy suits to wear to church on Sunday anymore, and that used to be a big thing," Alexander says. He also notes that very few men still wear suits to work every day. In today's market, a man typically shops for a suit as needed for special occasions—weddings, holiday parties, formal events, funerals and the like. Unlike women, Alexander notices that few men shop for clothes ahead of time or just for the pleasure of shopping. "Men buy clothing for events, as they need it," he says.
The Internet has also changed things in the clothing industry. Ron Alexander Clothiers was one of the first stores in the Monroe area to have a website, thanks to Bayou Internet. Alexander uses the Internet and social media tools like Facebook and Instagram to promote his business. He believes that while e-commerce has hurt a lot of small retail stores, his particular type of business has been impacted less than most. When buying a suit, for example, most men still prefer coming in to a store.
Ron Alexander's offers tailoring and alterations, which are not available via the Internet. Of his tailor and assistant, Chris Gilmer, Alexander says "She is my right hand. Chris has been with me for 22 years. I could not operate this store without Chris." Regular customers know and love Gilmer. With her talent for custom fittings and alterations, they know they can be assured of a perfect fit.
Alexander has seen an increase in demand for customized service in recent years. He estimates that 60% of his business now is custom-made clothing and special orders, whereas at one time that made up only about 20% of his sales. "This day and time, it isn't just about the merchandise I have in the store. Given enough time, we can design and build a custom wardrobe for someone. Whatever the customer has in mind, we can do that for him. We have hundreds of fabric swatches and thousands of options."
Wardrobe planning, another aspect of personalized service that Alexander offers, has become even easier with modern technology.
For select clients, Alexander coordinates outfits to create an entire wardrobe, and saves the information to a digital file, complete with color photos of wardrobe options for each day of the week. This can be a valuable tool for businessmen who must travel for work. Packing is easy, and any worries about clothing are eliminated.
Alexander has a discriminating eye for colors, textures and patterns, and after so many years in the business, he knows what works. He can put together an outfit or an entire wardrobe for a customer, and take the guesswork out of looking good so that the customer feels confident and free to concentrate on his work or upcoming event.
Ron Alexander's customers are familiar with his talent for creating a fashionable wardrobe. Those closest to him know that his creative abilities extend beyond men's fashion. He is also a singer and guitar player with a penchant for country music. Although lately he plays only to a handful of close friends and family, Alexander was once a musical entertainer with a much larger audience. In his younger days, he and fellow musicians formed a band they called "80 West," and spent weekends playing barn parties, which were popular gatherings at the time. He later became part of the Wildwood Express Showcase in Ruston and sang on the historic live music show, "Louisiana Hayride." This past April, Alexander joined other performers on stage at the Dixie Center for the Arts in Ruston for the Tenth Annual Joe Woods Wildwood Express Showcase.
Whether he is entertaining friends with his guitar or coordinating a wardrobe for a CEO headed off on a business trip, Ron Alexander uses his talent to make others happy. He is fortunate to spend his days doing what he loves, helping his customers feel confident about the way they look and dressing them for success in whatever they may pursue.