Constructing the Creative
By Melanie Moffett
Dec 1st, 2014
0 Comments
397 Views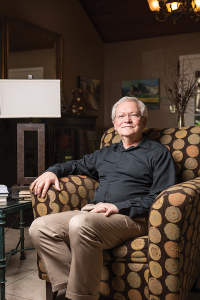 article by Mary Napoli | photos by Martin G Meyers
The steep staircase inside the home of local architect Doug Breckenridge is somewhat of a metaphor. The stairs are somewhat of a ladder into the creative psyche of the Monroe native.  The steps lead to a landing that serves as the divider between two main rooms.  One functions as the studio of a creative, experienced architect.  The other functions as the studio of a talented artist, with whimsical canvases leaning in layers up against the walls.  Standing in the foyer between the rooms feels like straddling two worlds—the calculated, precise, well-planned mindset of an architect and the expressive, unrestricted spirit of a natural artist.  Effortlessly, Breckenridge lives in both worlds simultaneously.
Breckenridge earned a degree from Business from NLU (now ULM) and went to work for his father's company, Breck Construction.  Fresh out of college, he was happy to have the opportunity to work alongside his dad, learning about the business that he had watched his father build.  Unfortunately, the time together in the family business was not to last.  The elder Breckenridge suffered a heart attack and passed away only a year after his son had joined him at the firm. Grief stricken, Doug Breckenridge took over the successful family business at the young age of 24.
Recalling that point in time, Breckenridge remembers, "My father had built a very successful business with a very capable staff, but it was a very difficult time.  After four years, we sold the firm, and I went back to Louisiana Tech to study architecture."
Breckenridge put the artistic talents he inherited from his father to use in his studies.  Inspired and invigorated, he dove into the program eager to learn.  Although he was certain of his abilities, he recalls that there were certain members of the faculty that needed convincing.
"I'll never forget, I had a professor with a Philosophy degree from the University of Virginia and a Master's in Architecture from Princeton.  I went in there and told him I had been a contractor and, I wanted to come back to study architecture.  I remember clearly, he looked at me very sternly and said, 'Mr. Breckenridge, contractors do not make good architects.'  A year later, I won the Outstanding Student Design Award, so I proved him wrong," Breckenridge recalls with a chuckle.
In his college studies, he took a course on "Vernacular Architecture," which focuses on local historic architecture and investigates ways that the culture is reflected in the architecture.  He began by studying the historic architecture in Bienville Parish, and what he learned fascinated Breckenridge immediately.  It led him to further studies in different areas throughout the United States, and he became something of an expert in vernacular architecture.  His knowledge was well respected and highly regarded, and he was invited to give speeches and workshops on the topic all over the country.
"I can go into a town anywhere and look at the historic architecture, and pretty well tell you when it was built and where the people came from who built the architecture by looking at the elements of style.  When you begin to lose examples of the historical architecture, you, in essence, begin to lose cultural references to the area," he explains.
It is likely this deep respect of vernacular architecture led him to take part in securing the preservation of what is left of the historic architecture of his own hometown.
"When I was a kid, downtown Monroe had some outstanding examples of architecture, but much of that is gone…that all changed when shopping malls took off in the 1970s. Monroe was once known as a "pacemaker city."  Unfortunately, many of the historic structures were removed.  Forty years later, the thing to do is to preserve and renovate these structures through historic tax credits and things like that…(Downtown Monroe) has something to build on, but not what it once had in the 60s, and that is because Monroe was basically ahead of the curve in urban renewal."
Breckenridge has worked on several historic tax credit projects to preserve existing historic structures.  Through his efforts, the Coca-Cola Bottling Plant was recently placed on this historic register, making it eligible to be renewed through historic tax credits.  These credits also apply to residential areas, such as the Garden District, and can assist in up to 45% of the restoration of a historic structure.  This is something that Breckenridge is passionate about, and prompted him to help form the Downtown Historic Commission, an organization that looks after historic structures and ensures that their integrity is not compromised.
He has not only assisted in preserving the historic landscape of Monroe, but has added to it in many ways through his own distinctly creative, thoughtful designs.  Throughout his career, he has worked with several firms, most notably as Lead Design Architect for Architecture Plus, one of the largest firms in the state that works on projects all over the country.  However, it is the projects that developed in his hometown which are closest to his heart.  While working with another firm, he assisted in the design of the Neville Field House, which holds significance for many locals.
After forming his own firm two and a half years ago, he has had the opportunity to design several Monroe landmarks of interest, such as the Chase Bank Building with its memorable checkerboard design, Delta Community College's Adams style structures and Lee Junior High's gymnasium.  The gymnasium was a meaningful project, as Breckenridge had experienced life as a student in those very halls.  Similarly, he is currently working with Frank Bennett of Architecture Associates on the restoration of Neville High School, his alma mater.  The project not only has nostalgic meaning, but happens to be one of his favorite historical structures in Monroe.  Although incredibly beautiful to look at, the 1932 Art Deco building is in need of some serious attention.  Water has penetrated the exterior and leaked into many of the classrooms.  He plans to waterproof the building before working on the interior repairs.
While working on his former high school is an inspiring project, creating new structures are also exciting for Breckenridge.  He often begins by consciously examining the landscape, often taking photographs of native foliage and colors that occur naturally in the environment and working those into his designs.  This holistic approach helps the structures feel as though they belong there as a part of the surroundings.  He enjoys working with the elements of the location, but each architectural design begins in its own way.
"Given an open situation, I always push originality.  That does not necessarily mean something contemporary or in vogue, but something that strives to create a distinct statement for a distinct client.  I have always considered architecture to be the most profound public statement an organization or an individual can mak,e and it needs to be distinct and personal.  Design concepts usually begin as ideas, and these ideas can take form through numerous elements in the environment and not just the built environment at that."
His natural creativity dominates his distinctive designs, which are meticulously created.  For example, his design of the St. Frederick Chapel draws from elements often found in Florentine structures associated with traditional Catholic designs.  He was inspired by the colors and textures found in historic churches in Florence, Italy and included them as elements to represent the Catholic religion.  He designed the light tower of the chapel to draw in the natural sunlight to illuminate the priest at the altar.  Light, color and form are the elements that he creates design concepts around.
"From an idea, I sketch and sketch, and I do this usually in notebooks for several days before I ever commit something to hardline drawings.  I usually then proceed to work back and forth between hardline drawings and sketches until I firm up the design concept.  I am always thinking in the third dimension, even in the early sketch stages.   Color and texture are as important to me as form and shape and usually exist in the design process from day one," says Breckenridge.
Considering his design aesthetic, it seems only natural that Breckenridge's imagination expresses itself in multiple mediums.  He is not only an accomplished architect, but also a talented artist.  In his art studio, dozens of beautiful canvases depicting landscapes—cityscapes and pastoral—wildlife and scenes from fly fishing adventures.  His most common subject, however, is closest to his heart—his stunningly beautiful wife, Karen Breckenridge.  When commenting on his talent, Breckenridge is humble.
"My painting is an avocation and not a profession, so it generally takes a backseat to architecture.  Not having the time to contribute to painting and not being of the personality type to spend long hours in detail, I have developed a style that is fast, loose and spontaneous," he explains.
Often, clients who are enthusiasts of his architectural designs often become patrons of his artwork.  He has worked with friends Lynda and Dr. Lou Gavioli on the renovation of their homes over the years and also provided artwork for the interior.
"When we renovated the house we are currently in, we asked Doug to do a pen and ink of the home," Mrs. Gavioli shares.  "It hangs proudly beside the original pen and ink of the home on Lake DeSiard (that Breckenridge designed)—two of our most treasured pieces of art!"
Breckenridge helped the Gavioli Family to create and develop the aesthetic of their home in an imaginative way that encompassed all of their ideas.
"We had worked on the plans for the house on our own for quite some time and asked Doug to advise us on the look we wanted for the house," Gavioli says.  "He went to New Orleans, photographed homes and came up with the design we ultimately used.  The house is one of the new homes featured in Lee Estis' "Fading Textures" as one of the "sparkling textures" mentioned in his book. We loved working with Doug.  He is so creative and an amazing artist.  He really captured the feel, design and cultural aspects that we wanted in our home.  We loved working with him!"
Breckenridge's remarkable talents in design and art are consistently sought after, and the intelligent architectural designs he has contributed to the community will remain cultural treasures long into the future.
"I have always been artistic—even at five or six years old.  I wanted to be a painter or an architect."
Breckenridge not only succeeds at both separately, but combines his instinctive creativity in a way that is its own authentic art form.
   To contact Breckenridge for architectural or artistic services, find his firm—Douglas C. Breckenridge, Architect & Planner, L.L.C.—on Facebook, or contact him directly at doug.breckenridge@comcast.net.