Cormier's Cajun Restaurant
By Melanie Moffett
Mar 2nd, 2016
0 Comments
824 Views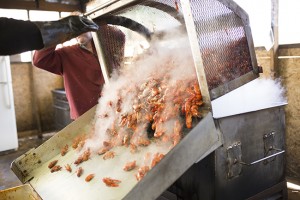 A Timeless Family Favorite

article by Mary Napoli | photos by Martin G Meyers
It's raining outside of Cormier's Cajun Restaurant, and the dining room of the eatery is silent.  The restaurant is closed, although the clock says it is during normal business hours. The weekend has been incredibly busy, and locals had come in droves to seek out crawfish.  The demand was so great that the restaurant was completely sold out by the time they closed their doors on Sunday night. With no crawfish to offer his customers, Cormier made the decision to keep the doors quiet on this rainy Monday.  Larry Cormier, founder and owner of the restaurant that bears his name, sits at a dining table near the doorway.  The sound of his voice is interrupted by the ringing of his cell phone.
"I'm sorry, but I have to take this," he says after glancing at his phone.  He flips it open with a snap, and offers no greeting to the caller. "Send me 100 lbs," he says with authority.  It becomes clear that his seafood supplier is on the opposite end of the line. His face softens to a smile, and suddenly the South Louisiana dialect of his childhood becomes undeniably present in his voice.  "Ooooh, my goodness," he says in the way that only those raised in Cajun Country can.
Larry Cormier is something of a local legend in Monroe.  He is the man behind one of the most popular dining establishments in the area, Cormier's Cajun Restaurant. He offers much more than crawfish, and residents of Monroe, West Monroe, and the surrounding area populate the restaurant to get their fill of the delectable dishes and friendly atmosphere that Cormier's provides.  The restaurant has built a loyal following over the years and is beloved by locals.
"We opened in March of 1989, and it has been a work in progress," says Cormier. "I didn't intend to go into the restaurant business, but we try to keep adding and getting better every year."
Cormier came into the business unexpectedly.  Raised on a rice farm in Lacassine, Louisiana with four brothers and one sister, he learned how to raise crops and prepare the food that was available to the family.  His education in cooking began in his family's kitchen, but his work ethic began in the field.
"I'm a farmer at heart. I've always liked the farming aspect of the industry," explains Cormier.  He recalls his mother's influence in cooking and how their Catholic faith kept them busy in the kitchen.  "My mother was a Catholic Daughter all her life.  She was always cooking for someone.  Being raised on the farm, she showed me how to cook.  I was this high, just high enough to be able stand in a chair and stir a roux.  If I got off of that chair, I knew I'd be popped in the head.  The Catholic Daughters always fed people in the community who had a death in the family or needed help, so cooking was always a part of life. That's how it was growing up in South Louisiana."
When he came of age, Cormier intended to follow the family business in rice farming and did for a period of time.  He left Lacassine, near Lake Charles, to farm with a group in Katy, Texas, but moved to Monroe to work on a rice crop on a farm on Highway 15 near Lafourche.  While working on the rice farm, he used his cooking skills to feed friends and groups of farmers.  He accidentally became a crawfish entrepreneur when the crawfish population got out of control on the rice farm.
"I knew how to raise crawfish by growing up in South Louisiana, so I started a small crop on the farm here. That's how I started cooking crawfish here for people," he recalls with a laugh. "Soon, we had so many crawfish here, we didn't know how to get rid of them. So, I would cooking them almost every night. We would cook out on the farm almost every night."
Cormier's abundant crawfish population was so great, he began to supply a local restaurant with the crawfish that he raised.  However, it wasn't until the farming industry began to dry up that he considered the food service industry as a career.
"When the farming was going bankrupt, I decided it was time for me to get out of the woods and do something different," says Cormier.  "A friend of mine, Ann Johnston at C'est si Bon, gave me the opportunity to help out in her restaurant one winter, while I was still farming.  I originally wanted to open a boudin sausage kitchen, which is what I actually got this place (Cormier's Restaurant) for.  We make our own sausage and boudin to this day, but the crawfish and catering took over."
Cormier's is well known for their crawfish, and for good reason.  Locals flock to the restaurant during the season for the spicy seafood, uniquely seasoned to perfection.  Pound after pound of crawfish is enjoyed, along with buckets of beer.  Children are free to bounce away in the jumper, while adults look on and savor their meal and visit with friends.  Everyone is always happy at Cormier's, it seems.
Although crawfish are always a hit, diners can't get enough of the other menu items Cormier offers.  The pig sandwich is always popular for lunch or dinner.  The mouthwatering meat is served on Gambino's French bread and dressed with mayonnaise, mustard, pickles, onion and zesty vinegar cabbage.  Cormier created the sandwich long ago when cooking with an old friend and local legend.
"When my friend Thurman Dickey and I were working together at C'est si Bon, I was making my boudin," recalls Cormier.  "He took some of that meat and put it on a slice a bread and ate it.  He said, Larry, when you open up your own place, this would make a great sandwich.  I took his advice, and that is how the pig sandwich came to be.  It's been a hit ever since."
Cormier's menu has something for everyone and offers many Cajun inspired dishes to choose from. They are known for their flavorful chicken and sausage or seafood gumbo, as well as creamy shrimp bisque.  My son Jamie's crawfish etouffee is hard to beat, and the blackened fish remains popular.  The jambalaya and red beans are menu staples, and Cormier shares that it is the spicy sausage he uses made in his hometown of Iowa that makes the difference in these traditional Louisiana dishes.
"The sausage is what makes it so special.  It comes from South Louisiana in Iowa, from a fella I was born and raised with," explains Cormier.  He notes the pronunciation of the city, which may not be known by everyone. "See, its I-O-wah up there, and I-O-way down here," he says, pointing up to indicate the northern United States, and down, to indicate the South.  "The sausage makes all the difference.  You start with something good and clean—sausage, crawfish, steak, it ain't no different—and you have a good recipe, it's going to come out good."
Cormier's offers a popular catering service that provides food for large and small parties.  In addition to boiling crawfish and shrimp on site, Cormier provides an incredible selection of seafood for catering events.  Fried catfish and seafood buffets are often requested, as well as roasted pork loins, jambalaya, and chicken and shrimp fettuccine to feed the masses.  Along with side dishes, bread and desserts, Cormier also provides decorated roasted pigs on occasion.  It was actually at a pig roast during his farming days that he met his wife to be, Cyndi Cooley Cormier.
"I was cooking a cochon de lait for one of the farmer's groups, and she was there with some of her friends.  We met that night and started dating not too long after," he says.  The couple were married and have raised five children, two boys and 3 girls, together.
Their son, Jamie, is his father's right hand at the restaurant and assists him in every aspect, including the turkeys, hams and dressings that Cormier's provides during the holidays.
"Jamie has been working here 20 years. He's the heir apparent.  He can cook well and grew up here, so he knows it all.  He does all the cooking, the gumbo, etouffee, fettucine, everything."
Cormier has instilled the love of raising crops and cooking in his children just as it was instilled in him at a young age.
"My love of cooking began as a child.  Cooking with my mother and being raised on the farm definitely influenced the way I do business.  We grew our own corn, raised our own cows and made our own sausage.  We had milk cows and made our own butter.  I still like doing the farming aspect, because I know how good it is to have fresh food.  I put up peas and other vegetables every year.  We even make a vegetable soup that we use all our own vegetables from the garden behind my house.  Farming was how I got started here.  I was green.  Green as you could possibly imagine.  But I knew how to cook and how to raise crawfish, and here I am."
Cormier's love cooking for friends and family has also influenced the atmosphere that he has created at his restaurant.  From the very beginning, he wanted to provide a place that catered to and attracted families. He often hears from customers from come back year after year as they pass through town on their way to different destinations.  Cormier's has become a family tradition for locals, as well as travelers.
"I never was a restaurateur.  I just knew how to cook," says Cormier. "We built it to be a good business with a good reputation.  I enjoy what I do.  I enjoy meeting people and cooking for them.  We've been here for 26 years, and we keep on improving on what we have."
Cormier's Cajun Restaurant and Catering is located at 1205 Forsythe Avenue in Monroe. Lunch and dinner are served Tuesday through Saturday with dinner on Sunday during crawfish season. Call 318.322.0414 for catering information or find them on Facebook.