Simply Lou: Country Music Confidential
By Katie Sloan
Aug 28th, 2017
0 Comments
33 Views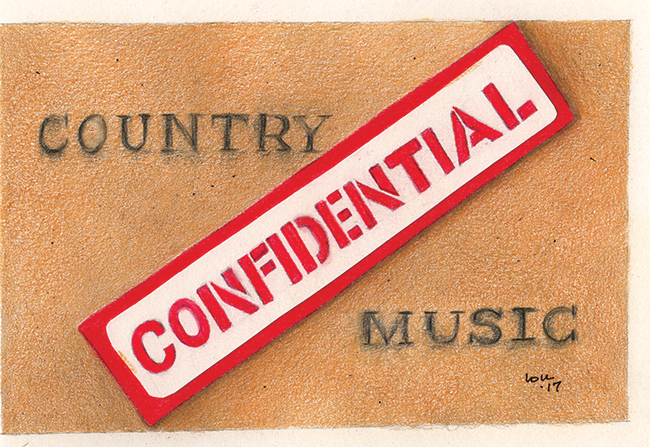 I love music, all kinds of music.  There are not many styles of music that I don't like or at least can't appreciate.  My Mama passed this love of music on to me and I can't remember a time she didn't have music playing, especially country music.
Whenever she was cooking in the kitchen, she had a radio on.  She'd sing to me and sometimes we'd  sing and dance.  She had her favorites, Hank Williams, Ernest Tubb, Hank Thompson, Bob Wills and his Texas Playboys and of course, Merle Haggard.  I knew all the words to "Hey, Good Lookin" before I was in kindergarten.   Even when I went off to college, I had an 8 track of "Hank Williams' Greatest Hits" and played it until the tape got all tangled up and I had to throw it away.
I have wondered what she would think of country music today.  Like everything in life, it has changed a lot over the years.  But, I guess she'd probably agree with me  that "it ain't what it used to be."
Maybe I am just getting old and set in my ways, but, I just can't seem to listen to modern country music.  Now, that's just MY opinion.  I know a lot of people listen to it and love it.  That's okay with me.  I'm certainly not trying to influence what sounds good to your ears!  I just know what sounds good to mine and "Truck Yeah!" just doesn't do it for me.
I started noticing a trend several years ago when I'd be driving to work listening to the country radio station.  All the songs were beginning to sound a lot like.  There were a lot of songs about pickup trucks, drinkin' beer, and having fun.  Hey, that  is just fine with me, but, the guys singing sounded like a bunch of 15-year-olds.  And, they all seemed to have a certain look:  lots of tattoos, muscled up physiques, tight jeans, black shirts and baseball hats.  I do understand that record companies are going to promote what sells the most for them and if a certain "package" is working, then, they'll keep "packaging" it til something better comes along.
But, that wasn't what was really bothering me about this new country music.  There's no soul!  There's no originality.  I like mine to be about cheatin' spouses, broken hearts, hard times, drowning one's sorrows with a bottle of hard liquor.  I like my country music to be a lot more "gutsy!" And the singers don't have to all look alike.  And where are the fiddles and steel guitars?
Now, there are always exceptions to the rule and I have found a few that seem to be going against "typecasting."  Good for them!  These younger artists are very talented and you can find them.  They won't be getting the airtime on radio stations, but they are out there, waiting for you on YouTube or XM radio.
I was listening to Chris Stapleton before he was "suddenly discovered" on the CMA awards.  Nothing against Justin Timberlake, but Chris Stapleton doesn't need anybody else!  He's not just a singer but a prolific songwriter. He formerly played with a bluegrass group, "The Steeldrivers."  But oh, what a voice!  Check out "Fool Me Again" on YouTube.
Jamey Johnson.  His voice is deep and husky and can make you "cry a river."  He wears a braid in his big bushy beard.
Dierks Bentley.  Yeah, he's young, but his songs have great energy.  How can you not like "Gettin' Drunk on a Plane?"
Hank III, grandson of Hank Williams.  I know he may not be for everyone, but this kid sounds so much like his grandfather it's downright spooky.
Sturgill Simpson.  He's an interesting singer.  He seems to be "artsy," too from the look of his videos.  He certainly doesn't fit into any "mold."
I still have my old favorites,  the ones I never get tired of listening to.  I love Dwight Yoakum, especially "Intentional Heartache."  (I identify strongly with that song)  Nobody can pour themselves into a pair of leather pants like Dwight either.  Dwight can really act, too!  I almost didn't recognize him in "Slingblade" as the abusive boyfriend!
Willie.  Do I even have to write his last name?  Willie is like a member of the family.  I remember buying "Stardust" when I lived way up in Aberdeen, Mississippi.  Willie can just do anything and do it good.  He even has some books that he's co-authored.  They are full of jokes, which he loves to tell and his philosophy of life.
My former brother-in-law told me a story about meeting Willie in Hawaii.  Jay was there at some conference and  a friend told him he wanted him to meet someone.  Jay said he was introduced to a little bitty, long haired man who was soft spoken and polite.  When he was told the man's name was "Willie Nelson" it still didn't occur to Jay who he had just met!  I almost keeled over!
George Strait.  I discovered George one night watching "Austin City Limits."  I was still living in Aberdeen and had to go all the way to Columbus, Mississippi to order his first 8 track.  I've loved him ever since.  I have a question though about that song, "The Chair."  I don't believe for a minute that gorgeous George Strait would have to be in a bar working hard to pick up a woman!  But, I guess we just have to "suspend belief!"  One thing about George, he is absolutely the most handsome man in country music.  He never seems to age!
Merle Haggard. I have already written an entire column about good ol Merle.  Still sad that he's gone, but, he sure did leave us a lot to listen to. God Bless Merle. Maybe my Mama and him and Hank are all up in heaven singing…in the kitchen!
Waylon Jennings. How I miss Waylon.  There aren't many of his songs that I do not adore. He's been with me through some good and bad times.  Waylon knew what he was singing about and I think that is what made him so great and that black and white guitar!
I've saved this last one for a  reason.  I liked George Jones, but, I wouldn't say I was a huge fan.  When I lived in Aberdeen, George Jones was driving up Hwy. 45 from Columbus in a big Lincoln Continental.  The "State Boys" got after him for speeding and he took a side road in a little village called Hamilton.  Ol George knew where he was going because this was a "back road" to the Alabama state line.   The little road  is narrow and curvy and George lost control of the Continental before he got to the state line.
He was unhurt but "drunk as Cooter Brown" so he got hauled into Aberdeen.  He was charged with all kinds of offenses and taken to the little hospital to be checked for any injuries.  My neighbor worked there so I got to hear a "first hand" report about the biggest celebrity to ever come to Aberdeen!  George first threw up all over the guys who were wheeling him in on a gurney.   Then, when he was offered the chance to go to jail or Birmingham to a detox facility, he agreed to go to detox.  He wrote the City a check for his fines that ended up being "hot."  The ambulance drivers said he threatened to kill them both for taking him.  Oh, George put Aberdeen on the map that day!
The Continental was auctioned to try to recoup some of George's "hot check" and a man from Hamilton bought it.  He had it repaired and every year he drove it in the Aberdeen Christmas Parade.
Several weeks later, Ol George got pulled over again on I-220 in Jackson, Mississippi.  I don't think the "detox facility" kept him long enough.  I have wondered  if George ever came back to Mississippi!
Again, George knew all about the things he sang about!  They say he settled down in his older years, but, not before he got a DUI for trying to drive his riding lawn mower to a liquor store.
So, I guess the whole point of my "Country Music Confidential" is that I wish the newer country music was more authentic, sung by people who have lived long enough to have had some hard times, have had to overcome obstacles or at the very least, know what they are singing about.  Maybe some of them do, but I'm not feelin' it.  Maybe I'm just an old country music snob so shame on me!
Or, I guess I could just write a country song about my own life.  I've always compared mine to a "bad country song."  "I was left a widow woman with three kids to feed….Got my heart stomped on by a heartless…"  Ok, I guess it's going to need some work!  Stay cool and see ya'll next month!