Craftmanship Reclaimed
By Melanie Moffett
Sep 25th, 2015
0 Comments
817 Views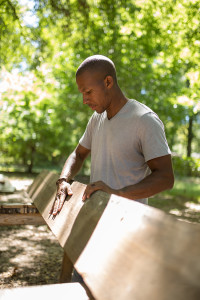 Bayou Artist: Joshua Mitchell
article by Mary Napoli | photography by Martin G Meyers
The pungent aroma of freshly cut wood fills Joshua Mitchell's workshop.  It is a scent that often conjures memories and associations for many people. In this case, it's the scent of creativity and productivity.  Mitchell is a local designer, craftsman and artist, who has the miraculous ability to breathe new life into wood that has been left for dead long ago.  Where some may see a dilapidated house caving in on itself, Mitchell sees a sleeping treasure trove just waiting to be revived.  Giving new life to old wood is his passion.
The multitalented artisan is a dreamer and a do-er.   He is the owner and creative force behind Jodami Design, which features his handcrafted, original furnishings, and Relove Louisiana, which offers his distinctive artwork. His talent as a furniture designer and his stunning wood art creations are unique, recognizable, and have won him a loyal following of clients and collectors.  His artful approach to building one-of-a-kind furnishings and ability to create intriguing, modern pieces of wooden art are only overshadowed by his charming personality and amiable demeanor.  Not only is he a brilliant, resourceful artisan with a deep love for his community, he is a witty, handsome man with an infectious laugh.  It's basically impossible not to like this guy.
His roots are firmly planted in the Delta region, and he recently moved from Ruston to the north side of Monroe with his equally talented lady love, artist Victoria Smith.  He maintains work spaces in both towns, but Ruston will always be his hometown…more or less. "I was actually born in Germany; my father is retired Army.  We moved around a few places before coming to Ruston, but that is where I feel like I'm from.  I love Ruston. It's part of me."
t was in Ruston that Mitchell's furniture design business began slowly and developed from his architectural studies at Louisiana Tech and work in construction. Although these interests began to shape themselves as a business venture in his mid-twenties, his love of building and creating was the result of a seed that was planted in his mind as a young child.
"It all comes from my dad," explains Mitchell. "He's a hands-on kind of guy.  He can fix anything, and he can do anything.  He taught me to learn to do things for myself before calling someone else for help.  He is really self-sufficient.  When I was a kid, I was always tinkering with things; I always had a project.  I was always interested in making something for myself, rather than going to a store and buying it.  That's always fascinated me, and partly why I enjoy working with reclaimed wood.  Wood that I could buy has already been planed and milled.  The wood I like to use needs to be prepped, and I can work with it to get it the way I want it."
After making only a few custom pieces for friends around Ruston, people began to take notice and commissioned orders began to come in.  He chose to call the venture Jodami Design, a name comprised of the first two letters of his first, middle and last names: Joshua David Mitchell.  People responded to the refined, yet rustic look of the wood carefully chosen by Mitchell and were also intrigued by the idea that the materials had a history. He began conservatively by constructing handsome dining tables, coffee and end tables, chairs and benches made from interesting wood that possessed alluring colors and patterns in the grain.  Clients began to request dining and work tables built to their specific needs, which included storage spaces and movable parts.  Mitchell's imaginative designs are able to accommodate any idea, and his commissions continue to grow in number and variety.  He has created stunning canopy beds made from reclaimed doors, art therapy tables on casters for mobility, outdoor kitchen areas from mixed materials, and nearly anything his clients can dream up.  His innovative creativity and talent for enhancing the elegant patina of the wood has received much recognition and admiration.
Mitchell is known for his earthy, roughhewn design style, but he also creates modern furniture made from concrete and various metals.  Such was the case for the contemporary work stations commissioned by Momentum Wealth Management.  These pieces are as functional as they are impressive to view.  Unique and bold, the work can be appreciated for its sculptural qualities, as well as for their practical, utilitarian characteristics.  He is talented in crafting furnishings made from various materials but his true love lies in woodworking.
"Wood speaks to me more than other mediums, when I'm making furniture or art.  I really started to get serious with it about four years ago.  I've made furniture mostly for residential homes, lots of custom pieces.  But, I would like to broaden my reach into commercial."
Mitchell does have experience building custom pieces for businesses, although he would like to explore it further.  Kelly Moore, the Ruston native and incredibly successful force behind Kelly Moore Bags, contacted Mitchell when she needed a large-scale custom display piece.  Mitchell created a massive nine by twenty foot display wall for Moore that included large four by six foot side cabinets to store merchandise.  Because Moore needed to be able to travel with the piece, Mitchell constructed the wall to be able to break down into ten by two foot sections, so that it could be packed and moved with ease.  Moore uses it consistently in her travels to various markets in large cities like Las Vegas and New York City.  The display wall is one of the most challenging pieces Mitchell has created to date.  It is a beautiful example of Mitchell's design and construction talents and shows the amazing potential he possesses for commercial work.  Mitchell is capable of creating exceptional countertops, display cases, merchandise tables and seating with reclaimed or more refined wood.  Like his creativity, the possibilities are endless.
Mitchell had established himself as a noteworthy furniture designer when he began to experiment with expressing his love of the land through art.  Inspired by the unpolished, captivating characteristics reclaimed wood, Mitchell composes individual works of art that are part wooden collage, part natural kaleidoscope.  When the idea revealed itself, he became unstoppable.
"Once I realized how I wanted to put the idea together, I literally went into the workspace and couldn't stop.  I just designed and created for hours and hours.  Each piece of wood art is different.  They all contain reclaimed wood and parts of them have been stained and painted, but they are all individual.  I start with the center, the focal point.  From there, it just grows and comes together like a puzzle.  I have to stop and step back sometimes to decide where this is going, and that is where color and composition come in."
Much of the art is created from cedar and pine wood that has been reclaimed. Focusing on texture and pattern, the artwork is refreshingly contemporary and structured.  Mitchell spends time considering the color palette for each particular piece until he feels that he has settled on the right selection.  Colors range from turquoise to rust, from black to white.  He also incorporates various stains that emphasize the natural beauty of the raw wood.  Smooth, painted pieces are juxtaposed against unrefined pieces for an arresting visual experience. Carefully constructed geometric patterns suggest a Native American influence, and the color palette is somewhat reminiscent of shades popular during the mid-century modern period.  Some works are symmetrical while others are less balanced and oblique, but each creation is distinctive and thought provoking.
"That's part of the beauty of reclaimed wood—its history.  Someone used it at some point for a specific reason. Most of what I use for the wood art is wood that has been lying around for a while without any purpose.  I love that I can take it, shape it, put some interesting paint on it and give it a new life.  It's a whole movement of woodworking that is just amazing.  It's turned into a real passion of mine," Mitchell explains.
Most recently, he has been inspired to construct similar creations in the shape of our state, which prompted him to name the line Relove Louisiana—a nod to the use of reclaimed wood.  He displays artwork at various exhibits and locations, including Monroe's Downtown Art Gallery Crawl and Bayou Gypsy Boutique in Monroe.  The Jodami Design Facebook and Instagram pages features photos of both wood art and furnishings, and the Relove Louisiana shop on Etsy also offers works of art for purchase.
Mitchell is as dedicated to his community as he is to finding beauty in materials that have been cast aside.  Several months, he began to contemplate the possibility of bringing together various artisans of different backgrounds to share their creations with the region.  With great excitement and determination, the Ruston Makers Fair began to take shape.  Mitchell worked tirelessly to coordinate the event and secure artists, musicians and creatives of all types to display and sell their work.  On September 12, 2015, the corner lot of Louisiana Avenue and Monroe Street in Downtown Ruston was alive with makers, music, food and art.  The surrounding communities responded, and the affair was enjoyed by all.  Mitchell is proud to support the arts in northeast Louisiana and hopes that events like this will assist in further growth of creativity.
"The first Ruston Makers Fair was a fun, beautiful day and it was my pleasure to put it together," Mitchell shares. "Over 50 vendors selling goods, a food truck and live music. We couldn't have asked for better weather, as well. There was a great turnout and the public was very receptive. The attitudes and openness of the vendors really made the fair a success. I had a late add on that was one of the highlights. Graphic designers, Chris Lewellyan and Caylan Dowden of Circus Tees in Ruston, came out and screen printed their designs on site for the public to purchase. I hope that enthusiasm and willingness to try new and different ideas will be the inspiration for the fair as it grows. I have a couple other ventures similar to the fair that I'm about to start work on. I truly believe that this area is an epicenter for creativity and it should be showcased."
On October 1st, Rumo's Barbershop will host the Relove Louisiana collection with an exhibition at its West Monroe, Trenton Street location.  The show, titled "Antique Dreams," features some of the largest work in scale that the artist has produced to date.  With this collection, he experiments with composition and color techniques.
"The inspiration for this collection comes from impressions from my childhood dreams.  The colors I'm using in these pieces are significantly brighter and more playful than what I've used in the past.  I'm also going to sketch on the large chalkboard wall in Rumo's and encourage guests to share their childhood dreams there."
In addition to exciting art and good company, the Rumo's exhibit will feature other local superstars on the scene.  Rhoda Brown's Hogwash Caboose will provide food and Great Raft Brewery will offer a selection of brews to enjoy.  Puf cotton candy from Social Bites will supply the sugar for a sweet ending.  Opportunities like these are an ideal way to view Mitchell's artwork in all its splendor while enjoying a night with local up and comers.  Although the artist seems to be consistently preparing for the next event or exhibition, he remains focused on his true passion for crafting meaningful pieces in the region he holds dear.
"The community here is so strong.  They support each other and have an understanding and a value for handmade things.  That kind of sense of community inspires me in lots of different ways.  If I can do something to add to that through my work, then I feel like I've accomplished something."