CREATING A LEGACY OF SERVICE AND LOVE
By Admin
Nov 3rd, 2016
0 Comments
575 Views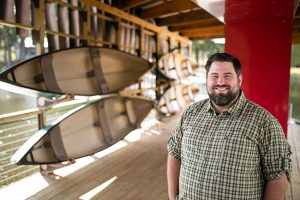 Caleb Seney, Executive Director of MedCamps, has always had a desire to serve. His work at MedCamps is just scratching the surface of things he plans to do and his vision of being able to make an impact in families' lives.
article by Maré Brennan
photo by Martin G Meyers
Caleb Seney is no stranger to helping others in a life of service that began as a young man growing up in Springhill, LA. Seney says, "Mom and Dad were great examples of serving others. They were always including people on the fringes, who might have been down on their luck, inviting them to share Thanksgiving and holidays with us. My mom is still that way, always helping others."
Seney was not alone, as one of five children (3 sisters and 1 brother) growing up in a house with 4 bedrooms with 1 bath, life in Springhill was not unlike life at Camp Alabama, where Seney is now the Executive Director for MedCamps of Louisiana.
Seney, a husband and father of two girls, says his gift of relating well to children with special needs is his way of serving God. "Life transformation doesn't happen from a pulpit, it happens in the trenches," he says, "I hope that I am creating a legacy of service and love. My mission is to love God and love others."
Founded by Dr. Michael F. Zambie in 1987, MedCamps of Louisiana began as a one week camp for 13 children with severe asthma and allergies on the campus of Northeast Louisiana University. The program was initially developed as part of the YMCA of Northeast Louisiana and was known as YMCA MedCamps. The YMCA gave MedCamps an instant funding and administrative infrastructure. In 1988, a partnership with the Presbytery of the Pines was formed, and the MedCamps program had a permanent home in which to operate at Camp Alabama, located 5 miles north of the I-20 corridor, between Monroe and Ruston, in Sibley, Louisiana. Today, MedCamps is a United Way partnering agency and includes ten one-week summer camps for children with spina bifida and orthopedic conditions, cerebral palsy, asthma, sickle cell anemia, autism, epilepsy, visual impairment, hearing impairment, speech impairment and those developmentally disabled. All campers attend MedCamps free of charge.
At age 16, Caleb began volunteering at MedCamps when his older brother, Tony, was a camp director and another camp counselor had to drop out unexpectedly. "I remember standing on the dock and thinking I could do this," Caleb says of his first summer with campers. Caleb worked at the camp for the next five summers as a counselor and eventually became a Camp Director. Throughout college, Caleb spent his summers at MedCamps and during the school year worked as a Personal Care Attendant at Care Solutions, Inc., where he primarily served a young man living with autism. With a degree in business administration and management from University of Louisiana at Monroe in 1999, Caleb moved to Shreveport to pursue a career at a company owned by his aunt and uncle. It didn't take him long to find ways to volunteer, spending his free time at Shriner's Hospital for Children and helping people living with disabilities at Holy Angel's Home.
When Caleb returned to the Monroe area in 2002, he reached out to Mike Zambie and found himself back volunteering for the organization's board of directors. In May 2003, Caleb accepted the position of Executive Director at MedCamps of Louisiana, Inc.
Next summer will be Caleb's 20th year spent with MedCamps and the 30th anniversary of the camp's existence. But the more things stay the same, the more they change. "Things are changing," smiles Caleb from behind his thick beard. "The Presbytery of the Pines has asked us to be the operations partner at Camp Alabama which will allow us to expand our programming." Camp Alabama's facilities will be available to rent for corporate retreats, family reunions, church workshops and more.
Caleb's vision for MedCamps is to see the number of summer campers grow from 300 to more than 500, and potentially thousands of kids during the off-season. Another goal is to expand the MedCamps brand to be statewide in scope, with an additional facility to serve the I-10 corridor.
What drives Seney forward as Executive Director? "As a part of MedCamps, I've been able to watch kids grow up. Some of my former campers send their own kids to camp. One of my former campers, who has spina bifida, has a professional job now and sponsors a kid every year to come to camp. Unfortunately, many of our campers have passed away. This year alone, we had two campers pass away. It reminds you of the impact you have, this finite opportunity. For some children, their time here is limited," says Caleb.
Serving as the leader of a summer camp for children with disabilities and life-threatening illnesses would take a lesser person to their knees. What would be hard for some is just Caleb Seney "finding his groove in this world." That's what keeps him pressing forward to find more ways to help these children and their parents make the most of every opportunity. "We've just scratched the surface of what we can do for these kids," says the ebullient Executive Director, who has been traveling to other facilities to see what they can replicate at Camp Alabama, like an elevated ropes course and zipline designed for children with disabilities.
A large part of what Seney does as Executive Director is to build relationships with groups like the Twin Cities Classic Chevy Club, which underwrites a whole session of MedCamps with a $20,000-$25,000 donation every year. Policemen and firemen who love to step into the ring at the Battle of the Badges, support MedCamps with a donation as well. It is groups like these, says Caleb, that do what they love to raise money and generously provide kids with disabilities or illnesses with an unforgettable camp experience. Louisiana Tech Architecture has partnered with MedCamps to design and build an outdoor pavilion and a handicap accessible dock with a canoe launch, which allows for the safe loading of campers into and out of canoes. In addition, the Architecture school designed an apparatus to help campers with limited abilities draw back a bow, aim and shoot arrows at targets. Recently, LA Tech Architecture designed a bridge that connects one side of the lake to the other. MedCamps raised more than two-thirds of the $75,000 to build the bridge at their most recent fundraiser, the MedCamps Auction and Funshoot held at Wild Wings in Downsville.
The reward of a life spent with MedCamps for twenty years for Seney is seeing kids overcome their own personal fears. "To get on a horse back, to stay away from their mom and dad for five whole nights. These are medically fragile kids who don't sleep away from home. They are never without their mom or dad. And these parents need a mental health break from parenting these medically fragile kids and to know that their child is safe, secure and having fun with kids just like them," explains Caleb.
"Our campers are iconoclasts," says Caleb of his little heroes. "They crush my ego and humble me in ways I cannot express. They possess a true grit, facing things on a daily basis. They face pain, insurmountable pain, that I can't possibly imagine. During the summer, I don't complain about the petty things that tend to creep back into my vocabulary around January."
One of the great products of MedCamps is that campers, like those who attend Sickle Cell Camp, are given opportunities to ask questions of medical professionals who are there to help them learn ways to manage their disease and how not to pass the trait on to future kids. Natural boundaries fall when campers are surrounded by people their own age who are going through the same thing as them. Explains Seney, "It's so great when an older camper can be a role model for younger campers and their parents. We have a 17 year old spina bifida camper who is going to college in a modified vehicle. He is showing our younger campers and their parents how to navigate the ropes, what is possible."
But it's not just the campers who benefit from MedCamps, according to Seney. Being a volunteer can shape careers. As a caregiver for a whole week, these kids can mold you in a way that you want to contribute back for them, he says. Several of MedCamps' volunteers and counselors have gone on to become physicians and nurses, as well as physical and occupational therapists.
Says Caleb, "MedCamps is a hidden gem, something to be celebrated." As he says, "It takes many hands to do what we do." Now is a great time to get involved and build your relationship with Seney and MedCamps.
Caleb Seney lives in Ruston, Louisiana with his wife Adrian and daughters Audrey and Abby.  He is an active member of The Bridge Community Church and The Sunrise Kiwanis Club of Ruston.
Camp Wish List
If you would like to contribute equipment to MedCamps, please consider donating these: Paintballs, archery arrows, foam sheets, foam stickers, Pinewood Derby Car Kits-roughly 30 packages, friendship bracelet beads and string, costumes (for skits and other stuff), gift cards (Wal-Mart, Target, Lowe's), current karaoke cds, duct tape, paper towels, toilet paper, cleaning supplies, first aid kits, light bulbs, mosquito spray, wasp and hornet spray, 55 gallon trash bags and Sharpie markers.
"Adopt-A-Camper"
Sponsor a portion of a camper's camp experience or sponsor an entire camper scholarship. Give the gift of camp by pledging to MedCamps' "Adopt-A-Camper" program!
•  Tier 1 level Adopt-a-Camper: $250
•  Tier 2 level Adopt-a-Camper: $500
•  Full Camper Scholarship: $1000
For more information, call the MedCamps office at 318-329-8405 or toll free at 877-282-0802.
Group Sponsorships
For large groups wanting to get connected at MedCamps, meal sponsorships are a great way to do so! The following meal sponsorships are available for large groups:
Sunday Night: "Chicken Mania" – Catered- Sponsors/ Volunteers serve.
Monday Night:  "Italian" PLUS "Sundaes on Mondays" – Catered –Sponsors/Volunteers serve.
Tuesday Night:  "Fish Fry" – Sponsors/Volunteers will cook and serve
Wednesday Night: "Pizza Pie Night"- Catered – Sponsors/Volunteers serve.
Thursday Night: "Grilling and Chillin" -Sponsors/Volunteers cook and serve.
Each Sponsorship is $300. You can sponsor the food, and MedCamps will sponsor the fun!