Creative Landscapes
By Katie Sloan
Jul 31st, 2017
0 Comments
244 Views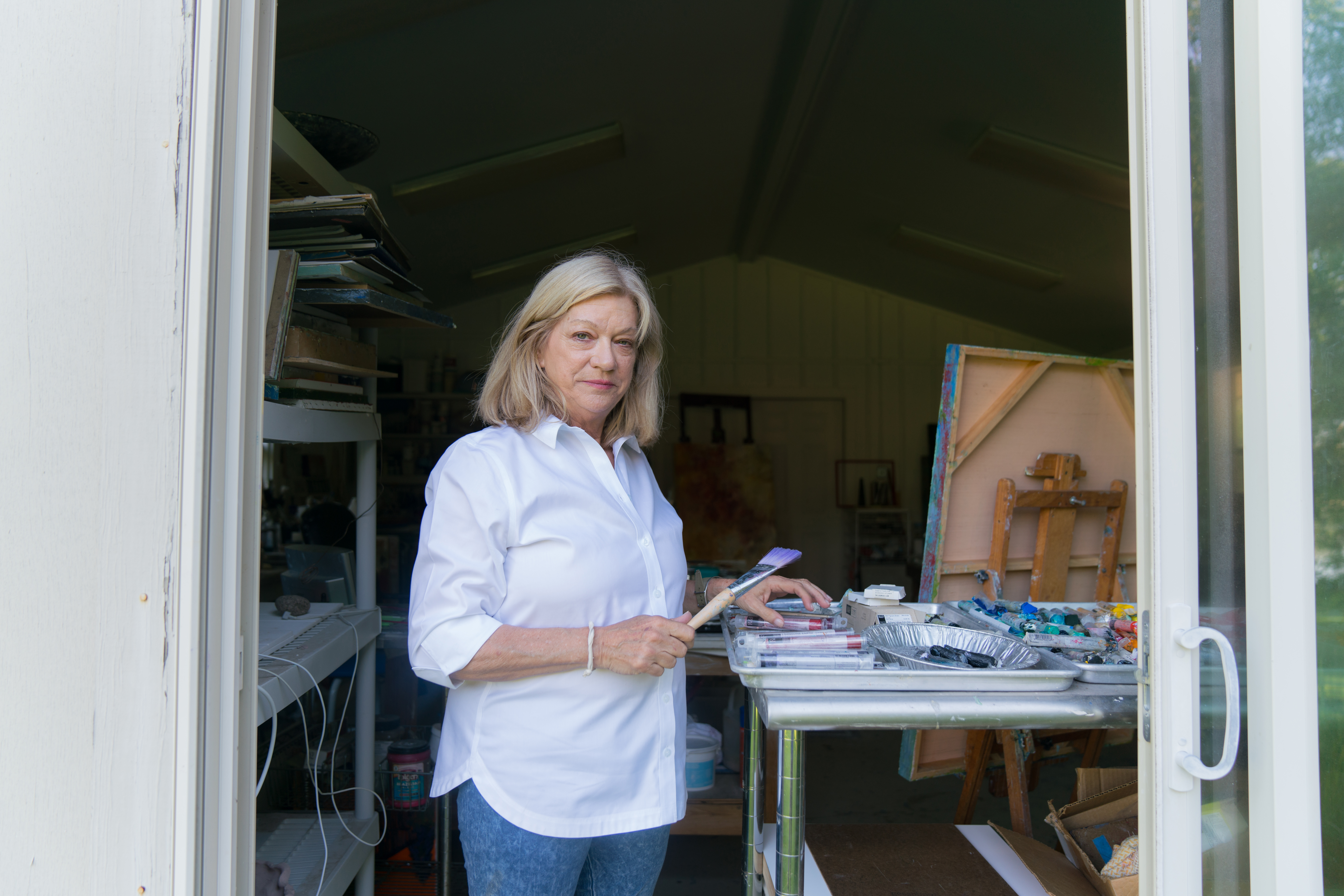 For artist Ann Johnston Currie, art is woven into every aspect of her life, she lives and breathes it and rarely goes a day without creating.
When her kids were growing up, she would sometimes stay up painting in her studio until three or four in the morning and said it was like their roles were reversed, because her kids would have to tell her to go to bed. But she said, "I do, what I do because I love it. It's a passion." She even finds herself doodling in situations, where she doesn't have her materials, and she almost always has a camera with her in case she needs to capture a moment on the go.
In the winter time, she especially enjoys sitting by the fireplace with her dogs all around her and painting in the warmth and glow of the fire. Painting is so integral to her life that she said, "Everything I own has a smudge of paint on it, even the dogs." On occasion the dogs and cats have even left their mark on her work. She recalls selling one particular painting that had little footprints on it. The prints were only visible if the light hit the canvas just right, but for Ann, they were simply part of the painting. She called them a "happy accident."
Being creative isn't new to Ann, and she recalls being drawn to creative things very early in life. "I was always the kid who played with mud pies and finger paints," she said. The highlight of first grade for her was getting a box of 64 Crayola crayons with the sharpener. As she grew up, constant encouragement from her grandmother stoked the flames of creativity that were kindled during her childhood. "Grandmother used to tell me all the time how talented I was," Ann said. "I don't know if there was any truth to it, but I believed her." This encouragement led Ann to explore art in college and beyond.
While in college, Ann was able to spend a year traveling all over Europe and creating art. She lived in Bregenz, Austria, and would visit different cities for two weeks at a time. After experiencing Europe, Ann completed her bachelor's degree in general studies from Louisiana State University in Baton Rouge. Then, despite having a college degree, Ann said she could only find work as a receptionist. As a result, she developed a thirst for more knowledge and better work, so she returned to school, earning her Master of Fine Arts from Southern Methodist University in Dallas, Texas.
Upon completing her master's, Ann stayed in Dallas, where she taught art for eight years at St. John's Episcopal School. Then life drew her back home to Louisiana, where she now lives on a farm in Sterlington that has been in her family for five generations. Located on the bayou, the farm serves as an inspiration for much of Ann's work, which often features landscapes. Her studio overlooks the water, and she said, "It's like a little oasis."
Despite loving life on the farm, Ann hasn't lost her taste for adventure and travels a lot, especially to the mountains of Colorado, which also inspire much of her work. "My environment and to some degree what's happening in my life color my interpretation," she said. Although she used to paint photorealistically, she eventually became bored with it. "When I was painting realistically, it was like the outcome had already been determined," she said. Now that she's moved away from realism, her work has become more about feelings. She tries to pause and engage with the setting, then lets her feelings play out on the canvas.
One thing that makes Ann's approach to art special is that she never thinks of what a potential customer or viewer might like to see. "I want my art to be about me and it," she said. "There are some times when you're working and things begin to go right, and you're in the zone. It's euphoric. You just get so happy." These are Ann's favorite moments, the moments when she feels most creative. She believes that having to think about someone else's desires would take some of the joy out of this process for her. Fortunately, Ann hasn't had to sell her art to make a living, and she's had the freedom to create what she wants, whether it's a painting, photograph, piece of pottery or something else.
Because selling her work isn't the driving force behind her art, having others want to buy it is a bonus. Ann said that as an artist she tends to "fly under the radar," but she has friends who have taken an interest in her work and have been instrumental in making it available to the public. One of those friends is Joey Haddad. According to Ann, Joey has been coming to her house for years to pick out paintings to sell in Parterre, his home and garden store in Monroe. Another friend, Kathy Biedenharn, has been very supportive. In fact, Ann's work is currently on exhibition in Monroe at Levee Gallery, which is owned and curated by Kathy.
Ann also credits Kathy with helping her discover one of her favorite art mediums: oil pastels. Kathy brought a box of them to her house, and she found that she loved the texture of them and the way she could blend them, layer them and then scrape back through to expose the history underneath. In terms of technique, she likes to add and subtract layers until she achieves the perfect balance. "Sometimes there's a moment where you know a piece is done," she said. But other times, she has to set the piece aside, walk by it and look at it for a while until she knows what must be done to complete it. "It's a gestalt thing," she said. A gestalt is something that has been composed of many parts but is unified in a way that prohibits break down. With gestalt, the whole is also somehow greater than the parts.
For Ann, individual marks are her "parts," and she likes the way oil pastels allow her to layer them to create works that feel whole. Knowing that, through her choice of medium, she is also following in the footsteps of the great Pablo Picasso adds something special to process.
According to Ann, professional-grade oil pastels were first created especially for Picasso by Henri Sennelier, the son of Gustave Sennelier, an art supplier in Paris who mixed his own paints from high-quality raw materials. Picasso had wanted colors he could use on any surface without having to prepare the surface first, and the Senneliers were happy to oblige. Today, Sennelier oil pastels are still considered by many, including Ann, to be the world's finest oil pastels. Although Ann also creates with other techniques, including cold wax painting and encaustic painting, which involves hot wax, she is thankful to Kathy for introducing her to oil pastels.
Of Ann, Kathy said, "She's a lot of people's icon. She's mine, because she's fun, but she has the ability to get down to the point with you when you need her." This multidimensionality is reflected in Ann's work as well. The walls of Levee Gallery are filled with Ann's richly textured landscapes. Her work has the unique ability to capture multiple moments at once through the layers of color. It's as though the light is changing right on the paper, or in some cases, the canvas.
Ann said it's rewarding to be able to sell her work. In fact, she recently ran into a client who bought two of her early paintings from graduate school back in the '70s. The client told Ann that the paintings are still the first things she sees every morning when she wakes up and that she still loves them just as much as she did when she bought them. "It makes me feel good that something I've done has brought joy or pleasure to someone," Ann said.
Because Ann doesn't have to sell her work to support herself financially, she's also been able to use it to bring joy and help others in more tangible ways. For example, she donated 80 bowls to the Empty Bowls fundraiser held by the Food Bank of Northeast Louisiana earlier this year. "When the Food Bank tells me they can buy meals for people in need with what I did," she said, "I'm like, 'Wow!'" Helping others is so gratifying for Ann that she said, "I strive every day to help someone—to help make something better."
Ann has also used her art to support King's Camp, an interdenominational Christian camp for kids. She said, "If I can help pay for a kid to go to camp, that's so much better than having the bowl sit on my table." She realizes that not all artists can afford to give their work away, so she views it as a privilege, and being able to give is something she's grateful for. "It's like I have this gift of materials, a studio, time and talent, so I try to support good causes," she said. "That's my gift back to the community."
Even when she was just getting started as an artist and was still in graduate school, she would find ways to give back. She spent a lot of time at the bus station in Dallas and would get to know the homeless people there. "I would sit and talk and find out their story," she said. "I like people, and I like to get to know them and dig in a little." In addition to getting to know them, Ann would take their portraits and then go back to give them the pictures. She said, "It gave them such pleasure to have a portrait taken—to have a gift."
Ann continues to create work in a variety of media, including photography, but she admits that much of the photography she does now is for personal use and to provide inspiration for her paintings and drawings. Ann also continues to educate herself on new techniques and regularly takes workshops and college courses to expand her repertoire of skills and to keep things interesting. Whatever she creates, Ann hopes people will find the work visually interesting. "I hope that people will stop and become engaged with it," she said. "It's so easy to just walk by that I think stopping and engaging is an enriching thing in itself." Even though Ann tries to close out the world when she creates, she still hopes the world appreciates her work. "I hope it brings joy and happiness and comfort," she said. "I hope it enriches the environment in some way, whether it's in a home or some place else."