Culinary Star Cory Bahr
By Katie Sloan
Jul 31st, 2017
0 Comments
683 Views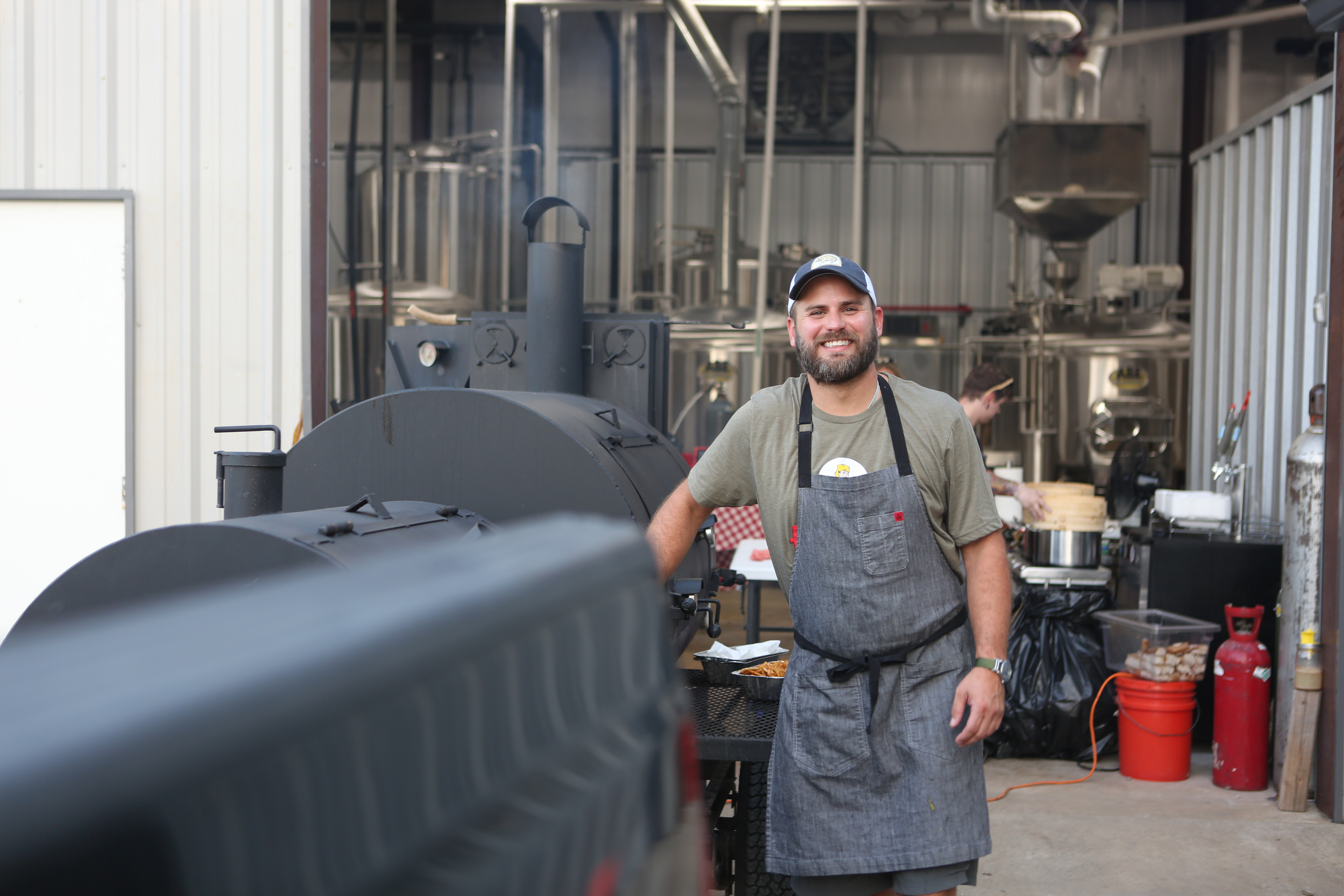 On a Sunday Night, Flying Tiger Brewery in Downtown Monroe is teeming with people. The crowd has gathered to watch as local chef Cory Bahr shows off his considerable skill in front of a national television audience. Throughout the summer, fans have been following Bahr and other talented chefs from around the country as they run through a series of culinary challenges, competing for the title of "Food Network Star."
Season 13 of the popular television show Food Network Star premiered on June 4th, garnering close to two million viewers.  Although the series aired this summer, it is actually in post-production, with the exception of the final episode.  The final segment airs on August 13th at 8:00 p.m. Central Standard Time, during which the winner of the competition—the new "Food Network Star"–will be announced.
In this season's initial episode, Bahr appears as one of 12 contestants on stage at the Orpheum Theater in Los Angeles, greeted by Food Network Star hosts and mentors Bobby Flay and Giada De Laurentiis.  "Walking into the Orpheum Theater, we really did not know what to expect," says Bahr.  This was the contestants' first introduction, not only to Flay and De Laurentiis, but also to each other.  He and his fellow competitors had been sequestered and did not know one another at that point.
In each of the show's 42 minute segments, contestants vie for the "Star" title and the chance to host a new Food Network television series. Bahr describes being on the show as fun but also "super stressful." He says the way the challenges are represented on the show is true to what actually happens during filming. While the show is not aired live, Bahr says the time limitations are real, and there are no second takes or warnings about what is to come. Bahr insists that there is really no way to prepare for the situations contestants are faced with during each episode, as the rules and challenges are completely different each season.
In addition to culinary prowess, personality is an important factor in this competition. The challenges are designed to test each contestant's stage presence and ability to stay poised while coming up with creative, great tasting dishes. Week after week, Bahr has succeeded in meeting those challenges, remaining a contender as other chefs were eliminated from the competition.
Regardless of whether he is eventually excluded or he sweeps the competition to earn his own Food Network television show, Bahr is thrilled to compete and honored to represent his hometown. Born in Monroe and raised in Northeast Louisiana, Bahr has always been proud of his home state, especially his particular corner of it.  "I love where I live," he says. "It is important to me to be able to represent Monroe, and to emphasize to the rest of the world that Louisiana is more than New Orleans, and Louisiana cooking is more than just South Louisiana food. North Louisiana has its own cuisine. We are a sportsman's paradise, and we have our own resources, fish and game, and our own way of using those resources.  And of course, the Southern hospitality and graciousness that we're known for."
The idea of southern hospitality was instilled in Bahr at a young age. He lived with his grandparents while growing up, a circumstance that shaped his life in the most positive ways. "They always brought me everywhere, and I got to experience so many things as a child," Bahr recalls. His grandparents often gave parties, preparing food and cocktails for friends invited into their home. His grandmother was a wonderful cook and ran a catering business to earn extra money.
Although he was greatly influenced by his grandmother's penchant for cooking and entertaining, Bahr did not always want to become a chef, nor did he dream he would be one day be cooking on television. "I wasn't born with a wooden spoon in my hand," insists Bahr.  "This all happened because of a bunch of serendipitous events."
Bahr was sitting at a table at Mojo Coffee House in New Orleans, working on catering menus, when the call came from a casting company asking him to audition for the Food Network Star series. By this point in his career, Bahr was no stranger to Food Network, having previously appeared on the network's "Chopped!" series. He had also been honing his culinary talent for almost two decades, working in the restaurant industry.
Bahr's first foray into the local food scene was with Canard's in West Monroe, followed by Monroe's Restaurant Sage, which he opened as executive chef. In 2011, he joined the movement to rejuvenate downtown Monroe, becoming co-owner and creative chef of Cotton. Along the way, Bahr picked up accolades. He was recognized by Food & Wine Magazine as "People's Best New Chef."  He won the prestigious title of King of Louisiana Seafood at the Louisiana Seafood Cook-Off in New Orleans. He was the winning "Chopped!" chef. He was declared a "Chef to Watch" by Louisiana Cookin' magazine.
Bahr describes being a chef as practicing an art form, with instant gratification from each performance. "You create something and provide people with an experience, and you are instantly rewarded," he says.  "You see the smiles on their faces, the clinking of the glasses, the high fives on the way out the door." Bahr says he loves the atmosphere, energy and action of a restaurant kitchen. "I've always felt at home in the kitchen, providing people with great food and good times," says Bahr. "The hospitality aspect drew me into this industry, because it reminded me of home."
He opened Nonna, his solo restaurant venture, in 2013, offering Italian cuisine with a Louisiana twist.  The Garden District eatery was, in part, a tribute to his grandmother, who gave him his first cooking lessons.  Sadly, her illness and death last year took a toll on Bahr as he struggled to spend time with her and maintain his business. He eventually closed Nonna in 2016 and took a break from life as a restauranteur, focusing instead on his burgeoning catering business. He also traveled some, cooking at events and festivals and trying to reinvigorate himself and his love of cooking. It was during this hiatus that he received that fortuitous call.
Within a few months, Bahr found himself in California, filming a television series.  While in L.A., Bahr and the other FNS contestants worked twelve to fifteen hour days filming the show. "It is a huge production," Bahr says. "It's hard to fathom how many hundreds of hours go into filming the 42 minutes viewers see on TV each week.  It's an amazing process."  By midway through the series, Bahr's spotlight interviews were being frequently included in episodes, giving him a chance to showcase his talent to a wider audience. "It's this crazy, amazing opportunity to get to share my passion with millions of viewers every Sunday night," Bahr says of the show.
Bahr's fame has helped put Northeast Louisiana on the culinary map.  When Bahr was crowned King of Louisiana Seafood, he was the first non-New Orleans chef to earn this distinction. He was also the first chef outside of the South Louisiana region to be named a "Chef to Watch" by the editors of Louisiana Cookin' magazine.  Now, Monroe is enjoying the positive publicity and recognition that comes with Bahr's Food Network appearance.
"I think it's a great thing for the community," says Monroe physician Timothy Mickel, who watched the show with friends at Flying Tiger Brewery. "Cory has always been a big supporter of local merchants and local products," Mickel says, noting that it is very fitting to celebrate the homegrown chef's appearance on a national show at Monroe's local brewery.
Gina Greenwood has been watching the show each week with her daughters, Lily and Sophia. "We love the show, and it's exciting for the girls to watch because they know Cory." The Greenwoods have enjoyed dining at Bahr's restaurants and are rooting for him to win the Food Network competition.
Local residents Ginger and Randy Ratcliff attended a "watch party" at Flying Tiger with their daughter, Lindsey Ratcliff, visiting from Austin, Texas. This was Lindsay's first visit to the brewery.  "I didn't realize there was a brewery here," she says. "In Austin, breweries like this are everywhere."   She was pleasantly surprised to see this kind of development in Monroe.  "It's great to have something like this here," Lindsay says. "And the beer is really good, too."  Lindsay's parents have followed Bahr's progress on Food Network Star and have been to previous watch parties. They are glad to see people getting together to support a local celebrity in a fun way.
James Simpson, co-owner of Flying Tiger, agrees. Each week, the Sunday night crowds have grown, averaging at least one hundred people per week. "Being able to partner with Cory to host these parties has been great," says Simpson.  Before the show begins, Flying Tiger patrons get to enjoy the star chef's heralded cooking.  With his newest business, Heritage Catering, Bahr brings to the brewery the best of what he terms "beer drinking food," serving up a sampling of Heritage's barbeque and fresh Louisiana cuisine.
"We do different food," Bahr says of Heritage Catering. "We're not just barbeque.  We have an incredible menu that kind of runs the gamut of things."  Heritage is also able to customize the food experience to fit his customer and the event.  "We tend to craft our menus based on the needs of our guests."  Bahr says that his business has thrived on word-of-mouth referrals and repeat customers. "We get to know our customers and the type of food that they like," he says. Once Heritage Catering has created an experience for someone, they can take that food and that experience and either repeat it or evolve it, which is something Bahr says his customers really like.  "We are available to cater small, medium and large events," he says.  As with all of Bahr's projects, Heritage also focuses attention on sourcing ingredients locally whenever possible.
Bahr loves collaborating with other local businesses, and notes that Heritage Catering will be coming back to Flying Tiger on a regular basis, long after the FNS series is done.  Heritage Catering is also planning pop up events at RoeLa Roasters downtown, Tower Place office complex on North 19th Street, and other Monroe locations throughout the month of August.  These pop ups will feature Heritage's popular "Holy Biscuits" stuffed with boudin, breakfast sausage, duck, ham or other delicious options.
When asked if he will win the competition to become the next Food Network Star, or even make it to the show's final round, Bahr will only say: "Stay tuned."  What he is more than happy to reveal, though, are his future plans here at home.  In addition to growing Heritage Catering, Bahr is currently in the planning phase for two, possibly three, small restaurants to be located in downtown Monroe.  He explains that these new businesses will be small concept restaurants. "If you do something on a small scale, you can do it with excellence and with a personal touch," he says.  "I think the small concept will allow me to be consistent and really craft the restaurant experience the way I want to.  I want people to appreciate the food, but also understand that they are being taken care of."
Bahr's first small concept restaurant, which will be called "Parish Bar and Grill," is slated to open in late Fall of this year, followed by a barbeque restaurant nearby, probably in early 2018.  Parish Bar and Grill will focus on local cuisine made from fresh area ingredients, served in a laid back, unpretentious atmosphere.  Parish's décor will showcase artwork from local artist Jason Byron Nelson.  "I want to give people here something that they can be proud of, and put fun back into food," Bahr says.
For information about Heritage Catering and Cory Bahr's other culinary ventures and upcoming events, visit his website at www.chefcorybahr.com or follow him on Facebook, Twitter and Instagram.