Day in the Life of Miss Louisiana
By Katie Sloan
Aug 28th, 2017
0 Comments
695 Views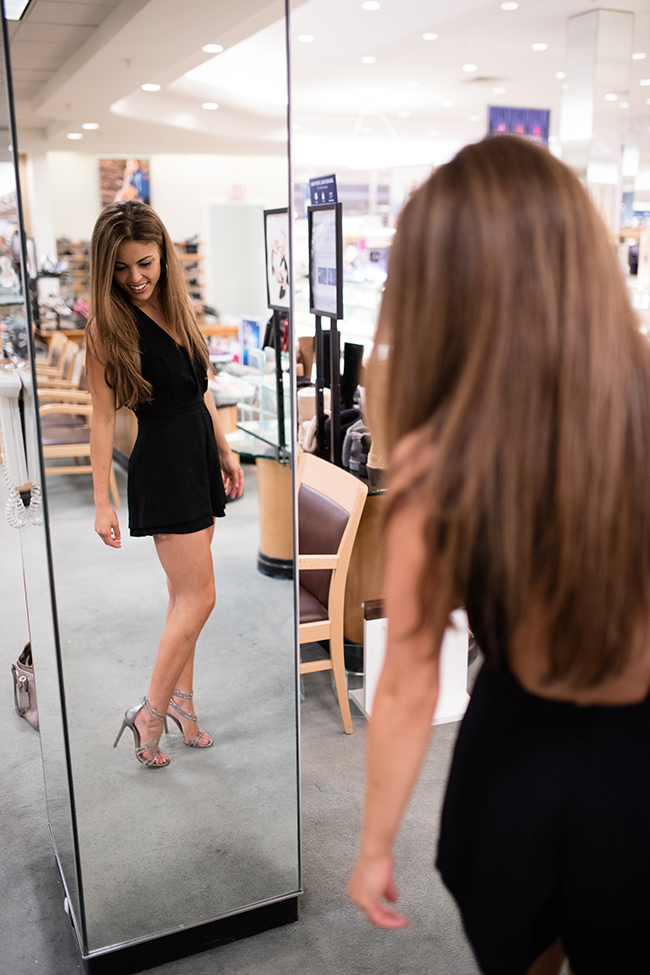 Article by Kay Stothart Rector and Photos by Martin G Meyers and Steven Palowsky
Laryssa Bonacquisti's life has been a whirlwind of activity since she was selected to represent the Bayou State as Miss Louisiana.
On June 24, 2017, Bonacquisti took center stage at the Jack Howard Theater in Monroe as she was crowned by her predecessor, Justine Ker, becoming the fifty-third young woman to hold this coveted title. "I was just so excited and honored," recalls Bonacquisti. "It is really impossible to describe the feelings you have in that moment." The initial excitement had barely waned when her duties as the new Miss Louisiana began in earnest, with meetings, speaking engagements and official appearances at local events.
Months later, Bonacquisti's schedule remains fast-paced and full, with little time for leisure.  She insists that she does not mind the flurry of activity that comes with her new role. "It is such an honor to be chosen," Bonacquisti says, noting that all of the contestants were worthy of the title.  "All of those girls are so beautiful and talented and intelligent. Any one of them could have won. It was so much fun getting to know them and spend that time with them," says Bonacquisti, referring to 31 of her peers who also participated in the Miss Louisiana pageant.
Bonacquisti grew up in Rockwall, Texas, a small town east of Dallas. Following high school, she chose to attend Louisiana State University, making Louisiana her home for the foreseeable future.  She is studying mass communication at LSU, with an emphasis on broadcast journalism, and plans to eventually attend law school. For now, her academic career is on hold as spends the next two semesters representing her adopted home state as the reigning Miss Louisiana.
In the weeks since her coronation, Bonacquisti has been working diligently to prepare for the Miss America pageant.  The beginning of September will be spent in Atlantic City, New Jersey, with contenders from each of the other U.S. states and territories. Leading up to the final night of the Miss America pageant, contestants participate together in Miss America Organization sponsored events, including the famous parade around the Atlantic City Boardwalk.  Preliminary competitions in swimsuit and talent, as well as interviews, will take place over the course of three days.  Bonacquisti expects her days in Atlantic City to be grueling but exciting, culminating in the final production and live competition which airs September 10th on ABC Television Network.
It is a dream she has had for as long as she can remember, Bonacquisti says.  She began participating in pageants at the age of six. Throughout much of her childhood, she competed in age-appropriate  productions focused mainly on talent. "The pageants I did when I was young were all introductory to the Miss America Organization. No big hair and make-up. No 'Toddlers and Tiaras,'" Bonacquisti quips.  She admits that she tunes in occasionally to the reality show of that name just for laughs, but insists that her experience was nothing like what is depicted on the show.
Bonacquisti says her mother, Lynette, was instrumental in introducing her to the Miss America Organization.   Lynette Bonacquisti competed in the Miss America pageant in 1990 as Miss New Jersey.  Although a native of Texas, Lynette Bonacquisti lived in New Jersey while working as an airline stewardess, and won the state pageant there.  During her reign as Miss New Jersey, she met Laryssa's father, Gary Bonacquisti, whom she later married.  "I look up to her as a role model in so many ways," Bonacquisti says of her mother.
Although pageant competition may be "in her blood," Bonaquisti recalls that her mother encouraged, but never pushed, pageant participation. During high school, the younger Bonacquisti took occasional breaks from the pageant circuit, trying sports and other interests for a while, but eventually she went back to doing pageants. "Being away from it made me realize I really enjoy it," she recalls.  Her preliminary pageant experience during high school was through the Miss America's Outstanding Teen program.  Those pageants, affiliated with the Miss America Organization, included talent competitions as well as extensive interviews with judges, which served to prepare her for eventual participation in the Miss Louisiana pageant.
Delighting audiences with her ventriloquist act is a skill Bonacquisti has been honing for many years. She was in elementary school when she first became interested in ventriloquism. A family friend who was a ventriloquist taught Bonacquisti this rather unique performance art. She found she had a natural penchant for it and picked it up quickly.
As a ventriloquist, Bonaquisti is able to speak, and even sing, without moving her lips, so that her voice appears to be coming from the puppets she uses as props. It is an act that takes many hours of practice and considerable skill. Over the years, she has accumulated a number of puppets and developed and refined their individual characters and personalities for her stage performances.  For the recent Miss Louisiana competition, she showcased her talent using two of her colorful puppets, Lucky and Lucy, in a lively act that includes singing and yodeling. She will perform the act, entitled "I Want to Be a Cowboy's Sweetheart," in the upcoming Miss America talent competition.
In the state competition in June, Bonacquisti was a preliminary winner in both the talent and swimsuit categories.  A stellar performance on the night of the pageant's finale secured her the overall win and crowning as the current Miss Louisiana.  It is a role, and a job, that she takes seriously and considers the opportunity of a lifetime.
Since winning the Miss Louisiana title, Bonacquisti has been living in Monroe on the ULM campu. With an apartment and a meal plan donated by the University, she enjoys the perks of being a student there, but without the classroom experience.  Instead, she spends her days working full time as Miss Louisiana. As part of this job, Bonacquisti's schedule is often dominated by official appearances at organizational meetings, fundraisers and events. "Every single day is planned out for me," Bonacquisti says.  "That took some getting used to at first, but I have grown to love it."  In between fulfilling these obligations, she follows a strict regimen of exercise, rehearsals and interview practice.
"As strange as it may sound, preparation for Miss America is actually my favorite part," says Bonacquisti.  The preparation process is rigorous but worth it, she says. Exercising and a healthy diet plan are essential to ensure she looks her best for the upcoming Miss America pageant. A healthy lifestyle is something that Bonacquisti intends to embrace long after her pageant career is done. "Finding that perfect mix of what you eat and how much you exercise is difficult, but once you get there it is wonderful because you finally feel that confidence in yourself," Bonacquisti says. "The whole process is a growth process." As Miss Louisiana, Bonacquisti serves as a health and wellness spokesperson for Vantage Health Plan, educating others about the importance of a healthy diet and regular exercise.
In addition to regular workouts and sessions with a fitness coach, Bonacquisti's preparation schedule includes hours of interview practice with officials and volunteers connected with the Miss Louisiana organization.  Rehearsing her talent presentation is also something she has had to find time for each day so she can excel in Atlantic City.
Practicing her ventriloquism act is strenuous, but it is something Bonacquisti loves doing.  When she is not rehearsing with Lucky and Lucy, perfecting their routine for performance in front of a national television audience at the Miss America pageant, she is often performing for smaller audiences with her other puppets. When speaking to children at schools and hospitals, she brings along "Waddles," one of her oldest puppet characters.  A plush yellow duck with a broad grin and a cute sailor costume, Waddles is a favorite of children as well as adults.
"I have been able to use ventriloquism in so many different ways," Bonacquisti says. Raising money for Children's Miracle Network, the charity which is supported by the Miss America Organization, is one example.  Each year, state title holders and participants in the Miss America pageant contribute hundreds of hours of community service.  Since 2007, the Miss America Organization has raised over $15 million for Children's Miracle Network Hospitals nationwide.
Bonacquisti describes a recent afternoon spent raising funds for CMNH. "I took my duck, Waddles, and we sat at an Ace hardware store with our donation buckets, and just talked to people and helped raise money," she says. She finds that people typically respond positively to her puppets. She says that ventriloquism can open doors and be a great avenue for bringing attention to a cause like CMNH. With over 170 member hospitals throughout the U.S. and Canada, Children's Miracle Network is dedicated to saving and improving the lives of children.
In addition to raising funds and awareness for the Children's Miracle Network, Bonacquisti has developed her own personal platform which she promotes as Miss Louisiana. Entitled "Team Charlotte: Fighting Pancreatic Cancer," her individual fundraising platform honors her maternal grandmother who died of pancreatic cancer. Bonacquisti's mother informed her of her grandmother's diagnosis just two days after she completed the 2016 Miss Louisiana pageant. "My grandmother fought very hard. It was difficult to watch a woman who was always so strong fighting something that we couldn't even see." Her grandmother passed away less than a year later, in March of 2017.
"When my grandmother was first diagnosed, I didn't know anything about pancreatic cancer," says Bonacquisti.  What she learned was disheartening. The more she learned about pancreatic cancer, the more she realized just how little information the general public knows about this terrible disease. "It is fast acting and it is deadly," Bonacquisti explains. "Only eight percent of patients survive more than five years after diagnosis. That prognosis has not changed in the last four years. What is even scarier is that there are little to no symptoms until it is usually too late." For example, her grandmother's only symptom was back pain, making early detection difficult. "My hope is that we find a diagnostic technique soon, so that patients are diagnosed earlier," Bonacquisti says.  Her pageant platform is designed to help make that happen.
Bonacquisti intends to spend a great part of her year as Miss Louisiana raising awareness and funds about this very serious life-threatening illness. Her goal is to talk to as many groups and individuals as she can about the dangers of pancreatic cancer and the importance of early detection. She will also be speaking out on behalf of the worthy cause that is the Children's Miracle Network, helping to raise funds for pediatric hospitals.
Bonacquisti admits that at times her schedule as Miss Louisiana is exhausting. However, she does not think of complaining, for it is a job she has long wanted. "It is hard work, but it is so much fun. I've never been so happy to be so tired," Bonacquisti says. "Sleep can come in a year." Until then, she is enjoying every minute of her reign as Miss Louisiana.