Design in the Delta
By Melanie Moffett
Dec 29th, 2014
0 Comments
953 Views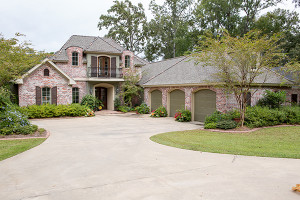 The Home of Terri and Elee Trichell
interior design by Terri K. Trichell
photography by Martin G Meyers | article by Maré Brennan
Fresh starts come in lots of shapes and sizes. A new year brings a million and one ways to bring joy into your home, whether it's changing pillows and paint colors or a total redesign. An interior designer for the last 42 years, Terri Trichel is always on go with a myriad of small to extensive projects for clients.
"Our home was two years old when we bought it," says Terri. "It was perfectly laid out for our needs, and literally every piece of our existing furniture worked perfectly within the spaces. And my husband, Elee, loves the deep colors that were already on the walls." Talk about kismet.
Blooms plumbago and bougainvillea cascade from large planters that accent the entryway and front courtyard. The back gardens overlook a small lake and are a haven for migrating hummingbirds, which return year after year for the couple. Adding to the enjoyment of their property are the thirty-plus trees planted since they moved in and a retaining wall near the patio. The patio is a favored spot for studying Bible lessons and for the couple to spend time together enjoying the solitude of nature. To further bring the outdoors in, Terri had all the windows and doors screened, so that she and Elee could open the windows and doors and let the breezes blow through.
Sconces, made by Hart Lighting, are resplendent with crystals that refract light into dancing prisms. Each sconce is placed above the carved foyer table and on either side of an exquisite Friedman Bros. mirror, which is hand-carved and gold leafed in 14k gold. The imperfections of the hand-craftsmanship are what attracted Terri to the mirror as each piece carries the mark of the artisans who labor to create something so beautiful.
The home's kitchen is a study in efficiency with a wall of cabinetry that camouflages small appliances behind cabinet doors. The Jenn-Air gas stove top gets star treatment nestled underneath a brick arch and a subway tile backsplash. Floors throughout the kitchen and keeping room are a natural slate set on the diagonal. Wall color picks up the  natural burnished reds found throughout the flooring. A pair of counter height stools with caned backs and gingham cushions are nestled up to the extra wide center island which features an extra prep sink. Tole trays the homeowner has collected add colorful accents above the cabinetry.
The chandelier over the kitchen table is by Ruston's Hart Lighting as well. The kitchen table, buffet and chairs upholstered with nailhead trim are from Elee's previous home and blend seamlessly into the space. Terri added light-toned Kravet hand-printed linen panels and an Oriental rug with a cream background to create a lighter feel in the kitchen and keeping room. Century wingback chairs upholstered in a multi-hued fabric are paired with an extra wide chair and an ottoman to create a relaxed seating area around the fireplace. Lumbar pillows in a Schumacher linen print with tassel trim are a detail Terri can't live without.
"I love animals and animal prints. I always have," says Terri of one of her signature looks for home décor. Everywhere one looks, the eye falls on a playful monkey sconce, elegant rooster painting, exotic elephant lamp base or a luxurious zebra or leopard print fabric. Nowhere is that more evident than in the home's formal living room. "If ever there was a fire," laughs Terri, "I would grab this bronze elephant lamp." Prominently sited on an accent table in her formal living room, the Maitland-Smith lamp is solid bronze and has tripled in value since she acquired it. An antique Heriz rug, over 100 years old, anchors the formal living room space and has been part of Terri's own home for over 20 years. "When I decorate, I make purchases that are permanent. I love nice things that can stand the test of time for myself or my clients," explains the designer. Cozied up to the fireplace is a chair covered in a dreamy Cowtan and Tout leopard silk fabric, which is also used on the large sofa pillows to pull the room together.  The living room is also a favorite of Terri's four-pawed gal pal, Coco Chanel Trichel, an adorable cream and tan Pekingese who can often be found "hiding out" under one of the room's skirted club chairs when she's not shadowing Terri.
What sets Terri's interiors apart is her eye for detail. "I love accessories," she explains. "That's what makes a house!" The inspiration for colors within the formal dining room is taken from the Country French landscape painting of vibrant crimson poppies by J. C. Cazin, a noted 19th century French artist. On either side of the painting are wall sconces by Maitland-Smith, one of the designer's favorite home furnishings companies,  topped with Oriental figures. Picking up on the painting's hues, Terri upholstered her dining room chairs in a cream, green and red striped print. "Red and green are my 'go to' accent colors," explains the designer. Creamy silk panels soften the eyebrow arched window that looks out onto the front courtyard.
In the couple's study, an extraordinary painting on silk from India, framed between pieces of glass, takes center stage. Silk painting can be traced back to the 2nd century AD in India when the 'wax resist' technique for embellishing silk was used and reached its pinnacle of popularity during Moghul rule in the 17 – 19th centuries. A swan motif brass La Barge cocktail table with a glass top is placed before a plush sofa in colors that complement the exotic Indian artwork.
The master bedroom is an amalgam of luxurious textures and finishes. Terri had a gorgeous Kravet chenille in a snow leopard pattern lightly tack-quilted for her bed, using her source for custom quilting. "I believe this is the prettiest bed ever made," says Terri of her carved shell bed by Hickory Chair. "My bed is probably one of my favorite pieces in this whole house." Decorative pillows throughout the bedroom are from Sweet Dreams and are resplendent with a myriad of buttons and miles of fringe trim. A series of African animal prints found at W. King Ambler are hung above the couple's bedside tables upon which rest Frederick Cooper bronze lamps, which Terri acquired when she worked for Carl Tidwell. Terri recently updated the lamps by replacing the shades. The bedroom's dresser is home to a Maitland-Smith bronze camel clock, a carved wood elephant which was a present from her good friend, Vicky Husted, and a sliced horn box also by Maitland-Smith. His and hers Avon silk upholstered chairs and ottoman create a cozy seating area beneath a wall of windows which overlook the pond and woods beyond. "My workroom created the drapery," says Terri of the masterfully tailored voluminous panels of silk with an attached valance embellished with silk fringe in elegant shades of taupe and cream.
The chic master bath features a large soaking tub with bronze fixtures and a shower with a bronze and glass door. A wrought iron étagère, a find from Pete Bailey's Mexican import business in West Monroe, holds towels and toiletries at the ready by the tub.
"I have a source for literally everything. When Carl Tidwell closed his shop, I was grandfathered in to be able to carry all the lines of furnishings he carried. Carl was so good to me and helped me get started in my own interior design business." explains Terri.
Upstairs, Trichel is totally in her element. In what used to be an upstairs living room, Terri has created the perfect workroom and office for her creative profession. Shelving is filled top to bottom with the latest fabric and wallpaper samples. True light flourescent lighting was installed to help the designer see colors truer. Exotic trims and beading spill over perfectly prepared client "story boards" ready to be presented and a set of houseplans she's been working on of late. "I had a guy from Rays of Sonshine put up all my racks and shelves for me when we moved in," says Terri, as she turns to touch a sample of linen fabrics by Brunswick hanging from an orderly wall display. "I love linen prints," she smiles with a twinkle in her ice blue eyes. "There is nothing to compare."
Indeed, there is nothing to compare to the interiors Terri Trichel is able to conjure using color, fabric, lighting and furnishings. The new year is here, and there is nothing like the present to generate a new way of thinking about your home, maximizing your enjoyment of both your interior and exterior spaces. Good design begins at home, especially in the case of Terri and Elee Trichel's home.