Destination Weddings
By Melanie Moffett
Jun 3rd, 2016
0 Comments
284 Views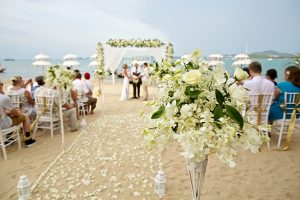 Is a Destination Wedding Right for You?
article by Karen Snowdy
Every wedding is a destination. When you have family and friends dispersed around the country, it only makes sense to choose somewhere in the middle or somewhere different all together. It most cases, it is quite intimate.  However, it can be a much larger event depending on the couple's wants and expectations. Distance should not be intimidating though. With a good planner, planning from afar can be easier than you think…or at least, it should be!
There are many factors that come into play when planning a destination wedding. The bride may have a dream of being married on a beach with a gorgeous sunset in the background, or perhaps the couple sees themselves being married at a destination that is full of history and culture. While a destination wedding can fulfill fantasies and dreams, truth is, it's not for everyone. They are cheaper than weddings at home (most of the time!), because the attendees have to pay for their own accommodations and most (if not all) of the food and drink. Because of the expense involved, that means some of your loved ones may not be able to come. However, if your attendees can afford the expense of travel, it can serve two purposes: attending the wedding and vacationing at the same time!
The most popular destination wedding locations abroad by far statistically have been Mexico (Cancun/Rivera Maya/Playa del Carmen, Puerto Vallarta, Los Cabos), Jamaica (Montego Bay, Ocho Rios), and the Dominican Republic (Punta Cana), largely due to the number of all-inclusive resorts located in these areas. All-inclusive resorts generally include accommodations, food and drink (yes, even alcohol), and the use of non-motorized water sports for a set price per person. A good travel planner can negotiate the lowest price by using their buying power and relationships with resorts. Some other perks of using a travel planner is free room upgrades, resort credits and cocktail receptions. Planners who specialize in destination weddings know the ins and outs of every good resort (and the bad ones too!).
Time it right! Just because it is sunny and warm where you are doesn't exactly mean it will be sunny and warm at the location you have chosen. Do some research! Don't start planning without knowing what kind of weather conditions you may encounter. Take into account hurricane season. For instance, if you plan on going to the Caribbean during hurricane season (June 1 – November 30), you absolutely need trip insurance. That is when travel insurance can make a difference in a ruined destination wedding or honeymoon and a ruined bank account when you return.
Travel planners should be available to you free of charge. If you encounter a planner wanting to charge service fees for planning, keep looking.  Travel planners are paid by resorts and vendors we work with to bring in clients. While your destination wedding planner will not be on site for you like an on-site coordinator would be, they should have a policy of being able to get in touch with you should any problems arise. If a problem should arise, the couple should not be the one stressing about it. Your planner should have relationships with resorts and vendors that will allow any problems to be able to handled in a timely fashion with the problem being resolved to the couple's satisfaction. Your planner should also be able to help you with any of the legalities involved in getting married at a particular destination.  Getting married in one country may not mean anything legally back at home. Some countries have residency requirements and requirements for obtaining marriage licenses.  Your planner will also weed through the fine print for you, so you don't have to! I was reading about a destination wedding couple who incurred thousands of dollars in charges due to not reading the fine print. The couple decided to use a photographer, make-up artist and decorator, who were not on the preferred vendor list. This and any other details you may not think about until it is too late, will be taken care of by your planner. An experienced planner will not leave any stone unturned and will keep the bride and groom focused on how great the experience will be instead of all of the details that must happen before their special day arrives!
Recent trends have led travel planners to believe other areas in the Caribbean like St. Kits, Antigua and St. Lucia will become even more popular, moving couples away from the typical all-inclusive resorts that have been popular in the past.  This is largely due to couples wanting to make their special day a reflection of themselves – unique and memorable. Here in the States, destination weddings by beach or mountainside have been popular in the past. Yes, couples are still getting married on the beach, but couples are thinking even more outside the box and making their ceremony an absolute reflection of the couple's personality. I've seen pictures of the most beautiful and enchanting weddings lately with themes featuring 1920s Gatsby, whimsical settings in botanical gardens, and fairytale weddings. So you see, destination weddings can really show your personal side, making your wedding day beautiful, enchanting and memorable for not only you, but everyone involved.  In 2016, there are no rules. Unlike weddings of the past, couples continue to move away from the church setting…not because of lack of spirituality, but for an expression of oneself. Karen Snowdy is a AM Resorts Certified Travel Planner and Elite Travel Destination Wedding Specialist.  She be happy to answer any of your questions regarding destination weddings and honeymoons. She can be reached at karen@elitetravelgroup.com or by phone 318-381-4965.