Doctor in the House
By Melanie Moffett
Jan 30th, 2015
0 Comments
500 Views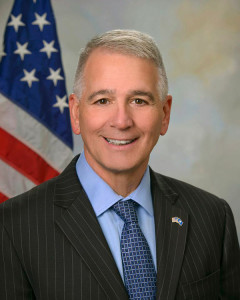 From his farmland in Richland Parish to his newly assigned offices on Capitol Hill, Dr. Ralph Abraham embarks on his new journey in the United States House of Representatives
by Michael DeVault
Where I live right now isn't too far from where we grew up," says Dr. Ralph Abraham. The tone of his voice seems for a moment more suited to a broad porch overlooking an expanse of open farmland. But ensconced in his newly assigned offices on Capitol Hill, Abraham is far from a porch and even farther still from farmland.
By the time the freshman congressman from Louisiana's Fifth District sits down to talk to BayouLife, he has been in Washington only a few days. He and his wife, Dianne, have made the trip up a few days before his swearing in, arriving in the nation's capital not on a chartered plane or even commercial airline, but by car. "We knew there would be times when we needed a car, so we brought the Jeep up," he tells BayouLife. The innocuous detail lends a certain Everyman quality to Abraham, a country doctor from Mangham who was elected to the United States House of Representatives during the Republican Wave last November.
Almost immediately after arriving, Abraham went to work. He and Dianne joined the staff as they cleaned the offices—literally broom in hand—and began to settle in, an indication of just the kind of "hands on" Abraham intends to bring to his new job. Don't make the mistake of thinking as Abraham as "just another guy," though. There's something of an understated overachiever to his personality, and it's a trait that is already beginning to draw a bit of healthy attention to the beleaguered 5th District.
After swearing in, the new GOP Congress set to work. "Immediately after swearing in, we started voting on bills," says Abraham. First up: a controversial move to reelect House Speaker John Boehner. Abraham set the tone for the reelection of the speaker by casting the first vote. He acknowledges the move may not prove popular back home.
"I'm certainly not happy with everything the speaker has done in the past," Abraham says, though he does admit that there are numerous positive attributes of Boehner's leadership. In the end, Abraham says it came down to confidence. And he believed Boehner would be a strong advocate for the people the Congress represents. It's the kind of political finesse that many around Abraham knew the congressman would bring to the table.
It's a trick he's learned over the years, serving at the bedside of patients back home, where he grew up. Speak to him for any length of time, and it becomes clear. Home is never far from Abraham's mind.
A native of northeastern Louisiana, he worked his way through LSU with a string of jobs as diverse as the careers he would pursue later in life. "As a college student at LSU, I worked in the cafeteria, flagged traffic on a road crew and even shoed horses," Abraham says in his official biography. "I spent my summers at home, working on the farm."
After graduation, Abraham attended veterinary school. He also served in the U.S. Coast Guard Auxiliary and in the Mississippi National Guard. "I built miles of fences, drove open-cab tractors, herded cattle and broke wild horses," Abraham says.
He worked as a veterinarian for years, but he began to long for more. So, in 1986, Abraham went back to LSU. When he left three years later, he was still Dr. Abraham, but this time, he could treat people, too. He says there is little difference between treating a person and an animal. Both take a certain bedside manner and level of trust. Fostering that kind of trust has served him well over the years, and he expects it will continue to serve him in the Congress.
He's not above a bit of wide-eyed reverence, either. Near his office, a colleague pointed to a spot on a bench as the place where a young Illinois congressman would sit and study the agenda of the day. That young congressman would go on to become president, and today Abraham Lincoln is remembered as one of the nation's greatest leaders. None of that history is lost on Abraham.
"It really puts into perspective that, my goodness, this is where the greatest of the greats lived some of their lives," he says. "You hope you're walking in their shadows and doing good, moral, honest jobs not only for your constituents, but for yourself."
Abraham is already demonstrating leadership skills that could prove useful to the 5th District. He was appointed to the powerful House Committee on Agriculture, a seat held by several of his predecessors. That committee has tapped him to chair one of its more important subcommittees, the group that oversees Farm Commodities.
He also has a seat on the Veterans Affairs committee, where he was tapped to lead the subcommittee on Disability Assistance and Memorial Affairs. He's also helped Republican leaders pass a few key bills. One of his favorite, so far, is a bill aimed at encouraging businesses to hire veterans. "It was a win-win bill for veterans and businesses," Abraham said. He's confident of Senate passage and a presidential signature. "This is just a great bill."
A veteran in his own right, a pilot, flight instructor, and an avid aviator, Abraham expects that veterans affairs will make up a big part of what he does while in Washington.
Along the way, he wants to continue operating a limited practice, though Congressional rules will dictate how much he can bill patients for his services, and he wants to continue flying for Pilots For Patients. He calls it a "privilege" to take care of people.
"If you look at any humanitarian organization and the people in those organizations, they say it's just something they want to do," he says. "It's really nothing you can put your hand on. It's more of a feeling of a need to help."
On why he ran for Congress in the first place, Abraham points to his own family. "The straight answer is my grandchildren," he says. He sees troubling times ahead for an economy struggling with a $17 trillion government debt, declining wages and increasingly fewer options. "You look around and say, 'It can't get any worse.' But then it gets worse."
Instead of sitting on the sidelines and watching, Abraham says it's about getting hands on with the work. "I wanted to be on the inside, not the outside looking in," he says. And what about those grandchildren, the legacy he hopes to leave behind, and what he hopes to accomplish? He has a very clear vision.
"I want it to be based strictly on character," he says. "I want people to say, 'He was a good, moral man that believed in religious freedom, freedom of speech…" his voice trails off, and he's thinking about Lincoln on the bench.
And along the way, he'll be putting that bedside manner to good use. "My goal is, every week, to sit down with 15 of our newly-elected congressmen and congress women, and certainly those who have been here before, and simply get to know them," he says. Through these small, informal conversations, he hopes to learn their views, to gain perspective and to eventually work together to pass good legislation. That's going to take some time, though, if only because 435 is an awfully big number.
"It's a big body of people, so it'll take a while to get through," Abraham says, undeterred. "But that's the only way we're going to do business, to get to know the people in the house."