Domo Arigato, Y'all!
By Melanie Moffett
Apr 5th, 2016
0 Comments
454 Views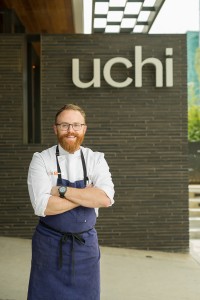 Jeramie Robison Fuses East, West and South as Chef de Cuisine at Dallas' Newest Hotspot, Uchi.
article by Maré Brennan | photos by Martin G Meyers
THE BUZZ IS REAL. Uchi, the stylish purveyor of modern Japanese cuisine which got its illustrious start in Austin by James Beard Award-winning Executive Chef Tyson Cole, has arrived in Big D and is already garnering high praise. Uchi-Dallas, open less than a year, has already made Zagat's Best Seafood Restaurants and Trendiest Restaurant lists for Dallas and is up for a Dallas Tastemaker Award, given by Culture Map. All of this is made even more impressive for us north Louisiana folks when we learned that Uchi's Chef de Cuisine who makes all these awards happen is Jeramie Robison, a native of Ruston, Louisiana.
 BayouLife recently caught up with this brilliant, young star of the Dallas food scene to learn more about his journey from the Piney Hills of Ruston to the hottest new restaurant under the bright lights of downtown Dallas. Before the interview starts, Robison gives a quick set of instructions to his sous chef as they get ready for the evening's crowd. "I tend to take a more Zen approach to training and mentoring my chefs. They inspire me as much as I do them. Dallas is seeing an influx of talent and energy, and I am lucky to have so much of that talent in my kitchen, here at Uchi," explains Robison regarding his approach.
"I was brought up in an Old School French way, in a French brigade kitchen," he says of his first job out of Denver culinary school, quickly working his way up the line under noted bad boy chef John Tesar at Dallas' venerable Mansion on Turtle Creek. What did it take to land a job of that caliber fresh out of school? "I was very enthusiastic when I interviewed, and," he pauses, "I worked my freaking butt off. That and taking chances will pay off, plus you have to stay humble and push through the hard times" that come from a life spent in the fire of the kitchen.
From the Mansion, Robison headed to New York City to work for David Burke at Fishtail in what he describes as a "very intense" phase of his training. Says Robison, "I sold my car and everything in my apartment and moved to New York with two bags. I learned a lot and paid my dues and came out of there with a stronger foundation."
When Tesar opened a restaurant in the Woodlands, Robison headed back to Texas again. After a year, the then-26-year-old chef got an opportunity to revitalize the restaurant at the chi-chi Columbe d'Or boutique hotel in Houston's Arts District. Restaurant Cinq was Robison's time to shine and where he came into his own as an executive chef. "The core menu and seasonal specials I developed were farm focused. I cooked and expo'd every dish along with two kids." remembers Robison. Then word got out about the great things going on at Cinq, and soon they went from 8 tables a night to 60 or 70 a night. Robison received a Rising Star Chef award for his prowess and his first 4 out of 5 star reviews.
"To stay healthy and focused, I was running 4 miles a day to keep my energy levels up, but I was getting tired of the grind. As luck would have it, the president of Austin's Uchi came to stay at one of the villas at Columbe d'Or, and I cooked him a 10 course dinner." Obviously Robison impressed the Uchi exec and was offered a sous chef job at the original Uchi in Austin. Within six months, Robison was promoted to chef de cuisine. "I've learned not to get caught up in labels. I'll take a job if it's going to better myself. As a chef, I never want to find myself complacent," says Robison matter-of-factly. His three years at Uchi in Austin were "like getting a minor in Asian cuisine."
"The Dallas food scene has blown up recently. Texas in general is thriving. My job is to inspire my chefs and that's what makes my job so enjoyable – to train and mentor," says Robison of his passion to bring young chefs up in the business. Robison incorporates Asian component and adds layers of Asian flavors to Uchi's dishes but sticks to the French foundation that has served him so well.
  NOW AND ZEN
Growing up in Ruston was idyllic for Robison, who loves the outdoors and visits at least three or four times a year. "Ruston is a great city. We could hunt and fish in our own backyard in Ruston. We have deer stands at my parents' home that backs up to the woods; I even killed an 8 point with a bow when I lived at home." Maybe that's one of the reasons why "farm to table" and the use of seasonal ingredients resonates so strongly in this young chef and every menu he creates. He got his early start cooking at local Ruston eateries, like Anthony's Seafood and Pasta and the Cajun Café in Ruston. Once he graduated from Ruston High School, Robison headed to Denver to pursue the culinary arts. "Culinary school was so different from what I had experienced to that point. You learn things, like how to cut carrots perfectly and why that matters, and the pace is very fast," he says.
Robison met his wife while in Austin, and they married in the Texas Hill Country. Robison's mornings are spent with the couple's one-year-old daughter, Anise Lucille, a little redhead like her daddy. Robison's love of fitness never left and crossfit training clears his mind for the busy day ahead that will see an average of 400 patrons nightly on the weekends. "God's got a plan cause everything is falling into place. And we are really in a really happy place right now," says the chef with a smile. The Robisons recently bought a 1928 Tudor in the South Dallas neighborhood of Oak Cliff just minutes from Uchi. "I could literally spend 14 hours in the yard working, and there is a greenbelt right by our home, perfect for our dog, Boudreaux." Keeping the work/home balance is key for this young family.
Cooking at the Robison's home is very veggie focused. "My mom made a cookbook with everything I grew up eating in it, and my wife uses it at home," says Robison. "My dad and his brothers are all great cooks, too." What would be Robison's ideal "last meal?" "Salisbury steak with smothered cabbage, jasmine rice, creamer peas from Yak's [Produce in Ruston], cornbread and sweet tea. Good old soul food," he says with a big smile peaking out from his beard.
 UNFORGETTABLE UCHI
Thanks to the designers at Michael Hsu Office of Architecture, the decor at Uchi Dallas is not dissimilar from its counterparts in Austin and now Houston. Noguchi-inspired booths with walls filled with modernist art or covered in vibrant red wallpaper with a bold Japanese blossom inspire the Japanese Zen palette. There is a blend of earthiness from the wide-plank wooden flooring reminiscent of a Japanese tea house and glamour of a sleek, contemporary chandelier that creates a yen/yang vibe that is undeniable. The Dallas location is perfectly sited in the high-end, Uptown neighborhood on tony Maple Avenue, a stone's throw from Stanley Korshak and the Crescent. As if atmosphere were not enough, the chef's offerings are like beautiful pieces of couture – and Dallas is a town known for it's love of the exquisitely handmade.
Robison brings out what he calls his "Asian nachos," a starter plate of yucca chips topped with smoked baby yellowtail, Marcona almonds, garlic chips and golden raisins. Bursting with flavor, this dish barely makes it through the photo session before it's gobbled up with only a trace of yucca crumbs left. Uchi's perfectly broiled filet of cod comes out next. This light and flaky fish is marinated in soy, drizzled with dill oil and rice wine vinegar reduction and caramel fish sauce then garnished with a punctuation of radish and dill.  Robison ups the ante with a deliciously-prepared pork belly embellished with mint, cilantro and Thai basil with watermelon radish and mandarin orange to brighten the palate. Dessert is no less spectacular and as visually appealing as it is delicious. Robison prepared an apple miso sorbet with a golden raisin puree and peanut butter brittle with apple chip rings – a tart and sweet ending to an epicurean experience to remember.
To fellow Louisianians who are headed to Dallas, Robison invites all to "please come see me. I'll show you my Southern hospitality and our modern, simplistic approach to Asian cuisine." Domo arigato, Mr. Robison.
Uchi Dallas is located at 2817 Maple Ave in Dallas. Reservations are available by calling 214-855-5454 or online at opentable.com. Uchi is open from 5pm-11pm on Fri and Sat nights and from 5pm-10pm Sun – Thurs.
With the recent opening upstairs of Top Knot, a more laid-back version of Uchi awaits diners who want to hop in for drinks and a quick bite featuring flavors from Southeast Asia, Latin America and Japan. And unlike Uchi, reservations are not required.