Drawing Inspiration
By Katie Sloan
Jan 8th, 2018
0 Comments
47 Views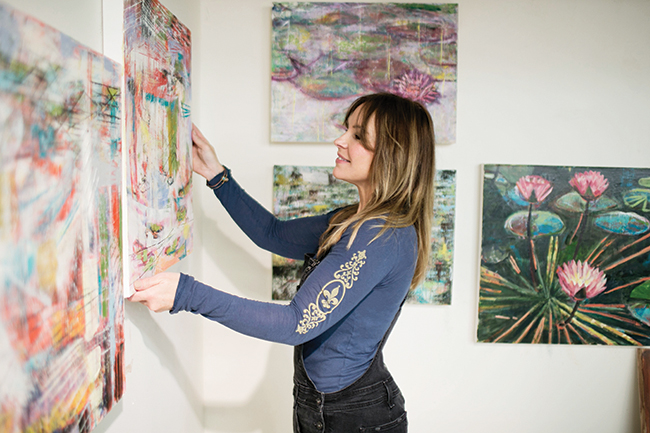 Article by April Clark Honaker, Photography by Kelly Moore Clark
BayouArtist, Leigh Buffington, is grateful to be a part of such a strong community of artists and art enthusiasts and plans to keep using her art to connect with others and continue growing that community.
When Leigh Buffington was earning her Bachelor of Fine Arts from Louisiana Tech University, one of her professors said something that totally changed her perspective. Peter Jones, who spent 31 years at Tech, said, "A painter is someone who has the guts to keep making mistakes over and over and over until they end up with something beautiful." Prior to that moment, Leigh had believed that being an artist depended mostly on natural talent, but Jones' words suggested persistence could play an even greater role. "When he said that, it opened doors for me," she said.
Leigh's professors at Tech—Peter Jones, Nick Bustamante and Glenn Kennedy—changed her life. They not only served as excellent role models; they were also generous. "They cared about you as a person," she said. "They made you feel like an artist and treated you as one. They made you feel like what you were doing was important and valid."
With their supportive words in the back of her mind, Leigh has continued to grow and refine her approach to art. She believes that striving for a mark and missing it is part of being human and that imperfection is what people find most relatable. "I don't think people connect to perfection," she said, "and I think that's why the perfectionist mentality is so damaging."
Since that moment in Jones' classroom, Leigh has tried to work in a way that involves less thinking and more doing. Overthinking, especially when striving for perfection, can be paralyzing. Leigh said she's learned to "let each piece be a failure or success," and she believes this is the best way to keep growing as an artist.
In her process, Leigh deliberately embraces imperfection. Her current paintings use a combination of acrylics and oils. "I start with acrylic and have fun with it," she said. "I make a mess. Then I get the oils out to refine it." During that first "messy" stage, Leigh isn't yet sure what direction the painting will take. As a result, this is the stage that makes her feel most creative and free. "Every time I start a painting," she said, "it's this new romantic thing." Then she applies the elements and principles of art, such as line, color, shape and texture, to gain a bit of control over the chaos. "At that point, it becomes hard," she said. "The romance is gone. I just have to keep with it, until I end up with something beautiful." The result is almost always colorful, dynamic and full layers. Although approaching painting in this way is hard, Leigh enjoys the challenge of it.
She also relies on outside help to meet that challenge. "When I get in there, I've got to call on some kind of cosmic force, because it's bigger than me," she said. "I try to let the painting tell me where it wants to go." Although this approach has been successful, Leigh has found other perspectives to be helpful as well. She is able to get this kind of support and feedback from a group of fellow women artists. "My friends in the art club have helped me carve off some of my layers," she said. "They've helped me so much, especially with editing." The club includes artists  Mary Drew Breiten, Emily Caldwell, Anna Rowan, Amy Ouchley, Selina Atker, Jenny Ellerbe and Kay McDonald. They meet once a week to inspire, create and encourage one another. These weekly meetings help keep Leigh motivated.
Although she now considers herself a full-time artist, her transition into that position has been fairly recent. Being creative as a kid was easy and natural. Leigh could lock herself in a room with crayons and zone out for hours. But as an adult, she has battled some insecurities. Until four years ago, Leigh hadn't really exposed her work to people outside her circle. She had done some interior design projects for friends but hadn't branched out. Then, when her children all started school, Leigh found she had more time to herself and decided to commit wholeheartedly to making art.
Within a year, Leigh had created a huge body of work, but she had also created everything that came to her mind. As a result, she had a lot of different pieces in different styles. She had made cards, jewelry, oil paintings, prints and more. "I was all over the place," she said.
Because she had so much work, Leigh decided it was time to expose that work to the public, and she applied for the North Central Louisiana Arts Council's Holiday Arts Tour in Ruston. The thought of having her work judged and participating in the Tour made her nervous, but she was accepted and said, "It was a great experience." The interaction with other artists and arts enthusiasts was one of the best things about the Tour and allowed her to start forming connections within that community.
During her period of exploration, Leigh also discovered DailyPainters.com and accepted a challenge from a friend to complete 30 paintings in 30 days. Part of the 30-in-30 challenge was to post each piece online, which made Leigh especially nervous. But her friend felt it would be good for her to loosen up, work quickly and commit to posting her work. "I'm not a big poster," she said. "I have to make myself do it, but I don't want to keep my work in a closet. I want people to have it—to be moved by it."
Despite her initial anxiety, Leigh agreed that the 30-in-30 challenge was good for her. "I was putting my little toe in the water to meet people," she said, "but I was amazed at the reactions they gave me. I want my art to motivate. Even if people don't like it, I want it to inspire some kind of reaction, and that's what I was getting." The whole experience inspired Leigh to be less serious in her approach to painting. She admits that sometimes she still tends to be reflective, but being too reflective can hinder progress. Now she tries to be more spontaneous and not question so much.
After participating in the Holiday Arts Tour and the 30-in-30 challenge, Leigh decided it was time to focus her efforts and develop a body of work that was more cohesive. "I realized I couldn't do it all," she said. Since then, she has focused primarily on painting with the goal of building her skills and improving her work. "I just tried to learn about what other people were doing and tried to support them—to let them know their work was moving me," she said. "I learned a lot doing that."
One of the most important things Leigh learned during her first year of focused painting was that other artists are insecure too. "I learned that most artists feel the same way I do," she said, "and that it's normal to feel hesitant and show it." All artists are trying to figure out the same things and develop their own unique identities. Hearing them share their own stories and struggles was reassuring.
At the same time, working through insecurities can be hard, even exhausting at times. There was a point in her development when Leigh got tired of feeling insecure, tired of not knowing what she was doing and tired of not feeling confident. She believed there was a point she would reach when all of those feelings would fall away. On occasion, she encountered artists that seemed to have passed that point. One such artist, Dara Engler, had a surprising response to Leigh's feelings. She said to her, "When you stop doubting, call me and we can talk about how your work isn't as good anymore." After the shock of her response wore off, Leigh started to realize that a certain level of insecurity was essential to being a successful artist. It's a sign that the artist is continually challenging him or herself, which is necessary for growth.
In fact, insecurity may be more beneficial to an artist than confidence, which Leigh has learned is not the best indicator that you're creating good work. She recalls a moment in school when she was feeling especially confident. She was taking a landscape painting class with Glenn Kennedy, and all of the students were painting. "I just knew I was creating a masterpiece," she said, but he walked over and said, "'You see what you're doing there? Don't ever do that again.'" The words may seem harsh, but Leigh said, "I was lucky to have been taught by him. He really taught me that art is about seeing and being sensitive to that." When artists are self- it's important to get out of the way," she said. "It's not about you. It's about the tree or the leaf." According to Leigh, when artists connect with what they're seeing, that connection will come through in the painting and allow others to connect.
As an artist and person, Leigh is continually drawing knowledge and inspiration from those around her. In addition to her professors and other artists, her family has played a huge role in her development as an artist. "We're very close," she said. "I just feel so lucky and fortunate. My dad is an amazing man. To meet him is to fall in love with him. We have so many wonderful talks about life, art and how it moves and nourishes us. He's just a big kid and a great role model, and my mom was as well. They were quite the team." Leigh's children are also inspiring. "They influence everything," she said. "They're a constant refresher—the things they say and their perspective. They remind me that I'm too adult, but it's fun and we laugh a lot. Every time I think I have them figured out, they do something totally different or new." Having her family's childlike freedom and curiosity in her life reminds Leigh to let those feelings influence her art.
Knowing that she can inspire others is also a powerful motivator. For a long time, Leigh wasn't aware that her work could have an impact, but she recalls a particular moment that changed that for her. She was having dinner with friends and one of them had brought a new friend into the group. This woman was interested in Leigh's art. While Leigh was talking about the narrative pieces she'd been working on, she noticed the woman had started to cry. "I had no idea it could have that effect. I was in shock," she said. "But it very much makes it worth it, when you have reactions like that."
In some ways, Leigh still views herself as a novice, but she has grown tremendously over the last few years. "I'm starting to see a glimmer of my style. I don't know if I'm there yet, but I think I'm getting closer to the way I want to paint and what I want to paint—my palette. But I'm still learning," she said. "I think that's what's so fun about it. There's never a day when I don't feel like I'm brand new at this."
This constant newness and the people she's surrounded herself with have made her development as an artist an interesting journey with much to be grateful for. "I think there's a curiousness about artists that is so interesting. We're all teaching each other and sharing what we know. It's just so gratifying to me on every level," she said. "I feel like the luckiest girl on the planet. I get to do what I love and grow in it." She is especially grateful for all the connections she's made and all the support she's been given along the way. "When I was younger, I used to want to leave here, but now I think it's all happening here. People are connecting with each other, and it's an exciting time to be here." Leigh is happy to be part of such a strong community of artists and arts enthusiasts, and she plans to keep using her art to connect with others and continue growing that community.