Dreaming and Building for a Cure
By Melanie Moffett
May 8th, 2017
0 Comments
237 Views
Danielle Gilmore takes the reigns as this year's lead designer for the St. Jude's Dream Home. Together, with Brian Allen of BRACO Construction, and a team of talented designers, they've kept the dream of a cure for pediatric cancer at the forefront of the design behind the home.
ARTICLE BY MARÉ BRENNAN AND PHOTOGRAPHY BY MARTIN G MEYERS
DESIGNERS:
SHAWN BRAZZELL
LISA DIXON
CLINT DOWNING
JO TIFFANY FAULK
DANIELLE GILMORE
SHERRI MOWAD
STUART SCALIA
RONNIE SCOTT
---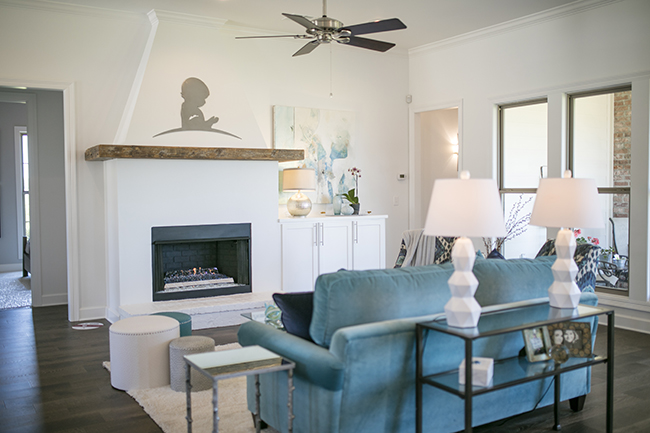 With several days to go before the drawing for a winner of the 2017 St. Jude Dream Home, tickets for the 4 bedroom, 3 bath home in the newly developed Bayou Trace subdivision in north Monroe were sold out. Brian Allen of BRACO Construction has for the seventh time donated his time and talented crew to ensure the winner of this St. Jude Dream Home will turn the key to well-built home to honor the children and families who are the reason for this incredible fundraiser. New to the Dream Home this year is lead designer Danielle Lewing Gilmore of DLG Designs LLC, who brought a zeal for raising funds for St. Jude's, a cause near and dear to her heart. After seeing her sister's child battle spinal and brain cancer, Danielle was more than willing to dive in to donate her expertise to the Dream Home as the fundraiser directly benefits the patients and families of children with all forms of pediatric cancers and helps fund research to find promising therapies and cures. To keep the dream of a cure for pediatric cancer at the forefront of the design behind the home, Danielle wanted the focus of the home to be on six local kids and their families who have made the trek to St. Jude.
Gilmore was asked by Brian Allen to join the project in June 2016 and donated her time coordinating the design of the home and securing fellow designers to help staging rooms throughout the home. She picked the home's plan then worked with Steven Madden of Madden Home Designs to fine tune the layout. Danielle, who moved to Monroe a little over two years ago, (just in time to have her house flood last Spring) was born in Brooklyn, NY and has lived in major Southern cities where she has designed interiors for GLO Interiors and I.O. Metro. Danielle is no stranger to volunteering her designing time for the benefit of others. "I once did 'Extreme Makeover' with Ty when I lived in Jackson, MS," she says.  Designers involved in this 2017 Dream Home include Sherri Mowad, Jo Tiffany Faulk and her brother Ronnie Scott from Sleepy Hollow Furniture, Shawn Brazzell, Lisa Dixon, Stuart Scalia and Clint Downing. Each designer was tasked to create a space for either a specific child or to develop a space that would be a relaxing retreat for any family that might suffer through a child's cancer diagnosis and treatment.
National sponsors for the home included Brizo, Shaw and Trane. Local major sponsors included BRACO Construction, DLG Designs LLC, Sleepy Hollow Furniture, KTVE-TV and KARD-TV, K104 Radio, Lee Edwards Mazda and Tru Blu Concepts, LLC. This year Sleepy Hollow Furniture gave away a custom design makeover, valued at $10,000. Registration was complimentary when you toured the house.
The staging of the Dream Home enlisted furnishings from local shops including Sleepy Hollow Furniture, Coco's, Walsworth, Fabulous Fabrics, Coburn's Lighting, Hemphill's Nursery, Smith Blind and Awning, Woodstock, Traditions, Decorative Concrete Coatings, James Machine Works and incorporated art by Ronnie Scott, Sue Sartor, Margaret Moses, Polly Spence, Joshua Mitchell, Catherine Cookston Leake, Lou Davenport, Andrea May Hinton and Connor Lewing.
Like Christian faith in the Unseen and the All-Powerful, each stud behind painted sheetrock is signed with a Bible verse, sent in from children receiving treatment from St. Jude. The ladies of Frenchman's Bend Bible Study Group were enlisted to hand scribe the verses on the 2 x 4s as a way to bless each part of the Dream Home.
As coordinator for the home's finishes, Danielle was able to choose flooring, backsplashes and fixtures from national sponsors Shaw and Brizo. According to Danielle the majority of the labor and material was either completely donated or provided at cost, which helps with the goal of keeping costs to a minimum to maximize funds raised for St. Jude's. Danielle is quick to thank Michael Durham and his Custom Carpet crew for installing all the tile and flooring through the home. ACME Brick donated all of the brick including the "Old Colonial" accent brick. Seven thousand tickets for the Dream Home were sold this year. "Despite the recent flood, everyone has been willing to donate. This is an incredibly generous community," says Danielle, "Sleepy Hollow has agreed to give 17% of the sale of all furniture in the Dream Home to St. Jude's.
To make an impactful statement above the living room fireplace, Danielle commissioned James Machine Works to create a metal representation of the St. Jude logo. Another dramatic element throughout the home is the use of photographic portraits of the St. Jude's kids by Annie LaCombe. O'Neal Gas gave the glass rock gas insert for the living room fireplace. Danielle was invited to pick out 3 or 4 colors of glass rock to be used.
Jo Tiffany Faulk of Sleepy Hollow Furniture was instrumental in bringing the gorgeous furnishings throughout the home and had just finished installing the kitchen and breakfast nook furniture before delivering her sixth baby! The kitchen features a large farmhouse sink in the corner. Acrylic counter stools read visually light and irrepressibly modern at the kitchen island. "Jo Tiffany wanted to bring in some more creative furnishings for the rooms she worked on to convey how a teal sofa can transition in homes, tying together traditional styles with more modern ones and with pops of strong hues," says her brother Ronnie Scott, who also works with his sister at Sleepy Hollow. "Jo Tiffany wanted the Dream Home to be absolutely perfect and ordered multiple set ups. With a huge open floor plan, basically four rooms in one, all the rooms had to flow together. It's great to see how designers embraced this challenge," says Ronnie, who adds that many pieces of furniture provided by Sleepy Hollow were by Bassett or the HGTV line.  At the breakfast nook, Jo Tiffany pairs industrial lighting with a more rustic wooden table. A long banquette with storage is placed beneath a big picture window which looks out onto the back yard.
Adjacent to the home's front door, the incomparable Sherri Mowad designed the dining room featuring a dining room set from Sleepy Hollow.
Jo Tiffany's brother, Ronnie worked tirelessly on the Big Boys' room and the master suite and created a one-of-a-kind piece of mixed media art that he calls "Held Together." "My artwork is held together a lot like this house, and with sick kids it takes a community and so much just to hold it together," he says. Ronnie cut and planed the wood from repurposed palettes and used salvaged nails to create the St. Jude's logo design. "In Dylan and Luke's room, we tried to bring in a lot of their personal touches like Dylan's trophy baseball and Luke's favorite LEGO truck. The boys' favorite Bible verse is emblazoned on a decorative pillow on the room's bed," says Ronnie. The piece of art above the boys' bed was painted by Connor Lewing, who is Danielle's son. The live edge, solid red leaf maple bed from Sleepy Hollow is truly one-of-a-kind, says Ronnie who picked the custom finishes and suede buffed leather upholstery. The French linen duvet and custom Bassett pillows are from Sleepy Hollow as well.
Artist Lou Davenport's graphite horses lend an air of rustic masculinity throughout the space designed by Clinton Downing for little St. Jude's patients Sam and Cason. Clint chose a loft bed in a smaller scale from Sleepy Hollow so that there would be ample room for play in the little boys' bedroom.
Danielle designed the master bedroom to be a respite from the struggles of being a parent to a child with cancer. An abstract paining by Polly Spence sets an ethereal tone in the hallway leading to the master suite. "I prayed about this room, imagining my sister and her husband and what they were going through and what might be peaceful to them.This was my therapy," explains Danielle.  The tall glamorous bed is outfitted in bedding from Fabulous Fabric and Coco's. Smith Blind and Awning designed the shades over the tub which are operated by remote control. Wood from the front room was carried over into the bedroom through the use of the breakfront credenza which features antiqued mirror doors. A large canvas by Margaret Moses, which is reminiscent of a Helen Frankenthaler painting, hangs above the credenza. Lamps and mirrors at bedside are sourced from Sleepy Hollow. Danielle used agate accessories in the living room, kitchen and master bed and bathrooms to establish a sense of continuity. Danielle chose Chateau Lantern tile by Shaw for the master bathroom, installing tile around the soaking tub by Jetta and creating a decorative band wishing the oversized walk in shower. Joy at LCR helped Danielle select sinks and tub faucets by Brizo used throughout the home which were installed by Wiggins Plumbing. Brizo sconces and crystal embellished faucet handles are accessories that Danielle knew she had to use when she first saw them. Sue Sartor's "Atmospheric" canvas is a focal point in the master bathroom, adding subtle and soft color. Entry to the master closet is through double doors. Ample and clever storage is illuminated by a chrome and crystal prism chandelier from Coburn's.
Shaw carpet throughout the bedrooms was installed with a very soft to the foot padding by Michael Durham at Custom Carpet. For the bathrooms, Danielle designed very meticulous tile installations. "I would see a photo, and I would sit with the tile installer and help them lay it out on the floor," she laughs.
Designer Shawn Brazzell was tasked with creating a bedroom and bathroom inspired by Caroline and Hannah. In addition, she designed a small computer nook in the hallway that leads to Hannah Grace Jones and Caroline Grigson's bedroom. Shawn is a graduate of Louisiana Tech's architecture and interior design program and specializes in remodeling and renovations. "We are all perfectionists," she says of her designing friends who worked on the Dream Home. "We did this on donated time, because we really believe in St. Jude." Her inspiration for the girls' bedroom was "to just keep it light and peaceful, focusing on muted colors." A large canvas by Catherine Cookson Leake of St. Francisville, LA was the impetus for Shawn's color scheme in the room. "I basically built this room around the painting," she adds, "The main thing I wanted to convey was the same feeling of peacefulness that St. Jude conveys. It needed to be a happy space. I didn't want the bedroom and bath to feel babyish, because both of these girls are teens." Fun but not fussy, the soft, comfortable linen ruffled bedding is from Coco's, along with a warm cable knit throw. The pouf is from Fabulous Fabric. The computer nook is hidden with a sliding barn door. A reclaimed wood art piece by Joshua Mitchell hangs in the computer nook. Shawn achieved a very organic feel for this cozy space. Bubbles from the seagrass light fixture create a great effect on the walls of the nook which are painted "Passive" by Sherwin Williams. Built-ins are painted Sherwin Williams' "Dorian Gray." Mirrors are from Walsworth & Co. The girls' bathroom features Brizo faucets and an LCR since with a decorative grate in the bottom. White subway tiles and Carrara marble keep the look classic and timeless. Danielle inset Carrara tiles for an embellishment in the shower. The shower curtain is from Fabulous Fabric. Accents in the bath are from Woodstock and Coco's.
Across from the computer nook, the home's laundry room was designed by Danielle using Shaw's dimensional porcelain accent tile as the backsplash and a white Brizo faucet. Danielle says that the majority of her time working on the St. Jude house was spent on the bathrooms' tile selections.
The outdoor living area was staged to perfection by local designer Lisa Dixon, who is no stranger to giving of her time and talents to benefit the St. Jude Dream Home. Lisa's love of  natural elements and the incredible living space created by BRACO made decorating a delight. "I love wood and rocks and the outdoors, so doing the outdoor living space was a delight," says Lisa. Always a creative, the designer created a vertical garden, using tin pails and metal lattice, where she's planted geraniums. "You can water, and it doesn't drip or mess anything up," says Lisa. Those familiar with Lisa Dixon's work know that her signature is the use of a statement piece of wood. Laughs Lisa, "Tish [Miller] and I have chopped down plenty of trees in our day!" Above the Dream Home's outdoor fireplace cypress beam mantle, Lisa uses pieces of wood salvaged from the Monroe Garden District in the aftermath of the tornado. An iron cross by John Rutledge provides a focal point above the fireplace as well. She has assembled pots of beautiful organic herbs – ready for cooking – beside the stainless grill. Explains Lisa, "I'm an 'Everyman's Designer.' I enjoy using what people have and try to bring in a few fresh pieces. A remote controlled screen from Smith Blind and Awning adds a soft mesh layer between the backyard and the outdoor living area. The patio was stamped and stained to look like large bluestone pavers by Chad Sanders of Decorative Concrete Coatings. Comfortable outdoor furniture is sourced from Sleepy Hollow Furniture. Brian Beck from Lincoln Outdoor Living in Ruston donated the stainless grill and helped provide brick and mortar for the outdoor kitchen. Trey's Landscaping installed the home's landscaping, and Flora and Fauna provided flowers for the Grand Opening of the home to the public.
To celebrate the opening of the Dream Home, all six children were at the ribbon cutting. Says Danielle, "The 'Dream' in the Dream Home is to cure cancer. I don't want any family to have to go through this with their children."