Eat Fresh. Eat Local
By Melanie Moffett
May 8th, 2017
0 Comments
307 Views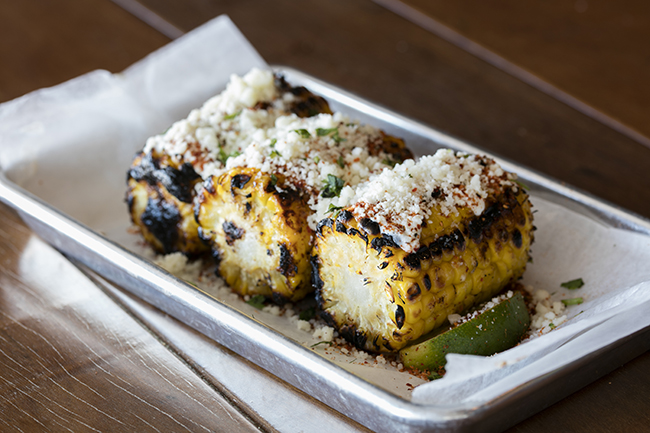 BRAIZ'N DELIVERS CULINARY EXCELLENCE AND UNBEATABLE SERVICE. OWNERS JEN AND VINNY MARTINEZ SOUGHT TO OPEN AN EATERY THAT COMBINED HIGH QUALITY INGREDIENTS IN A FRESH, SIMPLE PREPARATIONS.
ARTICLE BY NILS BORQUIST | PHOTOGRAPHY BY MARTIN G MEYERS
Several components must be combined for a business owner to have even a chance at long-term success. In the restaurant world, a high traffic location, considerate staff, delicious food and thoughtful ambience are certainly important elements for longevity and praise. One visit to BRAIZ'N delivers all four qualities to a patron, but there are other parts that heighten the experience that may not be immediately recognized. However, after meeting and conversing with owner Vinny Martinez a single time, one quickly realizes what else is there, what resonates throughout the newly opened yet thriving restaurant: a passion for the art of culinary service and the appreciation and implementation of the details necessary to achieve an enjoyable dining experience.
Vinny and Jen Martinez, co-owners of BRAIZ'N, initially sought to open a restaurant to fill what they felt was missing for many eateries—fresh, simply prepared food using high quality ingredients, a lighthearted atmosphere and a truly family-welcoming appeal. Or, in Vinny's own words, "We wanted a cool place to bring our kids." As simple a notion as that sounds, locating a restaurant where nearly every morsel eaten is created wholly in-house, David Bowie or Wilco are likely emanating from the rafters, and kids are sincerely encouraged to join their parents for dinner is difficult to find. Such places are nearly non-existent. But, for Monroe, this is no more. BRAIZ'N delivers succulent, unique flavors in a setting exceedingly easy to pass the hours talking with friends, family or the proprietor himself.
Originally from Dallas, Vinny Martinez is a highly-decorated veteran of the culinary world. Beginning as a day bartender in his native Texas 23 years ago, Martinez rapidly rose to management, assisting many restaurant owners to great success. During his prosperous career, one in which he managed and opened a series of some of most prominent restaurants in the Dallas metro region, Martinez met his wife Jennifer, who is from Monroe. After they married, the couple lived in Dallas, but they often made the trip to Monroe to visit Jen's family. While in Monroe on those trips, Vinny began to take note of what he could potentially bring into the area. By 2016, determined to live in closer proximity to Jen's parents while also wishing to open his own restaurant, the family, now with two children accompanying the parents, made the move to Louisiana.
Initially, Vinny worked at the River and Rail, greatly aiding in its prompt success. Nonetheless, he still knew that his ultimate goal was to open his own place, so after a year, he left to pursue that ambition. After searching for an ideal setting and looking at several possible locations, one spot kept emerging in Vinny's mind as ideal. Going with his gut, Martinez leased the corner lot in Murray Place, specifically 1611 North 18th Street, and set out to create what he felt and continues to feel is a near perfect establishment.
The first sight one notices when approaching BRAIZ'N is the expansive open seating that allows natural light and tranquil breezes to flow freely. The seating conveys a vibe of being in one's own home, a comfortable and charming accessibility to everyone inside. Once in the main room, laughter abounds from wall to wall, and one notices the enjoyment on every customer's face. This joy certainly comes from togetherness, from spending time with great company, but even more likely, customers are enamored with the food, with the enchanting smells that engulf the senses, making anyone within a close proximity desirous of tasting the entirety of items on the menu.
Although BRAIZ'N's overall environment definitely summons people to visit, the food will absolutely result in numerous outings. Martinez carefully constructed the menu with the notion that people want delectable, freshly prepared choices made in-house, so he considered the comfort food of his youth: half-pound juicy burgers, tacos bursting with brightly colored veggies, and "gather around the table" bowls of queso, guacamole and salsa. The starter portion of the menu offers patrons multiple options, from salsa trio, made with pineapple habañero and roasted verde, crunchy empañadas overflowing with pork and chipotle cream, or elotes, roasted corn immersed in cheese, lime, and cilantro. Customers could go into taste overload and get them all for a flavorful fix; however, doing so might cost them the opportunity to savor one of BRAIZ'N's salad, taco or burger options.
BRAIZ'N offers two salads, the Yucatan or the Caesar, both with the option of adding shrimp or chicken. The Caesar comes with grilled romaine lightly tossed with Caesar dressing and parmesan. The Yucatan, on the other hand, blends organic greens with sweet plantains, jicama, pumpkin seeds, black beans, and a tequila-lime dressing. Healthful eating so rarely entails such a delightful mix of essences.
Selecting from the taco options may be the difficult test for a hungry customer. Each choice delivers three tacos with traditional rice and slow-cooked beans. With eight different possibilities, no one can go wrong by choosing the camarones, Gulf shrimp and sweet mangoes, creamy avocados and spicy pineapple-habañero; the lechon, pork melded with sweet peppers, chili mole and pickled onions (which, incidentally are pickled by BRAIZ'N cooks); or the el borracho, an astonishing fusion of short ribs braised in local beer with avocadoes, pickled onions, toasted corn, grated cheese and homemade salso verde.
The burgers from BRAIZ'N may possibly be quickly gaining supreme notoriety in the local community. With enormous patties created by blended ground chuck, roasted brisket and short ribs dripping with sweet satisfaction, Martinez and staff have introduced flavors long-missing from Monroe. In particular, one may select the Lone Star with smoky bacon, tingling jalapeños, American cheese, avocados and tangy barbecue sauce to get a spicy and sweet injection. Or, if needing piles of grilled onions, glazed and caramelized to perfection, along with roasted jalapeños and distinctive taste of beer soaked ribs, the Drunk'n burger can be had, and it will be a wise choice. Finally, there is the Delta Blues. This burger packs several unrelated yet highly desired flavors into one amazing burger. Velvety blue cheese mixes with crispy fried onions, roasted garlic mayo and a dizzying bacon jam to form one of the most delightful concoctions one could ever eat. It's difficult to choose one, indeed, but every choice is the right choice.
Vinny Martinez and his staff recognize that the menu at BRAIZ'N is essentially simple. Starters, tacos and burgers. Simple. Fortunately for foodies in Monroe, though, they have also realized that such simplicity allows for endless creativity. This crew has unquestionably taken staples of the restaurant world and through discipline, attention to excelling in the seemingly smallest details, and the desire to provide quick yet accurate service with unending smiles have crafted a dining experience that leaves all others lacking. Without a doubt, the owners and staff of BRAIZ'N have delivered now, and will likely continue to do so for years to come, a cool place for everyone to come and enjoy.