Edible Zen
By Katie Sloan
Jul 31st, 2017
0 Comments
101 Views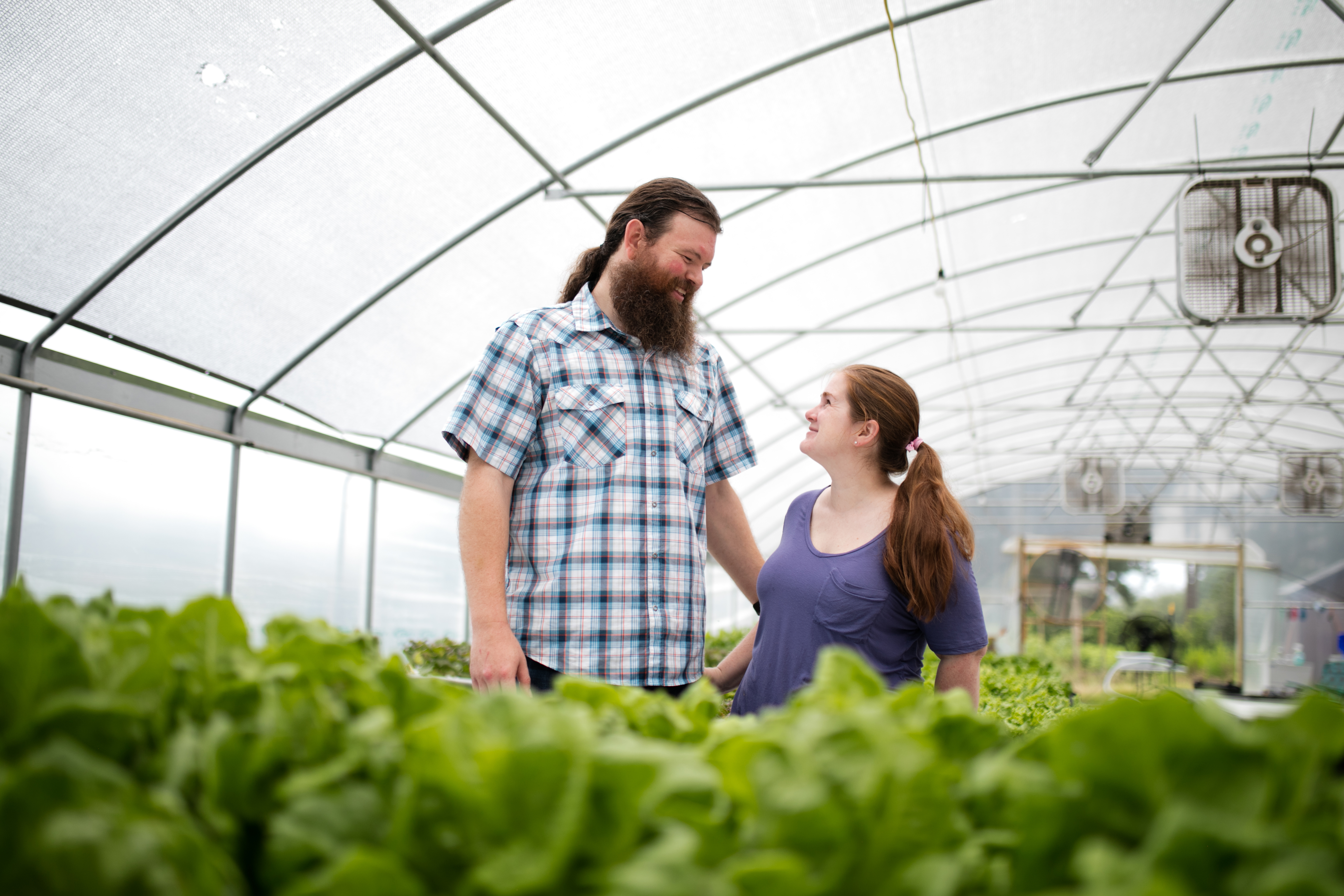 Edible Zen Farms, located in Farmerville, Louisiana, is the brainchild of Adam Lewis and Wren Rogillio. The two met through mutual friends and realized that they shared the same dream: To grow clean produce for themselves and others.
The produce grown at Edible Zen is primarily hydroponic, nutrient dense and never sprayed with chemicals or potentially harmful biological material.The couple are so committed to their ideals that they would rather spend three days handpicking hornworms off their tomato plants than spray them.
When Wren and Adam decided to start growing their own produce, they had very little prior knowledge of farming, and their five acres of land lacked the necessary infrastructure. It had no running water and no electricity, so they were literally starting from scratch.
Before breaking ground, they heavily researched various farming methods and took a special interest in aquaponics and hydroponics. They scoured the Internet and read books to learn more about these systems. "You can always take an idea and find someone who is an expert," Adam said. "Then you can get into their notes and documents and really see the mechanics."
In addition to learning as much as they could through literature and videos, Wren and Adam visited several successful farms that were growing produce using systems similar to the ones they were interested in.
While planning, Wren and Adam also lived small, saved money and made sure they were debt free. They wanted to be fully prepared to make the investment of time and resources necessary to make their dream come true.
In the fall of 2013, Wren and Adam bought their first greenhouse and filed the LLC paperwork for Edible Zen. The greenhouse had been used by a florist and was totally disassembled, so Adam had to figure out how to reconstruct it himself. In the beginning, he and Wren tried to recycle and repurpose as many things as they reasonably could and did most of the work themselves. Wren said, "It's hard to know what you need in advance." Despite their resourcefulness, it took about a year to get the greenhouse and all the necessary tools and equipment in order.
Then, three days before Wren and Adam had planned to plant their first seeds, a storm demolished their greenhouse. Wren was in the store with her mom when Adam called her to share the news. He was so calm that she didn't believe him at first and had to see the damage for herself. She soon learned he'd been telling the truth. "It was like a giant had just stepped down on it," she said. "It was heartbreaking."
They were able to salvage some of the equipment but lost more than they could save. Given the amount of time and sweat, as well as money, that they'd invested, the loss was traumatic. "I didn't work for a month," Adam said. It required some time to process. According to Wren, "It was like a death," but even though Adam was discouraged, she knew the storm was just a setback. "Wren is the most supportive person," Adam said, "She won't let me give up on a dream I want to pursue."
Wren called Adam the "ultimate idea man," and said, "It's fun to dream, even if it's beyond what you're capable of. If you don't have something to reach for, what are you doing?" Wren and Adam have big dreams for Edible Zen, but at the same time, they're not just dreamers. They're doers. "It's hard to make a dream reality," Wren said, "but if you put down the steps, and they're all real steps, you can make it happen. You just have to put one foot in front of the other."
Despite Mother Nature's setback, neither Wren nor Adam was ready to let her win. To recover from their loss, they looked into getting a traditional loan but soon realized it might be better to borrow from family members who had the resources to help. Their families had been watching them closely, encouraging them, and even getting their hands dirty on occasion, so a small family loan was agreed upon, and paperwork was drawn up to make it official.
Then, for a second time, Wren and Adam began taking steps toward growing clean, nutrient-dense produce. This time, they had a professional, 2,400-square-foot greenhouse installed by JCM Greenhouse Mfg. With the groundwork already laid and experienced workers on hand, it took only two days to complete the setup. "The moral of the story," Adam said, "is don't nickel and dime. Bite the bullet and do it right the first time—with the right tools."
The new greenhouse is so sturdy that Wren said they can hang from the trusses. But she and Adam have learned that having the right greenhouse and the right equipment doesn't guarantee success. Initially, they had planned to grow produce aquaponically. In an aquaponic system, aquaculture (which involves raising aquatic animals such as fish in tanks) is combined with hydroponics (which involves growing plants in nutrient-infused water without soil). Adam said, "The idea was presented to me in this way: you feed the fish, and their waste 'magically' has all the nutrients needed to grow good produce."
In reality, aquaponics is more complicated and depends heavily on water quality. After four failed crops and some dead fish, he and Wren determined that the water quality in our area was not ideal and that it was going to require far too much effort to make an aquaponic system work. At this point, they regrouped, eliminated fish from the equation and decided to try hydroponics.
In April, more than three years after breaking ground on their dream, Adam and Wren harvested their first heads of hydroponically grown lettuce. The day they made their first delivery was special to both of them. "When we got to the farm, the sun was just rising, and the feeling that we were making our first sale was so good," Wren said.
Since that day, they haven't taken a single day off, and a lot of work has gone into making Edible Zen successful. "You never feel like you've done enough, and you never feel like you've accomplished enough," Adam said. "Sometimes there are not enough ends to the candle." Despite the work, the joy hasn't diminished. "I still feel the same way every time I go out in the morning to harvest," Adam said.
For him, hard work comes naturally. "I've always had an entrepreneurial tug at my heart," he said. "When you're not at work, your mind is still there, but I wouldn't trade it." Although there is a seamlessness that runs through their work, family and home life, Adam said, "You can have quality time anywhere." And Wren said it helps that "the farm is the most peaceful place on earth."
When Adam and Wren decided to start Edible Zen Farms in 2013, they weren't sure whether their dream would become more than a hobby, but now Adam said, "It's 100% a living. We've been able to reach a market that really appreciates what we do." Their lettuce is currently available at Fiesta Nutrition Center in Monroe and For His Temple Family Foods in West Monroe. Because their produce is grown locally, delivery is made the same day it's harvested. Wren and Adam also frequent the Farmers Market on Tower in Monroe, where they sell lettuce and other produce, including peppers, tomatoes, basil and more.
Although lettuce is their specialty, and they grow several varieties, Wren and Adam also like to experiment and are continually trying new things. They've successfully grown strawberries, herbs, wheat grass, lemon cucumbers and more. Despite the challenges they've faced along the way, they've persevered and have seen success. In fact, they are considering adding a second greenhouse to the farm. Looking back, Adam said, "All it took was a few people to believe in it."
Wren said, "After we sold the first head, it didn't take long for the lettuce to speak for itself." She and Adam both believe their lettuce tastes better than typical supermarket lettuce, and Dana Milford, owner of For His Temple Family Foods, said her customers can't get enough of it. She loves working with Adam and Wren because they share the same ideals. They want to make clean food affordable, while still making a living. "They're very customer focused," she said, "and really care about what they're doing."
When Adam and Wren came up with the name Edible Zen Farms, they were thinking of the focus involved in Zen and wanted to bring that focus to food and to their customers. "Every decision I make at the farm is meaningful to me," Adam said. He and Wren like to know where their food comes from, and they enjoy seeing others take an interest as well. Although the movement to know where your food comes from hasn't fully hit our area yet, Wren said, "It's growing. People are starting to question what's healthy and what's not."
She and Adam have noticed a surge of people wanting to know their farmer, and they hope that trend continues. "If you know the farmer's practice," Wren said, "you can make an educated decision about whether you want to eat their food."