Esquire on the Bayou
By Melanie Moffett
May 8th, 2017
0 Comments
539 Views
LOCAL ATTORNEY ROBERT KNIGHT'S HOME IN EGRET LANDING IS A RUSTIC RETREAT NESTLED ON THE BAYOU
ARTICLE BY MARÉ BRENNAN
PHOTOGRAPHY BY MARTIN G MEYERS
INTERIOR DESIGN BY SHERRI MOWAD
STYLING BY TAYLOR BENNETT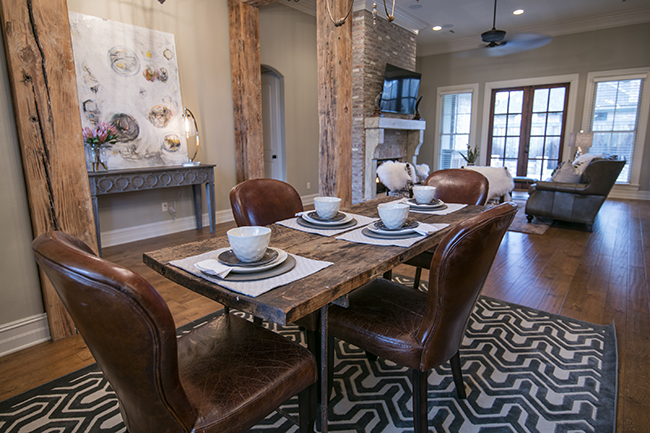 When looking for a place to call home, local attorney Robert Knight had searched for the right combination of a get away that was close enough to his essential pieces of the world. Work in Monroe and church in Sterlington were his starting points, and he had contemplated building versus buying while working with realtor Dustin James. A fortuitous foray into Egret Landing near CenturyLink to check out the subdivisions's first completed house sealed the deal. "When I first saw the home, the area and its location immediately drew me in," says Knight. "You feel like you are out in the middle of the country in a sanctuary. I lived in Egret Landing for eight or nine months before anyone else moved in. Deer, ducks and geese were my first neighbors."
The Acadian French-style home, designed and built by Nicky Kellick, captivated the attorney with its interesting features such as large reclaimed beams and columns sourced from south Louisiana and a kitchen that reminded the homeowner of large family gatherings spent cooking and sharing fellowship with loved ones.
Known for his impeccable style, the homeowner looked to designers Sherri Mowad and Taylor Bennett to help create and style interiors that reflect his personality. "I have a different style. I like stone and metal with a touch of masculine Old Hollywood glamour," says Knight. Bennett adds that Knight's style is sophisticated and modern. With incredible flair, the designers were able to blend those concepts with a more traditional style home.
The open floor plan home opens into a welcoming foyer framed by large cypress beams. A large abstract canvas painted by Lissy Compton rests atop a painted console. To the right of the front door, the dining area is defined by a geometric rug in shades of grey and cream. An industrial chic vibe is created by the wooden topped dining table with rustic iron pipe as a base. Armless dining chairs upholstered in a whiskey-hued leather contribute to the men's lounge feel of the space. A curvy iron and carved wood chandelier illuminates the space.
In the living room, a distressed grey leather sofa with masculine nailhead trim, sourced from Walsworth & Company, anchors a comfortable conversational area. Two arm chairs upholstered in a graphic print with small Mongolian lamb throws and gold metal stools upholstered in a smoky gray tufted leather, found at Paul Michael, provide additional seating. A brick fireplace wall provides a focal point for the room and features a substantial, distressed white-washed mantle.
A large pass thru opening bordered with reclaimed beams reveals the home's kitchen and keeping room. Floors are a Versailles patterned stone. The vaulted ceiling in the kitchen is covered in a rich stained wood. A large central island features an undermount prep sink and ample storage. A stacked stone backsplash adds warmth and depth to the airy kitchen.
The breakfast area is delineated by a large cowhide. A round iron tulip table and dark brown leather chairs were sourced from Paul Michael Company. A marble bowl is filled with fresh artichokes.
A brick fireplace wall at the far end of the keeping room features a cypress mantle and large screen television. Beneath two mixed media paintings by Lissy Compton, Bennett stationed a long iron and wood console to act as a bar. Knight's passion for fine whiskeys and cigars is reflected in his offerings. Knight, a cigar enthusiast and regular at Governors, has his own personal humidor, a Parisian find, stocked with his favorites.
The walls of the master bedroom are painted the color of a fine wool suit. The tall upholstered bed with nailhead trim, side tables and bench were found at Sleepy Hollow Furniture. Says Bennett, "I love using two different tables on each side of the bed. I always try to use things that speak of the individual on the nightstand. I try not to style them out too much, just make them usable with pretty objects." The vintage Trumeau mirror was a Paul Michael find. The en suite master bathroom features an oval jetted tub with a granite surround and a glass walled shower tiled in travertine in a Versailles pattern. Double vanities are topped in granite. Substantial mirrors and oil rubbed bronze sconces add to the luxe feel.
Said Bennett of his time working with Knight on the project, "My favorite part is getting to know my client. I love getting to know what his needs were, what his dreams for the space were and how I could make them a reality. It's more than creating a pretty space. It's creating a place that he wants to come home to after a hectic day at the office."