Faith, Family and Fashion
By Melanie Moffett
Aug 28th, 2015
0 Comments
993 Views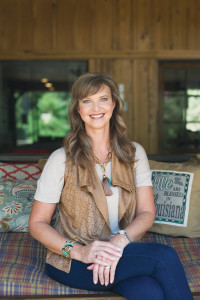 MISSY ROBERTSON TAKES US ON A PERSONAL JOURNEY OF HOW HER FAITH LED HER TO FASHION. FROM HER CLOTHING LINE WITH SOUTHERN FASHION HOUSE TO HER NEW JEWELRY LINE, LAMININ JEWELRY, MISSY IS LIVING THE FASHIONABLE LIFE.
article by LaRone Richardson | photography by Martin G Meyers
An inner joy and vitality emanate from Missy Robertson, of A&E TV's Duck Dynasty fame. Dressed in jeans and a stylish blouse and vest from the Missy Robertson Collection, she's even prettier in person – vibrant, energetic, glowing. Apologizing that her home gets a little crazy, with friends and family running in and out, she suggests that we interview in the guest house and move to the main house later.
Like her family's home and Missy herself, the poolside retreat is warm and inviting, comfortable and beautifully pulled together; traditional, yet stylishly chic, with a definite southern flair. We settle in, and talk turns to her childhood.
As a little girl growing up in West Monroe, Melissa "Missy" Louise West never dreamed her life, with all its twists and turns, would turn out the way it has. "I knew I wanted to be a wife and mom," she says, "but I never had big dreams in terms of what's happening now."
As the daughter of a minister and a music teacher, there was never a lot of extra money, so for Missy, the world of fashion went largely unexplored. In fact, it's been only in the last couple of years that she has gained confidence in her fashion acumen.
Growing up, Missy didn't haunt the malls, was never immersed in the uniquely feminine pastimes of shopping, building a wardrobe and accessorizing or putting together an "outfit." It never really bothered her, though, and conspiratorially, she leans in and reveals, "I only found out when I was about 30 that my Mom had volunteered her teaching position at OCS, never receiving a paycheck. And I thought, 'Wait a minute! We were poor on purpose?!!'"
In their early years of marriage, like a lot of young couples, Jase and Missy struggled financially. "Jason made the grand total of $800 a month working as a full-time intern at church," says Missy, "so I quit school and went to work full-time, too." She gets tickled at the fans who accuse the Duck Dynasty women of being gold-diggers, saying, "The only gold Jason ever had was an old gold-colored Chevy pickup truck!" She loved that old truck, though. "It had a bench seat, so it was easy to slide over and snuggle!"
Missy's initial introduction into the world of fashion was only a few years ago, when Duck Dynasty was just beginning its ascent as a cable TV ratings phenomenon. The Duck Dynasty women were asked to participate in a local fashion show. "I was assigned to K-Sera, which is Kelly Block's boutique," relates Missy. "We had never met, but she was so knowledgeable, patient and helpful. Kelly has a true servant's heart, and we've become the best of friends."
Married to Duck Commander Jase Robertson for 25 years, Missy is mother to Reed, age 20; Cole, age 17; and Mia, who turns 12 this month. In addition to a sometimes grueling filming schedule for Duck Dynasty, Missy gives numerous speaking engagements across the country. Music is one of her deepest passions, and even with an unbelievably hectic schedule, she continues to sing in her church's praise group, volunteers as a music teacher at Ouachita Christian and even composes music. Each summer, Missy volunteers as crafts director at Camp Ch-Yo-Ca, and she and her family are actively involved in mission work, particularly in the Dominican Republic.
It doesn't stop there, though. Missy has co-authored two best-sellers, and she and Jase have also founded MiaMoo, a charitable foundation dedicated to providing support, encouragement and assistance to the families of others who, like their daughter, Mia, have a cleft lip/palate (check out miamoo.org).
Describing Missy as merely "busy" is an epic understatement. Yet, it was partly because of her busy lifestyle, not in spite of it, that Missy decided to take on her own women's fashion line. That, and the difficulties she had experienced in the past trying to find something suitable but stylish to wear. So how did the Missy Robertson Collection come about? You'll never believe it…
"It was a Saturday, I was in Brookshires, and my phone rang," remembers Missy. "It was Kelly saying, 'I'm at market in Atlanta, talking to the Judith March people.'"
Renowned designer Stephanie Carter's Southern Fashion House, which produces the Judith March and Jacque + Janis lines, wanted to come to West Monroe on Monday – just two days later – to lay out an entire fashion campaign! It was an opportunity that most women would embrace with outstretched arms! But Missy said, "No, that's way too fast. I need to talk to Jase about it first."
She left the grocery store and headed home, mentally weighing the pros and cons. Jase encouraged her to give them an opportunity to present their ideas. Still needing time to think, she called Kelly back and said, "How about Friday?"
Six days later, Southern Fashion House was in her living room with not only ideas, but 30 pieces for her approval. "I loved about 98 percent of them," acknowledges Missy. With Kelly's invaluable assistance, she had communicated to the designers her vision of a clothing line that was stylish, yet age appropriate, versatile, modest, comfortable and featured easy-care fabrics. "They nailed it!" she grins.
Explaining her initial reluctance, Missy says, "I'm not a 'jump-in' type of person. I like to do lots of research and understand what's happening." There had to be a higher purpose, something more than a potential fun factor involved for Missy to take on anything else of any magnitude. But Kelly and Jase pointed out that the fashion world could be yet another platform from which to share her Christian values.
Before the Missy Robertson Collection launched, Kelly encouraged Missy to talk openly and candidly about the difficulties that she had with shopping. "A lot of women feel ambivalence and anxiety when shopping," says Kelly. "So many women can relate."
issy agrees, "Lots of women avoid boutiques, because they don't feel comfortable putting things together. When they walk into a department store, they can feel entirely overwhelmed."
"You want to look fresh and trendy," she continues, "so you walk over to the Junior section, try them on, and think, 'No way!' Or, standing in front of the mirror, they may look OK, but when it comes to living in those clothes, whether it's running to the grocery store, picking up the kids at school or going to a baseball game, you just can't feel comfortable."
That's why stylish comfort, versatility and modesty were such big items on Missy's must-have list for the collection. Those qualities are apparently important to other busy young women, too. The Missy Robertson Collection debuted only last year, yet because of its increasing popularity, is now in 833 boutiques and stores in 26 states.
"We're focused mainly in the Southeast," says Missy, "and that's perfect, because there's a subtle, southern flair to the pieces. The collection appeals to busy, down-to-earth women who live just like us." And its popularity isn't relegated to soccer moms. Everyone from teens to stylish, more mature patrons have been enamored with Missy's collection; it's that versatile!
I ask Missy to describe a typical day in the life of Missy Robertson. "Well, before Duck Dynasty, my life was pretty typical for a working mom, but now there's no such thing," she admits, smiling.
According to Missy, the only day that remains typical for the Robertson household is Sunday. "Jason and I made the commitment years and years ago to be in church on Sundays, and if we're physically able, and unless we're out of town making an appearance, we're at church every Sunday morning," she says.
For over 20 years, Jase and Missy also held house church at their home on Sunday nights. And she remembers a time when it wasn't just Sunday nights, but every night!
The very week they got back from their honeymoon, Jason's best friend from high school knocked on their door. "He'd been in our wedding, and both our families and lots of our friends were Christians, and he'd been spending a lot of time with us," relates Missy. "He told us he wanted to hear more about Jesus. Then the next night, he brought a friend over, then that friend brought his girlfriend over, and she brought some more of her friends the next night. They kept bringing over more and more of their friends!"
Jase and Missy's little apartment was bursting at the seams. "Jason was baptizing people in the lake, in the river out by Phil's, in the baptistery at White's Ferry Road Church," she says. "He even got a key to the church, because he was baptizing people at all hours of the night, almost every night!"
Then only 19, newly married Missy remembers thinking, "I'm fixing to lose my husband! We were literally never alone." And then she felt guilty, because she knew they were doing good works. "I cried a lot that first year of marriage," she says, able to smile about it now, "but we received loving counsel from Phil and Kay, Jason's brother Alan and his wife, Lisa, and an older couple at our church."
Missy says they learned that God doesn't expect spouses to constantly put others before their marriage, even when it involves good works. "It was a difficult process to learn," shares Missy, "but we learned it. And after 25 years of marriage, it's just… 'smooth', just so wonderful; I never thought our marriage could be so good. And I look at young couples just starting out like John Luke and Mary Kate, and I know they'll have to figure it out, too. But it's so worth it!"
Asked if there's anything exciting on the horizon that she'd like to share, Missy reveals the October 6th release of her new book. Published by Tyndale House, Blessed, Blessed…Blessed, is the incredible, beautifully written personal story of her and Jase's journey as a couple and as a family.
Before I leave, Missy gives me an advance reader copy, and I can say, unequivocally, that readers will be touched and inspired by her tender, sometimes humorous and always candid revelations.
Missy looks over at Kelly, and says, "I know we're not ready for a national launch, but I think a community launch is OK." Kelly nods her assent. They begin to describe a goal, a work-in-progress, involving their Laminin Jewelry line. The line's namesake is the molecular protein, laminin, shaped like a cross, which scientists have discovered holds everything together.
"Some people consider laminin to be a type of physical embodiment of Colossians 1:17, 'He is before all things, and in Him all things hold together,'" says Missy. Each piece is authentically earthy and gritty, incorporating striking natural stones and distinctly natural textures, such as leather. As of this writing, the line is offered only on Missy's website, missyrobertson.com, and at K-Sera Boutique in West Monroe. There's been no real advertising involved, but demand has made it difficult to keep in stock.
"Currently, we have one person working full-time making jewelry," says Kelly, "but the ultimate goal is to provide jobs for young, under-skilled mothers, whose children are 100 percent dependent on them 100 percent of the time."
"We want them to have an encouraging, supportive work environment and be able to leave at 2 or 2:30 to be home with their children after school," adds Missy. They're still in the development stages and working out logistics but are understandably excited about the positive impact such a program will have on the community.
Like the projects she undertakes, the masthead on Missy's website reveals the order of her priorities: "Faith, Family, Fashion." Most of us have heard it said from the pulpit that when a person makes the conscious decision to put God first, it can't help but permeate every aspect of life. Missy believes it, and she lives it…and countless lives have been blessed because of it.
The Missy Robertson Collection by Southern Fashion House is available at these local boutiques:  HerringStone's, Duck & Dressing, The Twisted Peacock, K-Sera, The Loft in Bastrop, Erin's Attic in Ruston and Beau Monde in Ruston.