Family Traditions
By Admin
Jun 27th, 2016
0 Comments
969 Views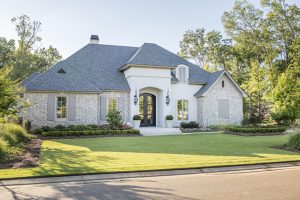 From the family heirlooms interspersed throughout the home, to the family ties that designed and built it, this gorgeous Belle Point home of Mary Kathryn and Eric Edwards is all about family traditions.
interior design by Cole Baker, Cole Baker Limited
article by Maré Brennan  | photography by Martin G Meyers
When Mary Kathryn and Eric Edwards decided to build in Monroe's Belle Point, they knew exactly who to call when designing their home's interiors. As luck would have it, Mary Kathryn's cousin Cole Baker (their moms are first cousins) is one heck of an interior designer. "Cole is meticulous. If it's going to be done, it's going to be done the right way," says the homeowner of her cousin and project partner.
The couple started building their house in 2013 and moved in during 2014. During there home's construction, the Monroe natives who began dating as students at Ouachita Christian High School, lived just a block down the street, which made managing the process easier for Eric, who self-contracted and was extremely hands-on during the building process. During the building process, Eric says with a laugh, "If I had an idea I wanted to incorporate, I would first call Cole and get his approval then break the news to Mary Kathryn." "Eric knows every nook and cranny of this house," says Mary Kathryn proudly of her partner in life.
Says Mary Kathryn of working with her designing cousin, "Cole picked out finishes like paint colors, wallpaper and countertops, and designed our unique fireplace surround and mantle. He makes me step outside of my box and pushes me out of my comfort zone, especially the mantle. Now it's become one of my favorite things about our home."
Family and tradition play a large role in the Edwards' home. Their immediate families live in close proximity. After living in Arizona when Eric played professional football, the couple ended up moving back closer to home when Mary Kathryn became pregnant with their first child, Ellie, who is now 9. The couple have added Adler, 7, and most recently, Anna Sterling, 9 months old, to the mix.
For the design of her home, Mary Kathryn wanted contemporary lines with a nod to the traditional and an acknowledgement of her family's pioneering and entrepreneurial spirit. She is, after all, the granddaughter of the late Mr. and Mrs. Clarke Williams, legendary telephone magnate who brought Century Telephone from little Oak Ridge, Louisiana to become the powerhouse of technology that is known worldwide today as CenturyLink. Decorative touches throughout the home serve as reminders of that history. A portrait of her grandmother, for whom she was named, greets guests just beyond the foyer in the living room. There, too, on an end table is an antique brass candlestick rotary phone atop a copy of the acclaimed biography by Leo Honeycutt about her visionary grandfather. Just beyond the kitchen, the chandelier that had once hung in her grandparents' Oak Ridge home is now illuminating an adorable half bath.
Cole's designer touches throughout the home are unmistakable. Cole, who studied in Europe and at LSU during it's interior design heyday when the school was consistently ranked in the Top 10 in the nation, custom designed baseboards and moldings throughout, creating a streamlined, chic look. The designer also drew taller cabinet heights in the kitchen and master bathroom cabinetry to accommodate Eric's 6'5" frame.
A trio of crepe myrtles surrounded by tall native grasses line the front perimeter while clipped boxwoods edge the walkway, pruned to perfection by the homeowner. Large gas lanterns flicker at the stuccoed arched entrance where metal and glass double doors lead into the spacious foyer, and a pair of modern cylindrical planters with boxwood shaped in a neat mound of leafy greens are expertly placed. A graceful river birch stands near the garage and is surrounded by a bed of blue, showy hydrangeas and spherical blooms of allium. Landscape architect Rhymes Oliver created the landscape plan and Eric executed the design. Because the family loves homegrown vegetables, Eric built raised boxes for Mary Kathryn's garden, which is filled to overflowing with tomatoes, peppers, strawberries, herbs and eggplants. "We love to check out here everyday to see what's growing in our little garden," says Mary Kathryn.
Guests enter the home through a grand foyer.  Cole chose a Designer Guild vinyl wallpaper that was "extra scrubbable for little hands." A distinctive Regina Andrews chandelier with Murano glass leaves adds drama to the space. Mary Kathryn, who is as talented as she is beautiful, painted a silver mirror the color of the foyer's trim and hung it above a mirrored console which was sourced from Louisiana Purchases. Lucite handles on the sliding pocket doors that lead into Eric's office were originally conceived as shower door pulls and set the tone that immediately calls to mind Old Hollywood glamour. The pine sliding doors were distressed by Eric and stained by Mary Kathryn. Cole adds, "Pocket doors are practical and the don't take up floor space. They are really functional and you don't have to deal with losing space to door swing."
Eric's office is filled with his collection of football memorabilia, including footballs from his National Championship year with the LSU Tigers to helmets from his days as a professional player in the NFL's Arizona Cardinals. On one wall a massive painting of a horse by Lissy Compton dominates. The desk is from Restoration Hardware and the chairs are vintage from Dixie Furniture. The molding in the office is painted the same Benjamin Moore Whale Grey as the built-in bookcase. Eric had the floor to ceiling drapery panels made using the back side of a fabric from Fabulous Fabrics for its muted hues.
A hallway just beyond the foyer has become a gallery for the Edwards' children's artwork. Centered around a watercolor by Susan Woodard from St. Francisville, a collection of clear, lucite frames make it easy to change out each child's artwork.
In the living room, Cole added a vintage 1960's Italian chair which he hand-painted. "Eric put a lot of work into these floors," says Mary Kathryn of the large plank Portofino oak flooring that runs throughout the living areas. The console behind the sectional sofa is a vintage piece from Paul Michael and is topped with a pair of antique blackamoors which had been on her grandmother's mantle.
Swiveling club chairs by Lee Industries are covered in a Swaim geometric fabric. The plush Swaim sectional sofa takes the room to a new level of comfort, and a striated rug in muted grays adds a plushness underfoot.  Cole chose one of his favorite colors, Benjamin Moore's Wind's Breath, for the living room, painting the walls at 75 percent, the ceiling at 50 percent and the trim at 25 percent to create depth and dimension.  A canvas by Drake Labry, a New York-based artist who went to design school with Cole, finds a perfect spot in this light filled room.
Inspired by the bayou, Austin James, an artist from Houston, was commissioned by Mary Kathryn to create a custom painting for the kitchen, a light and airy space that is the heart of the home. The oversized island features a porcelain farmhouse sink with a modern Brizo faucet. Three Regina Andrews mercury glass pendants provide task lighting above the island. One of Cole's signature touches to the island is a chopping block built into a drawer near the sink. The "Aha Moment" is provided when you discover the built-in hole that leads to the trash can in the pull-out cabinet below the chopping block drawer. Clean up is a breeze! Pearlized ostrich embossed vinyl seating upholstery makes a chic statement when paired with lucite swivel counter stools. Countertops for the custom height cabinets set approximately 38" high for the homeowner are a honed and sealed marble. A backsplash of tiny herringbone patterned marble gets the glam treatment with an ingenious and subtle hint of glitter added to the grout. Says Cole, "It makes a statement without being too much." When it was determined that the couple's dream range hood vent was going to blow their construction budget out of the water, the couple got resourceful. Says Mary Kathryn, "Eric bought sheets of zinc and took them to Sheet Metal Specialists to handcraft a hood that was custom. It turned out to be a lot harder to do than we all thought!" After the hood was constructed, Eric then sanded and Mary Kathryn added patina to give the hood a well-worn, Old World feel. Not one to shy away from a project, Eric also distressed the extra large beam that separates and runs the length of the living room and the kitchen. Explains Eric with a sense of accomplishment, "It took ten men to hang this beam." The kitchen is complete with GE Monogram appliances. A separate wet bar near the dining area features open upper cabinets that Eric added an antique pewter chicken wire to the doors. The little bar sink is made of hammered metal.
Cole pushed Mary Kathryn to kick up the wow factor a notch – or two – when he suggested pairing gilded French chairs with a 60" round table Mary Kathryn and her mom, Carolyn Perry, found at Dallas Market. "Cole said we needed color," she said. "At first I was skeptical, but now I am obsessed with these chairs." The solution was to upholster the 1950's reproduction chairs that Mary Kathryn found on Ebay in a very washable, designer vinyl fabric in a robin's egg blue on the chair backs and subdued pearlized ostrich vinyl on the seat cushions. At the center of the table is one of Cole's prized possessions, a bowl designed by a dear friend, the late Baton Rouge artist Kay Cason. The bowl was hand thrown, hand painted with accents of 24 karat gold leaf in Cole's requested design of Napoleonic bees. "I did some Auto-CAD work for Kay and got paid with this bowl."
The half bath just beyond the open concept dining room and kitchen is a jewel of a space. Cole again chose a Designer Guild vinyl wallpaper in a very tactile crocodile print. A lucite vanity from Restoration Hardware is topped in granite The mirror above the vanity is from Paul Michael.
Beyond a wall of floor to ceiling windows in the living and dining rooms lies the home's outdoor living space. Says Mary Kathryn, "Eric is out here all the time and he designed the whole cook area in thirty minutes." Explains Eric, "I knew what I wanted, printed it out and we built it." Outfitted with a copper vent a hood and stainless outdoor appliances and grill, this outdoor kitchen is perfect for this family of five that loves to cook and spend time together. The Ratana collection of all-weather rattan sectional sofa and swiveling chairs creates a comfortable seating area where everyone piles on to take in the big games on the flat screen above the outdoor fireplace, complete with a distressed cypress mantle.
In the baby's room, Cole found a velvet fabric to reupholster a cozy rocking chair, but chose to run the nap of the fabric backwards to achieve the muted tones of grey and pink the room called for. The lucite floor lamp made the trip back to Louisiana from Arizona, and Cole designed a new lampshade that makes it perfect for the space. Mary Kathryn turned up the sentimental value in little Anna Sterling's room adding pillows made from one of her grandmother's night gowns. "I saved three nightgowns of my grandmothers and had a blanket made out of one for my brother and sister-in-law for their children," says Mary Kathryn. Cole's sister-in-law's mother painted the watercolors of the fawn and lamb which stand watch over the adorable crib. "Ellie will be in here entertaining her baby sister and they'll both be in the baby bed," laughs Mary Kathryn. The room takes on a soft glow beneath the light from the Restoration Hardware chandelier of concentric circles dripping with prisms. Pink and white horizontal striped panels from Fabulous Fabrics dress up the baby room windows. When Mary Kathryn was born her "Mimi" gave her the china doll that now finds its place atop the room's bookcase. The chest of drawers, which Eric craftily repainted, was a find from Bayou Crafters.
A cowhide runner leads visually down the hallway from the baby's room past a gallery wall of treasured family photos to the master bedroom.
In the master bedroom, a pair of watercolors by noted local artist Caroline Youngblood are positioned above gilded and silvered bedside tables. Luxurious bedding in washable silk with a sueded silk backing are awash in creamy tones accented with large French knots, creating a dreamy escape for the homeowners. Stools with airy, lucite legs are upholstered in an alligator embossed gray leather and accented with a nailhead trim. The master bedroom's fireplace was designed by Cole as well. A large, mixed media diptych is positioned on the wall leading to the en suite master bath. With enough steam power to make any five star spa envious, the Edwards' glass walled steam shower is a study in the restorative power of water. The shower features Brizo fixtures, including a large rain shower head, and a wall of textural Walker Zanger tile. Mary Kathryn loves her free standing oval tub, above which are a pair of Meredith Pardue paintings in watery hues. Oversized porcelain floor tiles and Veneto marble countertops create a timeless feel. Regina Andrew sconces are positioned atop the counter to ceiling mirrors in the master powder room. Mayo Cabinets built the vanities to Cole's specifications. Lucite handles as draw pulls are like jewelry for the cabinets which feature a full overlay, providing for bigger drawers and the clean, crisp look Cole appreciates so much. "I am very particular about door and cabinet hardware," says the designer, who is known as well for his sartorial personal style, especially his love of vintage designer glasses. On this particular occasion the designer opted for a pair of Yves St. Laurent sourced from 1st Dibs that were reminiscent of a pair Mary Kathryn's grandmother was apt to wear.
As evidenced by the successes achieved for his cousin's home, it is clear that Cole Baker loves to figure out his clients' personalities and how he can help them create a home for living. While his own decorating style leans toward the traditional. He says, "I love mixing the old with new, French antiques with mid-century modern, tortoise shell boxes with art stacked floor to ceiling."
Tradition and family, modernity and craftsmanship go hand in hand in this design project that brings the concept of collaboration full circle in a home that is at once livable and lovable. Filled with art and furnishings that recall their proud histories, the Edwards' home is one that reflects this young family's values.