Feed Your Inner Athlete
By Katie Sloan
Jan 8th, 2018
0 Comments
48 Views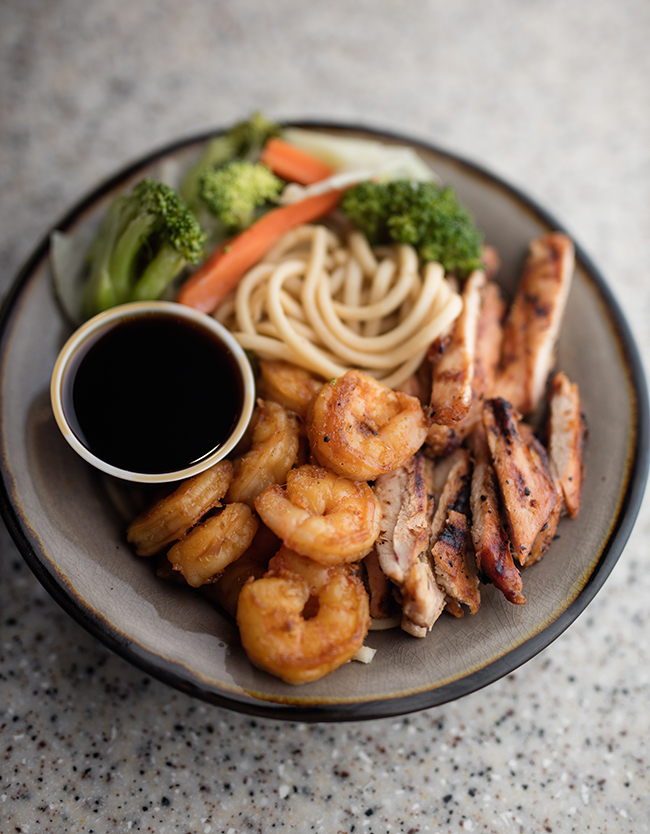 Article by Vanelis Rivera, Photography by Martin G Meyers
Teriyaki Grill in Ruston Serves Healthy and Flavorful Dishes
Teriyaki Grill is a health-conscious franchise tucked in the midst of a vast, picturesque skyscape and is the keystone of a quickly developing niche in Ruston, Louisiana. Popular with athletes, fitness enthusiasts and health devotees, their food bowls are likely to assist your wellness goals.
Owner Kay Malone moved to Ruston 18 years ago with her husband, two-time MVP winner, NBA Legend and the greatest power forward of all time, Karl "The Mailman" Malone. The couple wanted to be close to family, and Kay, particularly, wanted her children to get a southern upbringing. Having lived most of her life in San Antonio, Texas, southern hospitality and respect were second nature to her. They raised their three daughters and one son, Kadee, Kylee, Karlee and Karl Jr., "with respect for their elders" and the phrases "Yes, ma'am" and "No, sir" at the forefront of their interactions with others. Kay appreciates the Ruston community for cultivating a family atmosphere, designating it a place where you can attend a football game, let your kids "go crazy," and not worry about them because "everybody watches everybody's kids."
Kay's relationship with food began with her Filipino mother's home cooking where she learned the significance of preparing meals for family. Even though she grew up "very poor," her mother would attempt to make food "interesting." Kay fondly recalls being served "squirrel and rice," all while being told that it was "chicken and rice." She credits her adventurous palate to her mother's sneaky ruses and to being an 'army brat.' Bouncing around the world allowed her to foster an appreciation for distinct cultures and cuisines that steadily enhanced her love for food and cooking. She translated these experiences to her family dinner table. Her goal became to always have a meal on the table every night. She's the kind of cook that doesn't look at a cookbook, explaining, "If I look at a cookbook, I look at the pictures and go from there." A "throw it in the pan" cook, she advises those who stress out about cooking to "add a little oil, add a little garlic" and just "add things that you like to taste."
An idea became an opportunity when family friend and current owner of Teriyaki Grill, Mike Keim–most prominently known as former Seattle Seahawks offensive lineman– suggested that Kay open up a franchise in Ruston after noting the scarce dining options in the area. Kay expressed an enthusiastic interest in the possibility of a local franchise that, at the time, was based solely in Utah. To which Mike interjected, "Why don't you do it?" Initially taken aback, the prospect of partaking in food she could stand behind was just the nudge she needed.
But Kay's "Aha!" moment for pursuing such a highly demanding endeavor did not arrive until she looked in the mirror. "I gained 20 pounds when I moved here. And I was, like, this is ridiculous," she recalled. Kay had to admit that she was not taking care of herself. She was eating the "wrong things." A  nutritionist friend encouraged her to implement portion control. That was the "hardest thing" because, like most southerners, she grew up not turning down food as it is considered disrespectful, further disclosing, "I was taught, you have to eat everything on your plate. Don't leave any food behind." Kay's decision to open a Teriyaki Grill was cemented when she decided to pursue a habit of mindful eating, which is distinctly tied to the chain's tenet on serving healthy and flavorsome meals that are both nutritious and satisfying.
The rise of the food bowl trend is one centered on simple and fresh ingredients, portion control and a wide range of combinations. T-Grill delivers on this front by loading their menu with the food bowl trinity– juicy proteins, crispy vegetables and filling fibers. Customers can choose from high quality cuts of boneless, skinless grilled chicken, USDA sirloin steak or shrimp marinated in a "secret marinade" before being char-broiled and served "hot off the grill." The salmon is quite popular, especially during the summer. It is most commonly ordered with their mixed rice– brown and white grains mixed with egg, chicken, green onions and marinade. The shrimp bowl is another frequented menu item, distinct in being marinated with the two house dressings–ginger and teriyaki sauce. Nothing is fried at T-Grill! Their vegetables are steamed cabbage, carrots and broccoli, which are lightly seasoned with salt and white pepper, perfectly satisfying in their Vegetarian Delight bowl, which includes extra vegetables and rice or udon noodles.
Bowl combinations are set on the menu, but adventurous foodies are encouraged to play with the ingredients. For instance, Kay notes that Paleo followers tend to order "massive chicken, extra steak, and they make it spicy." Kay's daughter, Kylee, also ventures into spicing up her bowl by adding the spice titled Death Crier, claiming that it burns fat. Kay personally keeps her bowls Mild, but customers who don't ascribe to those binaries can choose between Medium or Hot. Another level of food-play for customers can be experienced in the house special, which is simply the mixing of all your ingredients before they go into your T-bowl. An exclusive, off-the-menu bowl that you will want to ask for is the "Karl Special," which includes the spicy chicken, mixed rice, vegetables, green onions, mild spice, all mixed before serving, and then topped with avocados and two eggs–talk about a legendary bowl!
Other options on the menu include salads, served with mixed greens, blanched vegetables, the homemade ginger dressing, and topped with either the teriyaki chicken, spicy chicken or ginger salmon. The sushi rolls — spicy crab, spicy California or the spicy chicken roll — would make excellent additions to a bowl or salad, while the miso soup, served with chicken and noodles, is a favorite for sweater-weather days.
Striving to promote mindful food and eating habits, Teriyaki Grill's slogan is "feed your inner athlete," which encompasses their dedication to helping their customers achieve victories in "good health and a more active lifestyle." A proud former LA Tech bulldog known for saying "cut me right now, I'll bleed red, blue," Karl wants athletes to take advantage of the restaurant's discounts, particularly for Grambling, Louisiana Tech and high school athletes. So if it's after hunting season, he'll be waiting for athletes, especially his fellow bulldogs, to "come on down" for gratifying chow. Even Kay's son, current football player at Louisiana State University, will bring his football friends to the restaurant, seven towering linemen seeking sustenance, to devour larger bowls than most, which is when Kay finds herself cooking extra.
Whether you are an athlete, fitness fiend, moderate exerciser or brand new to the wellness game, set yourself up for success on the weekends with T-Grill's family platters, which can be used to 'food prep' healthy meals during the week. If you're unsure of how T-Grill can help shape a healthier you, Kay encourages customers to ask questions about the menu, bowl combinations or even nutrition facts. Kay wants customers to have an interactive experience at her franchise that satisfies guilt-free and happier eating.
Stepping into Teriyaki Grill is more like stepping into a collective space hemmed together by the stone-clad North Village retail space, a beautifully maintained landscape cultivating the promise of Ruston's next possible hub. Kay's family owns North Village plaza, home to Teriyaki Grill, local favorite Eskamoe's, a boutique and administrative offices.The building features a ranch-style cozy outdoor patio space with a gazebo, stately fire pit and a nearby interactive park for use by families with children and workout groups. Kay's future plans for the area include a currently in construction eco-friendly apartment complex of 150, 1-3 bedroom apartments with a pool area. Incorporating everything that the Malones love into the tentative space, which includes animals, the complex plans to feature a doggy park and doggy salon.
The restaurant doesn't feel like a franchise, it functions like a family 'mom and pop.' The interior is cozy and tastefully decorated with hints of East Asian inspired furnishings. Artistically designed woks have been repurposed as light fixtures while a brass gong-like fixture stands alone. The seating area is varied, allowing customers to choose from high tables that seat two, family-size tables and a family-size booth. You may walk into their doors and find Kay in the kitchen stirring up the dressings, daughter Kylee greeting customers, or Karl flipping marinated meats on the grill. When he's not grilling, you can find Karl in another exciting Malone development perched across the street from the restaurant. Soon to be launched is Legends 32 Cigar Lounge. Karl, a lover of cigars, partnered with La Aurora Cigars, an established cigar factory based in Santiago, Dominican Republic. The owner, a big time #32 fan, offered to make Karl his own cigar, also called Legends 32. The cigar will be launching around February.
This pocket of Ruston won't stay uncharted for long, so the next time you take Exit 86 in Ruston, venture to the right side of the highway. Congregate around what has become a family grill and a place where current legends or legends in the making feed their inner athlete.
Teriyaki Grill is open Monday thru Thursday 11 AM to 8 PM and Friday thru Saturday 11 AM to 9 PM. You can reach them at
318-254-0777, if you'd like to order for pick-up. You can follow them on Facebook at Teriyaki Grill or on Twitter @Teri_Yaki_Grill. Visit their website www.t-grill.com for more information about family platters, catering and nutrition facts.